[Esp] Cuerpo, Mente, Espíritu... La combinación perfecta para avanzar en la vida [Eng] Body, Mind, Spirit... the perfect combination to advance in life
Seguimos en la onda de la #ejercitacion ofreciendo nuevos, y espectaculares movimientos para todos mis seguidores de #hive y #fulldeportes. Sin embargo, las puertas están abiertas para todo aquel que desee dar un paso al frente y ser feliz en la vida. Alejarse del estrés, del sedentarismo, y de la pesadez diaria no tiene precio. Solo debes animarte, motivarte, arriesgarte, no tienes nada que perder; al contrario lo que perderás son kilos y grasa. Serás un triunfador, un ganador, una persona más viva, equilibrada, con control, velocidad, destreza, y sobre todo tendrás la posibilidad de obtener el cuerpo que deseas. No esperes más, vente con nosotros y adéntrate en el mundo #fitness.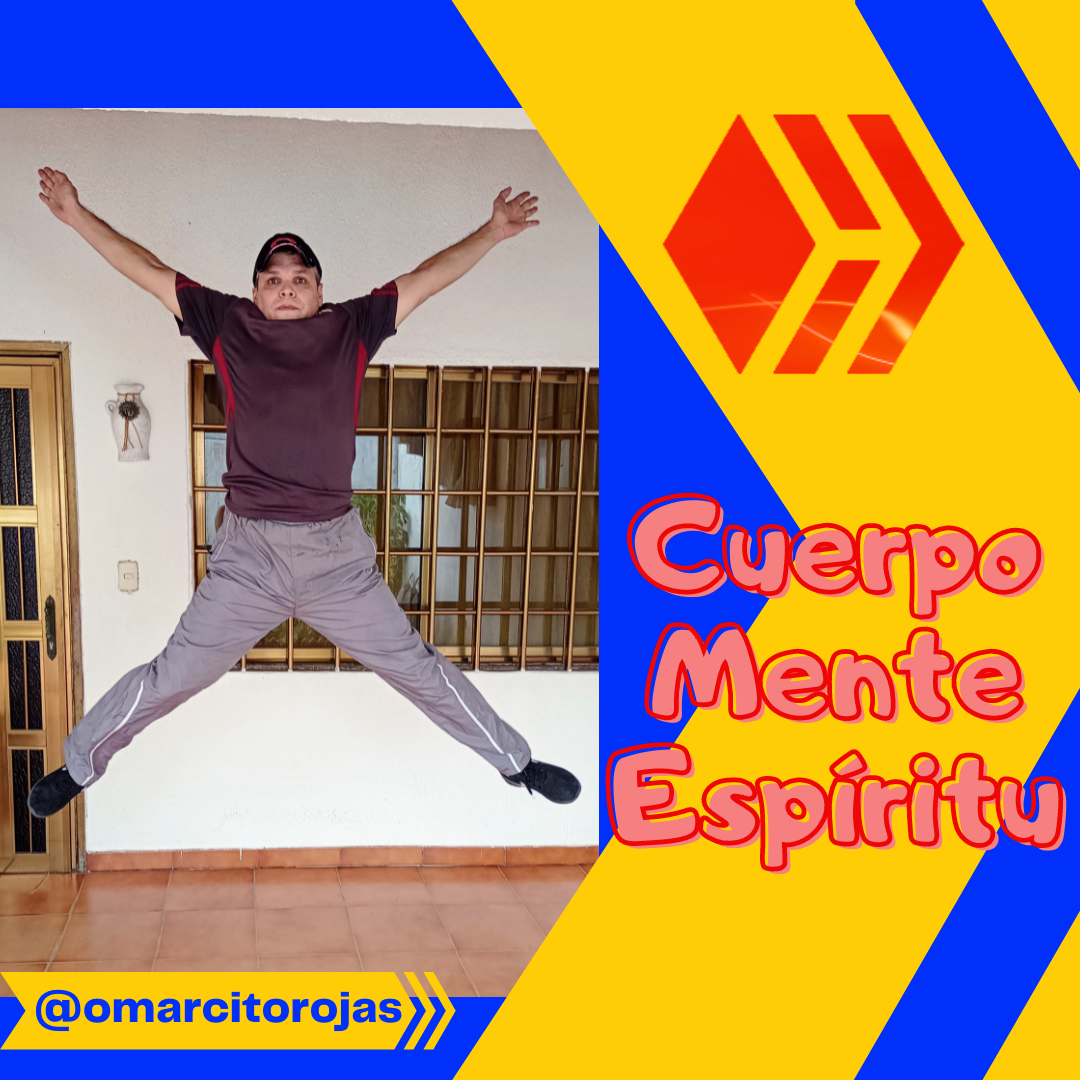 Imagen de mi Autoría Editada por/Image of my Authorship Edited by Canva
Gifs creados en la aplicación/Gifs created in the application HD Video To Gif Converter
We continue on the wave of #exercise offering new, and spectacular movements for all my followers of #hive and #fulldeportes. However, the doors are open to anyone who wants to step up and be happy in life. Getting away from stress, sedentary lifestyle, and daily heaviness is priceless. You just have to cheer up, motivate yourself, take risks, you have nothing to lose; on the contrary, what you will lose are kilos and fat. You will be a winner, a winner, a more alive person, balanced, with control, speed, dexterity, and above all you will have the possibility of obtaining the body you want. Wait no more, come with us and enter the world #fitness

Calentamiento Corporal
Flexión de piernas juntas con elevación de brazos.
Cruce de piernas en salto.
Toque de pantorrillas en X + salto explosivo.
Patinador en salto + doble golpe inferior.
Sentadillas en giro con pie pivot.
Rodillazo + giro de cadera y golpe cruzado.
Relajación Corporal
Body Warming
Flexion of legs together with elevation of arms.
Cross legs in jump.
X calf touch + explosive jump.
Skater jump + double bottom hit.
Squats in twists with pivot foot.
Knee + hip twist and cross punch.
Body Relaxation

Calentar antes de entrenar
Dinámica: En circuito
Trabajo por ejercicio: entre 10 Y 20 (se indica) repeticiones.
Series: 4 por circuito completo.
Descanso entre ejercicios: de 10 a 20 segundos.
Descanso entre series: de 1 a 2 minutos.
Warm up before training
Dynamics: In circuit
Work per exercise: between 10 and 20 (indicated) repetitions.
Series: 4 per complete circuit.
Rest between exercises: 10 to 20 seconds.
Rest between series: 1 to 2 minutes.

Calentamiento Corporal
Disminuyamos la ocurrencia de lesiones, flexibilicemos los músculos y tendones, elevemos la temperatura y el ritmo cardíaco. En fin, en este punto calentamos para que nuestro cuerpo se active, y adopte las condiciones esperadas.
Body Warming

Let's reduce the occurrence of injuries, make muscles and tendons more flexible, raise temperature and heart rate. In short, at this point we warm up so that our body is activated, and adopts the expected conditions.

Flexión de piernas juntas con elevación de brazos
Piernas juntas con brazos abajo y extendidos. Durante 3 minutos flexionamos las piernas, y elevamos los brazos.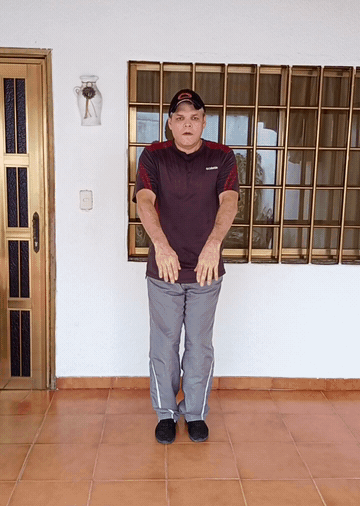 Leg curl together with arm lift

Legs together with arms down and extended. For 3 minutes we flex our legs, and raise our arms.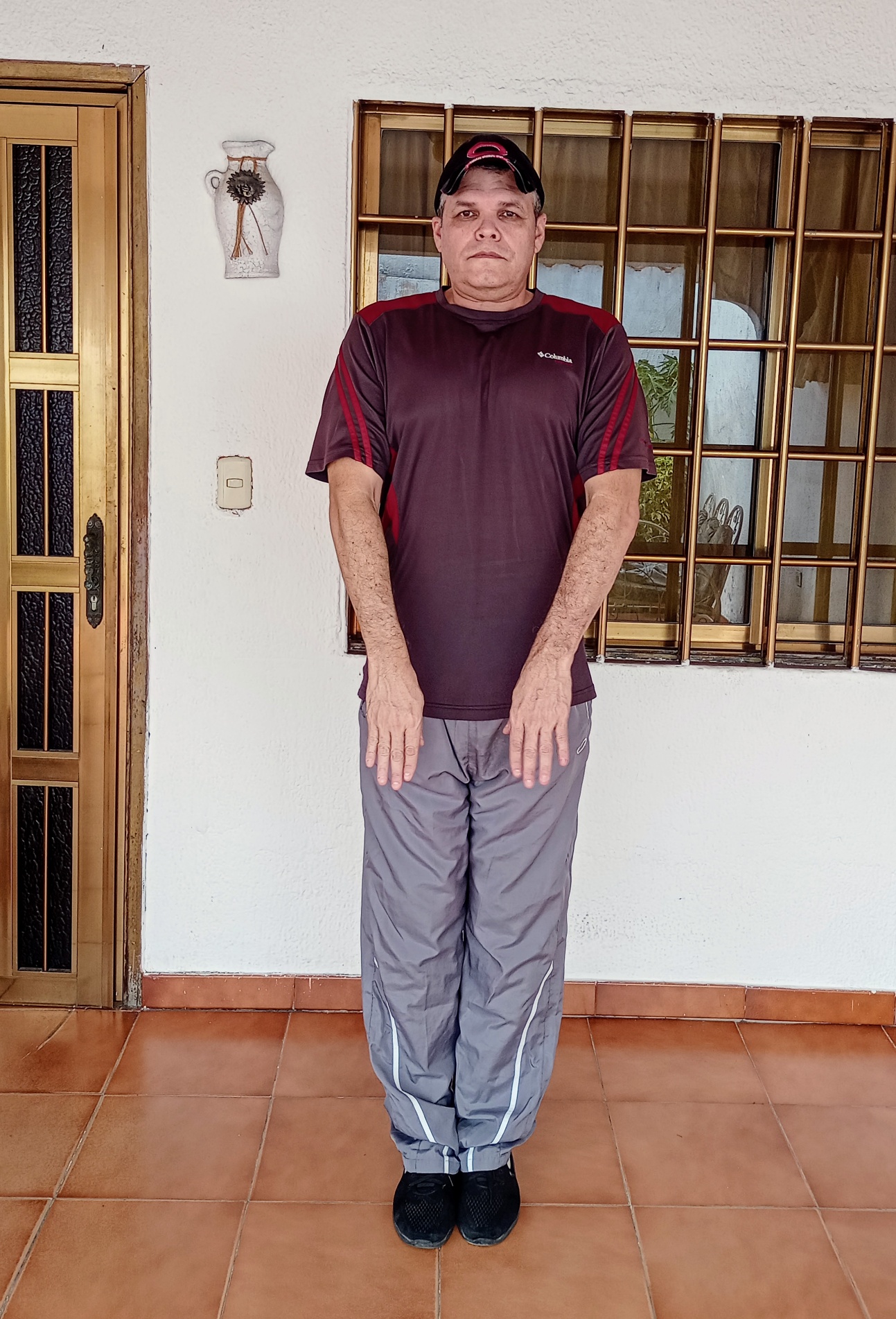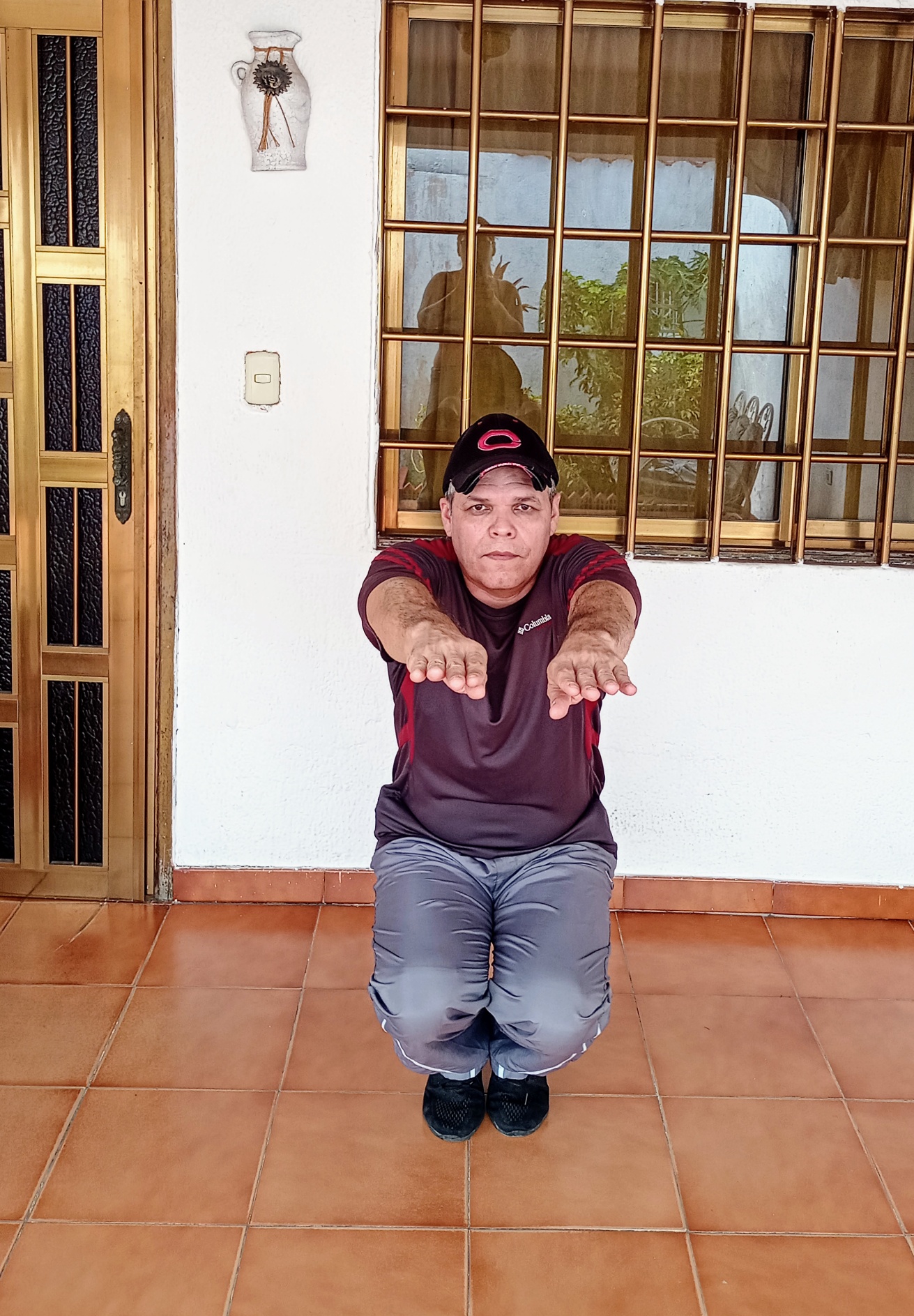 Cruce de piernas en salto
Manos en la cintura con piernas un poco abiertas. Ahora a través de saltos cruzamos las piernas, llevándolas hacia adentro y afuera. Durante los saltos intercalar el cruce de las piernas. Acción por 3 minutos.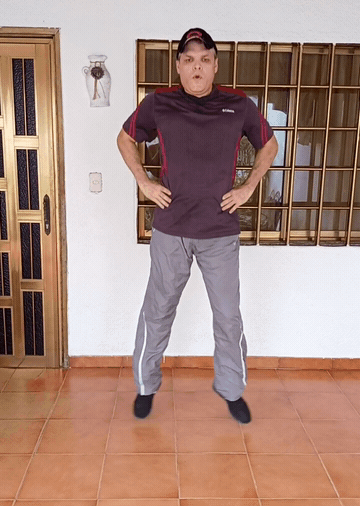 Cross leg jump

Hands on the waist with legs slightly open. Now through jumps we cross our legs, bringing them in and out. During the jumps intersperse the crossing of the legs. Action for 3 minutes.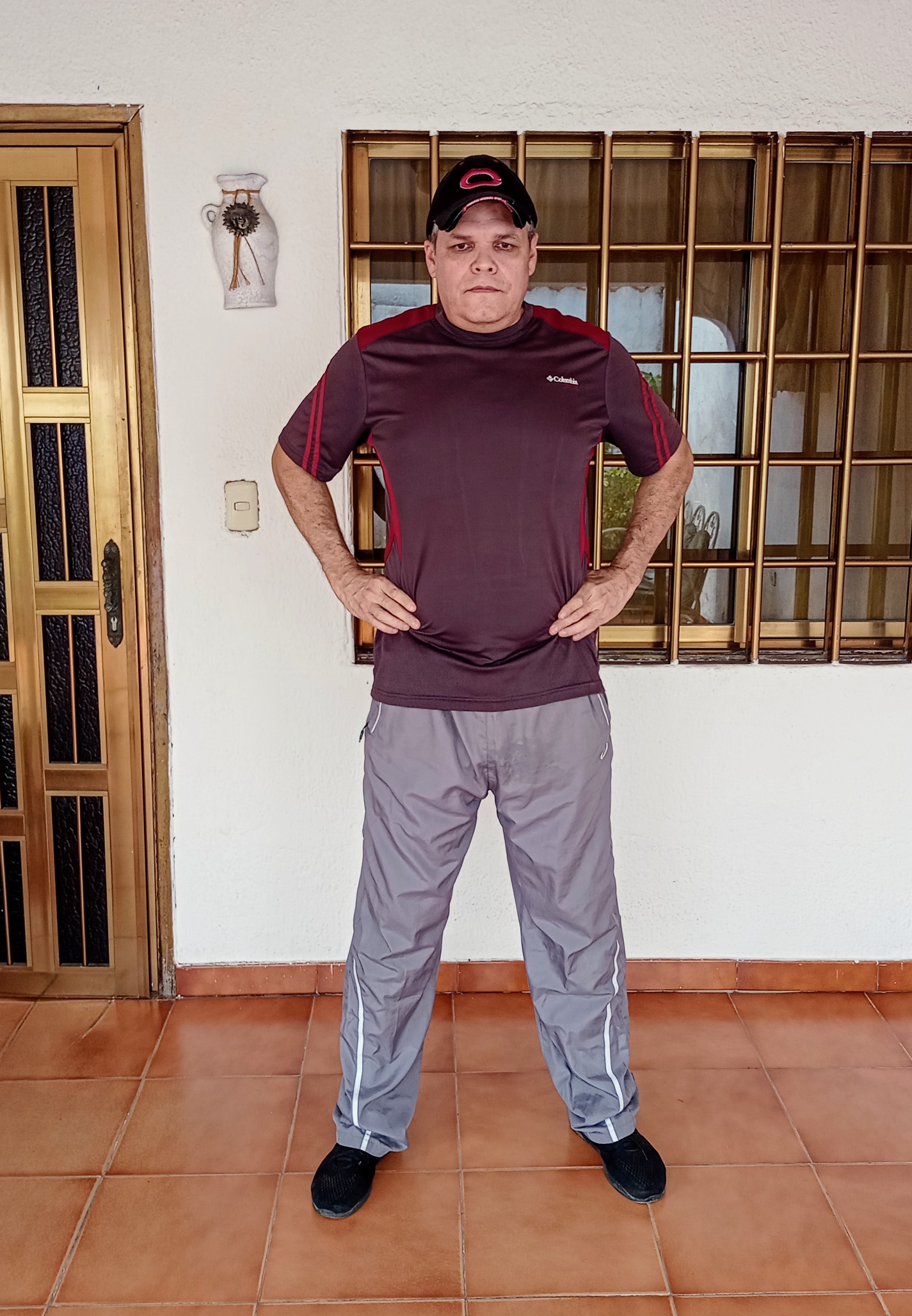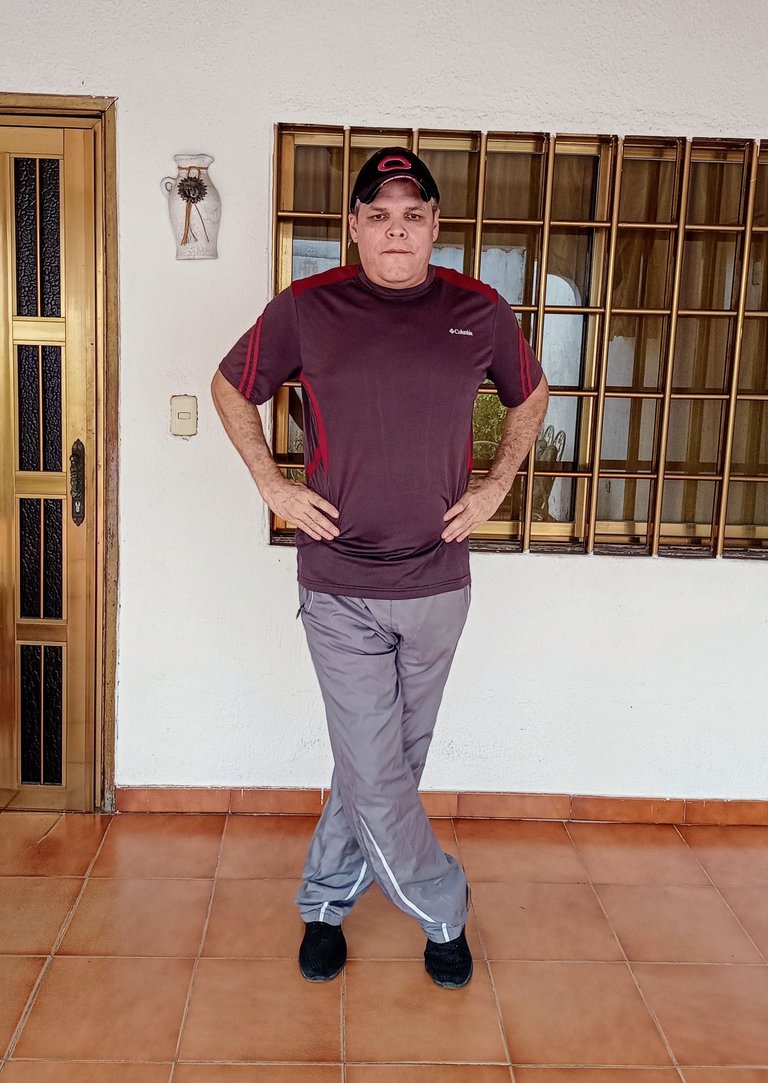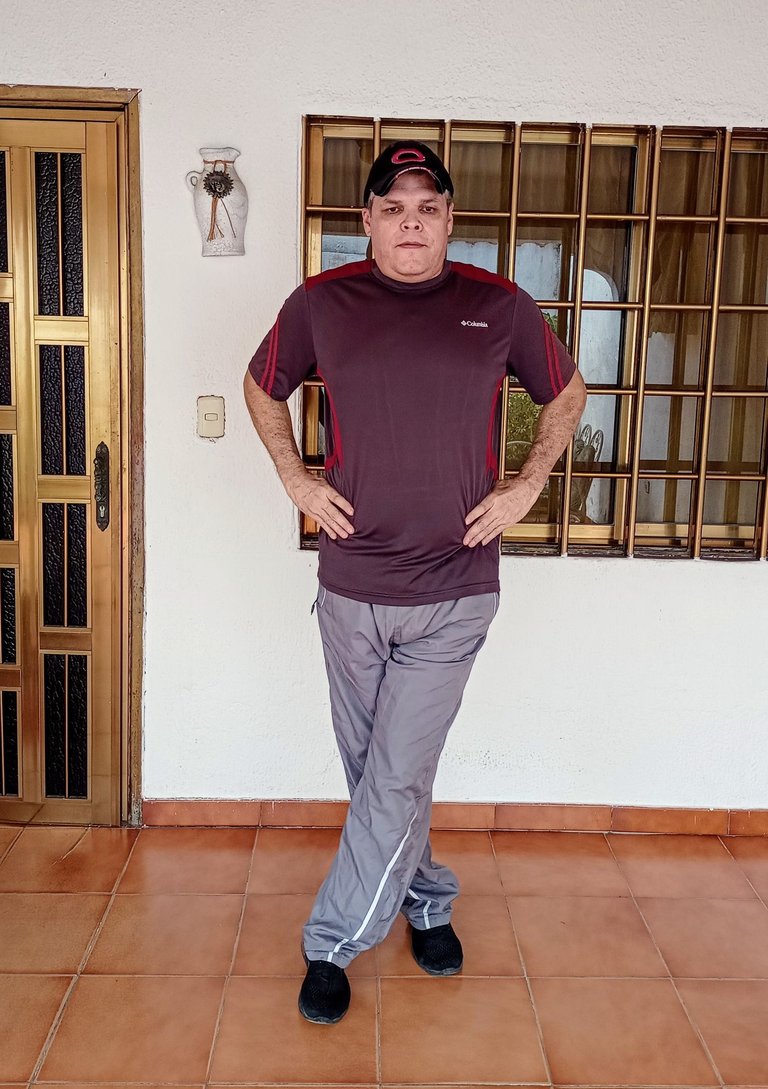 Iniciamos las acción. Más movimientos y menos palabras. Activados. Recuerden descargar entre series e hidratarse.
We start the action. More movements and fewer words. Activated. Remember to download between sets and hydrate.

Toque de pantorrillas en X + salto explosivo
De pie con piernas abiertas. Rápidamente hacemos la sentadilla, bajamos los brazos, los cruzamos y con la cara superior de las manos tocamos cada pantorrilla. Ahora, tomando impulso saltamos violentamente hacia arriba abriendo brazos y piernas. En el descenso, caemos en sentadilla, de nuevo cruzas los brazos tocando las pantorrillas, para dar nuevamente otro salto abriendo piernas y brazos. Ejecutar 20 repeticiones en 4 series.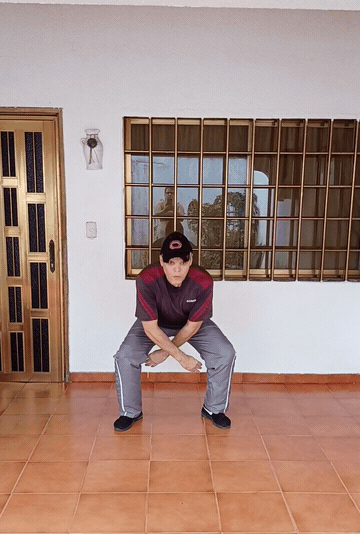 X calf touch + explosive jump

Stand with legs spread. We quickly squat, lower our arms, cross them, and touch each calf with the upper side of our hands. Now, gaining momentum, we jump violently upwards, spreading arms and legs. On the descent, we fall into a squat, again you cross your arms touching your calves, to again take another jump, opening your legs and arms. Execute 20 repetitions in 4 series.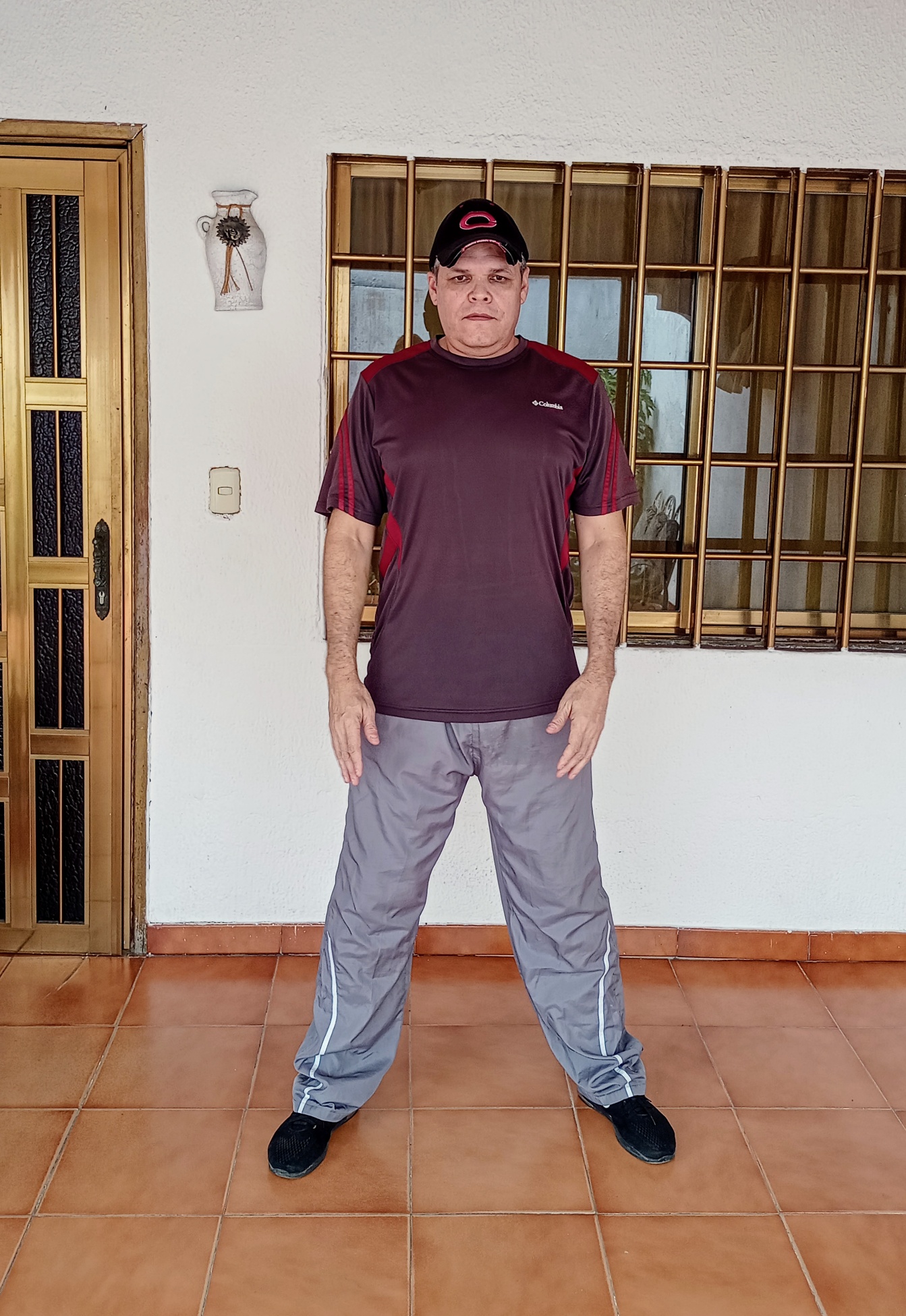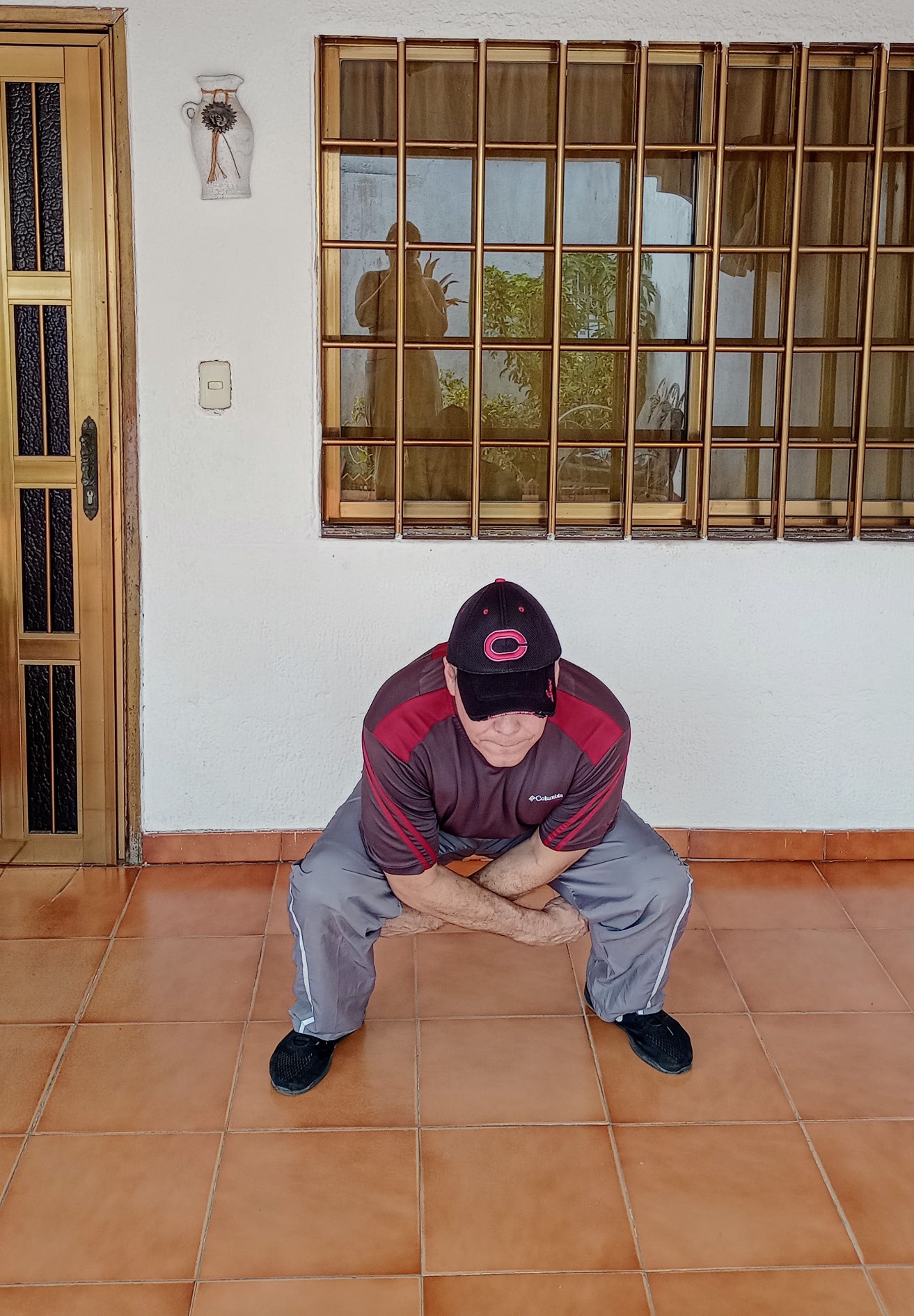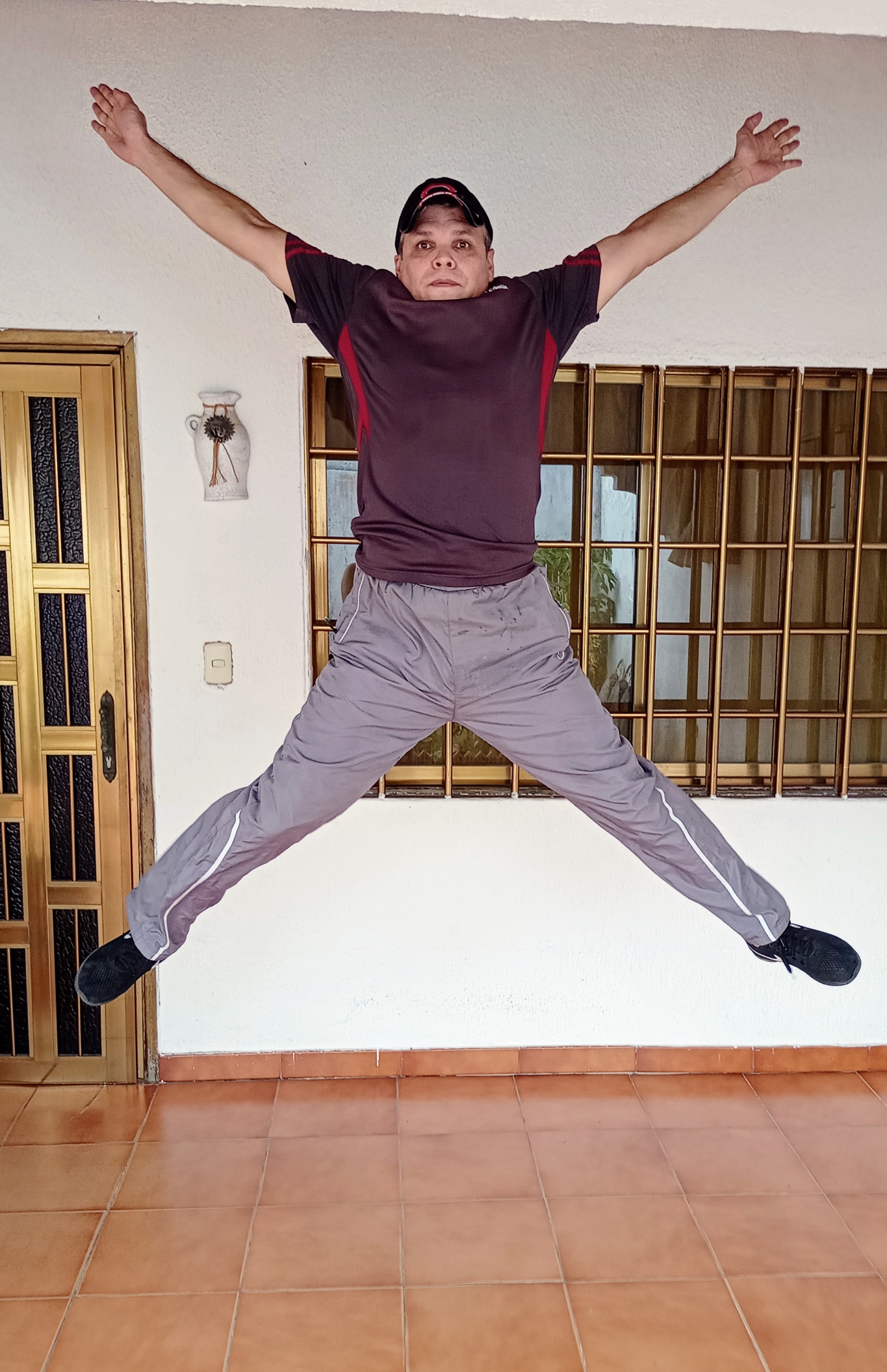 Patinador en salto + doble golpe inferior
Posición de combate. En velocidad saltamos a un lado. Por ejemplo salto a la izquierda, la pierna derecha pasa por detrás de la izquierda flexionando ambas piernas. Doblas el torso hacia adelante, y con ambos brazos damos un golpe hacia abajo. Ahora, con otro salto nos vamos a la derecha, la pierna izquierda se cruza por detrás de la derecha. De nuevo doblas torso al frente, y pum golpe inferior con ambos brazos. 20 repeticiones por cada lado en 4 series. Todo el proceso se ejecuta en velocidad.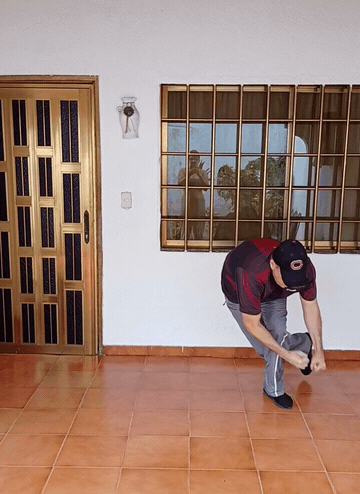 Jump skater + bottom double hit

Fighting position. At speed we jump to the side. For example jump to the left, the right leg passes behind the left flexing both legs. You bend your torso forward, and with both arms we strike downward. Now, with another jump we go to the right, the left leg crosses behind the right. Again you bend your torso to the front, and bang underneath with both arms. 20 repetitions on each side in 4 series. The whole process runs at speed.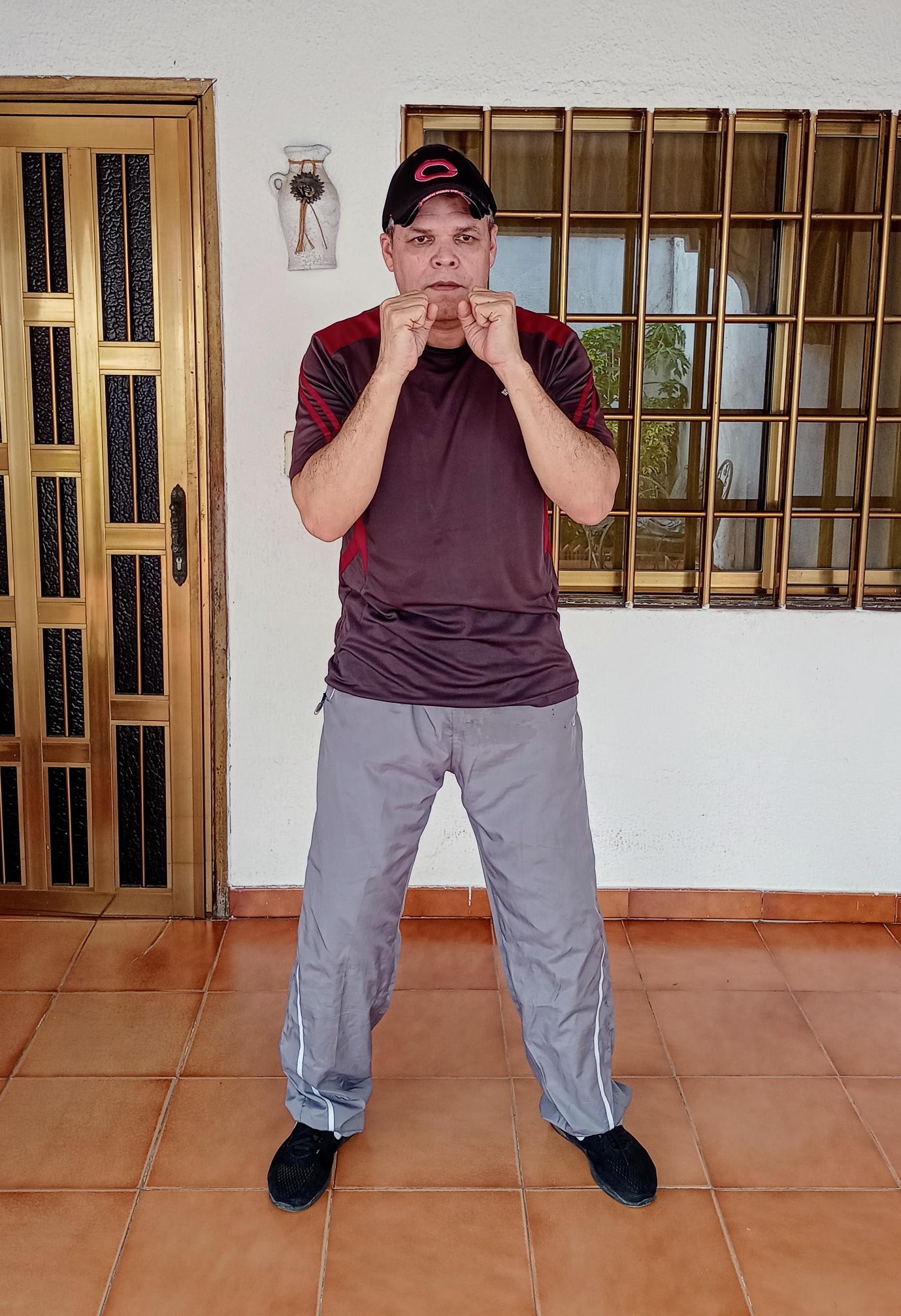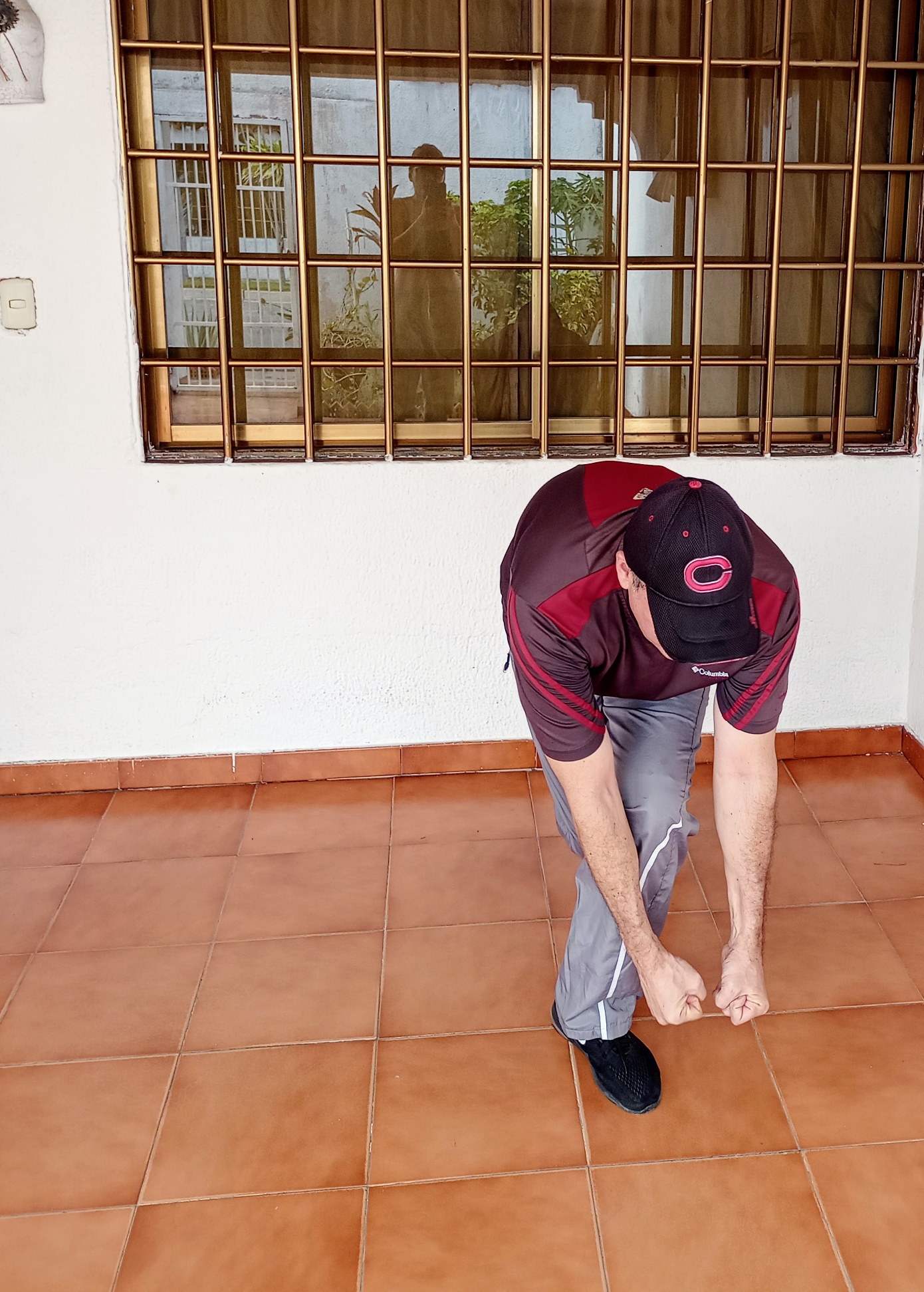 Sentadillas en giro con pie pivot
Para los que deseen saber sobre el pie pivot. Este es un término usado en baloncesto que consiste en mantener un pie apoyado en suelo, pudiendo mover y girar la otra pierna y el resto del cuerpo, de igual manera el pie pivot que es el que se encuentra apoyado, se puede mover y girar, más no se despega del suelo. En este ejercicio ustedes pueden usar cualquiera de los pies como pivot. En mi caso usare el derecho. Adoptamos posición de combate, giramos 90° a la derecha y sin despegar el pie derecho hacemos la sentadilla. Inmediatamente giramos a la izquierda 180° hacemos otra sentadilla. A partir de allí los giros son en 180° a la derecha e izquierda haciendo la sentadilla, siempre con el pie derecho apoyado del suelo. 20 repeticiones por lado en 4 series.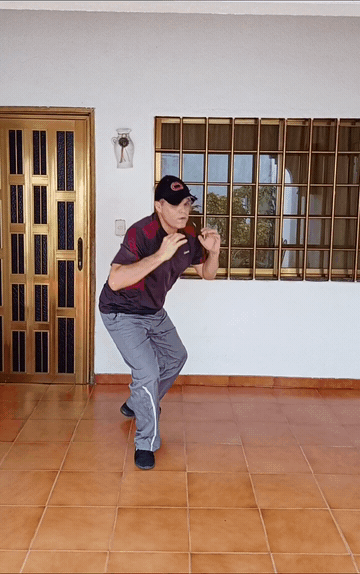 Twist squats with pivot foot

For those who want to know about the pivot foot. This is a term used in basketball that consists of keeping one foot resting on the ground, being able to move and rotate the other leg and the rest of the body, in the same way the pivot foot, which is the one that is supported, can move and rotate, more does not come off the ground. In this exercise you can use either foot as a pivot. In my case I will use the right. We adopt a fighting position, we turn 90 ° to the right and without taking off the right foot we do the squat. Immediately we turn to the left 180 ° we do another squat. From there, the turns are 180 ° to the right and left doing the squat, always with the right foot resting on the ground. 20 repetitions per side in 4 series.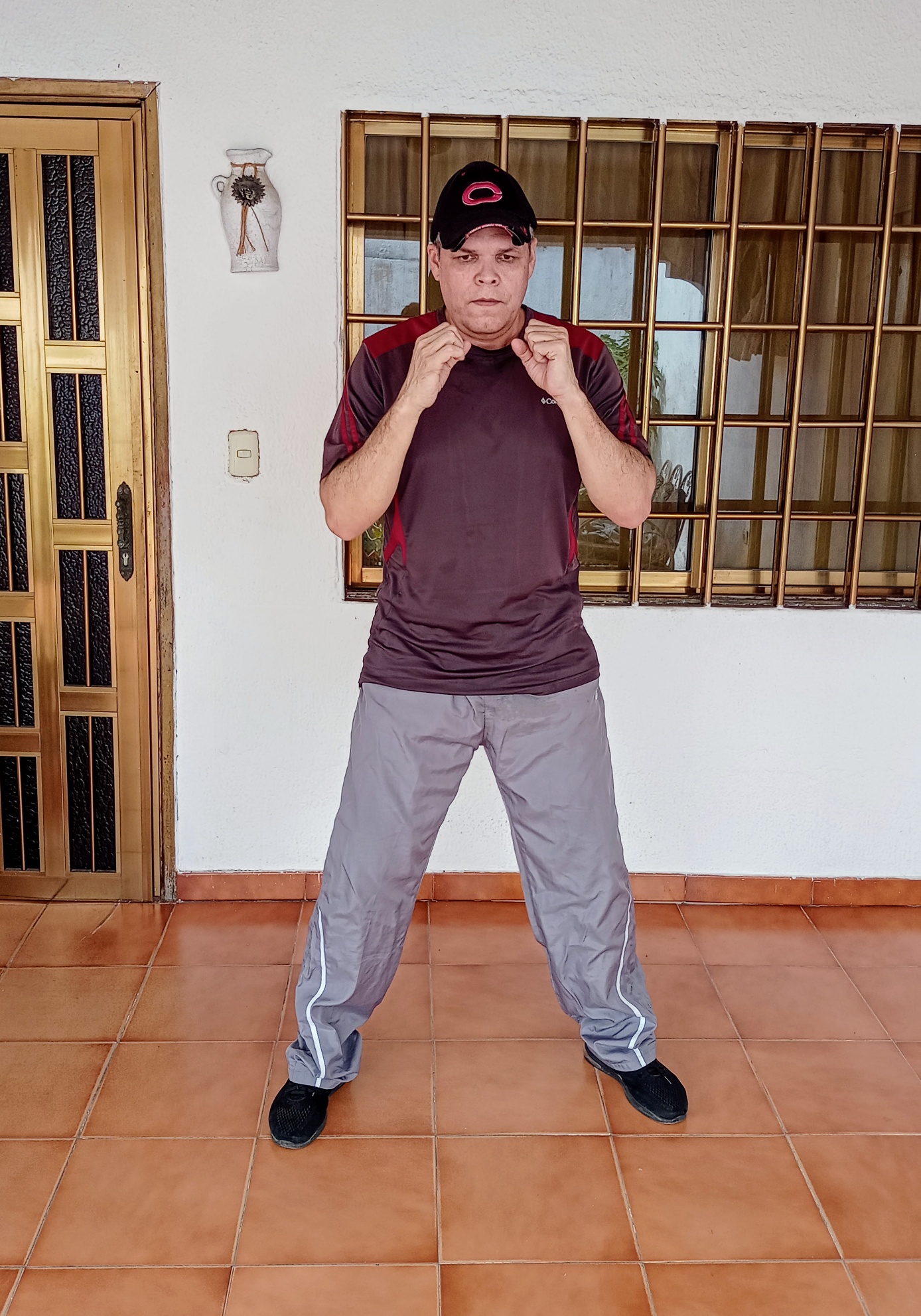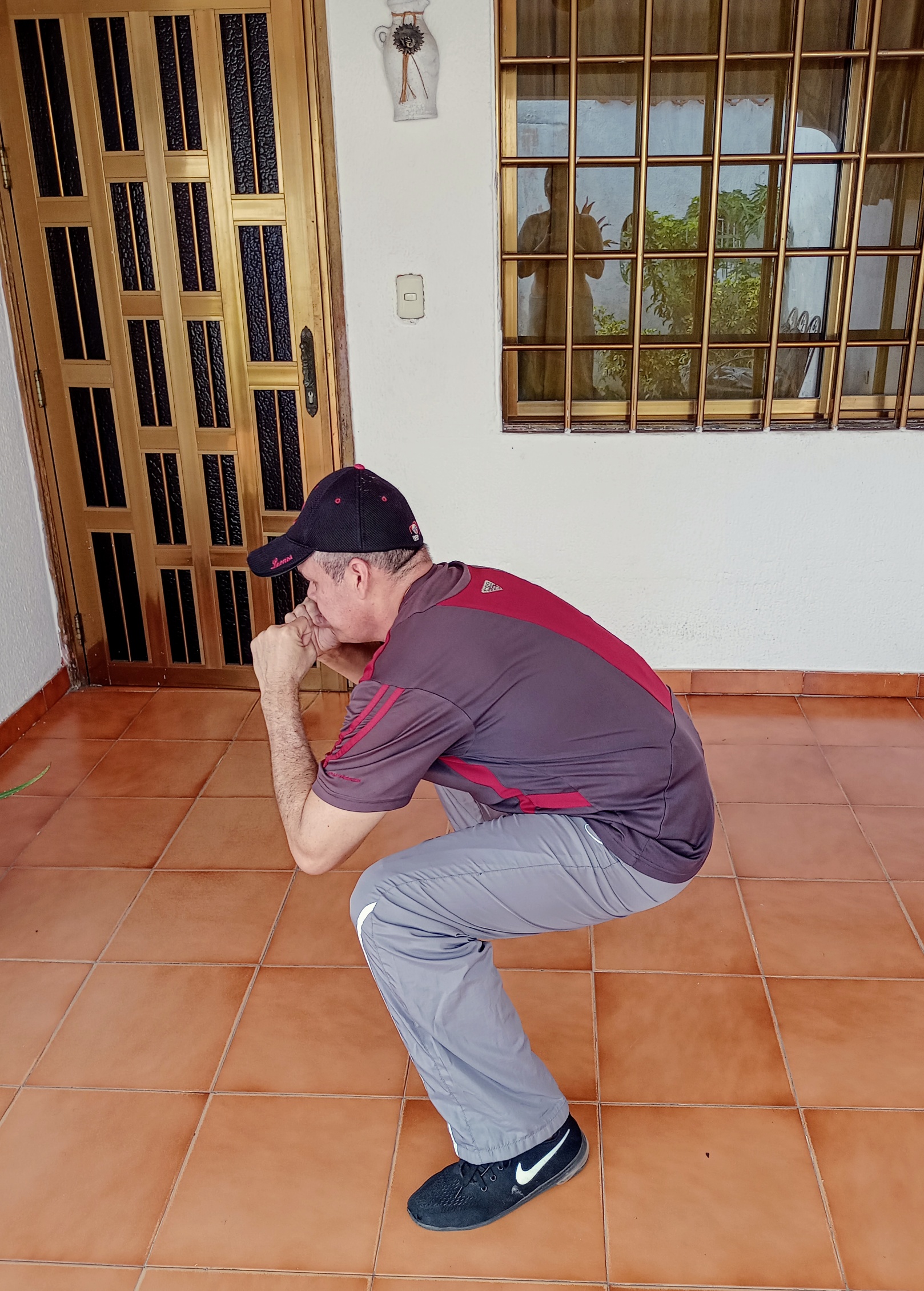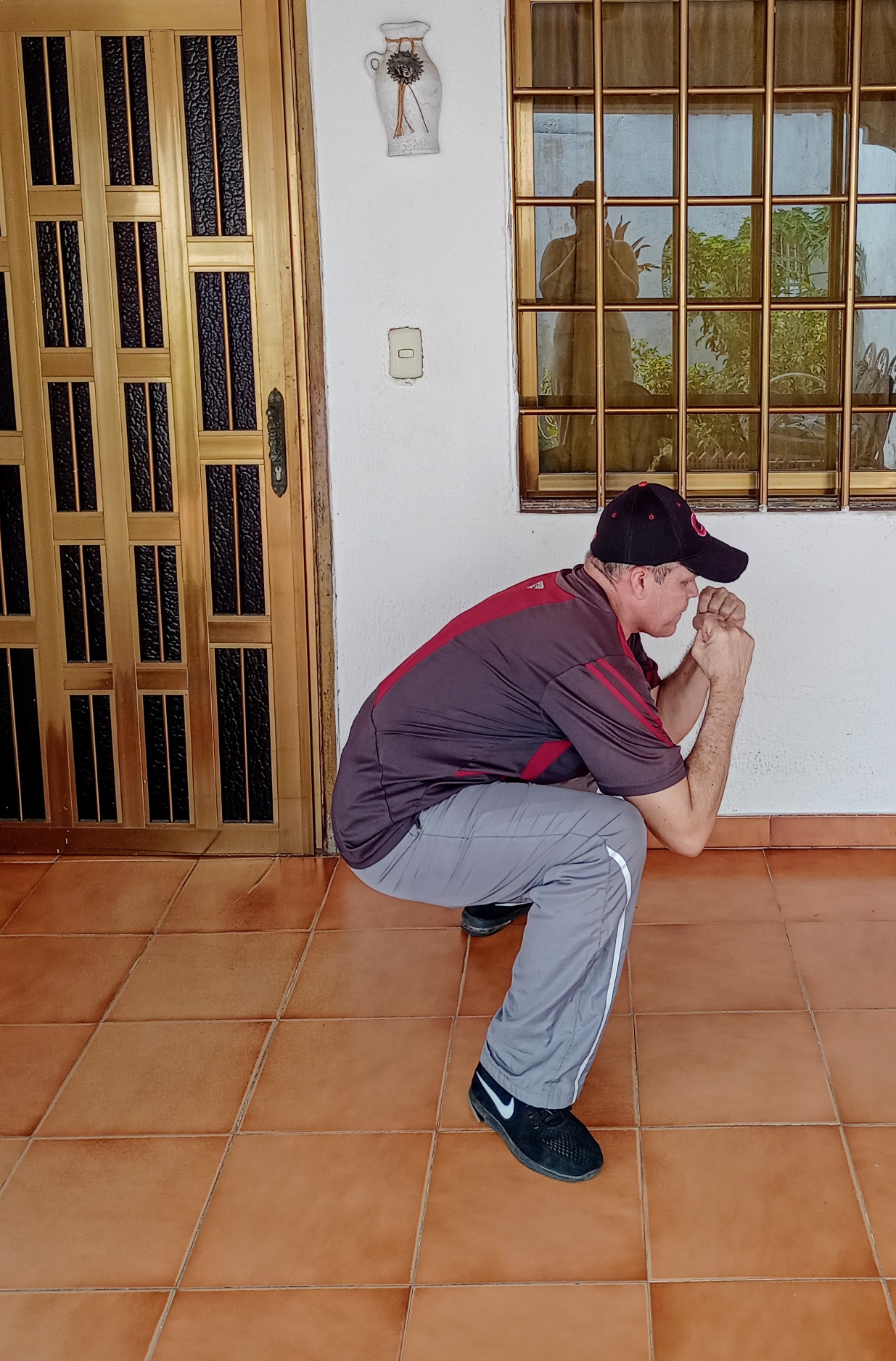 Rodillazo + giro de cadera y golpe cruzado
Posición de combate. Rodillazo, bajamos, giramos cadera al mismo lado del rodillazo y pum golpe con brazo contrario a la dirección del giro. Por ejemplo, rodillazo derecho, giramos cadera a la derecha y golpe cruzado con brazo izquierdo. Ahora rodillazo izquierdo, giramos cadera a la izquierda, y pum golpe cruzado con brazo derecho. 20 repeticiones por cada lado en 4 series. Movimientos rápidos y continuos.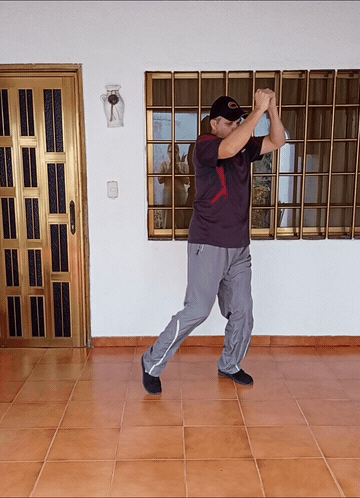 Knee kick + hip twist and cross punch

Fighting position. Knee, we go down, we turn the hips on the same side of the knee and bang with the arm opposite to the direction of the turn. For example, right knee, we turn hips to the right and crossed blow with the left arm. Now knee left, we turn hips to the left, and pound cross blow with right arm. 20 repetitions on each side in 4 series. Fast and continuous movements.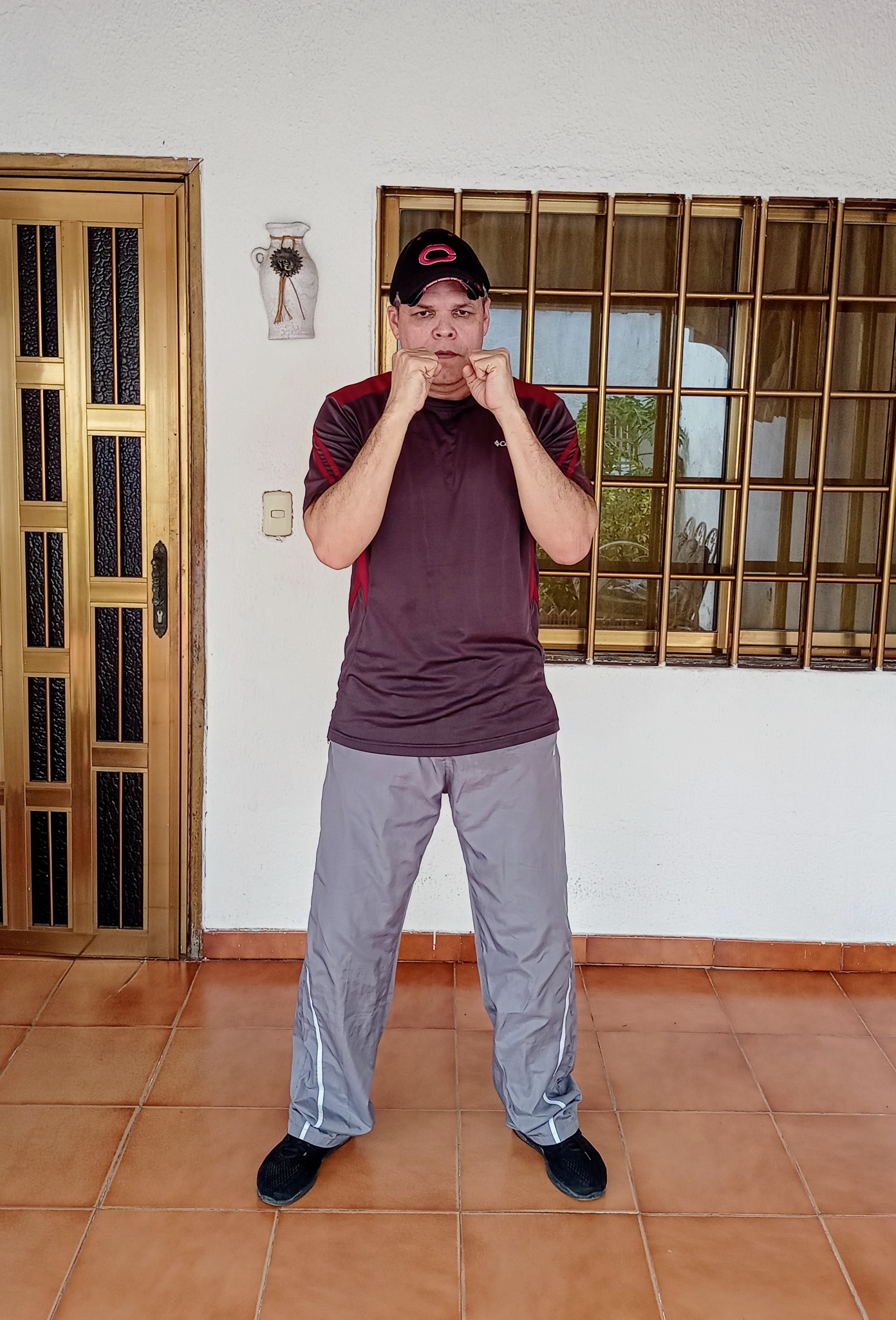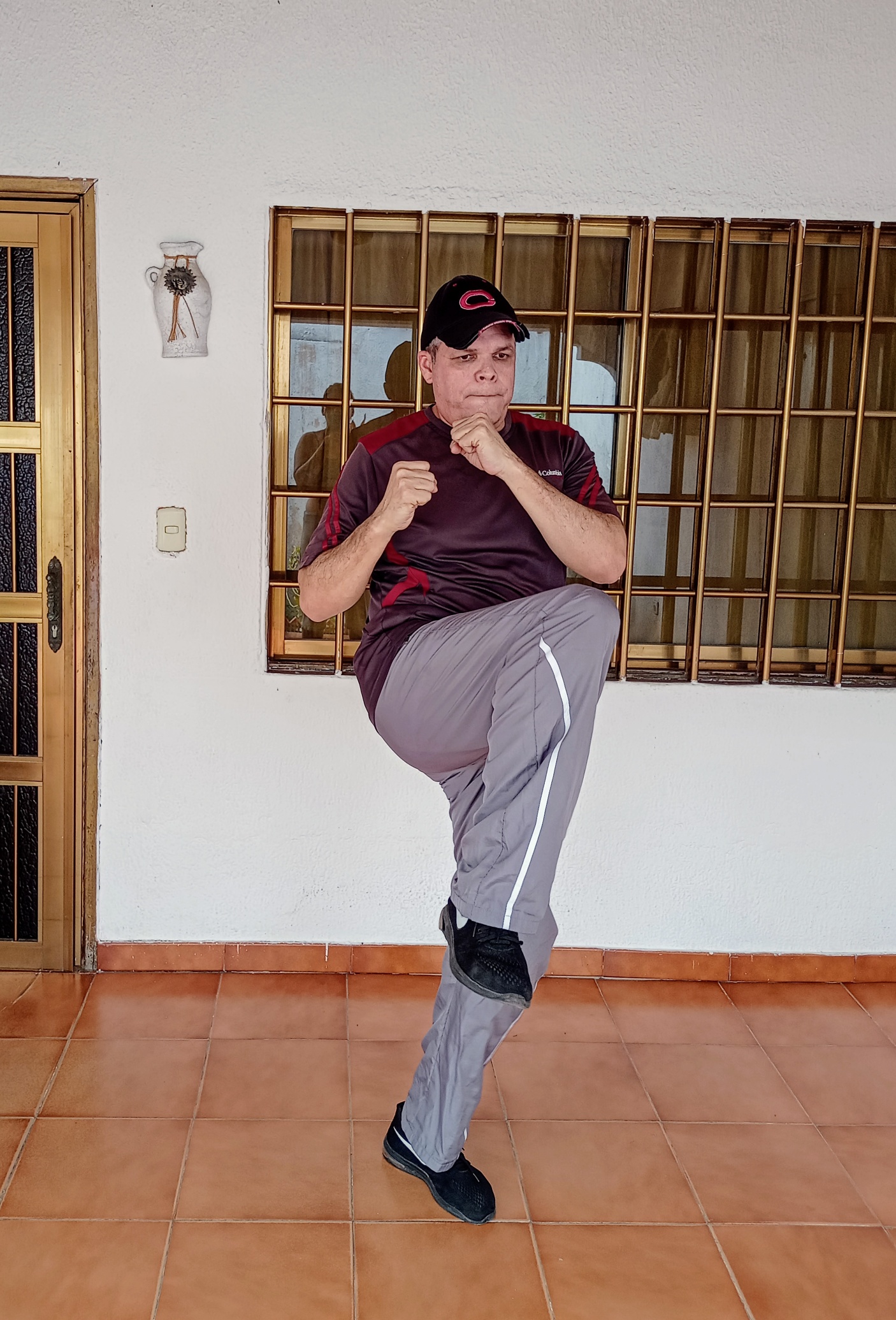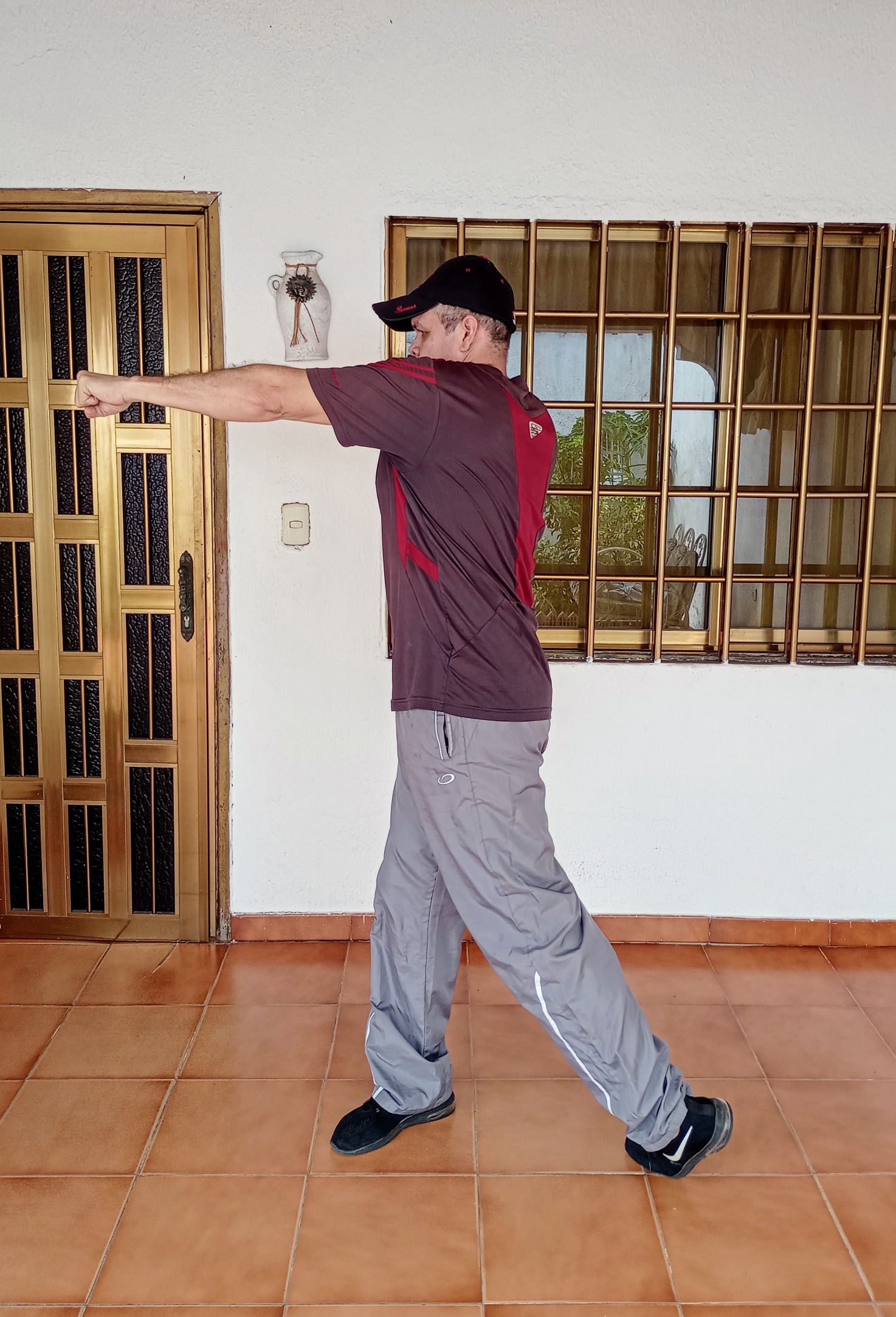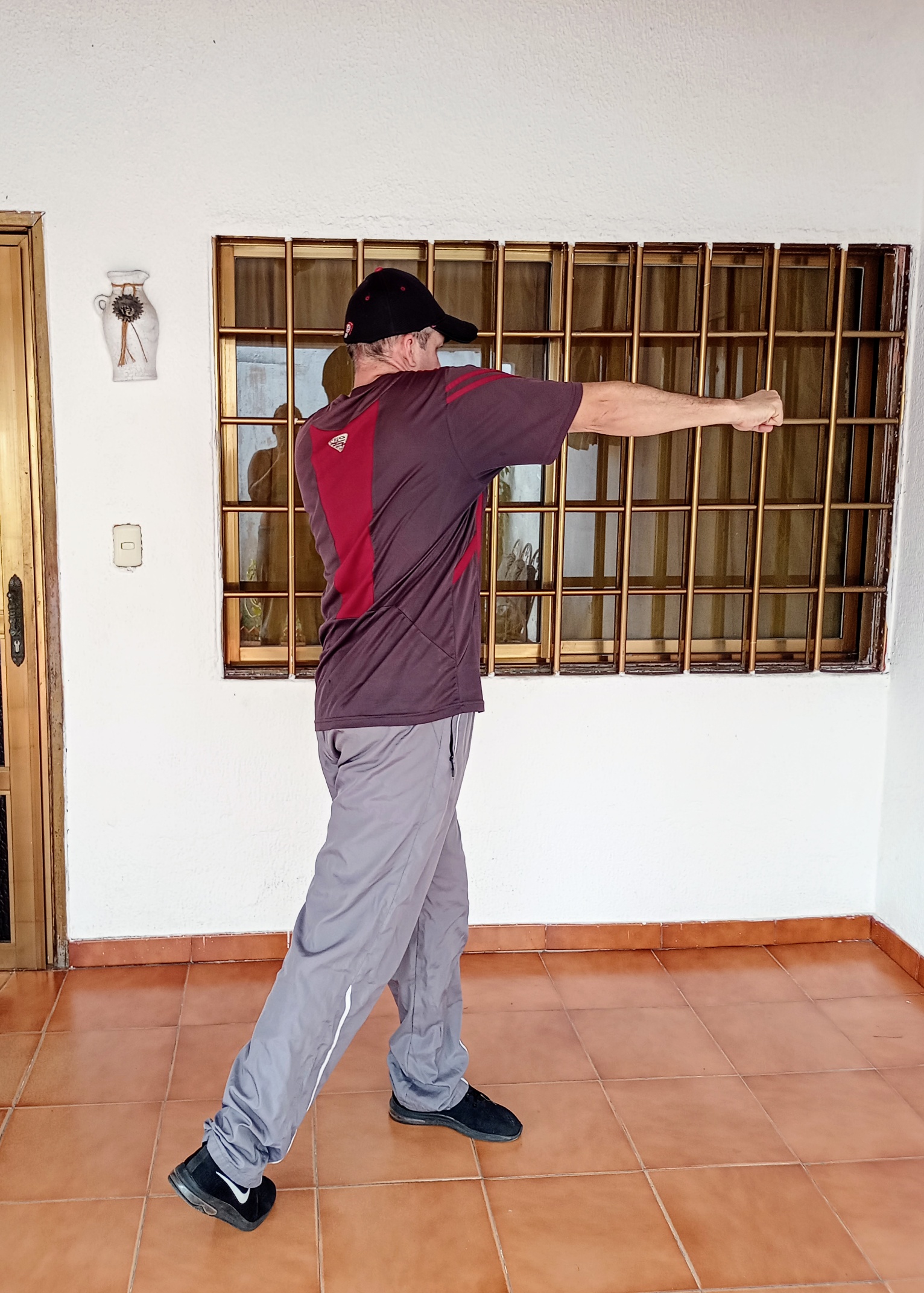 Relajación Corporal
No se rindan amigos, ya casi terminamos. Nos relajamos, enfriamos el cuerpo, descansamos y a tomar un baño.
Body Relaxation

Don't give up friends, we're almost done. We relax, cool the body, rest and take a bath.

Postura del niño
De rodillas con piernas juntas. Nos sentamos encima de las piernas. Brazos extendidos al frente. Suavemente flexionamos el torso al frente hasta llegar al piso. Mantenemos posición por 30 segundos. Repetimos todo el proceso hasta cumplir los 3 minutos.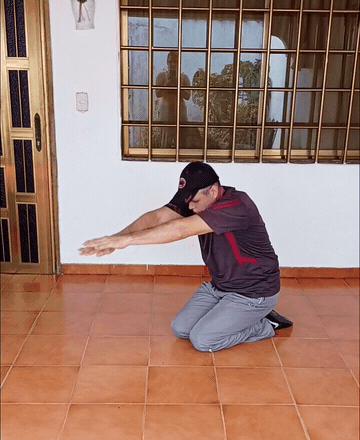 Child's posture

On your knees with your legs together. We sit on the legs. Arms extended in front. Gently flex the torso in front until we reach the floor. We hold position for 30 seconds. We repeat the whole process until the 3 minutes are up.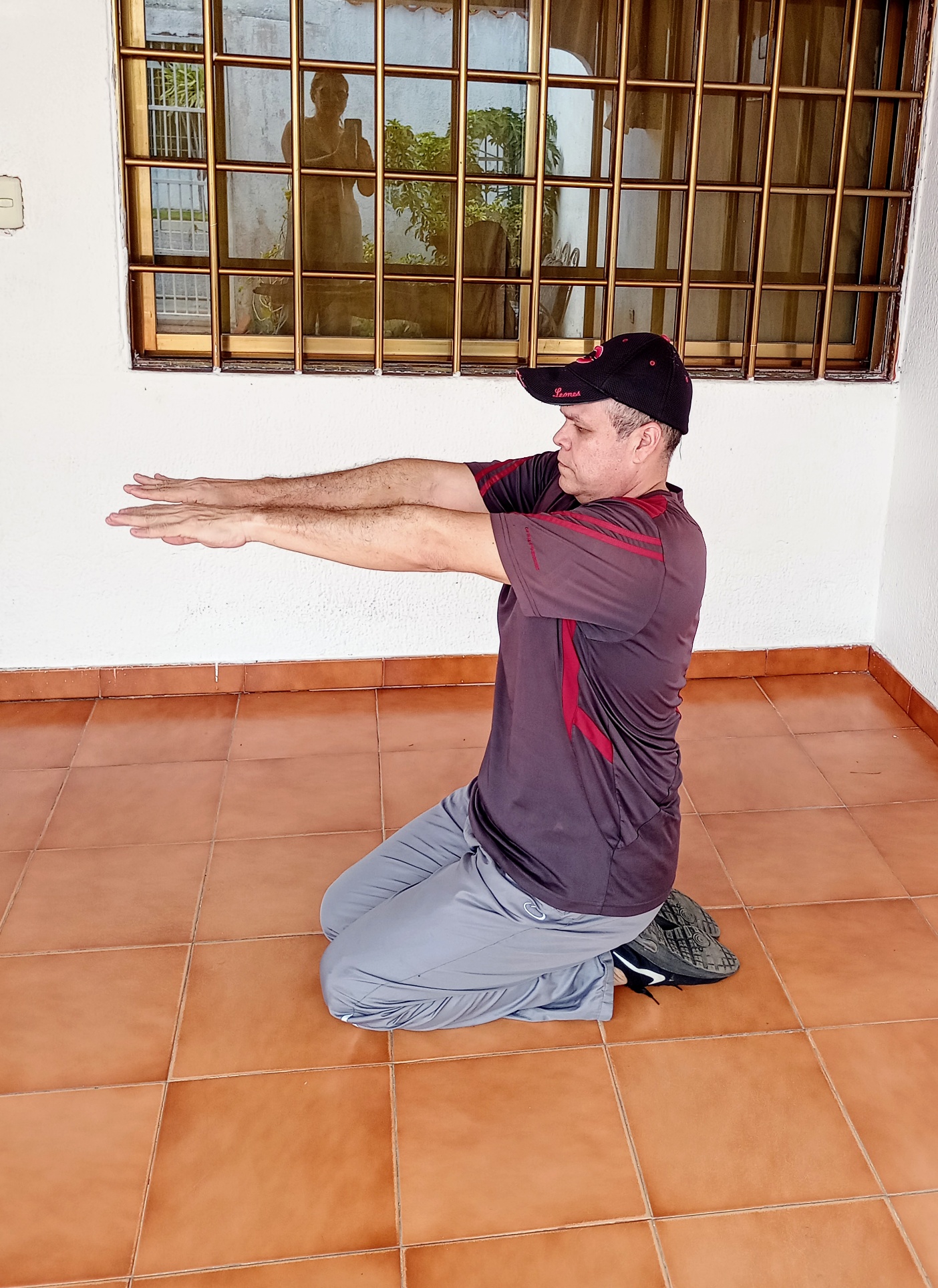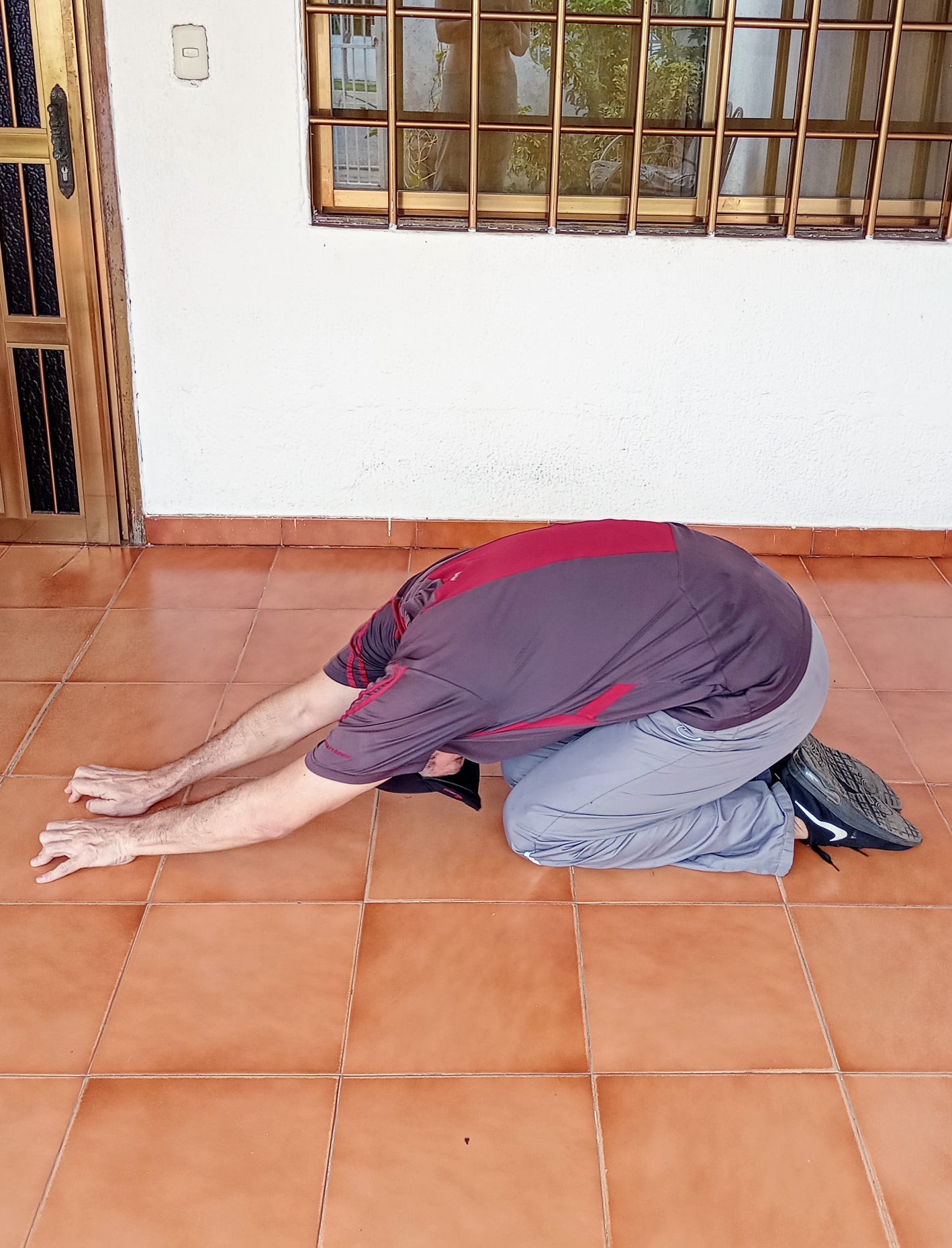 Nos mantenemos en la onda de los saltos que ponen el cuerpo en movimiento constante. Esto es pura pasión, pura explosión corporal. Se que ustedes también sintieron ese cúmulo de emociones, que nos harán personas mas felices, de eso estoy totalmente seguro. Saludos y hasta pronto.
We stay on the wave of jumps that put the body in constant motion. This is pure passion, pure body explosion. I know that you also felt that accumulation of emotions, which will make us happier people, of that I am totally sure. Greetings and see you soon.
...Gracias Por Visitar...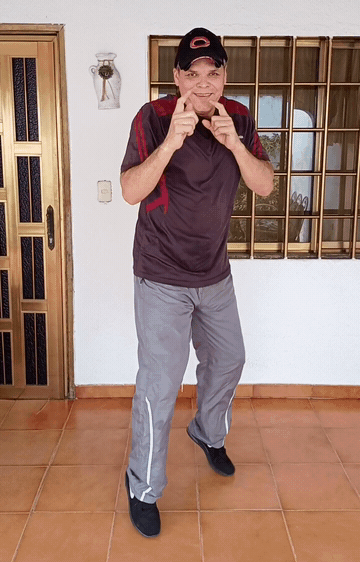 ...Thanks for visiting...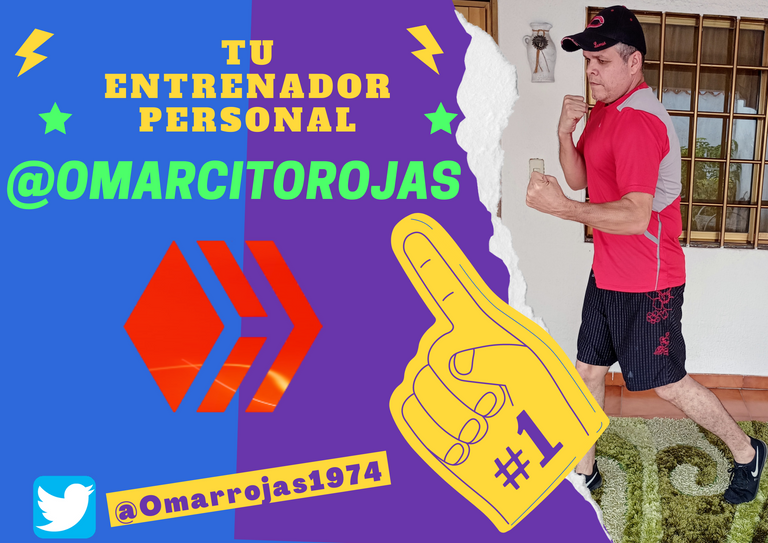 Imágenes Fotográficas, tomadas por mi hijo Miguel Rojas.
Photographic images, taken by my son Miguel Rojas
Sorry. English is not our native language. Therefore, a web translator is used for texts in English. (Spanishdict)
---
---