[Esp] El Arte de Entrenar... Conviértete en el escultor de tu cuerpo [Eng] The Art of Training... Become the sculptor of your body
Un nuevo día inicia con una buena rutina de entrenamiento cargada de pasión y nuevas emociones. Y es que aquí en #hive y #fulldeportes precisamente eso es lo que abunda, pura pasión y emoción #deportiva; y porque cada #deporte es un arte, los entrenamientos no son la excepción, por ello te invitamos a disfrutar de estos fabulosos movimientos donde ustedes panas míos serán los escultores de su figura corporal. Solo deben echarle ganas, trabajen con energía, fuerza, rapidez y agilidad, elementos muy importantes para que los ejercicios se tornen más efectivos, claro está que dichos elementos serán afianzados con cada rodillazo, con cada golpe, y con cada giro corporal. En fin sigamos adelante y verán que se ejercitarán mientras se divierten. Vamos a la acción.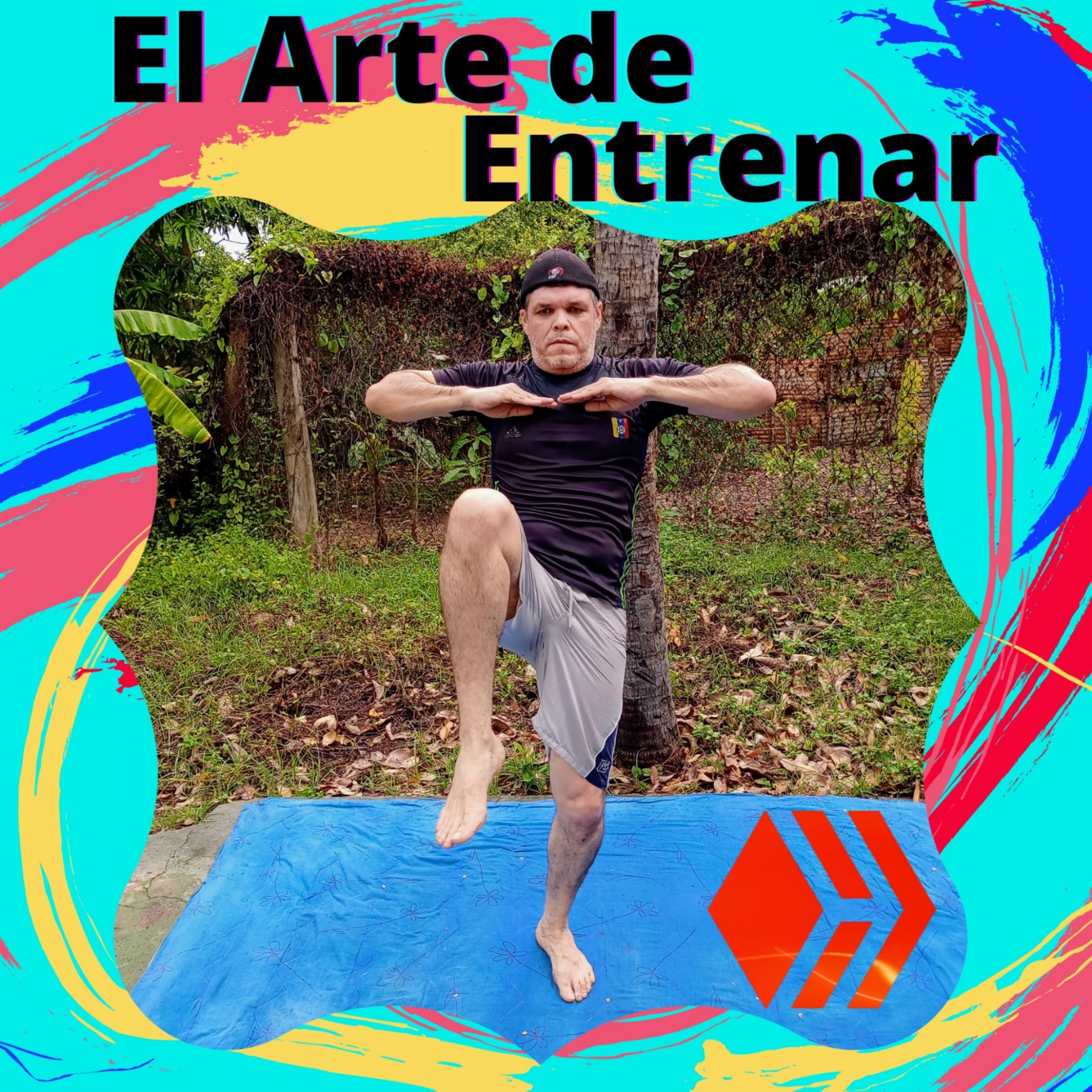 Imagen de mi Autoría Editada por/Image of my Authorship Edited by Canva
Gifs creados en la aplicación/Gifs created in the application HD Video To Gif Converter
A new day begins with a good training routine full of passion and new emotions. And it is that here in #hive and #fulldeportes that is precisely what abounds, pure passion and #sportive emotion; And because each #sport is an art, training is no exception, so we invite you to enjoy these fabulous movements where you my friends will be the sculptors of your body figure. You just have to make yourself feel like it, work with energy, strength, speed and agility, very important elements for the exercises to become more effective, of course, these elements will be strengthened with each knee, with each blow, and with each body turn. Anyway, let's go ahead and see that they will exercise while having fun. Let's go to action.

Calentamiento Corporal
Giros de pierna con rodilla elevada.
Trote con talones a las palmas.
Abajo / Plancha + extensión / Salto al frente / Rodilla - rodilla.
Ganchos en velocidad con giros de tren inferior en salto.
Flexión y extensión lateral de brazos / Paso + rodillazo.
Tornado abdominal con talones elevados.
Relajación Corporal
Extensión superior de brazos + elevación de talones.
Body Warming

Elevated knee leg twists.
Trot with heels to palms.

Down / Plank + extension / Jump forward / Knee - knee.
Hooks in speed with lower body turns in jump.
Flexion and lateral extension of arms / Step + knee.
Abdominal tornado with elevated heels.

Body Relaxation

Upper arm extension + heel lift.

Calentar antes de entrenar
Dinámica: En circuito
Trabajo por ejercicio: entre 10 Y 30 (se indica) repeticiones.
Series: 4 por circuito completo.
Descanso entre ejercicios: de 10 a 20 segundos.
Descanso entre series: de 1 a 2 minutos.
Warm up before training
Dynamics: In circuit
Work per exercise: between 10 and 30 (indicated) repetitions.
Series: 4 per complete circuit.
Rest between exercises: 10 to 20 seconds.
Rest between series: 1 to 2 minutes.

Calentamiento Corporal
Sin mucho preámbulo debemos calentar para que el cuerpo este apto para la acción fuerte, además de evitar lesiones.
Body Warming

Without much preamble we must warm up so that the body is suitable for strong action, in addition to avoiding injuries.

Giros de pierna con rodilla elevada
De pie con piernas un poco abriertas y brazos flexionados. Luego, elevamos una rodilla y la giramos hacia un lado. Bajamos pierna, subimos la otra rodilla y giro hacia el otro lado. 3 minutos de giros continuos.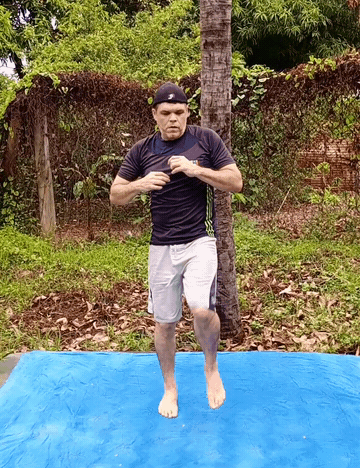 Elevated knee leg twists

Stand with legs slightly open and arms bent. Then we raise one knee and turn it to the side. We lower leg, raise the other knee and turn to the other side. 3 minutes of continuous spins.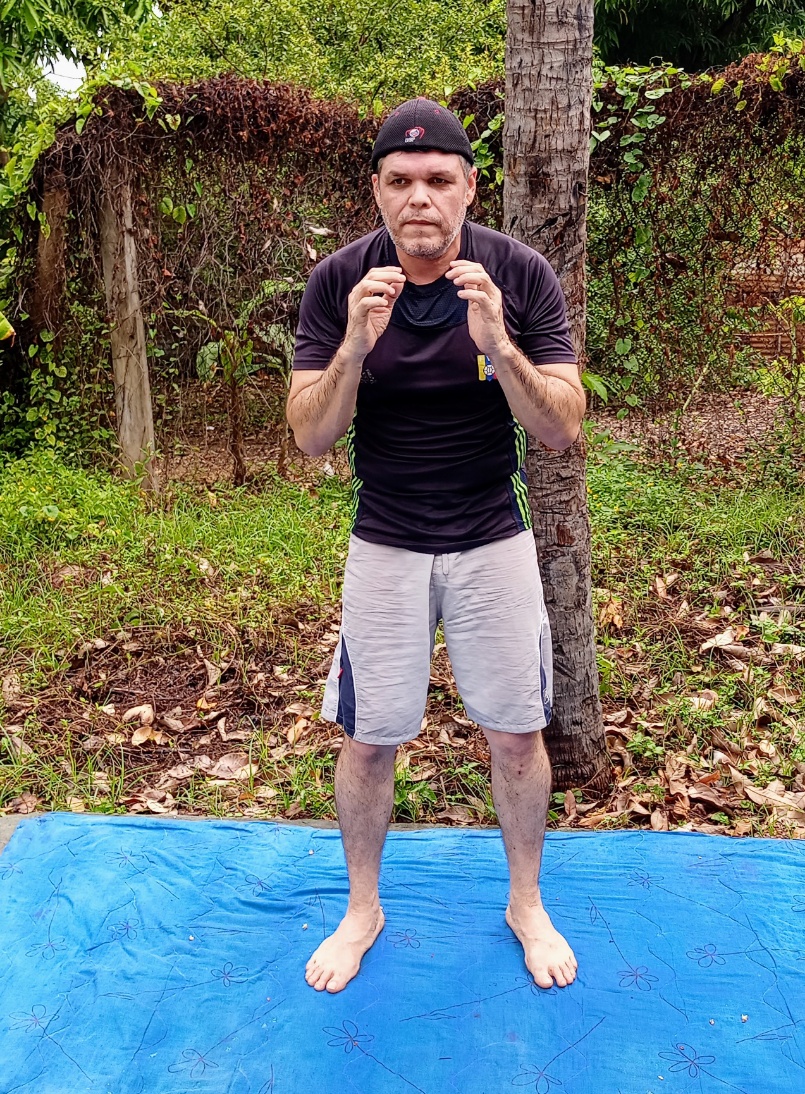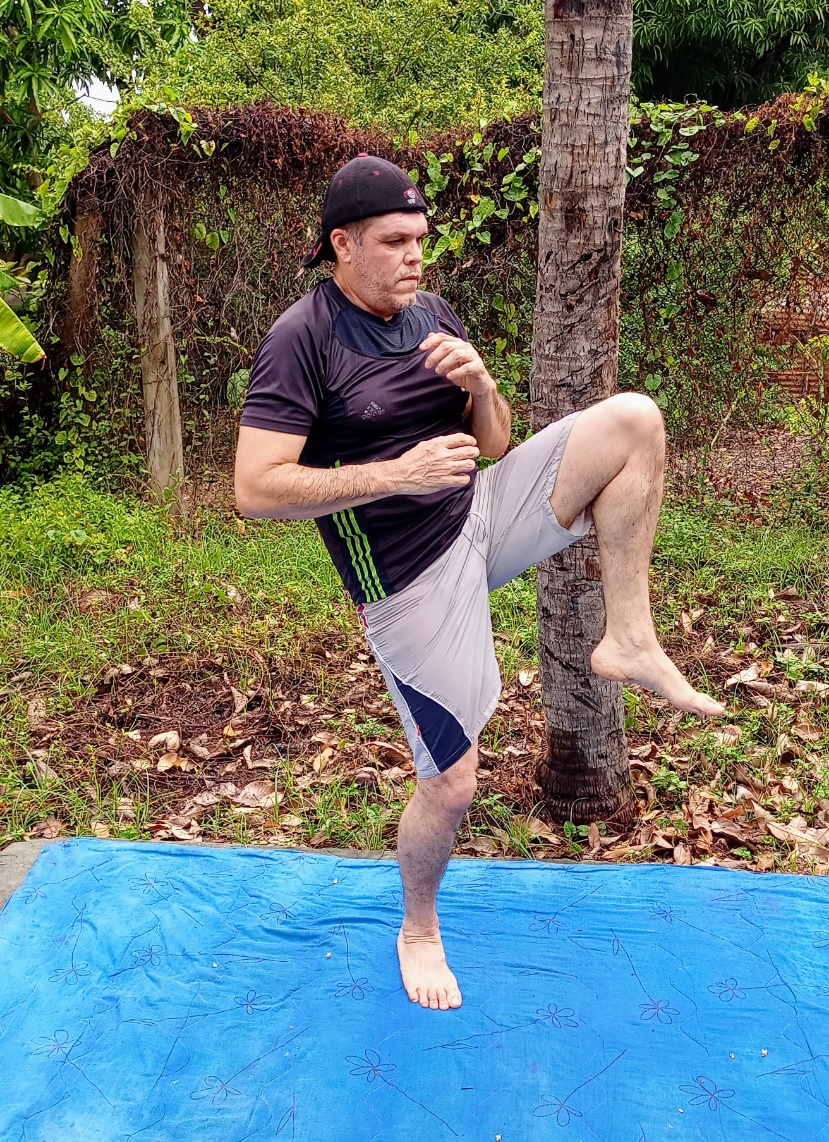 Trote con talones a las palmas
Colocamos cada mano con palmas hacia afuera sobre cada glúteo. Ya en posición, ejecutamos el trote flexionando las piernas hacia atrás logrando que cada talón del pie toque su respectiva palma de mano. 3 minutos de trote.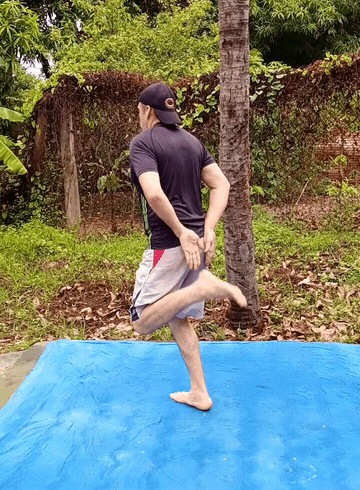 Trot with heels to palms

We place each hand with palms out on each glute. Once in position, we execute the trot flexing the legs backwards, making each heel of the foot touch its respective palm. 3 minute jog.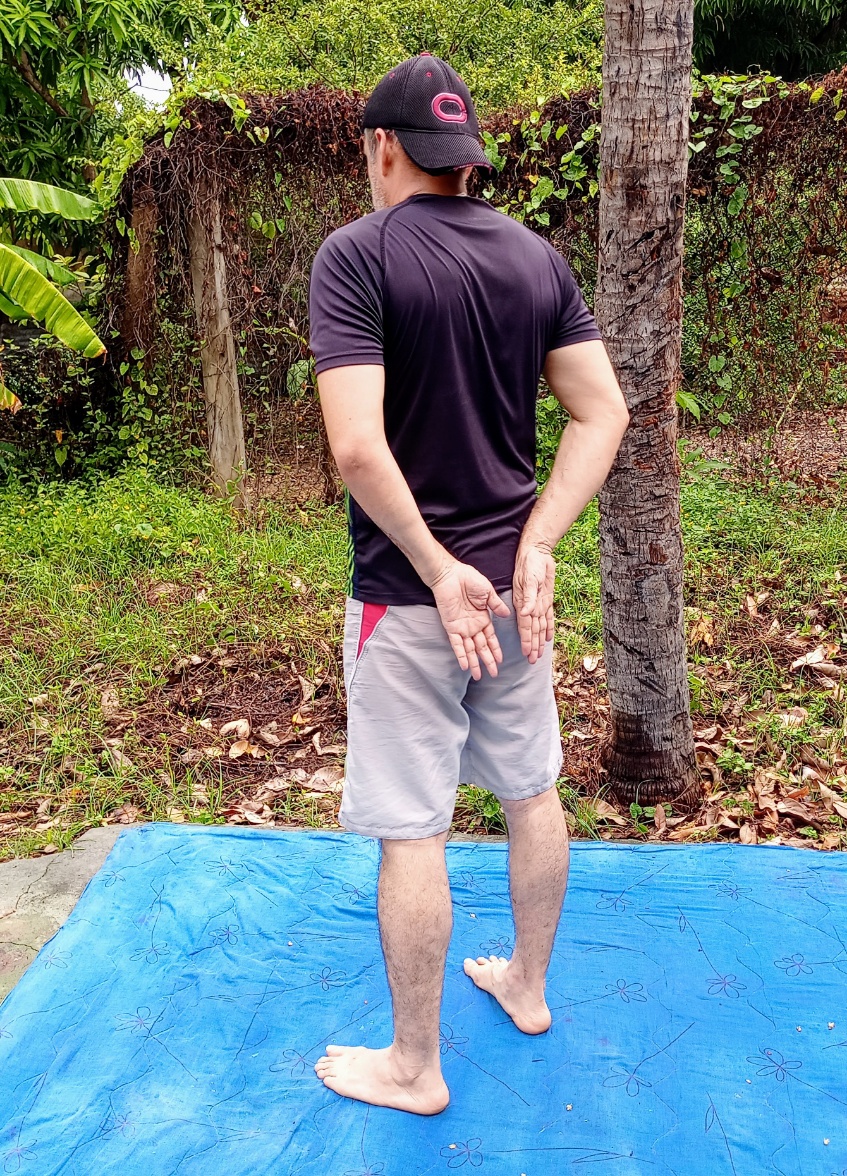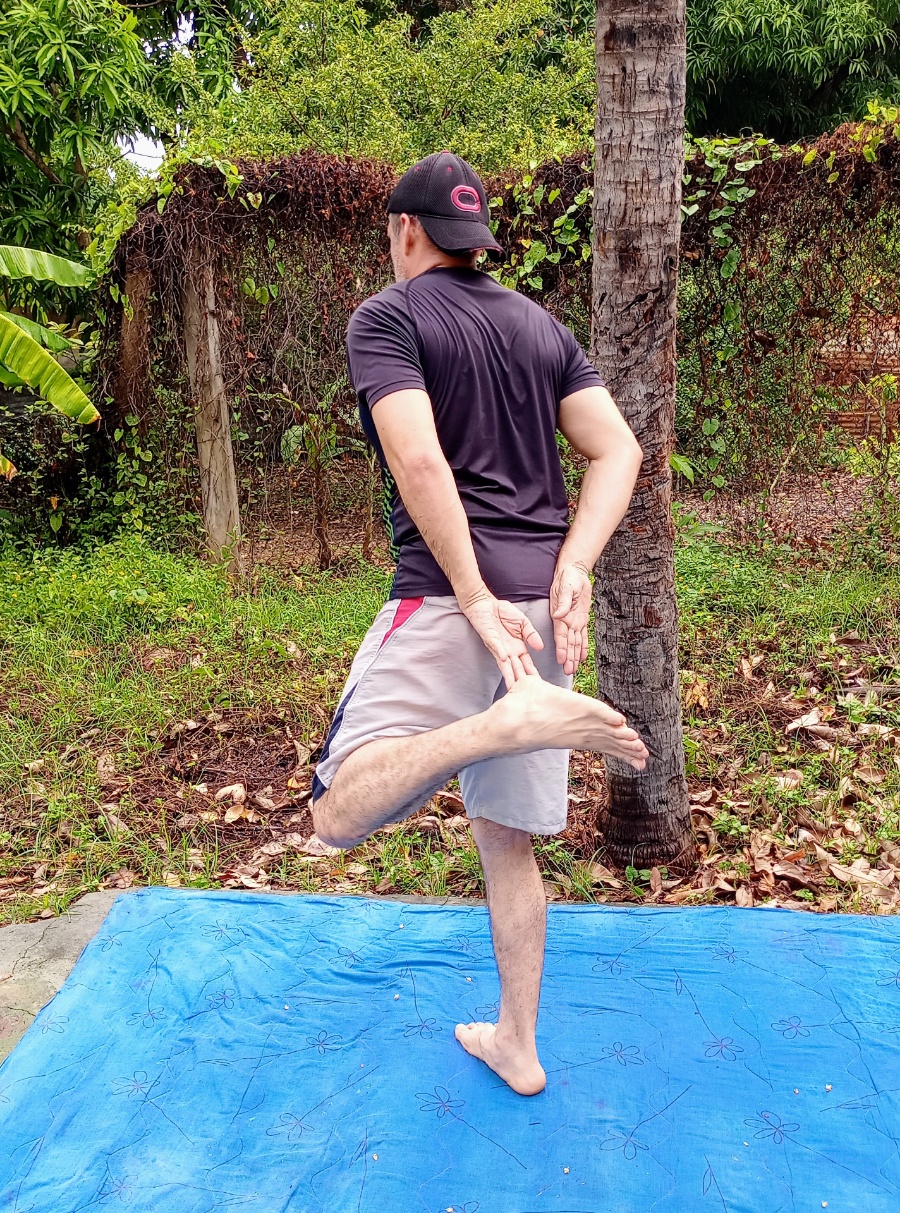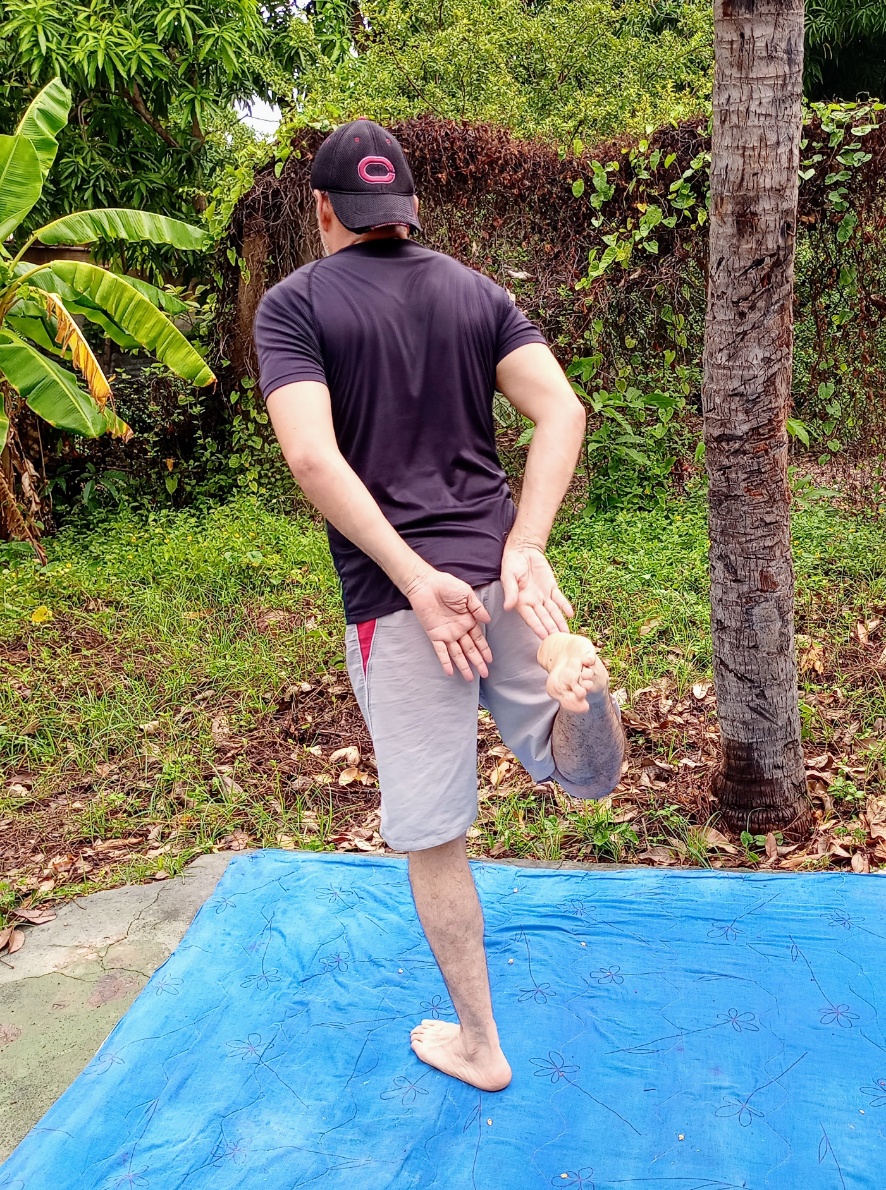 Fuerza, energía, agilidad y potencia es lo que vamos a aportar y afianzar con estos movimientos. No se diga más y vamos a la acción. Jamás deben olvidar descansar entre series e hidratarse.
Strength, energy, agility and power is what we are going to contribute and strengthen with these movements. Say no more and let's take action. They should never forget to rest between sets and hydrate.

Abajo / Plancha + extensión / Salto al frente / Rodilla - rodilla
Trabajo extremo en todo el cuerpo. Nos ubicamos de pie. Ahora, con mucha energía y velocidad nos vamos al piso adoptando la postura de plancha extendiendo el tren inferior. Con la misma energía saltamos hacia adelante, quedando de pie para dar un golpe de rodilla con cada pierna. De nuevo nos vamos hacia abajo ejecutando todo el ciclo en 20 repeticiones por 4 series.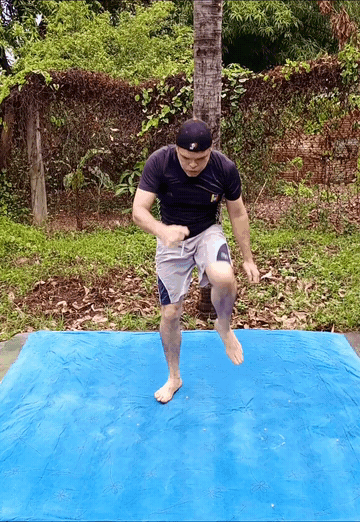 Down / Plank + extension / Jump forward / Knee - knee

Extreme work all over the body. We stand. Now, with a lot of energy and speed, we go to the floor adopting the plank position extending the lower body. With the same energy we jump forward, standing to give a knee strike with each leg. Again we go down, executing the entire cycle in 20 repetitions for 4 series.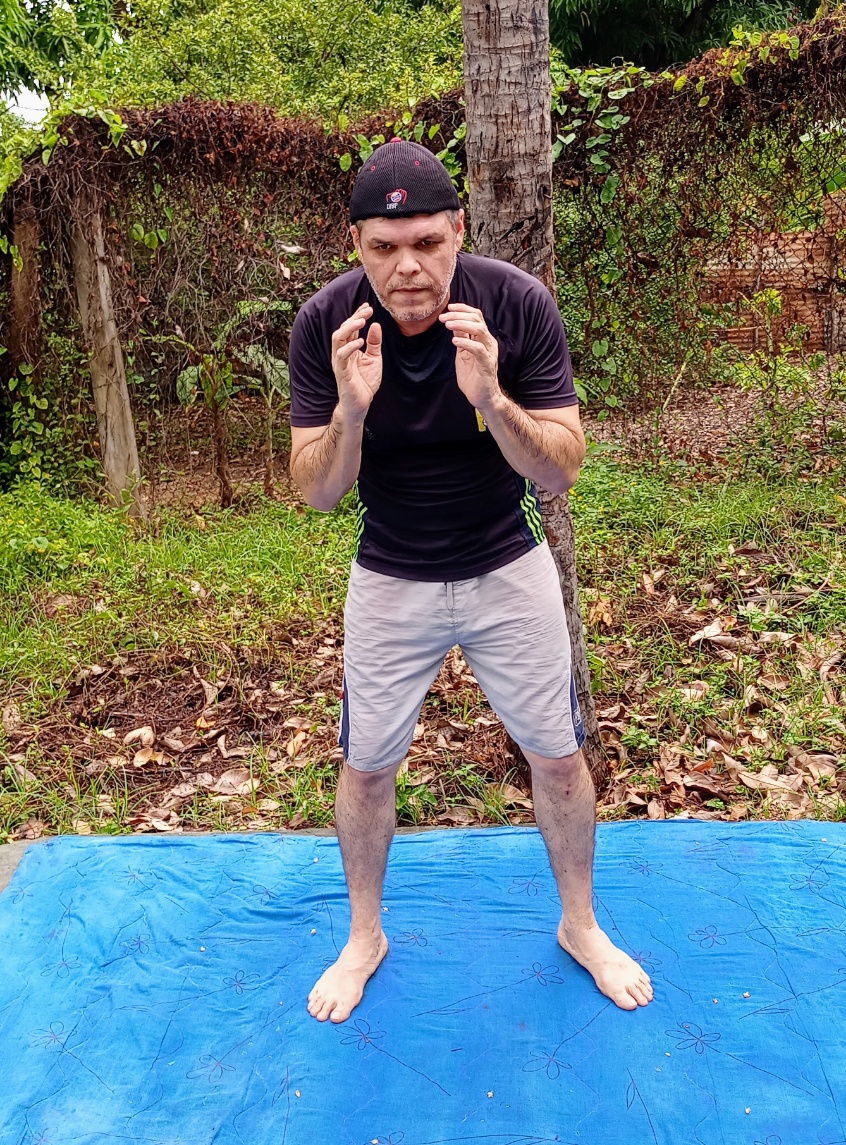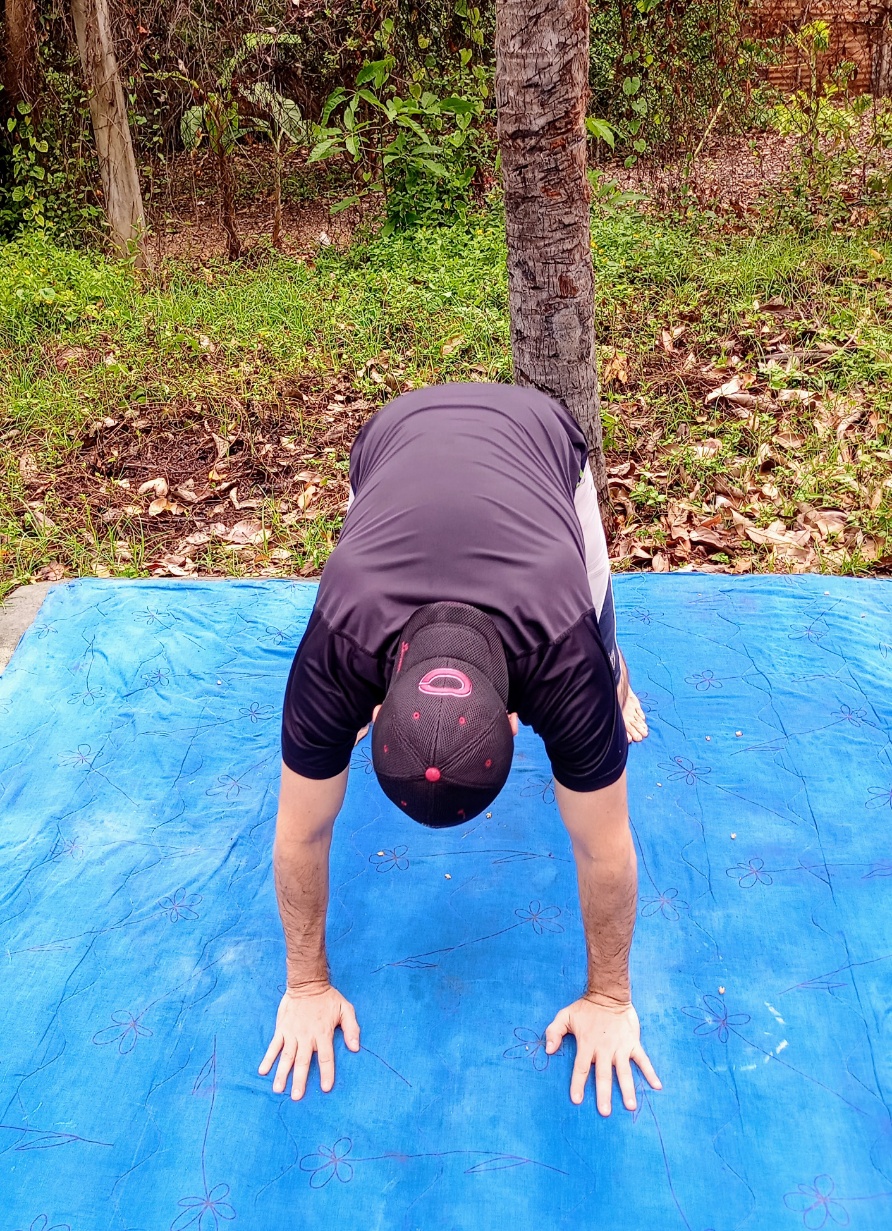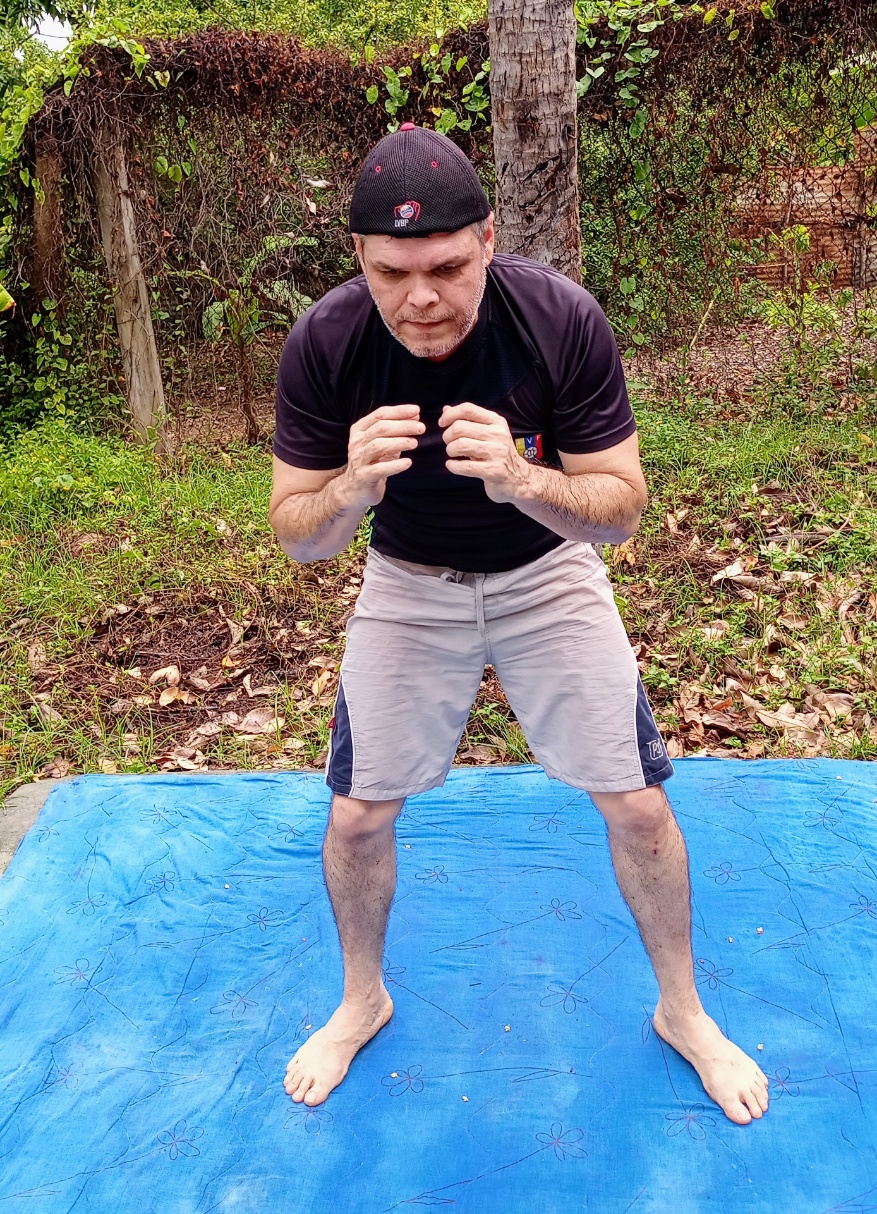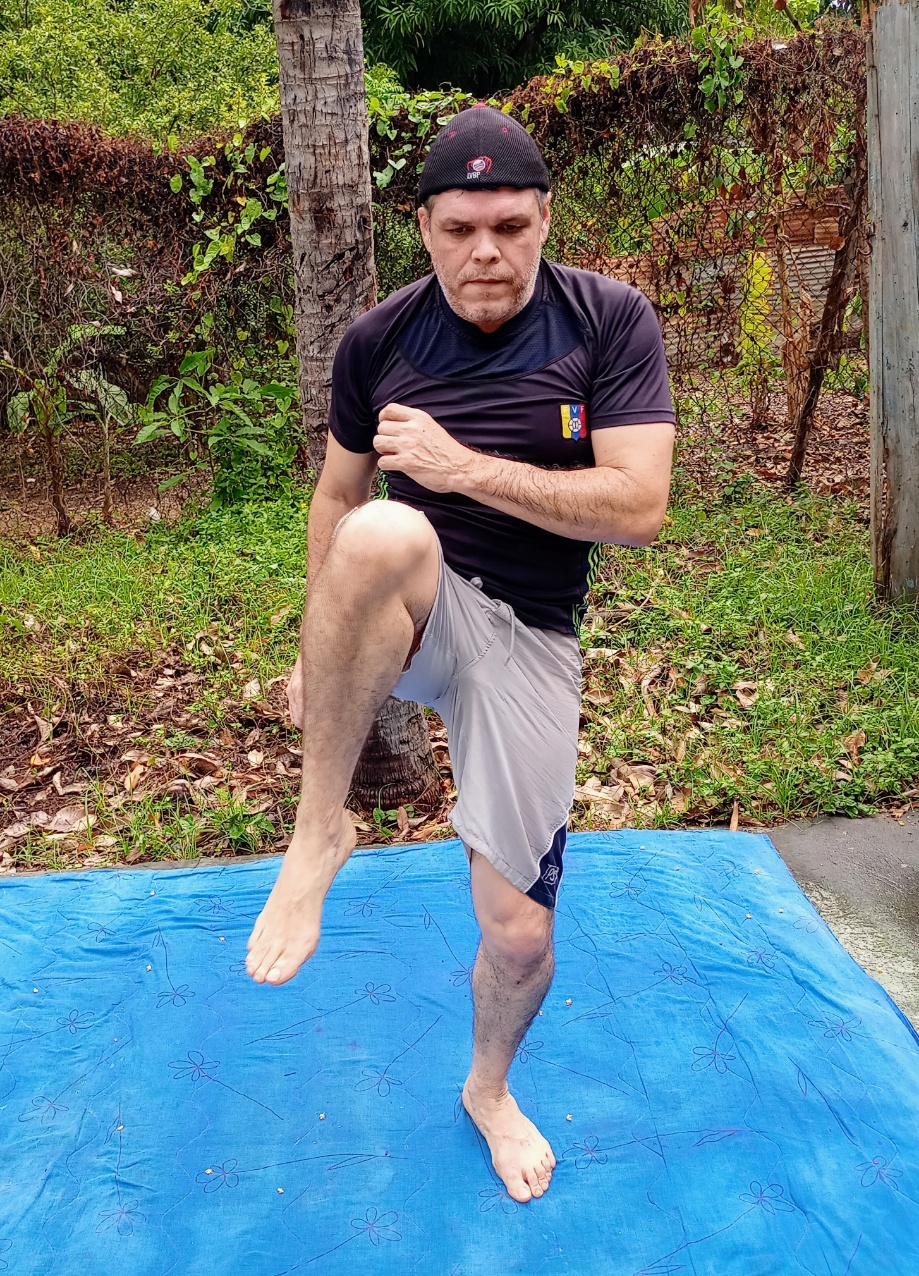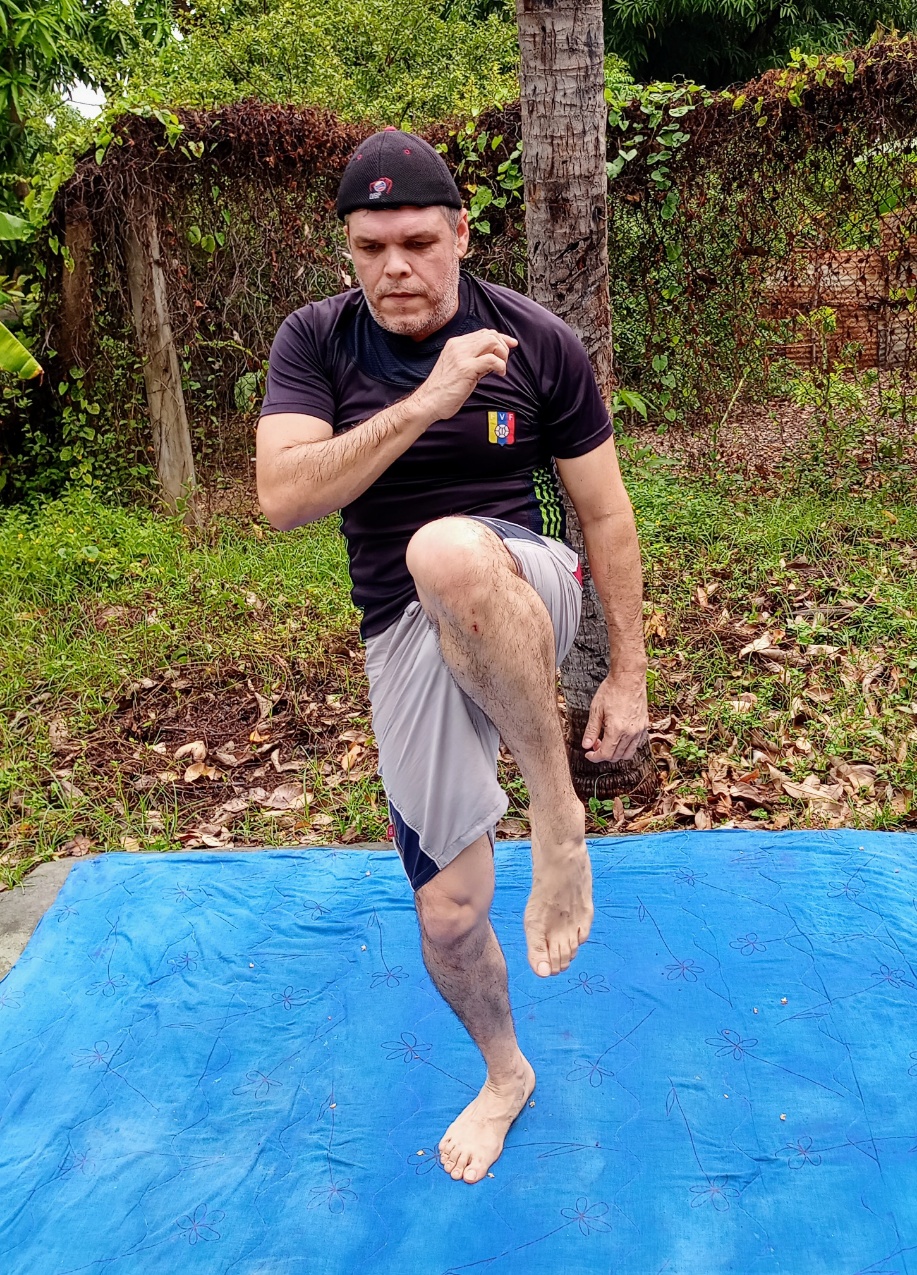 Ganchos en velocidad con giros de tren inferior en salto
Buen ejercicio para el desarrollo del tren inferior, abdomen y brazos. Contraer abdomen y glúteos en cada movimiento. Adoptamos posición de combate con los brazos flexionados a nivel medio del torso. Piernas un poco flexionadas. Torso ligeramente flexionado. Luego con mucha velocidad, energía y a través de saltos, giramos el tren inferior mientras propinamos los golpes de ganchos en velocidad. 30 repeticiones en 4 series.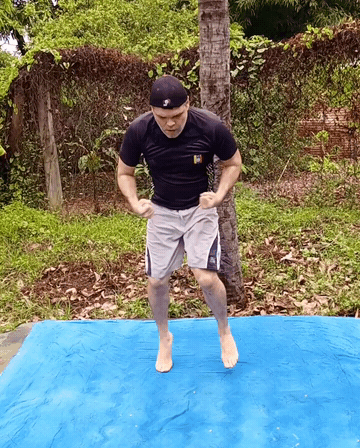 Speed ​​hooks with jumping lower body twists

Good exercise for the development of the lower body, abdomen and arms. Contract abdomen and glutes with each movement. We adopt a fighting position with the arms flexed at the mid-torso level. Legs slightly bent. Slightly flexed torso. Then with a lot of speed, energy and through jumps, we twist the lower body while hitting the hooks at speed. 30 repetitions in 4 series.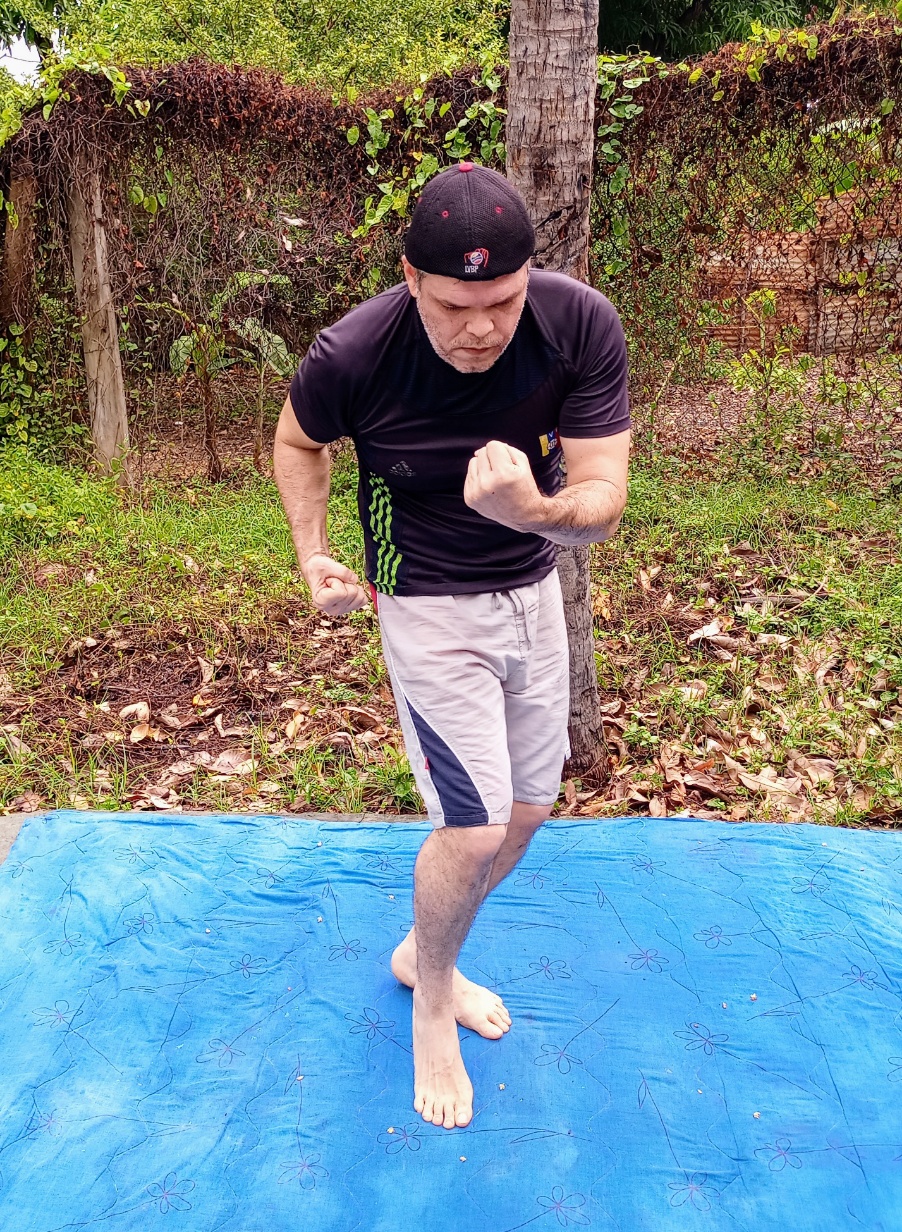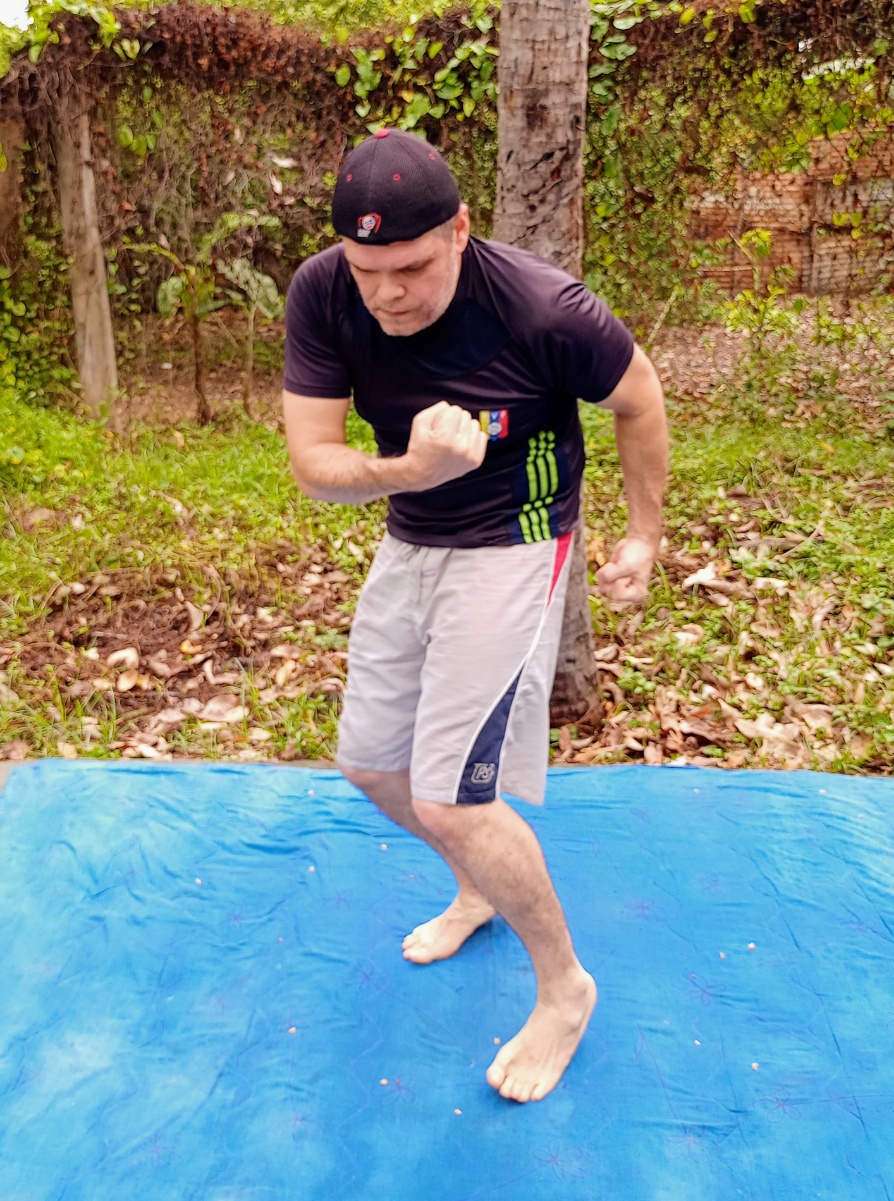 Flexión y extensión lateral de brazos / Paso + rodillazo
Tren inferior y superior en acción. El abdomen se activa. De pie con brazos flexionados en forma horizontal y manos a nivel del pecho. Ahora con una pierna damos un paso hacia adelante. Al mismo tiempo se abren los brazos. De inmediato con la pierna opuesta damos el rodillazo y los brazos se cierran. Bajamos la pierna. Pasito atrás, luego adelante y rodillazo con pierna opuesta. Supongamos que trabajamos el rodillazo con la pierna derecha. Ejecutamos 20 repeticiones. Al terminar, realizamos el mismo ejercicio pero el rodillazo se da con la pierna izquierda. 20 repeticiones más. Todo el ciclo en 4 series.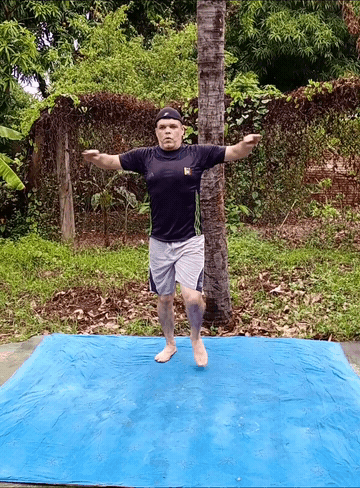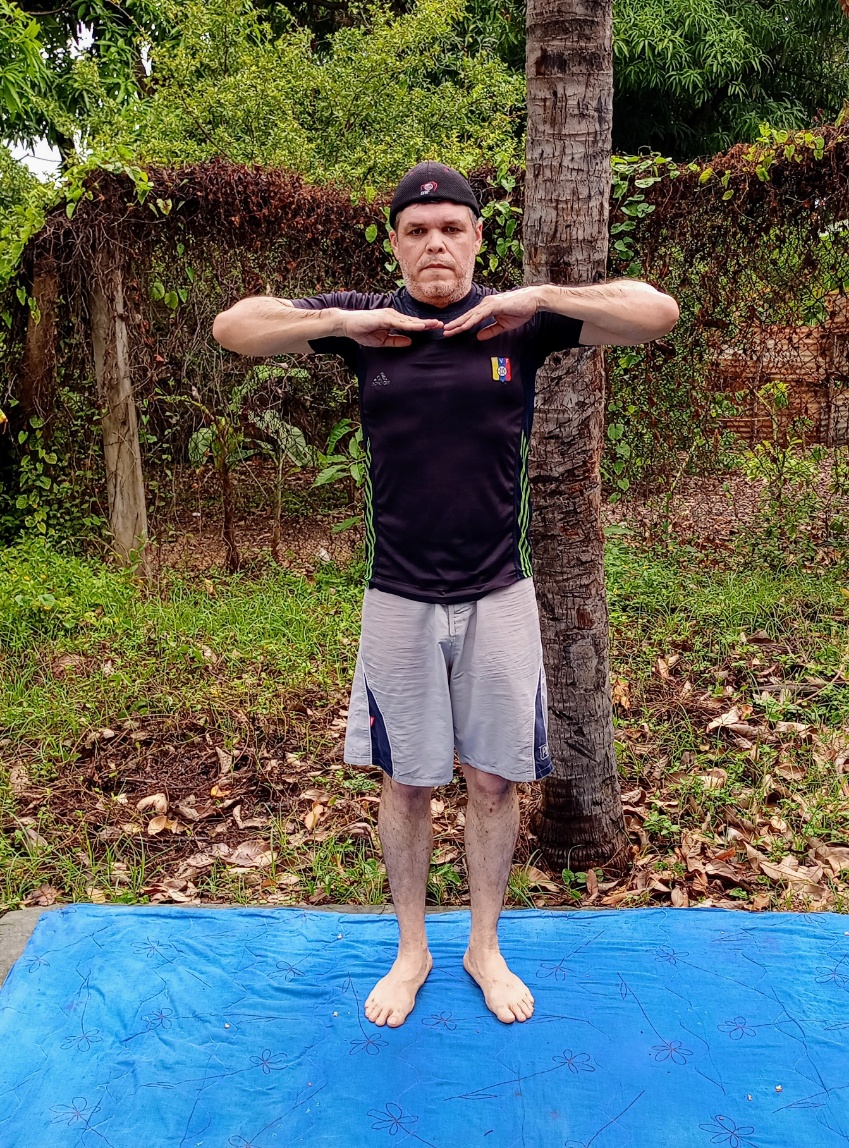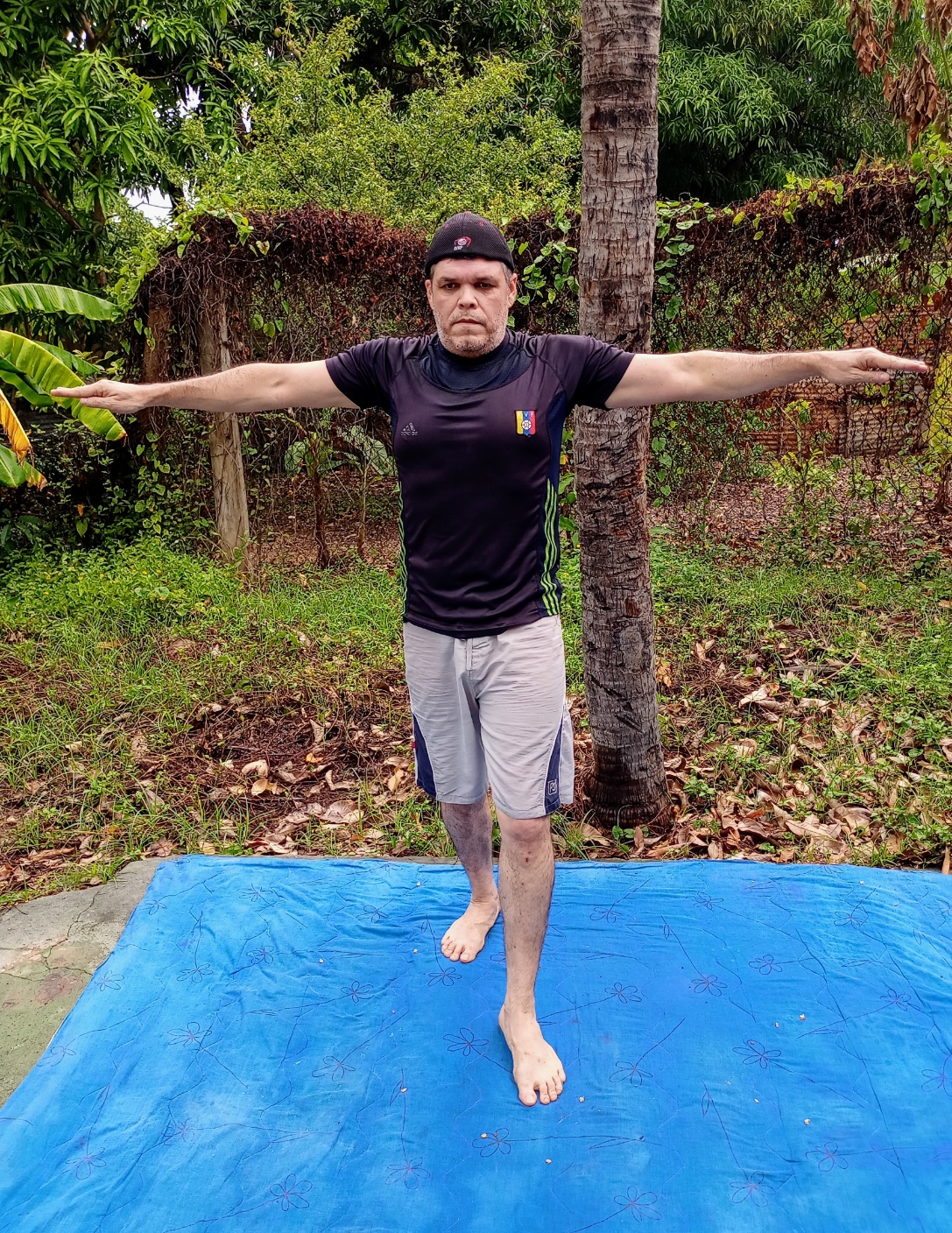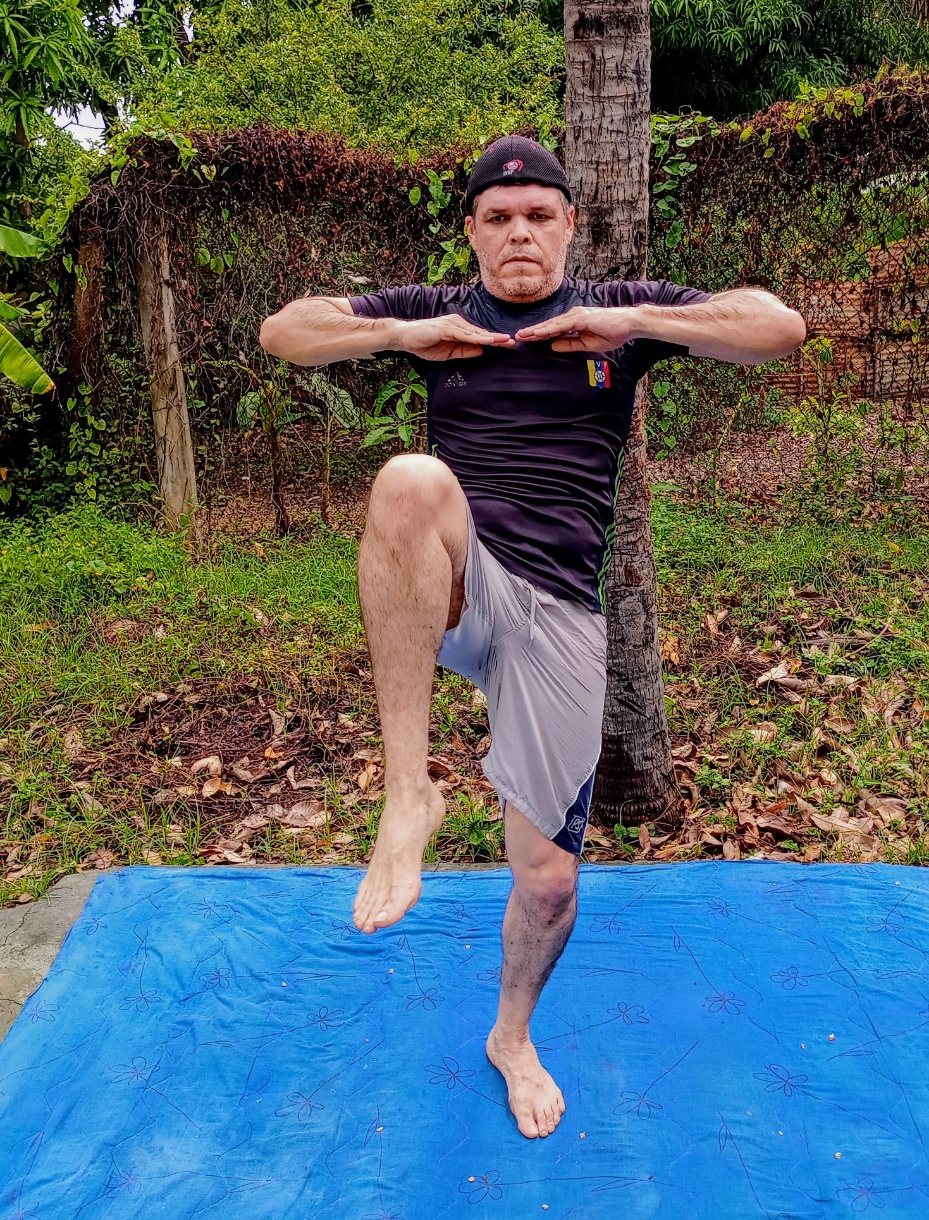 Flexion and lateral extension of arms / Step + knee

Lower and upper body in action. The abdomen is activated. Stand with arms bent horizontally and hands at chest level. Now with one leg we take a step forward. At the same time the arms are spread. Immediately with the opposite leg we kneel and the arms close. We lower the leg. Step back, then forward and knee with the opposite leg. Suppose we work the knee with the right leg. We execute 20 repetitions. When finished, we do the same exercise but the knee is given with the left leg. 20 more reps. The whole cycle in 4 series.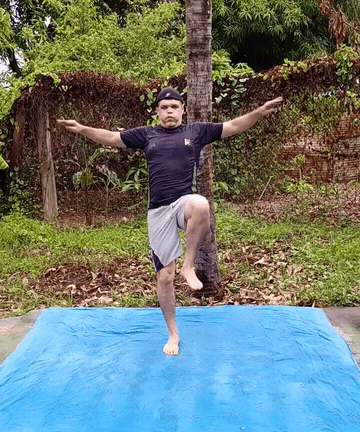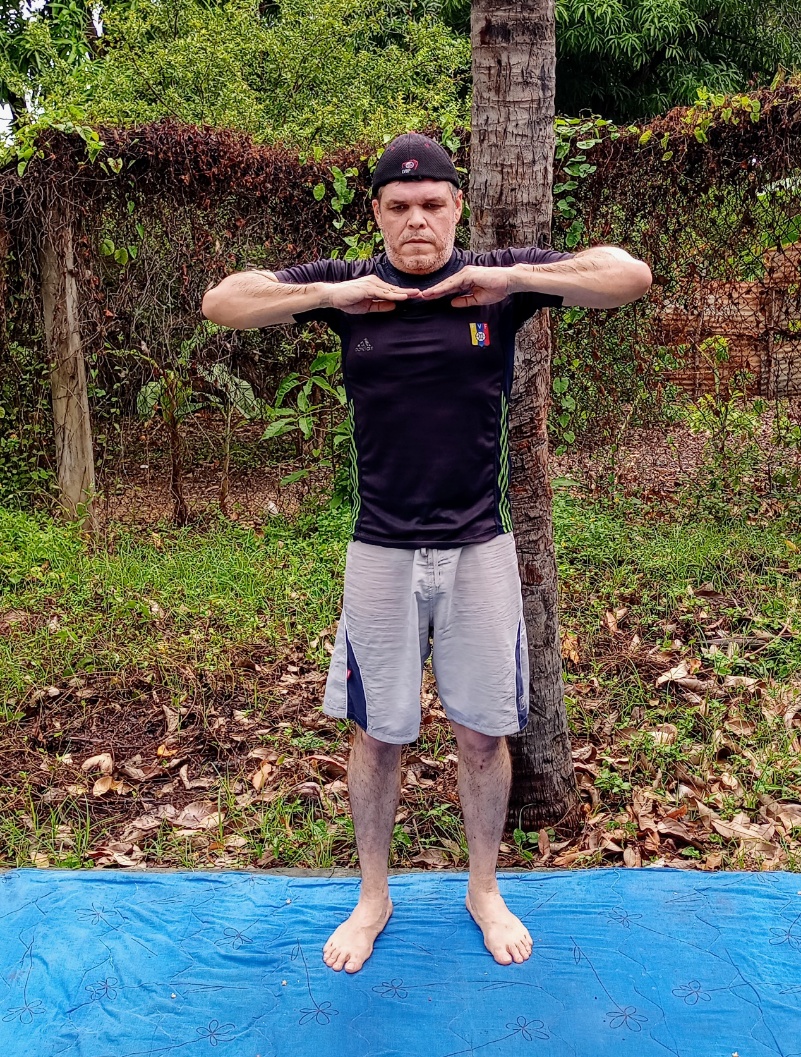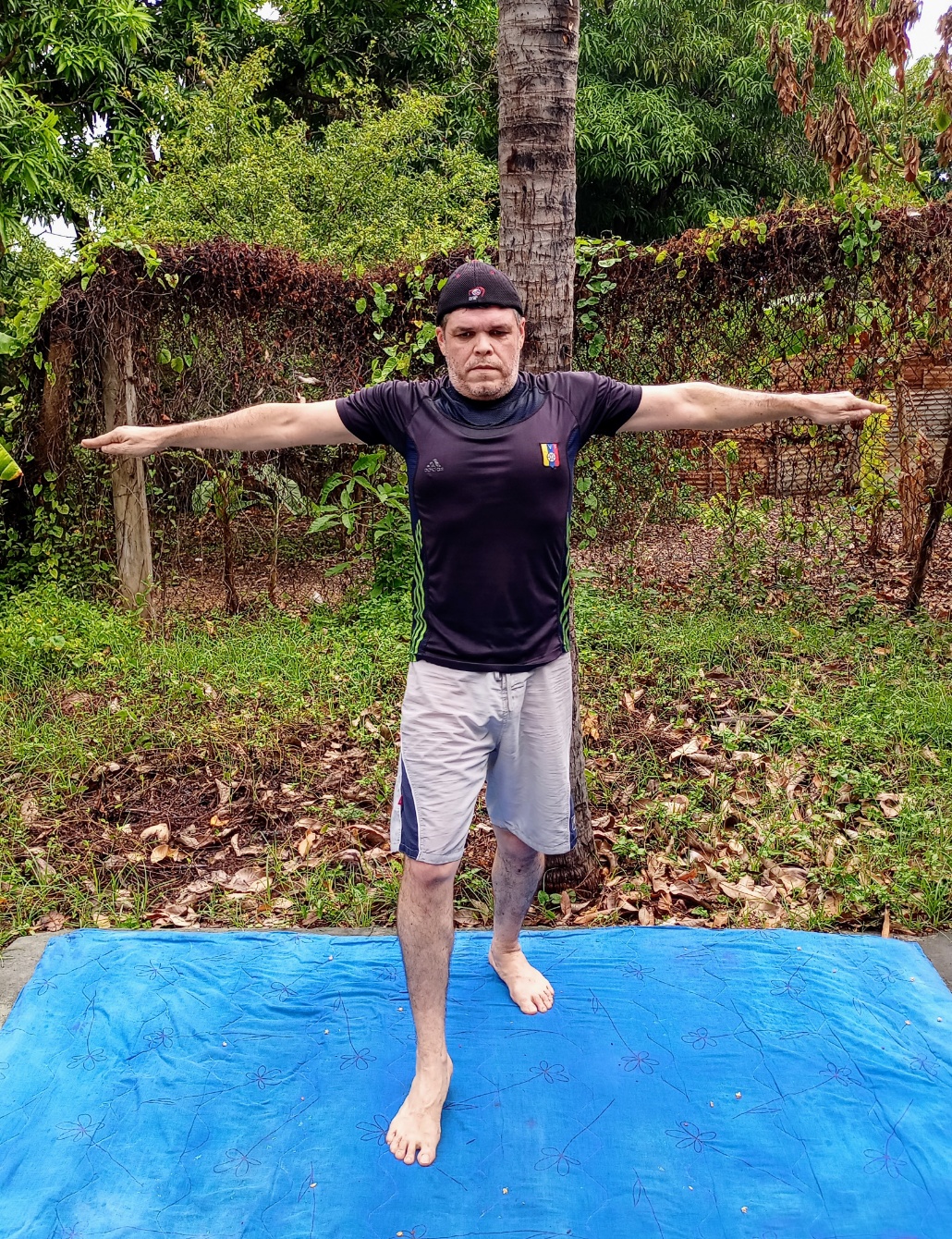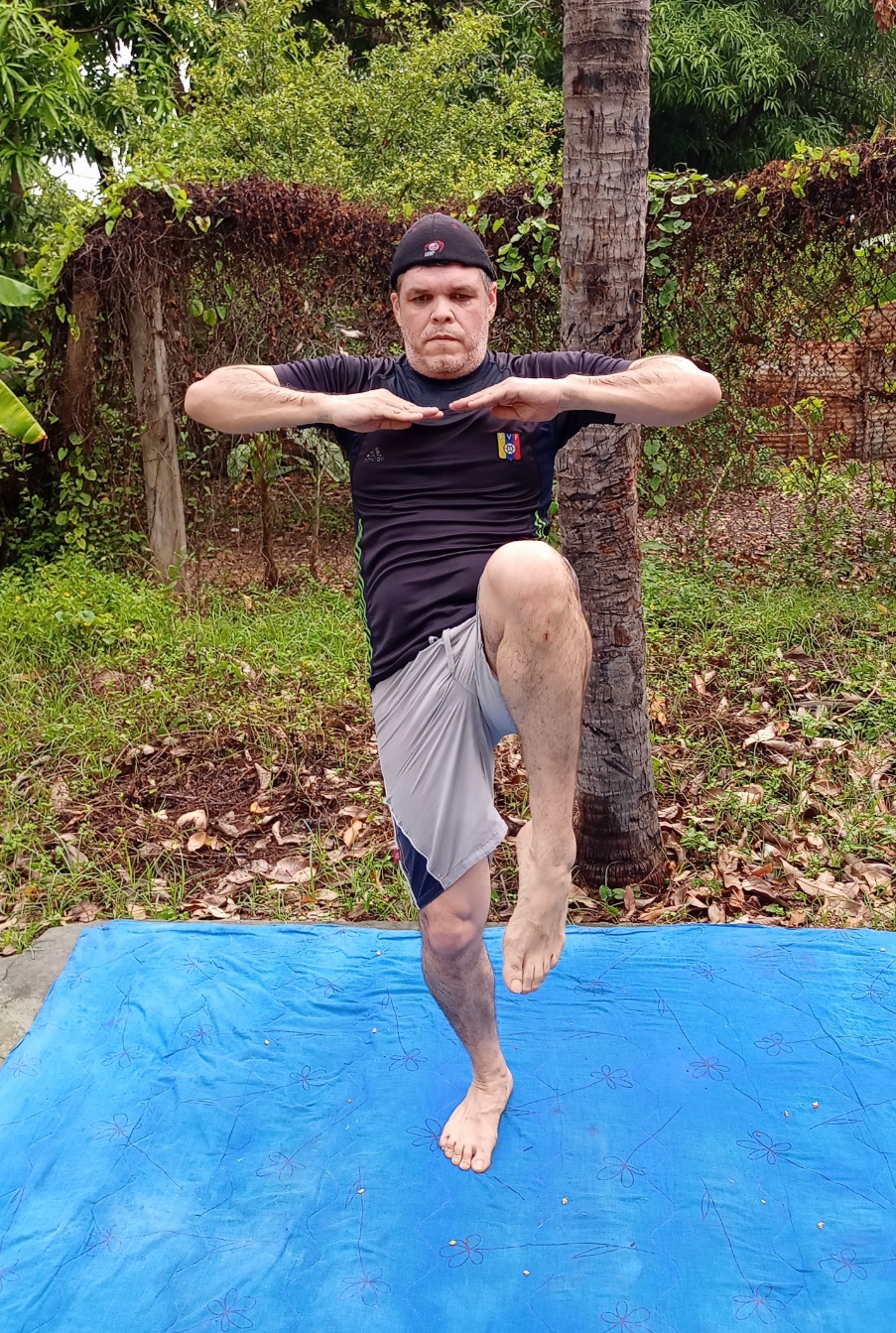 Tornado abdominal con talones elevados
Ejercicio aunque se ve simple genera gran tensión en todo el torso y el tren inferior. Piernas flexionadas con talones ligeramente elevados. Torso flexionado al frente. Brazos flexionados. De inmediato iniciamos los giros en velocidad del torso, logrando que en los giros cada hombro llegue al centro. 30 repeticiones en 4 series.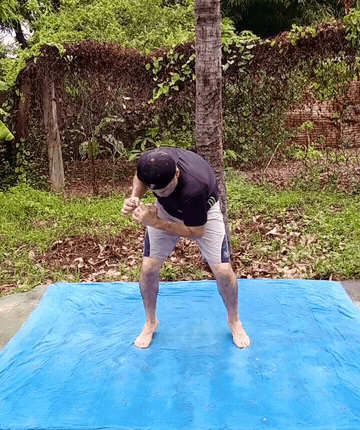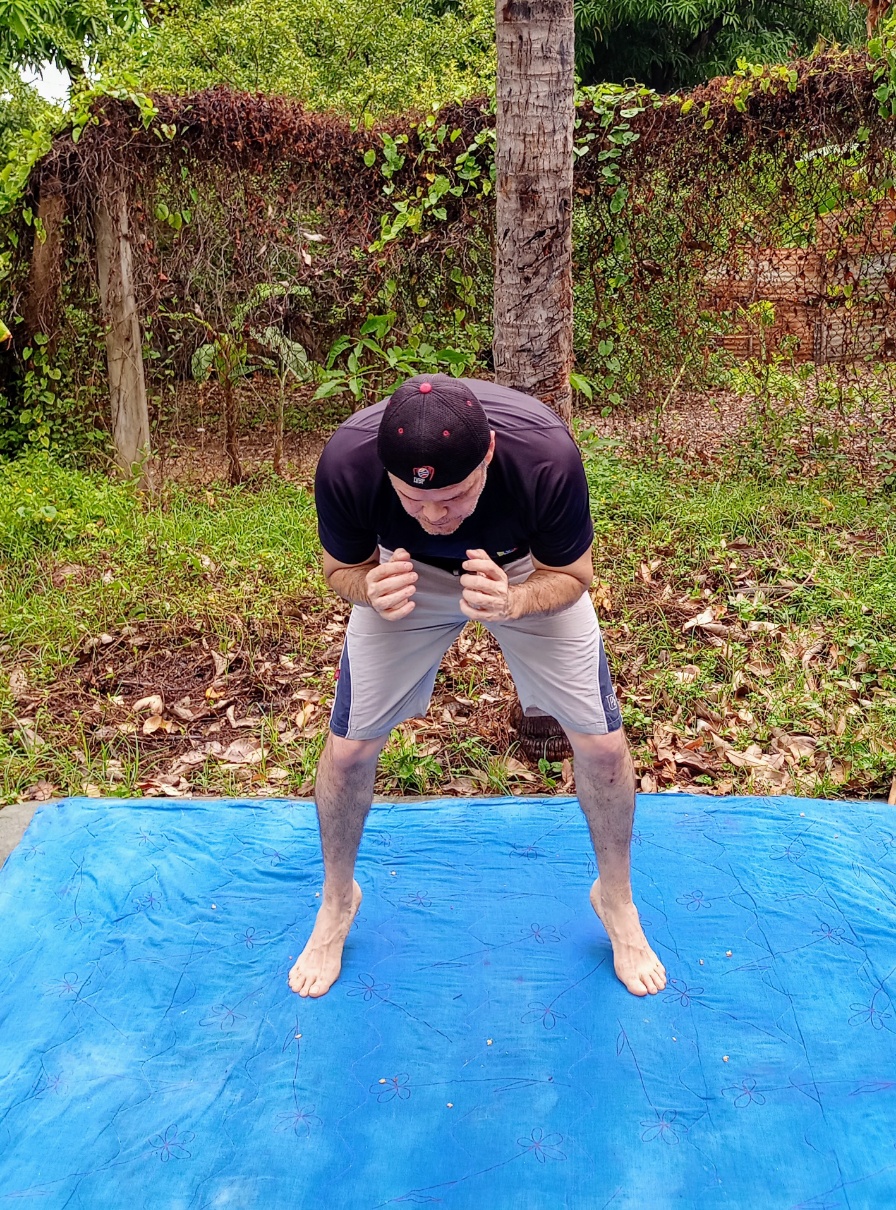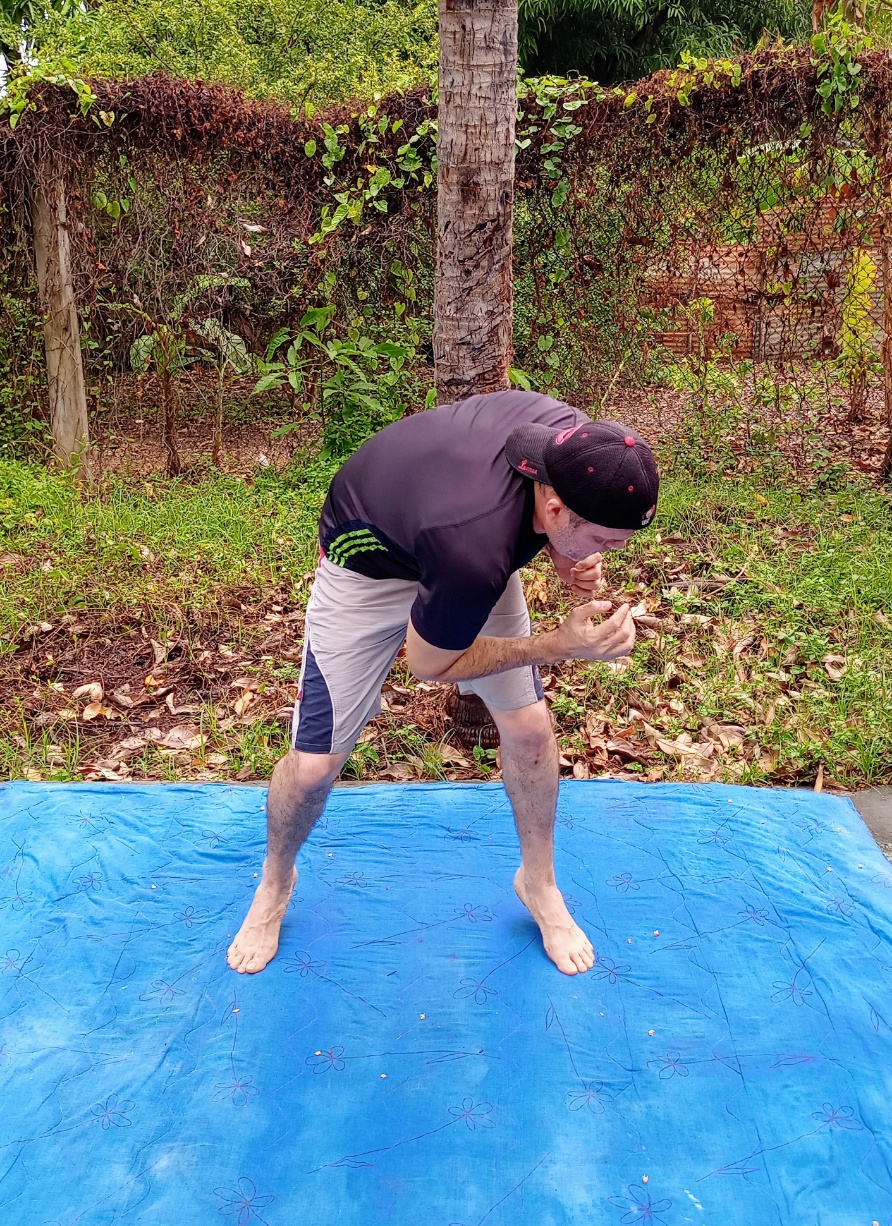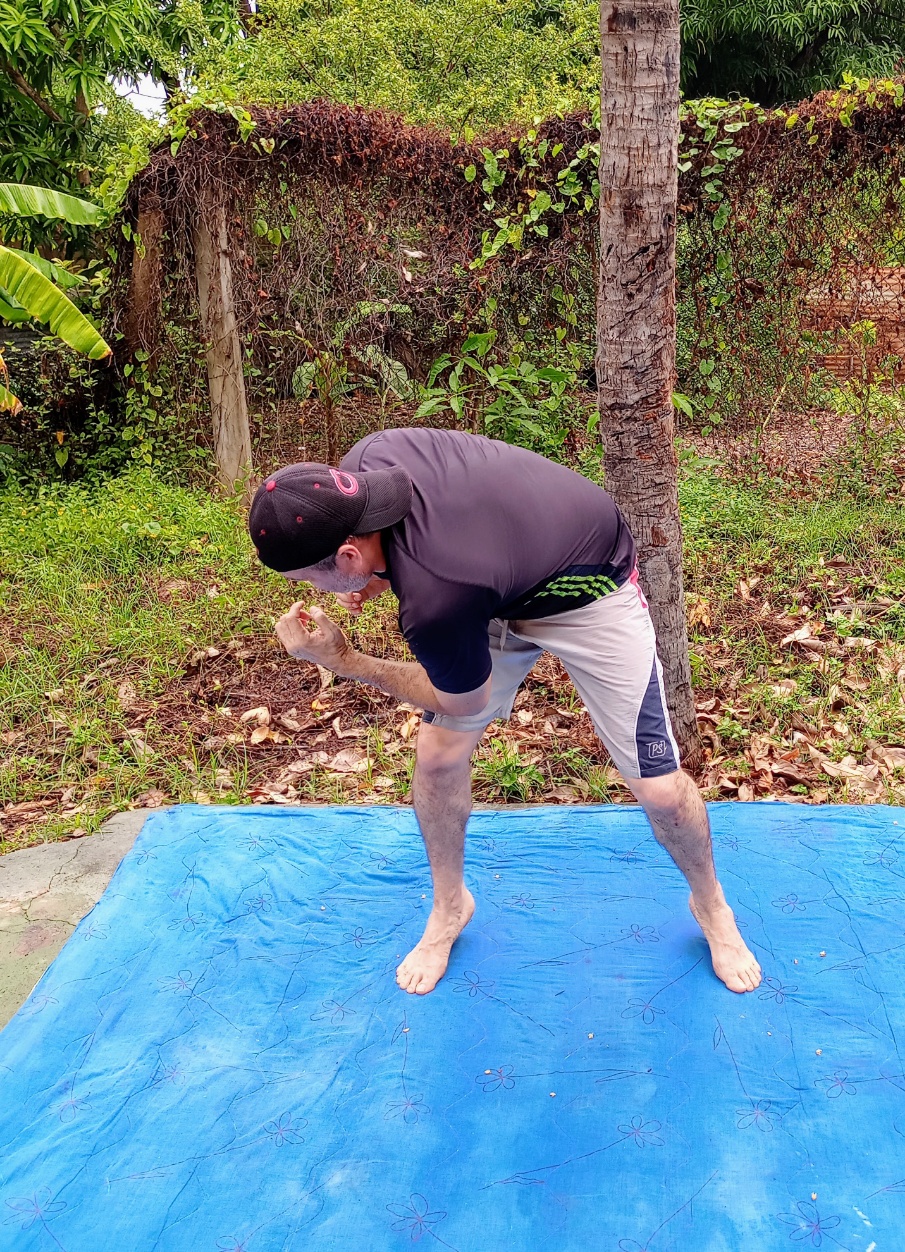 Abdominal twister with elevated heels

Although this exercise looks simple, it generates great tension in the entire torso and lower body. Legs bent with slightly elevated heels. Torso flexed in front. Bent arms. Immediately we start the torso speed turns, making each shoulder reach the center in the turns. 30 repetitions in 4 series.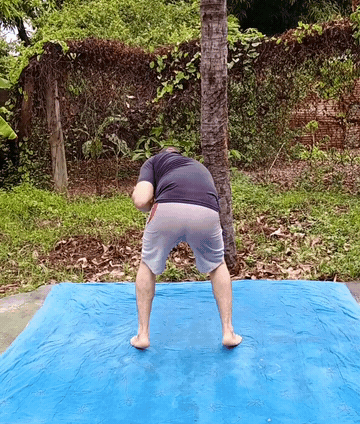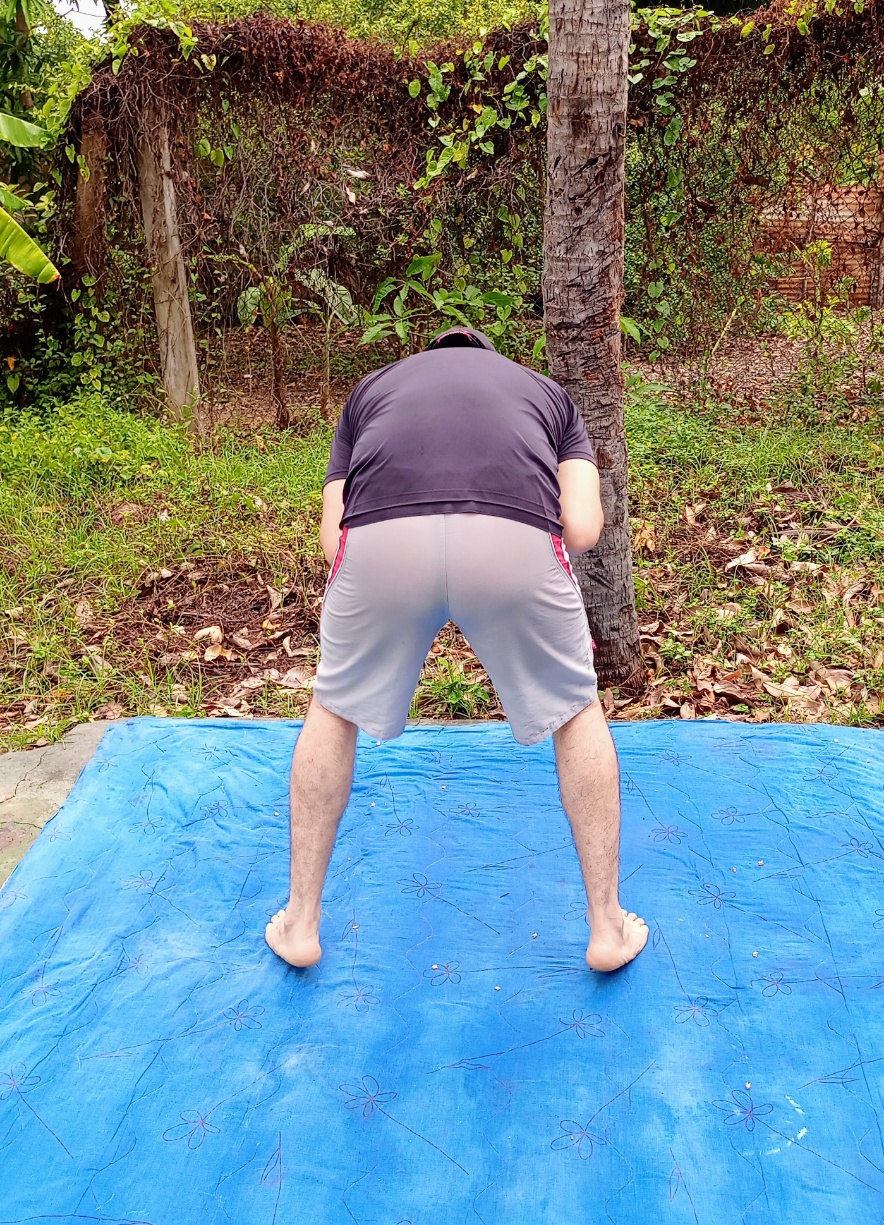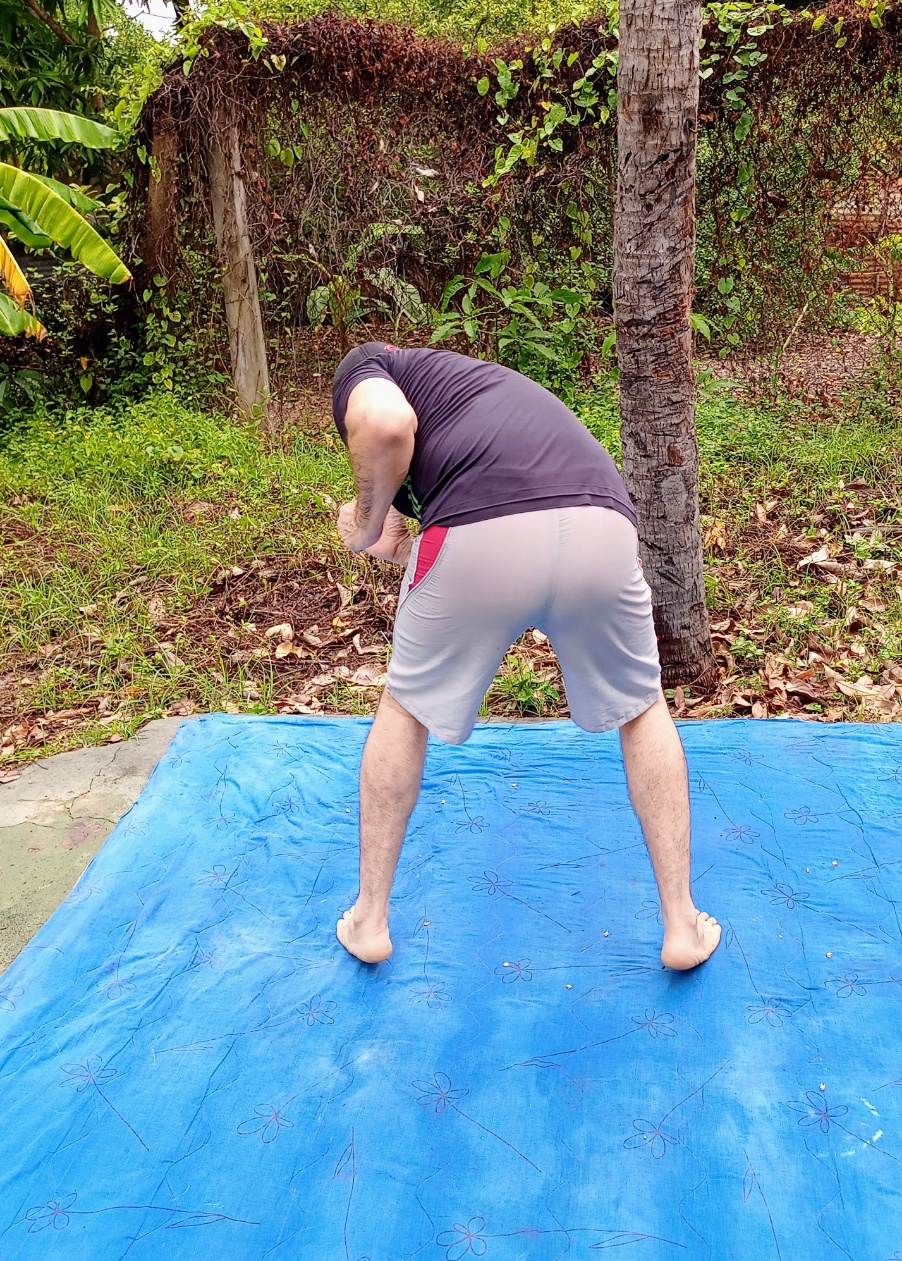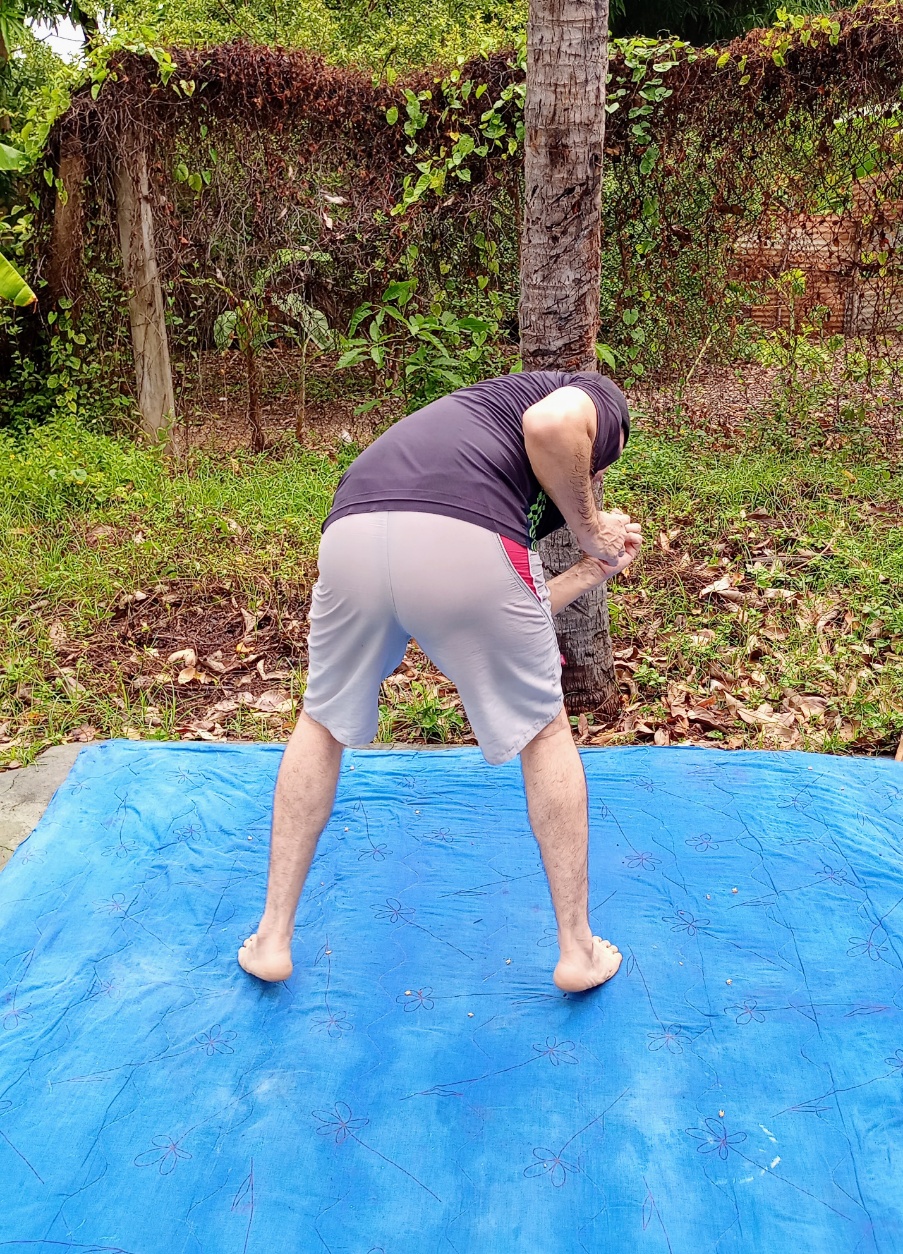 Relajación Corporal
Momento de relajación corporal. Llevemos al cuerpo a su estado incial.
Body Relaxation

Moment of body relaxation. Let's bring the body to its initial state.

Extensión superior de brazos + elevación de talones
De pie con manos entrelazadas. Brazos flexionados sobre la cabeza. Luego, suavemente extendemos los brazos hacia arriba mientras que elevamos al mismo tiempo los talones. Subimos y bajamos por 3 minutos.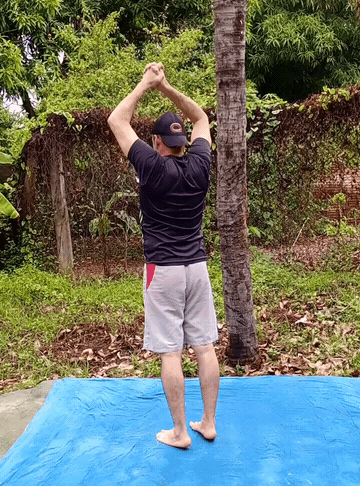 Upper arm extension + heel lift

Standing with hands clasped. Arms flexed over head. Then we gently extend our arms upward while raising our heels at the same time. We go up and down for 3 minutes.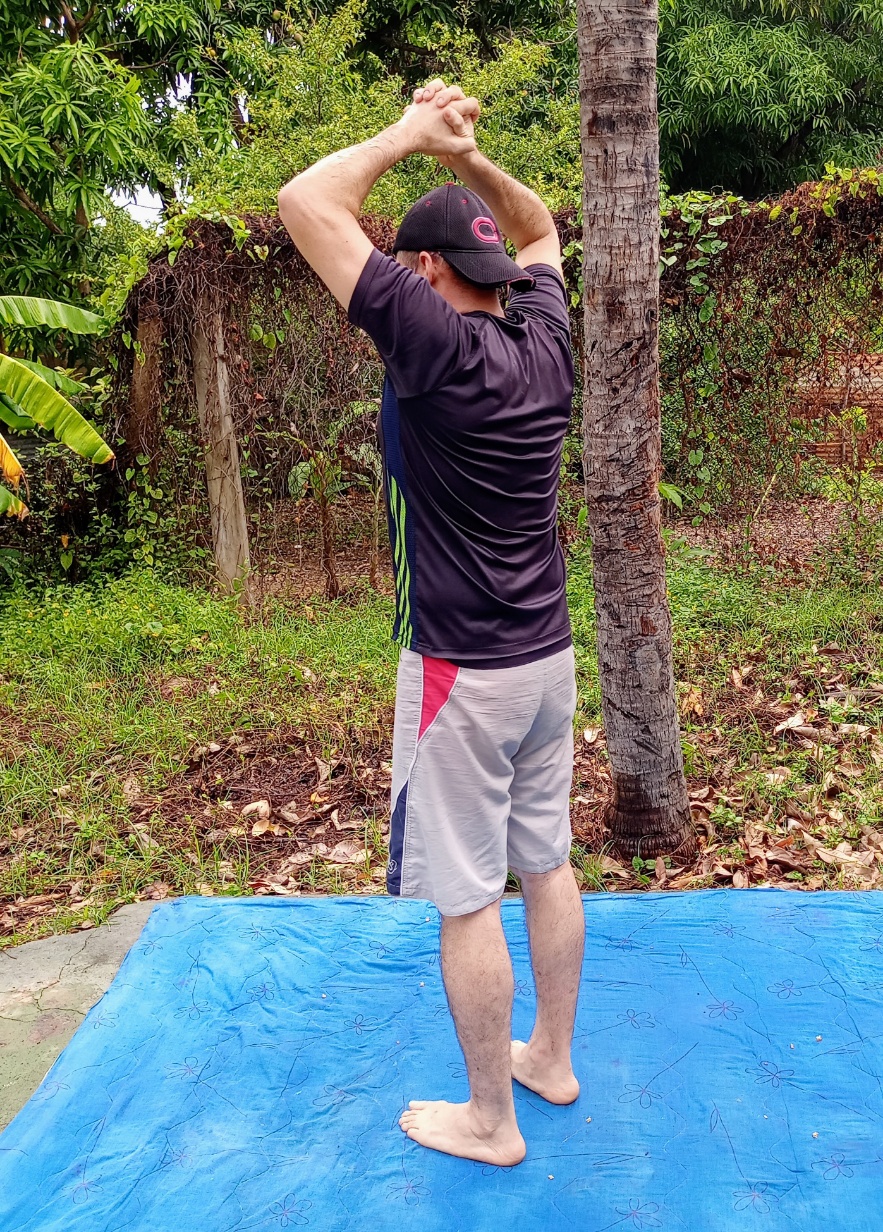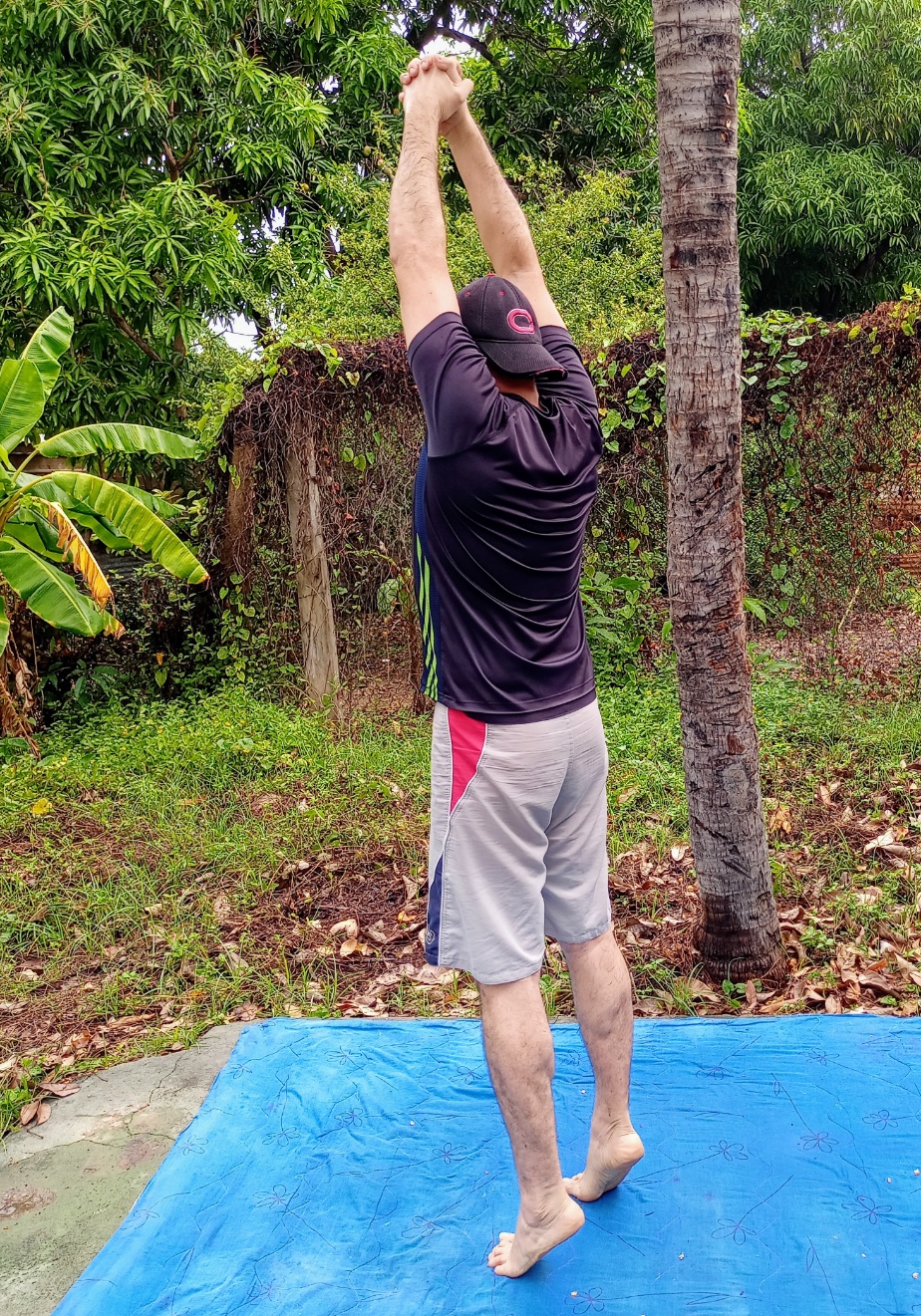 Seguimos sin parar. Cada día una nueva rutina y una nueva emoción. En cada instante percibimos que la motivación en ustedes cada vez es mayor. Nos sentimos muy satisfechos de la labor realizada y de contribuir porque cada uno de ustedes se sientan de maravilla. Saludos y hasta pronto.
We continue without stopping. Every day a new routine and a new emotion. At every moment we perceive that the motivation in you is increasing. We are very satisfied with the work carried out and of contributing because each of you feels great. Greetings and see you soon.
...Gracias Por Visitar...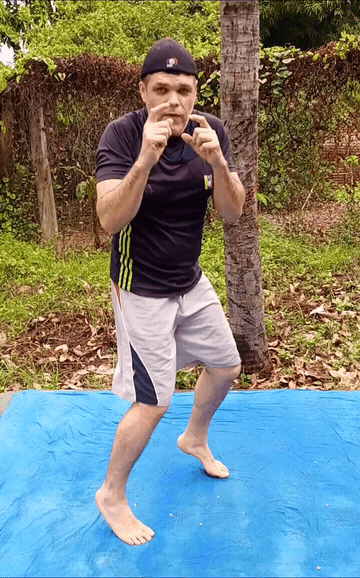 ...Thanks for visiting...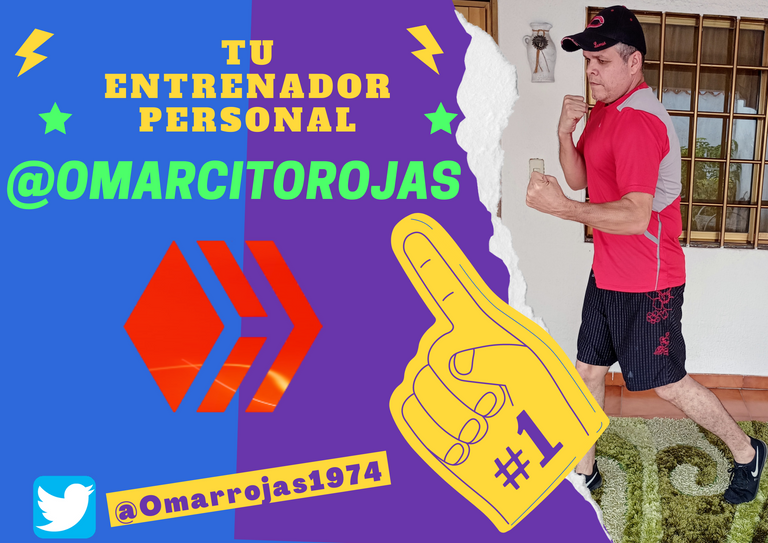 Imágenes Fotográficas, tomadas por mi hijo Miguel Rojas.
Photographic images, taken by my son Miguel Rojas
Sorry. English is not our native language. Therefore, a web translator is used for texts in English. (Spanishdict)
---
---