[ESP-ENG]Las Mujeres También son Buenas Deportistas y aquí están varios ejemplos….// Women are also good athletes and here are several examples….//

El mundo del deporte nos deslumbra siempre gracias a sus ejemplos de constancia de parte de quienes lo practican. Lo más granado del deporte venezolano también tiene nombre de mujer.
The world of sport always dazzles us thanks to its examples of perseverance on the part of those who practice it. The cream of Venezuelan sport also has a woman's name.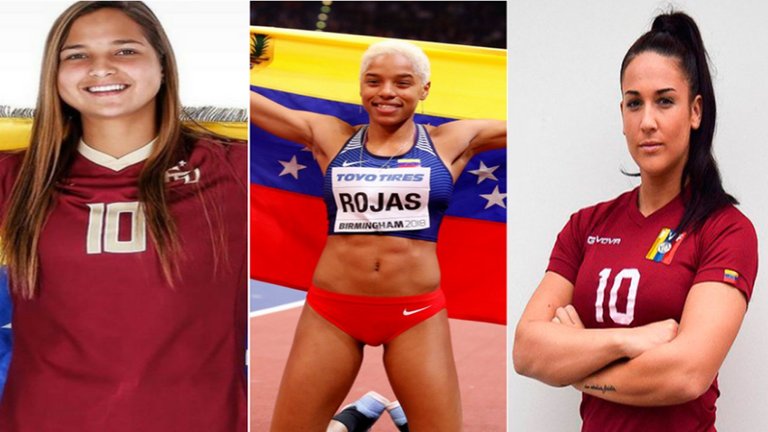 Fuente
En las presentes líneas les traigo un reportaje que hice sobre tres mujeres que actualmente dejan nuestro país en lo mas alto, cada una en sus disciplinas y siempre con el estandarte de llevar lo mejor de si entregando todo lo que saben para dejar nuestro deporte muy bien parado, emociona a todo el pueblo venezolano escuchar o sentir que el himno venezolano que hace que la piel de todos los que disfrutamos en cada una de sus presentaciones, el alma llanera retumba en nuestros corazones en cada uno de sus logros y a continuación tres de las que actualmente nos llenan de mucha alegría en tiempos difíciles para el mundo por el tema pandemia
In these lines I bring you a report I did on three women who currently leave our country at the top, each in their disciplines and always with the banner of bringing the best of themselves, giving everything they know to leave our sport very well stopped, it moves all the Venezuelan people to hear or feel that the Venezuelan anthem that makes the skin of all of us who enjoy in each of its presentations, the llanera soul resounds in our hearts in each of its achievements and then three of the that currently fill us with great joy in difficult times for the world due to the pandemic issue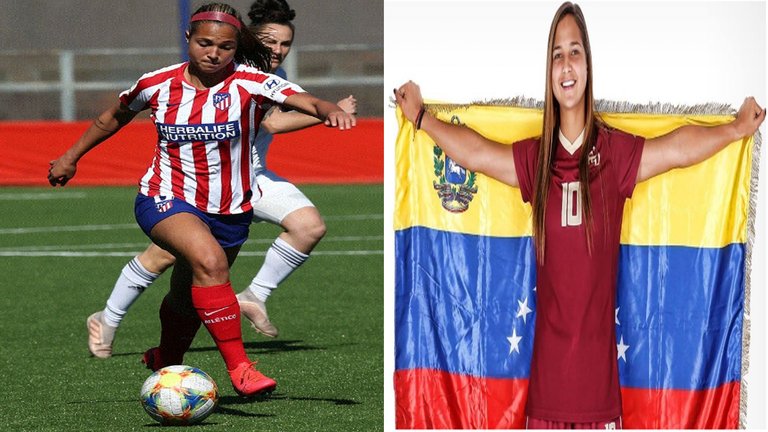 Deyna Castellanos
La joven futbolista venezolana juega como delantera en el Atlético de Madrid de la Primera División de España, ella empezó a jugar al fútbol en su ciudad natal Maracay, Aún no tenía quince años y ya se glorificaba campeona con la selección venezolana en el Sudamericano Sub-17 efectuado en Paraguay. Al año siguiente, en abril, fue citada para jugar el Mundial femenino Sub-17 en Costa Rica. Ahí estampó seis goles y dio tres asistencias. A los 17 años, logra por todo lo que ya representaba una beca para alistarse en la Universidad Estatal de Florida en Estados Unidos para jugar con su equipo femenino de fútbol, Florida State Seminoles en la liga universitaria. En 2017, la jugadora venezolana fue nominada a los Premios The Best, en los que quedó en tercer lugar dando la sorpresa y es que a muchos periodistas y jugadoras sorprendio en ver que Deyna podía inclusive ganarlo.
The young Venezuelan soccer player plays as a striker for Atlético de Madrid in the First Division of Spain, she started playing soccer in her hometown of Maracay, she was not yet fifteen years old and was already glorified champion with the Venezuelan team in the South American Sub- 17 carried out in Paraguay. The following year, in April, she was summoned to play the U-17 Women's World Cup in Costa Rica. There he scored six goals and gave three assists. At the age of 17, she achieved a scholarship to enroll at Florida State University in the United States to play with its women's soccer team, Florida State Seminoles in the university league. In 2017, the Venezuelan player was nominated for The Best Awards, in which she came in third place, surprising many journalists and players to see that Deyna could even win it.
El 2 de enero de 2020 el Atlético de Madrid Femenino informó el fichaje de Deyna Castellanos hasta 2022. Recientemente el fin de semana pasado Deyna Castellanos fue la protagonista de la victoria frente al Sporting de Huelva en el Centro Deportivo Wanda Alcalá de Henares. en la que finalmente batieron 3-2 al Sporting de Huelva La internacional venezolana marcó un doblete.
On January 2, 2020, Atlético de Madrid Women announced the signing of Deyna Castellanos until 2022. Recently, last weekend Deyna Castellanos was the protagonist of the victory against Sporting de Huelva at the Wanda Alcalá de Henares Sports Center. in which they finally beat Sporting de Huelva 3-2 The Venezuelan international scored a brace.
Algo que ha sido un punto importante en la gallardia y valentía de esta joven futbolista es que fue una de las 24 jugadoras venezolanas que alzó la voz para denunciar las circunstancias de abuso sexual y acoso psicológico por parte del ex entrenador del equipo nacional Kenneth Zseremeta.
Something that has been an important point in the gallantry and courage of this young soccer player is that she was one of the 24 Venezuelan players who raised her voice to denounce the circumstances of sexual abuse and psychological harassment by former national team coach Kenneth Zseremeta.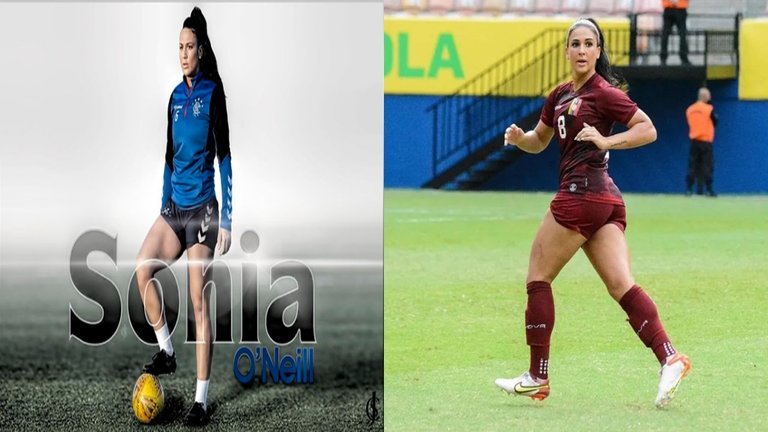 Sonia O'Neill
Nacida en la ciudad de Toronto (Canadá) y nacionalizada venezolana, con 27 años de edad nacio el 19 de agosto de 1994. su madre venezolana con nacionalidad italiana y padre canadiense con orígenes irlandeses, La jugadora del Rangers FC de Escocia. Recientemente Sonia sorprendió a los admiradores del fútbol y a numerosos periodistas del deporte, ya que se esperaba que a nivel de selección jugase con Canadá donde nació, pero contrario a todo presagio ella ventiló presentarse al llamado de la selección de Venezuela.
Born in the city of Toronto (Canada) and nationalized Venezuelan, at the age of 27 she was born on August 19, 1994. Her Venezuelan mother with Italian nationality and Canadian father with Irish origins, Rangers FC player from Scotland. Sonia recently surprised soccer fans and numerous sports journalists, since it was expected that at the national team level she would play with Canada where she was born, but contrary to all omens she aired to present herself to the call of the Venezuelan team.
Aunque podía elegir entre las selecciones de Canadá, Irlanda o Italia, Sonia O'Neill se decantó por representar el tricolor venezolano cuando en noviembre de 2019 fue convocada por la italiana Pamela Conti, director técnico de la Vinotinto femenina, para que formara parte del plantel nacional. Siempre ha sido fanática del FC Barcelona y Sus futbolistas predilectos son Andrés Iniesta, Xavi Hernández y el italiano Andrea Pirlo.
Although she could choose between the Canadian, Irish or Italian teams, Sonia O'Neill chose to represent the Venezuelan tricolor when in November 2019 she was summoned by the Italian Pamela Conti, technical director of the women's Vinotinto, to be part of the squad. national. She has always been a fan of FC Barcelona and her favorite footballers are Andrés Iniesta, Xavi Hernández and the Italian Andrea Pirlo.
Yulimar Rojas
La flaca Yulimar Rojas que recientemente obtuvo la medalla de oro en Tokio nació el 21 de octubre de 1995, en un humilde barrio de Puerto La Cruz, siempre simpatizo por el vóleibol y experimentó otras facetas del mundo del atletismo, sin embargo, fue en el triple salto donde se destaco y que actualmente es la campeona mundial. Fue durante los Juegos Olímpicos de Pekín 2008 que la venezolana intentó a soñar con convertirse en una atleta, tras la intervención del equipo de voleibol de Venezuela en aquella cita deportiva. En 2011, la venezolana logró su primer gran logro internacional en el Campeonato Sudamericano Juvenil de Atletismo en Medellín, Colombia, en el que dominó en salto alto, con 1,78 metros. Luego continúo batiendo récords y compilando medallas hasta ganarse un merecido puesto en sus primeros Juegos Olímpicos, en Río de Janeiro 2016.
The skinny Yulimar Rojas who recently won the gold medal in Tokyo was born on October 21, 1995, in a humble neighborhood of Puerto La Cruz, she always liked volleyball and experienced other facets of the world of athletics, however, it was in the triple jump where she stood out and who is currently the world champion. It was during the 2008 Beijing Olympics that the Venezuelan tried to dream of becoming an athlete, after the intervention of the Venezuelan volleyball team in that sporting event. In 2011, the Venezuelan achieved her first major international achievement at the South American Junior Athletics Championships in Medellin, Colombia, where she dominated the high jump with 1.78 meters. He then went on to break records and collect medals until earning a deserved place at his first Olympic Games, in Rio de Janeiro 2016.
El nombre de Yulimar Rojas saltará a la historia como el de la gran saltadora suramericana de los Juegos Olímpicos de Tokio 2020. No solo ganó la medalla de oro en triple salto batiendo el récord Olímpico en su primer intento, sino que en el último obtuvo romper el récord del mundo. Este estaba vigente desde dos meses antes de que ella naciera y era de 15,50 que la ucraniana Inessa Kravets obtuvo en 1995 y Yulimar Rojas marcó en el Estadio Olímpico de Tokio 15.67 metros.
The name of Yulimar Rojas will go down in history as that of the great South American jumper of the Tokyo 2020 Olympic Games. Not only did she win the triple jump gold medal, breaking the Olympic record in her first attempt, but in her last attempt she managed to break the world record. This was valid for two months before she was born and was 15.50 that the Ukrainian Inessa Kravets obtained in 1995 and Yulimar Rojas scored 15.67 meters at the Tokyo Olympic Stadium.
Se me quedaron en el tintero grandes luminarias como Flor Isava, Adriana Carmona, Daniela Larreal, Stefany Hernandez, Rosbelys Peinado, Andreina Pinto y otras que en un próximo post donde nacieron, como se formaron, en que lucieron y les traeré todo lo que las rodeo para llegar al éxito, para que tengamos en cuenta a nivel mundial que Venezuela cuna de las mujeres mas bonitas y también grandes deportistas que han dejado nuestro país en una buena posición, nos leemos en el próximo post.
Great luminaries such as Flor Isava, Adriana Carmona, Daniela Larreal, Stefany Hernandez, Rosbelys Peinado, Andreina Pinto and others who in a future post where they were born, how they were formed, what they wore and I will bring you everything that rodeo to achieve success, so that we take into account worldwide that Venezuela is the cradle of the most beautiful women and also great athletes who have left our country in a good position, we will read in the next post
Traductor Utilizado: Traductor DeepL
Editor de Imágenes: Photoshop/ lightshot
Fondos de Pantalla: Pixabay
Translator Used: DeepL Translator
Image Editor: Photoshop / lightshot
Wallpapers: Pixabay


---
---