[ESP-ENG]Lo Mejor de los Premios The Best 2.021 y Lo Ultimo del Escandaloso Clasico del Caribe // The Best of The Best 2021 Awards and The Last of the Scandalous Classic of the Caribbean
Una vez mas bienvenidos a todos los amigos de la comunidad hive y a la familia de full deportes, la FIFA celebró el pasado lunes la 6° edición de los premios The Best, en los que se premia lo mejor del fútbol masculino y femenino a nivel mundial. Robert Lewandowski y Alexia Putellas resultaron los esenciales ganadores. Cristiano Ronaldo tomó un premio especial. Los premios The Best se conceden desde el 2016, En estos premios ha habido mucha diversidad de premiados y los únicos que han repetido premio han sido Cristiano Ronaldo como mejor jugador (2016 y 2017) y Jurgen Klopp como mejor entrenador (2019 y 2020).
A continuacion como fueron los resultados de los premios The Best 2021
Once again welcome to all the friends of the hive community and the full sports family, FIFA held last Monday the 6th edition of The Best awards, in which the best of men's and women's football worldwide are awarded. . Robert Lewandowski and Alexia Putellas were the essential winners. Cristiano Ronaldo took a special award. The Best awards have been awarded since 2016. In these awards there has been a great diversity of winners and the only ones who have repeated the award have been Cristiano Ronaldo as best player (2016 and 2017) and Jurgen Klopp as best coach (2019 and 2020).
Below were the results of The Best 2021 awards
PREMIO THE BEST AL MEJOR JUGADOR DEL AÑO
THE BEST PLAYER OF THE YEAR AWARD
Robert Lewandowski, capitán de la selección de Polonia y goleador del Bayern Munich, gano el premio The Best a mejor jugador por segundo año consecutivo. El delantero le ganó el premio al argentino Lionel Messi y al egipcio Mohamed Salah. Cuando en Polonia, uno de sus entrenadores fue José María Bakero, Este DT lo recomendó a la directiva del Barcelona, pero como no tenía tanto renombre, prefirieron fichar a David Villa. Es católico practicante, es por eso que en 2014 estaba alegre por conocer al Papa Francisco y pudo hacerlo después de un encuentro de Champions League ante la Roma.
Robert Lewandowski, captain of the Poland national team and striker for Bayern Munich, won The Best award for best player for the second year in a row. The striker won the award from Argentine Lionel Messi and Egyptian Mohamed Salah. When in Poland, one of his coaches was José María Bakero, This DT recommended him to the Barcelona board, but since he was not so famous, they preferred to sign David Villa. He is a practicing Catholic, which is why in 2014 he was happy to meet Pope Francis and was able to do so after a Champions League match against Roma.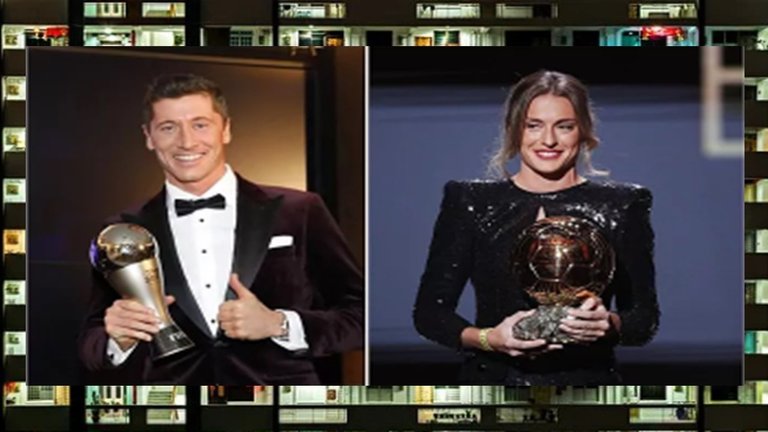 PREMIO THE BEST A LA MEJOR JUGADORA DEL AÑO
THE BEST AWARD FOR THE BEST PLAYER OF THE YEAR
Alexia Putellas es la Mejor Jugadora del 2021, La capitana del FC Barcelona consumó el triplete de premios tras conquistar el Global Soccer Award y el Balón de Oro.
Alexia Putellas is the Best Player of 2021, The captain of FC Barcelona won the treble of awards after winning the Global Soccer Award and the Ballon d'Or.
PREMIO ESPECIAL POR ESTABLECER NUEVO RÉCORD DE GOLES EN SELECCIONES
SPECIAL AWARD FOR ESTABLISHING A NEW GOAL RECORD IN NATIONAL TEAMS
El portugués fue premiado tras conseguir el récord histórico de 115 goles con la selección de Portugal.
The Portuguese was awarded after achieving the historical record of 115 goals with the Portugal team.
PREMIO ESPECIAL A LA MAYOR GOLEADORA DEL MUNDO
SPECIAL AWARD FOR THE HIGHEST SCORER IN THE WORLD
Christine Sinclair, jugadora de la Selección de Canadá anotó 188 tantos su país y se convirtió en la máxima goleadora del fútbol internacional.
Christine Sinclair, a player for the Canadian National Team, scored 188 goals for her country and became the top scorer in international soccer.
MEJOR GUARDAMETA FEMENINA
BEST FEMALE GOALKEEPER
Christiane Endler, del Olympique de Lyon. La jugadora chilena se convierte en la primera futbolista latinoamericana en tomar el premio.
Christiane Endler of Olympique de Lyon. The Chilean player becomes the first Latin American soccer player to take the award.
MEJOR GUARDAMENTA MASCULINO
BEST MALE WARDENER
Edouard Mendy ganó el premio The Best al Mejor Guardameta, de Francia y por su desempeño en la portería del Chelsea.
Edouard Mendy won The Best Award for Best Goalkeeper, from France and for his performance in goal for Chelsea.
PREMIO PUSKAS
PUSKAS AWARD
El Jugador Erick Lamela de Argentina y Tottenham Hotspur se quedó con el premio al mejor gol tras anotar un espectacular tanto en el partido entre Tottenham vs. Arsenal.
Player Erick Lamela from Argentina and Tottenham Hotspur won the best goal award after scoring a spectacular goal in the match between Tottenham vs. Arsenal.
PREMIO AL FAIR PLAY
FAIR PLAY AWARD
La Selección de Dinamarca, el equipo médico y los fanáticos del duelo ante Finlandia por la Eurocopa se ganaron los galardones de Mejor Fair Play y Mejor Fan por su contribución durante la emergencia de Christian Eriksen.
The Danish National Team, the medical team and the fans of the duel against Finland for the European Championship won the Best Fair Play and Best Fan awards for their contribution during Christian Eriksen's emergency.
ENTRENADOR DE EQUIPO FEMENINO
COACH OF WOMEN'S TEAM
Emma Hayes ganó el premio a Mejor Entrenadora del Fútbol Femenino del Equipo del Chelsea.
Emma Hayes won the award for Best Women's Football Coach for the Chelsea Team.
ENTRENADOR
TRAINER
Thomas Tuchel, de Chelsea. después de haber conquistado la UEFA Champions League con Chelsea de Inglaterra.
Chelsea's Thomas Tuchel. after having conquered the UEFA Champions League with Chelsea from England.
PREMIO A LOS FANATICOS
FAN AWARD
Un Premio que le dio mucha alegría a los pocos presentes y los que tuvimos la oportunidad de presenciarlos en vivo y que ganaron los fanáticos de Dinamarca y Finlandia por su reacción al caso de Eriksen en la Euro 2020
An Award that gave great joy to the few present and those of us who had the opportunity to witness them live and that was won by fans from Denmark and Finland for their reaction to the Eriksen case at Euro 2020
EL MEJOR 11 FEMENINO
THE BEST 11 FEMALE
El mejor 11 del fútbol femenino está integrado por las siguientes jugadoras: Christiane Endler, Lucy Bronze, Millie Bright, Magdalena Eriksson, Wendie Renard, Estefania Banini, Carli Lloyd, Barbara Bonansea, Vivianne Miedema, Marta, Alex Morgan.
The best 11 in women's football is made up of the following players: Christiane Endler, Lucy Bronze, Millie Bright, Magdalena Eriksson, Wendie Renard, Estefania Banini, Carli Lloyd, Barbara Bonansea, Vivianne Miedema, Marta, Alex Morgan.
EL MEJOR 11 MASCULINO
THE BEST 11 MALE
El plantel que seleccionó la FIFA como el excelente de 2021 fue el siguiente: Gianluigi Donnarumma, Rúben Dias, Leonardo Bonucci, David Alaba, N'Golo Kanté, Jorginho, Kevin De Bruyne, Lionel Messi, Robert Lewandowski, Erling Haaland y Cristiano Ronaldo.
The squad that FIFA selected as the excellent of 2021 was the following: Gianluigi Donnarumma, Rúben Dias, Leonardo Bonucci, David Alaba, N'Golo Kanté, Jorginho, Kevin De Bruyne, Lionel Messi, Robert Lewandowski, Erling Haaland and Cristiano Ronaldo.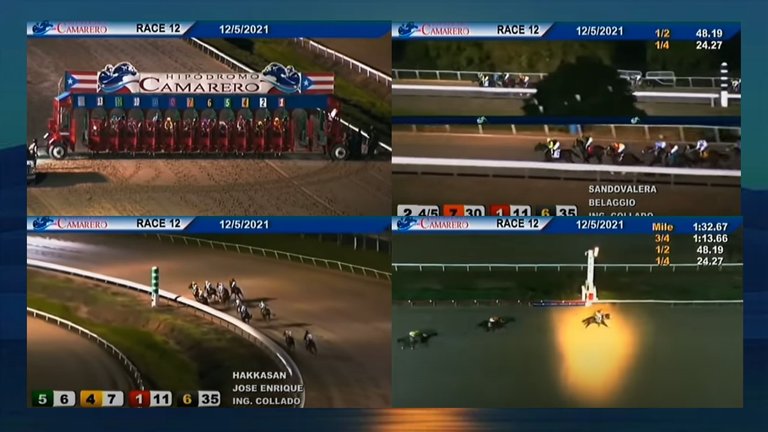 LO ULTIMO EN INFORMACIÓN DE LA SITUACIÓN DE LA DELEGACION DE VENEZUELA EN LA RECIENTE SERIE HIPICA DEL CARIBE EN PUERTO RICO
THE LATEST IN INFORMATION ON THE SITUATION OF THE DELEGATION OF VENEZUELA IN THE RECENT RACING SERIES OF THE CARIBBEAN IN PUERTO RICO
Luego de un comunicado que salió esta semana por parte de la confederación del caribe, los premios de las seis pruebas de la Serie Hípica del Caribe no serán cancelados, por el momento y mientras la investigación avanza están "congelados". Esto una vez que no habían transcurrido no más de 48 y ya la Confederación de manera muy extraña había otorgo el permiso para la premiación a dicho clásico. Primeramente, hay que dejar claro y para nadie es un secreto que hubo fallas en la organización de parte de Puerto Rico en la Serie Hípica 2021, desde diversos aspectos que todos conocen, y sintetizare solamente con los caballos Venezolanos.
After a statement that came out this week from the Caribbean confederation, the prizes for the six races of the Caribbean Equestrian Series will not be cancelled, for the moment and while the investigation progresses they are "frozen". This once no more than 48 had elapsed and the Confederation, in a very strange way, had granted permission for the award to said classic. First of all, it must be made clear and it is no secret to anyone that there were flaws in the organization on the part of Puerto Rico in the 2021 Equestrian Series, from various aspects that everyone knows, and I will summarize only with the Venezuelan horses.
Valrazio caballo anotado en la Copa Confraternidad tuvo que ser retirado por una cortada en el posterior derecho en el área del corvejón y que no fue atendido de la mejor manera, El De Froix tuvo problemas con el herraje coincidencialmente por un herrero de puerto rico y casi lo deja fuera de la Copa Confraternidad, El favorito Strenght Mask casi pierde la vida, luego que por un "shock de calor" en carrera arribó en la última posición en la Copa Velocidad, este caballo junto a Sandovarela era la mejor condición de caballo alguno en dicha serie. Y la guinda del pastel, en la carrera central, teniendo de favorita a la Invicta Sandovalera, la yegua se mostró en punta hasta los 600 metros finales, La carrera debioser a las 7:15pm y se corrió pasada las 8:00pm. Nadie informaba el motivo del retraso y durante ese tiempo se realizaban actos musicales en la pista de Camarero, el alto volumen de la música asusto Persecuted, caballo de la delegación criolla, que se escapó antes de la carrera y fue retirado. La yegua Sandovalera, amplia favorita la hija de King Seraf en Rufvalle, y que presento Oscar Manuel González, sufrió una hemorragia pulmonar en carrera, al igual que José Enrique, ejemplares que eran las principales cartas venezolanas en el Clásico Internacional del Caribe 2021.
Valrazio horse scored in the Confraternidad Cup had to be withdrawn due to a cut in the right hindquarters in the hock area and that was not treated in the best way, El De Froix had problems with the shoeing coincidentally by a Puerto Rican blacksmith and almost leaves him out of the Confraternity Cup, the favorite Strength Mask almost lost his life, after a "heat shock" in the race he arrived in last position in the Speed Cup, this horse along with Sandovarela was the best condition of any horse in that series. And the icing on the cake, in the central race, having the Invicta Sandovalera as the favorite, the mare was in the lead until the final 600 meters. The race should have been at 7:15 pm and it was run after 8:00 pm. No one reported the reason for the delay and during that time musical acts were performed on the Camarero track, the high volume of music frightened Persecuted, a horse from the Creole delegation, which escaped before the race and was withdrawn. The mare Sandovalera, a wide favorite, the daughter of King Seraf in Rufvalle, and presented by Oscar Manuel González, suffered a pulmonary hemorrhage in the race, as did José Enrique, horses who were the main Venezuelan cards in the 2021 Caribbean International Classic.
Para que todos entiendan por qué o de donde proviene una hemorragia pulmonar comencemos por definir que medicamento se usa y que tiempo antes de administra, El Lasix (que ayuda a evitar el sangramiento) les fue administrado a las 3 pm (por indicación de los comisarios) y la carrera tuvo retraso de 1 hora. Es decir, fue colocado 5 horas antes de la partida cuando Los ejemplares están acostumbrados a recibirlo de 3 a 4 horas.
So that everyone understands why or where a pulmonary hemorrhage comes from, let's start by defining what medication is used and how long before it is administered, Lasix (which helps prevent bleeding) was administered at 3 pm (by indication of the commissioners ) and the race was delayed by 1 hour. That is to say, it was placed 5 hours before departure when the specimens are used to receiving it from 3 to 4 hours.
Queda entonces demostrado que si hubo cosas que empañan los resultados y trascendió que la investigación ya esta en manos del FBI y veremos en que se define esta situación que visiblemente fue Venezuela el País mas afectado y que luego de las carreras los mismos protagonistas por parte de Venezuela comentaron que no hubo Fair Play o condiciones de igualdad para un bonito espectáculo hípico, esperaremos a ver que se define, por el momento nos leemos en el siguiente post.
It is then demonstrated that if there were things that cloud the results and it transpired that the investigation is already in the hands of the FBI and we will see how this situation is defined, that Venezuela was visibly the most affected country and that after the races the same protagonists on the part of Venezuela commented that there was no Fair Play or equal conditions for a beautiful equestrian show, we will wait to see what is defined, for the moment we read in the next post.
Traductor Utilizado: Traductor DeepL
Editor de Imágenes: Photoshop/ lightshot
Fondos de Pantalla: Pixabay
Translator Used: DeepL Translator
Image Editor: Photoshop / lightshot
Wallpapers: Pixabay


---
---