[ESP-ENG]Prorrogas en La Copa del Rey… Victoria Agonica del Madrid y Derrota Doblemente dolorosa para Barcelona// Extensions in the Copa del Rey… Agonizing victory for Madrid and a doubly painful defeat for Barcelona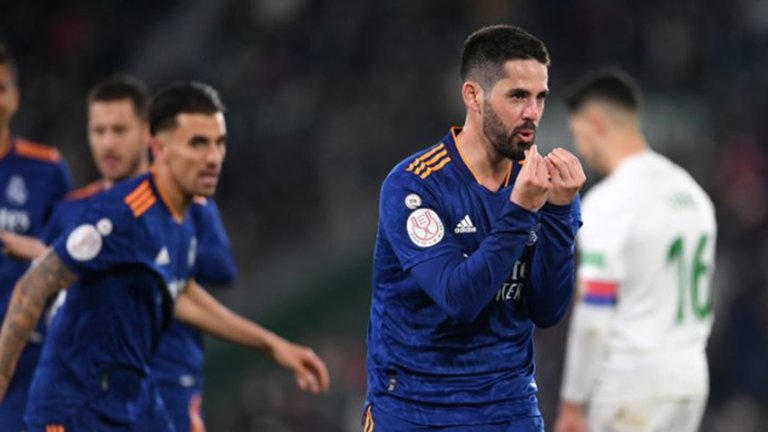 El Real Madrid en un partido vibrante y que se definió agónicamente en el tiempo extra, remontó y venció 2 a 1 al Elche para pasar a los Cuartos de Final de la Copa del Rey. Los madridistas luego de finalizados los 90 minutos oficiales se fueron abajo y con un hombre menos en la primera parte de la prórroga tras un gol de Verdú, pero Isco y Hazard anotaron los tantos del triunfo en el segundo acto, dos de los jugadores hoy en dia más señalados por el madridismo.
Real Madrid, in a vibrant game that was agonizingly defined in extra time, came from behind and beat Elche 2-1 to advance to the Copa del Rey quarterfinals. After the official 90 minutes had finished, the madridistas went down and with one man less in the first part of extra time after a goal from Verdú, but Isco and Hazard scored the winning goals in the second act, two of the players today in day most marked by Madridismo.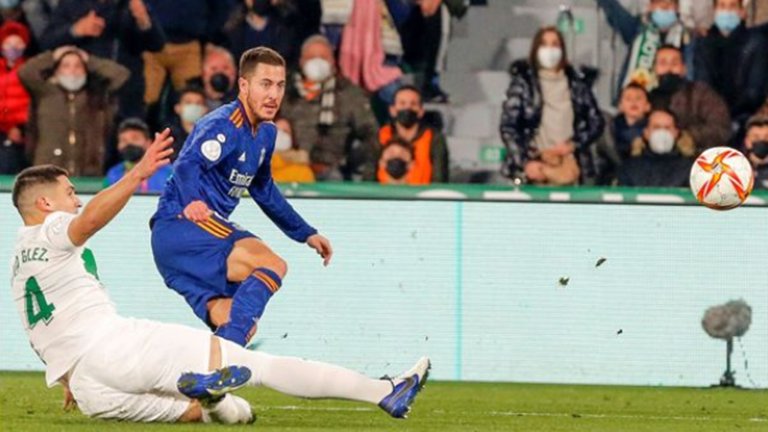 Hacía mucho tiempo que el Elche C.F. no quedaba tan cerca de los cuartos de final de la Copa del Rey. El único desarreglo defensivo local lo aprovecho Hazard aprovechó un pase profundo el belga definió con acierto y regatear al portero del Elche Axel Werner, que a mi modo de ver la jugada salió mal para el gol que los dejaba fuera de la copa. El Elche, a pesar de la derrota con atenuantes entre covid y lesiones, encaró el partido con gallardía y valentía ante un Real Madrid renovado con respecto a los últimos partidos. Se guardó un minuto de silencio en memoria del presidente de Honor del Real Madrid, Francisco Gento.
It had been a long time since Elche C.F. It was not so close to the quarterfinals of the Copa del Rey. The only local defensive disorder was taken advantage of by Hazard, who took advantage of a deep pass, the Belgian defined it correctly and dribbled past the Elche goalkeeper Axel Werner, who, in my view, the play went wrong for the goal that left them out of the cup. Elche, despite the defeat with mitigating factors between covid and injuries, faced the game with gallantry and courage against a Real Madrid renewed compared to the last games. A minute of silence was observed in memory of the Honorary President of Real Madrid, Francisco Gento.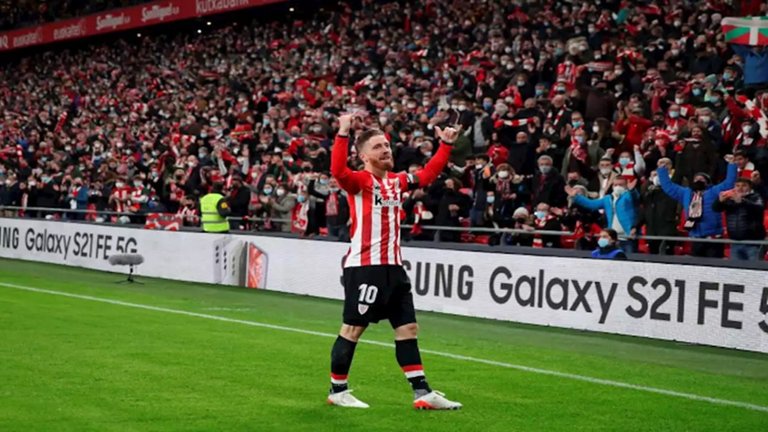 El Atletico de Bilbao Gano y despacho al Barcelona en la prórroga de un juego excitante y que pasará a la historia porque el equipo bilbaíno tuvo que adelantarse hasta tres veces para clasificarse para los cuartos de final de la Copa del Rey con una figura absoluta, Iker Muniain y que de la mano de los hermanos se han encargado de poner su sello hoy en San Mamés con el 75 por ciento del aforo, el máximo permitido por las restricciones sanitarias, completo. Unos 40.000 espectadores. La derrota del Barca ante el Athletic es, además, doblemente dolorosa. Porque no solo se perdió la oportunidad de seguir adelante en la competición, sino porque también se perdió, nuevamente a Ansu Fati porque al minuto 94 tuvo que ser sustituido por Dest y dejo una imagen auténticamente dolorosa. Ansu se disolvió en un abrazo con Xavi entre lágrimas en una lesión que en principio parece muscular.
Atletico de Bilbao won and dispatched Barcelona in extra time of an exciting game that will go down in history because the Bilbao team had to go ahead up to three times to qualify for the quarterfinals of the Copa del Rey with an absolute figure, Iker Muniain and who, hand in hand with the brothers, have been in charge of putting their seal today in San Mamés with 75 percent of the capacity, the maximum allowed by the sanitary restrictions, complete. Some 40,000 spectators. Barca's defeat against Athletic is also doubly painful. Because not only was the opportunity to continue in the competition lost, but also because Ansu Fati was also lost, because at minute 94 he had to be replaced by Dest and left a truly painful image. Ansu dissolved in a hug with Xavi between tears in an injury that at first seems muscular.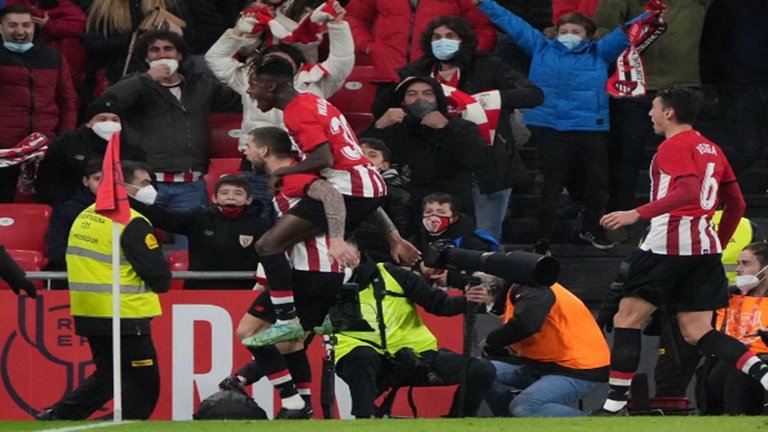 Con este adiós en la Copa del Rey, La Liga ya casi imposible a 17 puntos del líder, el Real Madrid, con un partido más los blancos, y tras la ocasión perdida la semana pasada en Arabia Saudí en la Supercopa de España, al Barça ya solo le queda la Europa League como único posible título a ganar esta temporada. El otro objetivo, prioritario, será acabar el campeonato clasificándose entre los cuatro primeros para asegurarse jugar la Champions el próximo año.
With this goodbye in the Copa del Rey, La Liga is now almost impossible, 17 points behind the leader, Real Madrid, with one more game for the whites, and after the opportunity lost last week in Saudi Arabia in the Spanish Super Cup, to Barça He only has the Europa League left as the only possible title to win this season. The other objective, a priority, will be to finish the championship by qualifying among the top four to ensure that they play in the Champions League next year.
Agradecido con toda la comunidad hive y la familia full deportes por dispersarme minutos de su valioso tiempo en leer mis líneas, no leemos en el siguiente post.
Grateful to the entire hive community and the full sports family for dispersing minutes of their valuable time to read my lines, we will not read in the next post.
Traductor Utilizado: Traductor DeepL
Editor de Imágenes: Photoshop/ lightshot
Fondos de Pantalla: Pixabay
Translator Used: DeepL Translator
Image Editor: Photoshop / lightshot
Wallpapers: Pixabay
---
---