2 things Ten Hag need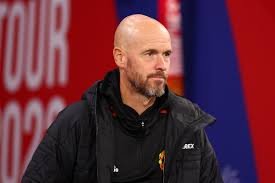 Licenseable
Despite the fact that Manchester United lost to Brighton and Holve Albion, Eric Ten Hag said there is still changes, he said it's not a quick result it's a gradual process. I understand what he he meant by that but it's not all fans that would understand this man. Ten Hag is a coach, he won the league where he come from to take Manchester United work and he is known as a good coach with discipline, the discipline that he have must have made him the good coach that he is. Ten Hag came with rules and regulations, for Manchester United players to adapt with the rule and regulations, it would take them time.
Ten Hag still need to change some players, even right from the goalkeeper because David De Gea never adapt with Ten Hag play way, Ten Hag plays right from the back so the goalkeeper should be able to touch with his players, which is footwork of which De Gea lack, and this contributed to Manchester United loss. Brighton and Holve Albion forced Manchester United to play what the game they are not trained to play, they didn't let them start ball from the back and once that happens, Goalkeeper is the next one to start the ball from the back but De Gea lack that and that is what makes him be on bench always at his country, the coach style is for the goalkeepers to start ball from the back and he didn't have that.
So if Ten Hag would change players, he would start the changes from goalkeeper (if he didn't work on his footwork) and all the defensive midfielders, it's not a bad thing to change goalkeeper if the keeper didn't play his pattern. Joe Hart is a good goalkeeper like David De Gea but when Pep Guardiola took Manchester City work, he changed him because he can't start ball from the back. So if Manchester United are not ready to spend money by getting good defensive midfielders (apart from Frenckie De Jong because he has insisted not to leave Barcelona) they should not even expect Top 4 from his this season, although season just started but with the material in Manchester United, they can't reach Top 4.
The defensive midfielder that can touch, endure the pressure, go back to collect ball from goalkeeper, mark ball and collect it without committing foul, help his defenders by taking pressure away from them, able to move forward with his attackers as they move the ball is the type of the defensive midfielder that Manchester United need presently and the goalkeeper that is good like Juanliuigi Donalruma (Paris Saint German goalkeeper) that can touch and have footwork is the type of goalkeeper that Manchester United need to get for Eric Ten Hag.
---
---