Batomio caused the problem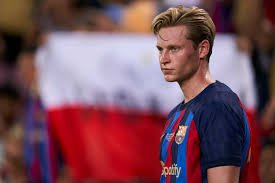 Licenseable
Frankie De Jong said he is not even going to any club, he would stay at Barcelona and he is not ready to collect pay cut, both Manchester United and Chelsea, he won't discuss any personal deal with them. Maybe because he know that none of the clubs would ever going to pay him five hundred and thirteen thousand pounds (513,000 pounds) that he's collecting every week at Barcelona and Barcelona are trying to let him go so that the amount that they are spending every week will be minimal and he is the one collecting much in the club. The highest amount they give to other players is 300 thousand pounds.
Even if Frenckie De Jong is still ready to collect pay cut, Barcelona still want to sell him because he is the only player that can fetch them huge amount of money, Manchester United are ready to pay Barcelona 71 million pounds and Chelsea are also ready to pay 71 million pounds with the 17 million pounds that Barcelona are owing him but Chelsea won't be able to pay him 513 thousand pounds that he is collecting at Barcelona, the highest that they can pay him is 300 thousand pounds, so his money would reduce and he has already settled down in Barcelona, he didn't expect such transfer, I heard that he just got a house in Barcelona of which he never live in much.
Joseph Maria Batomio is the cause of the problem in between Barcelona and Frenckie De Jong, he caused so many problem and resigned as a president, he pushed Barcelona into debt and resigned. In 2020, Joseph Maria Batomio made contract with Gerrard Pique, Frenckie De Jong, Clement Lenglet and Ter Stegen, in this contract is where he increased their salary and told them that they won't be collecting the huge amount of money until after the pandemic but they would be collecting the amount that they were collecting before, this is what made Barcelona own four of them huge amount of money.
Gerrard Pique has said that he is ready to collect the past amount of money that they were paying him before the contract is made between them and Joseph Batomio but I think it's because he is the club legend, he is one of the old players their, he has won many trophies with the club and his dream is to be Barcelona's president, so he can't reduce the amount of money he's collecting in order to stay at the club untill his contract will expire and he is a Spanish, so his dream may come true but the rest are outsiders and they are still young, they can't take the step Pique take.
---
---