De Jong not treated well by Barcelona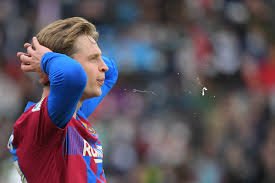 Licenseable
When Barcelona and Real Madrid played their first El-Classico, Barcelona won with only one goal from Raphinha, although it's a friendly match but it's not always easy because it's an El-Classico. The first El-Classico to be precise. Barcelona even always beat Real Madrid when it's El-Classico, the number of times Barcelona have won is higher than the number of times that Real Madrid won. Frenckie De Jong didn't play at the defensive midfield which we know he plays, he played at the center back that day, they played someone else at his place which means that he has been replaced and he no more wanted at the club anymore, they need him to go.
Barcelona always have Holland players in their clubs just like Real Madrid always have Brazil players, Frenckie De Jong is an Holland player, so many Holland players has passed Barcelona and become legend, Ronald Koeman is a Barcelona legend and due to the fact that he didn't have anything against Barcelona before he retire, he later became their coach even if not long. The way Barcelona treat Frenckie De Jong now, I hope it won't be as if he's a traitor if he do what he is suppose to do as a player that knows his right because this didn't him and Barcelona discussion before he joined the club.
Many Netherland players has played at Barcelona as I said above, even the first Champions League Barcelona won in 1992 goal came from Ronald Koeman, with only that, he become their legend, but as things seems, they didn't give Frenckie De Jong chance to proof himself in this club, he never win Laliga since he joined Barcelona, talk less of Champions League, so he won't have reason to go to club that is not playing Champions League, he said he want to go to Chelsea or he stay at Barcelona and as Barcelona need to sell out some players so as to register the players that they bought, they are doing all means to let him go.
Now his agent has voiced out that Frenckie De Jong won't reduce his money and he would stay at Barcelona, he said he would drive Barcelona to the court and I doubt Barcelona would win only if there is clause like "we can sell De Jong to the club we want whenever we like" in the contract that he signed with Barcelona when he was bought but if there is no such agreement or clause, maybe Barcelona should just sell another player instead of disturbing this young man and Barcelona never even pay the debt that they own him and they are busy buying players, this is what Garry Neville said that got Barcelona fans upset.
---
---