Done Deal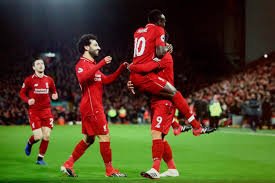 Licenseable
Sadio Mané's movement to Bayern Munich is a done deal between Liverpool and Bayern Munich now, the deal is 35 million pounds but 27.5 million pounds is the amount that Liverpool would first receive now and then later they would receive the rest. Liverpool would receive 3.5 million pounds if Sadio Mané win individual award or when Bayern Munich have any achievement. And he would sign 3 years contract for Bayern Munich. He is 30 years now and his contract would finish when he's 33 years of age, he would receive the amount of money that he have been receiving when he's playing for Liverpool in just a season.
I love clubs that doesn't look at age, what they need is performance, and that is why English premier league is loosing players, this is why Premier league don't always win when it comes to UEFA trophy like Champions League, they loose talented players, they loose big players, all because the players are are aged and that is why Real Madrid keep growing, they keep winning Champions League because they believe in experience players, the aged ones, they don't leave good players because they are old. I am very sure that Chelsea must have sold out Kareem Benzema if he's their player.
English premier league want to turn football to "only for the kids" and how could that be when people like Modric and Benzema are still playing, they still contribute to pass, they are still winning trophy for their club. I am very sure that if Sadio Mané is still in his early 20s, Liverpool would not have let him go, they let him go but they have already find his replacement even before he leave, so it means they don't really need him in the club anymore and if they retain Mohammed Salah, it would be very obvious that they personally hate Sadio Mané because their contract both remain a year.
Sadio Mané still plays, not like 30 years of age, but like he is in his 20s. He's very strong and he would surely play well in Bayern Munich, he would score more goals, even more than how he scores at Liverpool but the only thing he need to learn how to play is penalty. He put Senegal in trouble like twice as he lost penalties, maybe he need to learn how to build his confidence for penalty and I'm very sure that Bayern Munich would work on that for him because one of their penalty taker is Roberto Lewandowski that insisted he's going.
---
---