Garry Neville's comment
I think the Manchester United ex footballers have problem, even if they are interviewed and asked questions they should know what to say, they should speak without offending. One of them is Garry Neville, he recently said that it's only if Chelsea and Manchester United fuck up that Arsenal would be chanced to make it to top 4. I don't know what he sees to say that despite the fact that the league is yet to start. Arsenal that made progress last season, they end up to number 8 in upper last season and they met themselves in number 5 last season and the reason why is because Aubameyang the main striker was sold and not replaced by any player.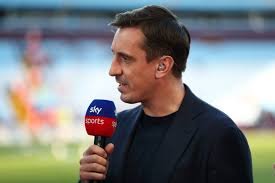 Licenseable
Although Arsenal played well last season, but they fucked up simply because they didn't play any European Cup like Champions League and premier league, so they are suppose to qualify for Top 4 at least, it's only the FA cup and Carabao cup they played and they didn't even go far in the two competition. This time around that they would play Europa League, there would be more stress for them, they would travel from England to other European countries in order to play away matches, so they would face more traveling stress and play more games unlike last season but there is enough players for them right now.
It is only at the attacking row that they have just two players which are Gabriel Jesus and Eddie Nketiah, the rest positions already have enough players, both bench and first eleven are already there, what is left for the players is to fight for their different positions because no one would want to sit on the bench for long, they would all want to be a starter. Arsenal has already started scouting for players even before last season end and that is what really help them not to have problem in the market like Manchester United because it is hard for the club that is not playing Champions League to get good players in the market.
Garry Neville should even think before he talk, although Arsenal didn't start well last season, they lost like 3 matches before they came back to winning and they beat Chelsea and Manchester United, the only fuck up they made is Crystal Palace that beat them in April, that was second leg, which gave Tottenham Hotspur upper hand to hijack the fourth position from Arsenal. But now that Arsenal have got enough players, if a player seems tired, there is enough players to replace him. Arteta lent well from Pep Guardiola before he became the coach and he's using the same style his boss used when he first reached Arsenal, although is style is different now but it's obvious that he lack players last season
---
---