Liverpool without Mané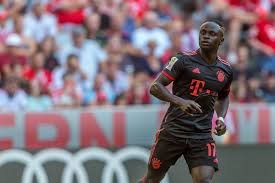 Licenseable
little did I know about football, it is very obvious that Liverpool is not complete without Sadio Mané. I don't even win they have win match ever since Sadio Mané left the club. Manchester United first beat them in the pre season match and it's not only Manchester United that beat them, they still lost two matches to another clubs. It is only RB Leipzig that they beat 5-0, Red Bull Salzburg beat them 1-0 and Strasburg beat them 3-0 at their very own Afield. Now it's been twice that Manchester United beat them in this new season, the first one may not count point but the second one do. When some Liverpool fans were saying that Liverpool has get replacement for Sadio Mané, I know that they are not right because he's irreplaceable.
You don't need to go far to know that Sadio Mané is the engine room of Liverpool because he won the best player of the week in Bundesliga while Liverpool never win a match in the Premier league. If it's possible to bring Mané back, Liverpool would do because it's this kind of time they need him most. He opens goals for Liverpool and they start scoring, that is a kind of player he is. Both Luiz Diaz and Darwin Nunez can't replace him, even as they are two, they still didn't reach only one Sadio Mané and Jorggen klopp don't need to pretend, he knows to Sadio Mané's exit because there are things that can't be done without his consent of which players transfer is among.
On Monday, of Sadio Mané has played, it won't go that way for Liverpool, it's either the match end up in draw or Liverpool win because no matter how hard the Manchester United defense is, Sadio Mané would still disturb them and work out goals for Liverpool and they is no place in the front that he can't play, he can play at the two wings (7 and 11) and he can play at center attack and that is where he played his last match at Liverpool. It is only when Liverpool rest him that they don't win. Samuel Eto'o said he is the world best player and I believe that because he has started making record in just two matches at German Bundesliga that he recently joined
If Liverpool and Jorggen klopp really appreciate Africa, they wouldn't have let Sadio Mané leave the club but I don't know maybe it's his colour that they don't like because they gave Mohammed Salah 400,000 pounds that he demanded after the exit of Sadio Mané. Mané demanded just 200,000 pounds from Liverpool and they didn't give him but they doubled Salah's wage. Maybe Sadio Mané should have gone to Bayern Munich before now because he is very welcome in that club and he is very happy there. The Co-players love him and the fans love him and fans love is even enough.
---
---