Mendy to Juventus?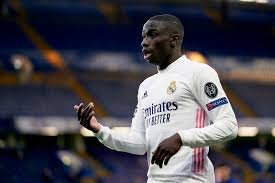 Licenseable
As Alex Sandro (Juventus defender) is playing Rubbish, giving wrong passes and playing to the foot of the opponenta, Juventus now look forward to Felan Mendy (Real Madrid defender) to replace him. They said they would first take him on loan deal and Real Madrid may be demanding 50 million pounds for the transfer fee, but the loan deal never done but I don't think it's the best for Real Madrid to loan out Felan Mendy because Marcelo's contract has expired and he is the only left footer defender apart from David Alaba and Alaba is there to play center defence. Because they have Antonio Rudiger doesn't mean they would not need Mendy.
Real Madrid president is crazy, he can sell anyone, he aimed to sell Kareem Benzema that's helping the club now many years back, but because there is no other striker, he still retained him and that is the man useful for Real Madrid now even more than before. If Feland Mendy is sold to Juventus, I am very sure that Feland Mendy won't be happy there because leaving big clubs like Real Madrid is like leaving the biggest thing in life, it's just that he won't have choice than to accept it since he is still under contract with Real Madrid and they can sell him to anywhere they want and if choose not to go, he would definitely have problem with the club.
But selling Feland Mendy isn't what is adviceable for Real Madrid because they have so many competitions to play this season; Champions League, Laliga and the other cup they play in Spanish league, they would play Super Cup today, if they win they would play World club Cup, so best thing for them is to keep Feland Mendy that is a natural left footer, playing a right footer at where left footer is needed can't be too real, so the best thing for them is to keep their players, not selling any of the players this season if they haven't find replacement, and as it seems, I never see any replacement for Feland Mendy at Real Madrid.
Real Madrid believe that they can sell any of their players because they can just go to any club and choose player that they want in order to replace the player sold but they should learn from Kylian Mbappe that has completed the personal terms with them, just remain for him to pend his signature for Real Madrid and be their player but Paris Saint German hold him down with money. If Real Madrid sell Mendy, maybe they can get his replacement in Spanish clubs or other leagues but non of the English clubs would be ready to sell their players, that is why premier league keeps getting tougher.
---
---