Pjanic want to stay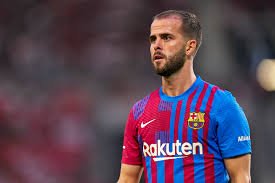 Licenseable
If a player has played in big clubs like Barcelona and Real Madrid, they player won't ever want to play in a club that is lesser because those two big Clubs are just clubs with records and they are still breaking records, they never stop, most especially that Real Madrid. Last week, Mirale Panic said he is ready to collect pay cut in order to stay at Barcelona, he know that the only problem that Barcelona have presently is money and he is sure that he would win trophies if he stay at Barcelona, going to another club, he may not win anything until age would against him.
This same Mirale Pjanic said said shit against Barcelona in the time of Ronald Koeman when he was loaned to the Turkey league; Beskistas, he said Barcelona can't win anything, he even confused players like Alvaro Morata not to join Barcelona then, he said so many things then, hoping Beskistas would buy him but they didn't buy him, they sent him back to Barcelona after the loan term finished. When Mirale Pjanic was bought, Authur Mello was sold then and people were even saying they sold young player and replace him with old player but when Koeman took the work, he changed Barcelona's style to rugby style which took the players time to adapt with and caused their lack in the league.
Ronald Koeman's Style made Barcelona players red card players because they aren't adapt with hard tackles and that's not even Barcelona's play way before Koeman emerge but when the present President came in, he made it obvious that he didn't like Koeman's work and he sacked him and went to UAE to bring back Xavi Hernandez, so Xavi did best to take Barcelona back from far place of the laliga table to number 2, if Barcelona didn't sack Koeman and hire Xavi, maybe Barcelona won't qualify for Champions League but the sad thing then was that there's no money to register Lionel Messi after his contract lapse.
Xavi said Mirale Panic is one of the midfielders that is exceptional, so he may be given more contract if he is ready to collect pay cut, he know that Barcelona would definitely win something this new season and he want to take part in that. Ronald Koeman is a coach that need a player that is strong and can mark so much, strong player to be precise, of which football is not like that, all you need it strength and brain, that's why Messi and Ronaldo keep being the best, they have the brain, only age can against them.
---
---