They'll miss him
Now that Sadio Mané has left, we will see who would work for Liverpool to open goals, bring up goals when they are really in need of it. Sadio Mané demanded 400 thousand pounds if they want him to stay at the club but they didn't even consider sitting him down to negotiate but when Sadio Mané threaten to leave the club with free agent next season because his contract would end by next season, they have him more years contract and added to his money, he would be collecting 350, thousand pounds every week now and he didn't even do half work that Sadio Mané does.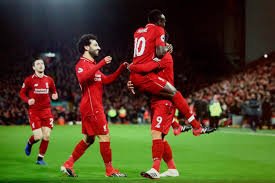 Licenseable
In almost every places, there is always personal likes, it's very obvious that they like Mohammed Salah at Liverpool more than Sadio Mané and Sadio Mané is working hard at the club, they would surely see the difference next season. Although what they did is the best, letting one go and making one stay; letting Sadio Mané go and making Mohammed Salah wait. But why Sadio Mané and not Mohammed Salah? If they can't see it at Liverpool, we watchers can see it that Sadio Mané is working far more than Mohammed Salah and Sadio Mané don't have injury.
It is when Mohammed Salah encounter injury they would know that they have really made hug mistake, they would see that Luis Diaz isn't Sadio Mané's replacement, even despite how much Darwin Nunez fights, he can't fight like Sadio Mané and it would definitely take time before Liverpool adapt without Sadio Mané because no one can play at the right wing, left wing and central attack among the Liverpool forward other than Sadio Mané, he is also an utility player. He can play at the midfield if he is lucky to play under coaches like Guardiola or José Morinho.
The love that José Morinho have for African footballers, if Sadio Mané play under him, he would play him at anywhere on the pitch because he is strong at attack and Morinho would want to try him at another place. Whenever he plays at central attack, he plays like a midfielder, he plays with his teammates, he works for ball, win ball and still score, he may not be the first scorer, but he works for his teammates, create chance for them to score. If Klopp has been playing him at the central attack since the beginning of the season, he would definitely have goals than Sadio Mané.
---
---