La batalla por el liderazgo continua en la F1/The battle for leadership continues in F1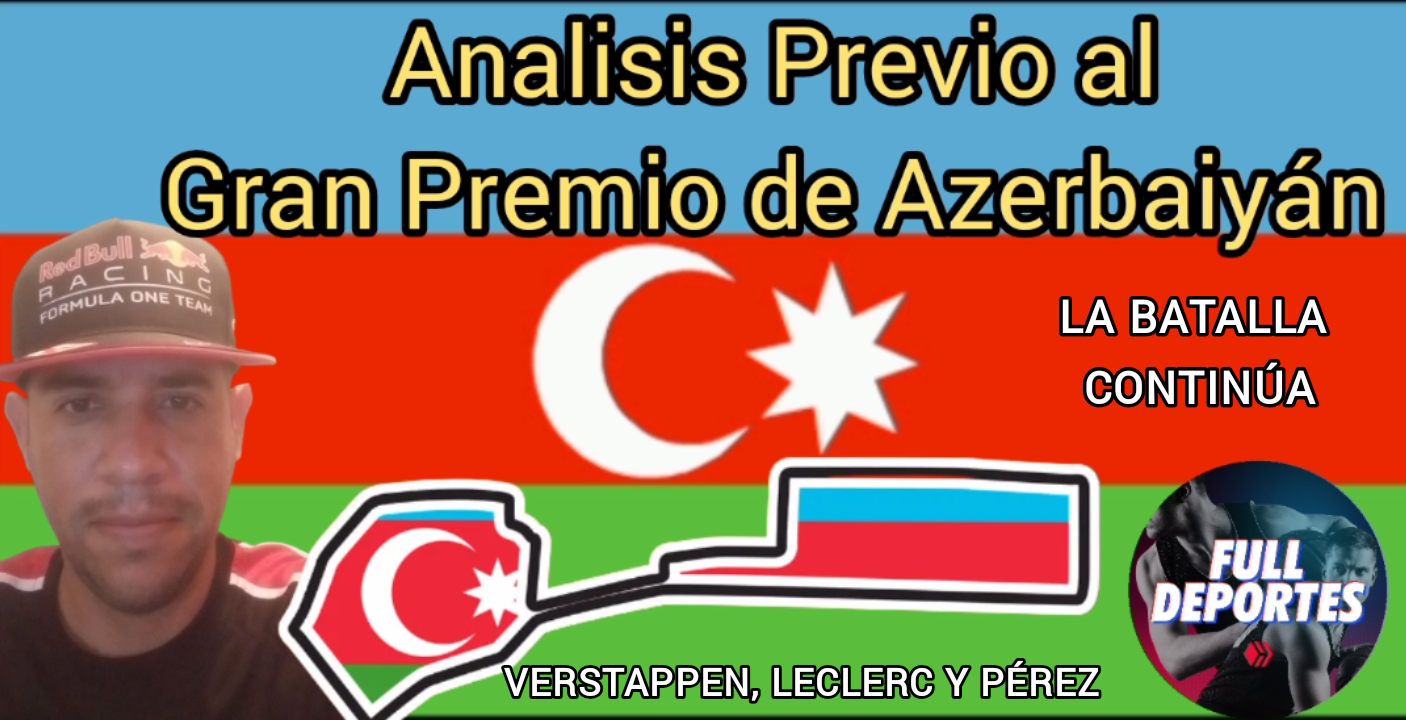 Imagen Circuito/ Circuit Image
Imagen de Bandera/ Image Flag
Imagen Fulldeportes/ Fulldeportes/Image
Saludos amigos de #fulldeportes, es grato para mí estar de vuelta con todos ustedes para hacerles llegar los análisis previos al gran premio de Bakú Azerbaiyán
de Fórmula Uno.
La F1 aterriza en Rusia en el principado urbano de Azerbaiyán, con una longitud de circuito: 6,003 kilómetros, una distancia total de carrera: 306,049 kilómetros,
para un total de 51 vueltas.
Greetings friends of #fulldeportes, it is a pleasure for me to be back with you all to bring you the analysis prior to the Baku Azerbaijan Grand Prix of Formula One.
Formula One Grand Prix.
F1 lands in Russia in the urban principality of Azerbaijan, with a circuit length: 6.003 kilometers, a total race distance: 306.049 kilometers,
for a total of 51 laps.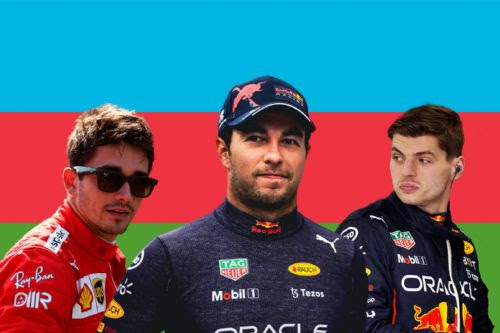 Fuente/Source.
Mucha tensión en los equipos punteros, sobre todo en el equipo de Ferrari, quienes han perdido la posición número 1 de la tabla de pilotos, debido a que Red Bull ha estado mejorando durante las últimas carreras, aunque sabemos que el equipo de las bebidas energéticas había tenido un mal comienzo de temporada. El trazado de Bakú nos ofrece espectáculos, ya que es muy diferente al circuito anterior "Mónaco" en el cual era imposible el adelantamiento, al igual que los errores en pista. Este trazado Ruso es urbano, posee zonas rápidas donde el adelantamiento es inminente, sobre todo en la curva número 20 al final de la recta, la cual tiene la zona más rápida del circuito. En esta recta los pilotos en la prueba de clasificación podrían aprovechar algún rebufo mejorando unas 500 milésimas en la recta principal.
Este circuito es muy habitual que las carreras terminen diferente al resultado de la prueba de clasificación. En la temporada 2017 el piloto Finlandés Valtteri Bottas iba en la última posición con su Mercedes y logro culminar en la segunda posición, siendo Daniel Ricciardo el ganador de aquella prueba, quien salió desde la posición número 10.
En la temporada 2018 el piloto Valtteri Bottas se encontraba liderando y a falta de 3 vueltas sufrió un pinchazo en la rueda trasera, abandonando el gran premio y dejándole la victoria a su compañero de equipo.
La temporada pasada a 6 vueltas del final Max Verstappen abandonaba a causa de un pinchazo en una de las ruedas de su Red Bull, generando un Safety Car y relanzando la carrera desde la parrilla de salida. En dicha salida Lewis Hamilton supero a Sergio Pérez, pero antes de llegar a la curva el piloto Británico se excedió en la frenada, perdiendo las opciones de podio y dejándole la victoria al piloto Mexicano Sergio Pérez.
A lot of tension in the top teams, especially in the Ferrari team, who have lost the number 1 position in the drivers' table, because Red Bull has been improving during the last races, although we know that the team of the energetic drinks had a bad start of the season. The Baku track offers us spectacles, as it is very different from the previous circuit "Monaco" in which overtaking was impossible, as well as mistakes on track. This Russian track is urban, has fast areas where overtaking is imminent, especially in the curve number 20 at the end of the straight, which has the fastest area of the circuit. In this straight the drivers in the qualifying race could take advantage of some slipstreaming improving about 500 thousandths in the main straight.

This circuit is very common for races to end differently from the qualifying result. In the 2017 season the Finnish driver Valtteri Bottas was in the last position with his Mercedes and managed to finish in second position, being Daniel Ricciardo the winner of that race, who started from position number 10.
In the 2018 season, Valtteri Bottas was leading and with 3 laps to go he suffered a rear tire puncture, abandoning the Grand Prix and leaving the victory to his teammate.
Last season with 6 laps to go Max Verstappen retired due to a puncture in one of the tires of his Red Bull, generating a Safety Car and relaunching the race from the starting grid. At the start Lewis Hamilton overtook Sergio Perez, but before reaching the corner the British driver overtook in the braking, losing his podium chances and leaving the victory to the Mexican driver Sergio Perez.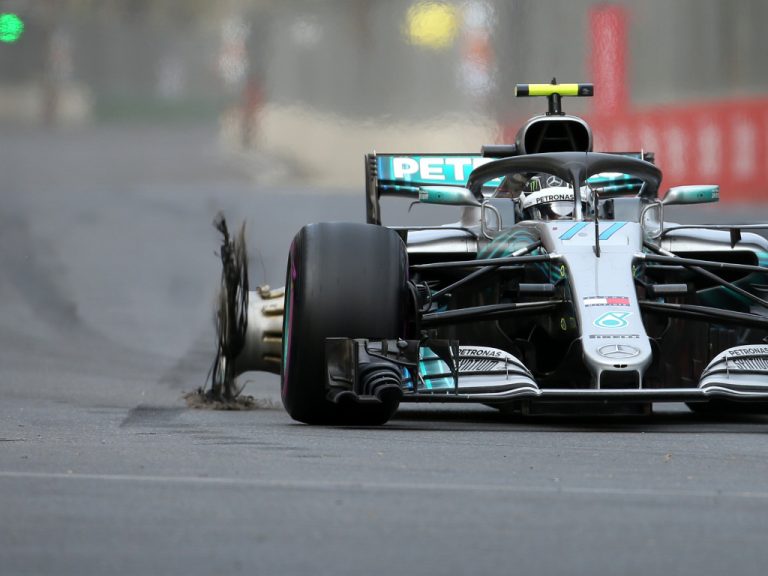 Fuente/Source.
Fuente/Source.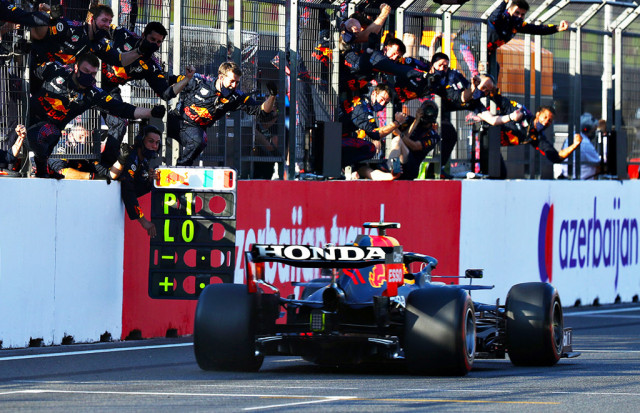 Fuente/Source.
La clave para ganar este gran premio también reposa en la estrategia que pueda realizar el equipo. Es un circuito rápido donde el Safety car ha estado presente y las decisiones que puedan tomarse son totalmente determinantes a la hora de poder ganar.
Durante las últimas 05 ediciones de este trazado hemos visto 05 ganadores diferentes:
Nico Rosberg
Daniel Ricciardo
Lewis Hamilton
Valtteri Bottas
Sergio Pérez
Solo Nico Rosberg en 2016 y Valtteri Bottas en el 2019 fueron los únicos en ganar saliendo desde la Pole Position.
The key to winning this Grand Prix also lies in the strategy that the team can make. It is a fast circuit where the safety car has been present and the decisions that can be taken are totally determinant when it comes to winning.
During the last 05 editions of this track we have seen 05 different winners:

Nico Rosberg

Daniel Ricciardo

Lewis Hamilton

Valtteri Bottas

Sergio Perez

Only Nico Rosberg in 2016 and Valtteri Bottas in 2019 were the only ones to win starting from Pole Position.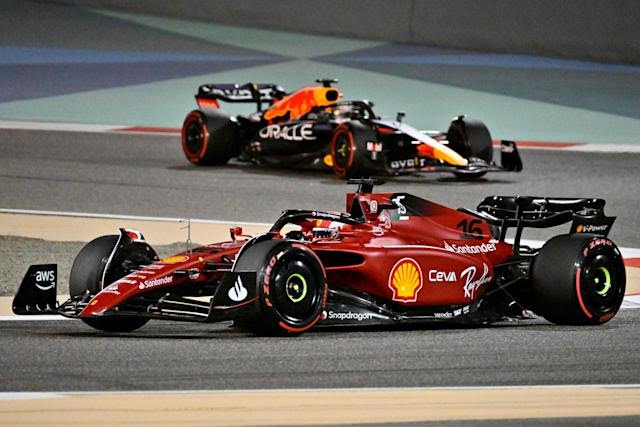 Fuente/Source.
Los equipos estan preparándose para el desquite y la pelea por el liderato del mundial
Ferrari llega con ganas de victoria y recuperar el liderato que Red Bull le ha arrebatado. El equipo Mercedes ha ido poco a poco mejorando y es posible verlo en la próxima carrera batallando por la victoria con un George Rusell que le viene exprimiendo la mínima milésima a su coche.
También vemos la tensión que hay en el equipo de las Bebidas energéticas, ya que Sergio Pérez está muy cerca del líder del campeonato, solo a 15 puntos, y el piloto mexicano ha sido más constante que el mismo Max Verstappen.
El piloto Mexicano solo ha tenido un abandono y Max ha tenido 02. Christian Horner ha tratado de llevar una buena relación entre sus pilotos; sin embargo, en el gran premio de España el piloto Mexicano paso un momento para no recordar al recibir la orden de equipo para dejar pasar a Max Verstappen. Esto creo una polémica y fue de muy mal visto por muchos aficionados. Sergio Pérez ha manifestado que esta temporada siente que está en el mejor momento de su carrera y no lo quiere dejar perder. Manifestó.
The teams are preparing for the rematch and the fight for the world championship lead.
Ferrari is looking forward to win and regain the lead that Red Bull has taken away from them. The Mercedes team has been improving little by little and it is possible to see it in the next race battling for the victory with a George Russell who is squeezing the minimum thousandth of a second out of his car.

We also see the tension in the Energy Drinks team, as Sergio Perez is very close to the championship leader, only 15 points behind, and the Mexican driver has been more consistent than Max Verstappen himself.
The Mexican driver has only had one retirement and Max has had 02. Christian Horner has tried to maintain a good relationship between his drivers; however, in the Spanish Grand Prix the Mexican driver had a moment to remember when he received the team order to let Max Verstappen pass. This created a controversy and was frowned upon by many fans. Sergio Perez has stated that this season he feels he is in the best moment of his career and does not want to lose it. He stated.
El porpoising jugará un papel importante para los equipos
The porpoising will play an important role for the teams.
Red Bull ha sido el equipo que más ha podido solucionar este problema, al igual que Ferrari, el equipo Mercedes aun está solucionando estas turbulencias y rebotes que presenta su coche, por otro lado, vemos el equipo Alpine que ha venido de menos a más, con un Fernando Alonso que no decae en rendimiento. Este año el piloto Asturiano pasará a ser el piloto con más Grandes Premios en disputar en la F1, superando al Flandes Kimi Matías Raikkonen.
Red Bull has been the team that has been able to solve this problem the most, as well as Ferrari, the Mercedes team is still solving these turbulences and bounces that their car presents, on the other hand, we see the Alpine team that has come from less to more, with a Fernando Alonso that does not decline in performance. This year the Asturian driver will become the driver with the most Grand Prix in F1, surpassing the Flanders Kimi Matias Raikkonen.
¿Es importante el desempeño de Pirelli?
Is Pirelli's performance important?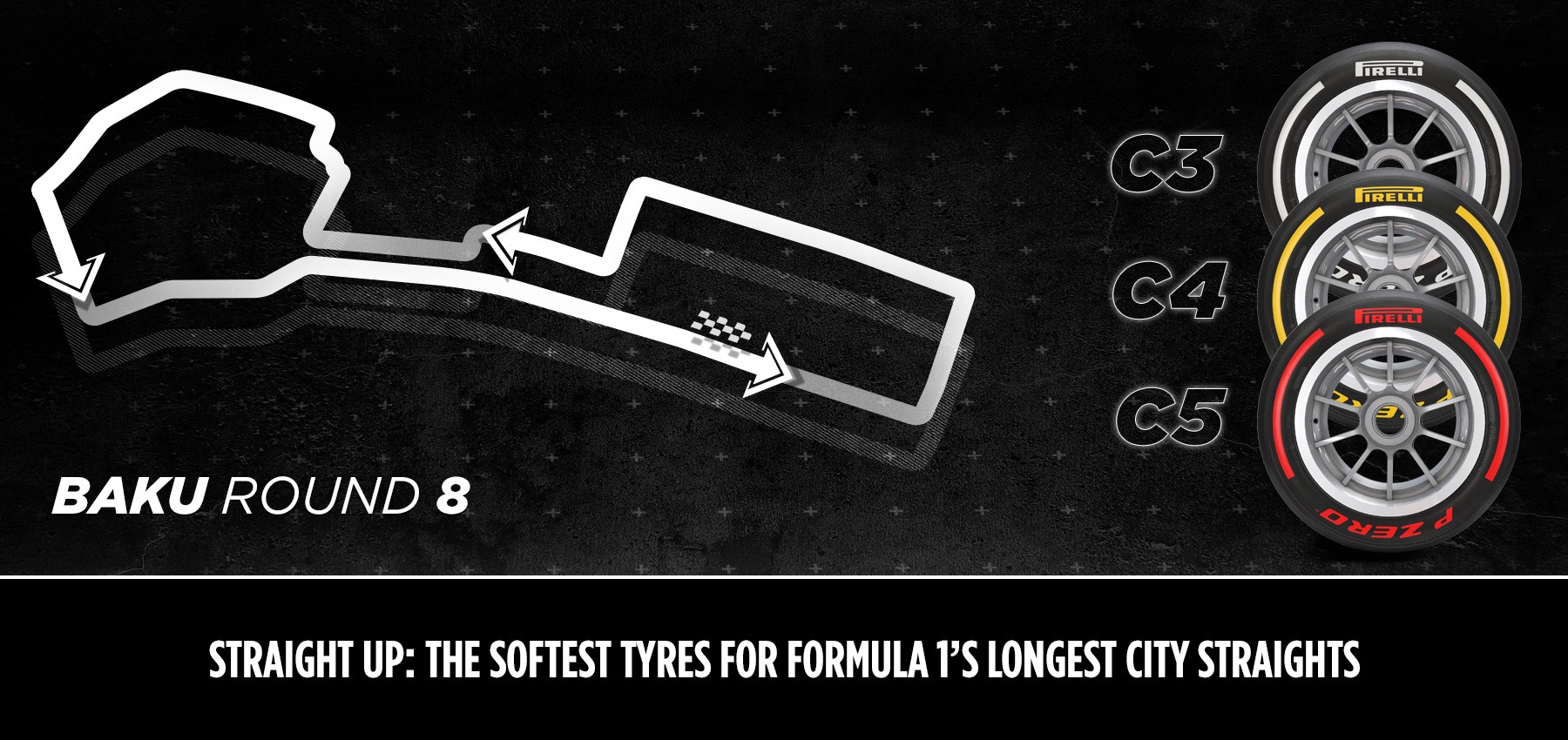 Fuente/Source.
¡La respuesta es sí! Esto debido a que el Nivel de estrés de los neumáticos sobre el circuito es aproximadamente de un 60%. Pirelli apostará para traer los mismos compuestos de la temporada pasada (C3 duro, C4 medio y C5 blanco), la configuración ideal para los equipos seria: carga media baja, la cual les ofrece a los monoplazas mayor agarre en los giros cerrados y la velocidad punta.
The answer is yes! This is because the stress level of the tires on the circuit is approximately 60%. Pirelli will bet to bring the same compounds as last season (C3 hard, C4 medium and C5 white), the ideal configuration for the teams would be: low medium load, which offers the cars more grip in tight turns and top speed.
No olvidar a Bottas
Don't forget Bottas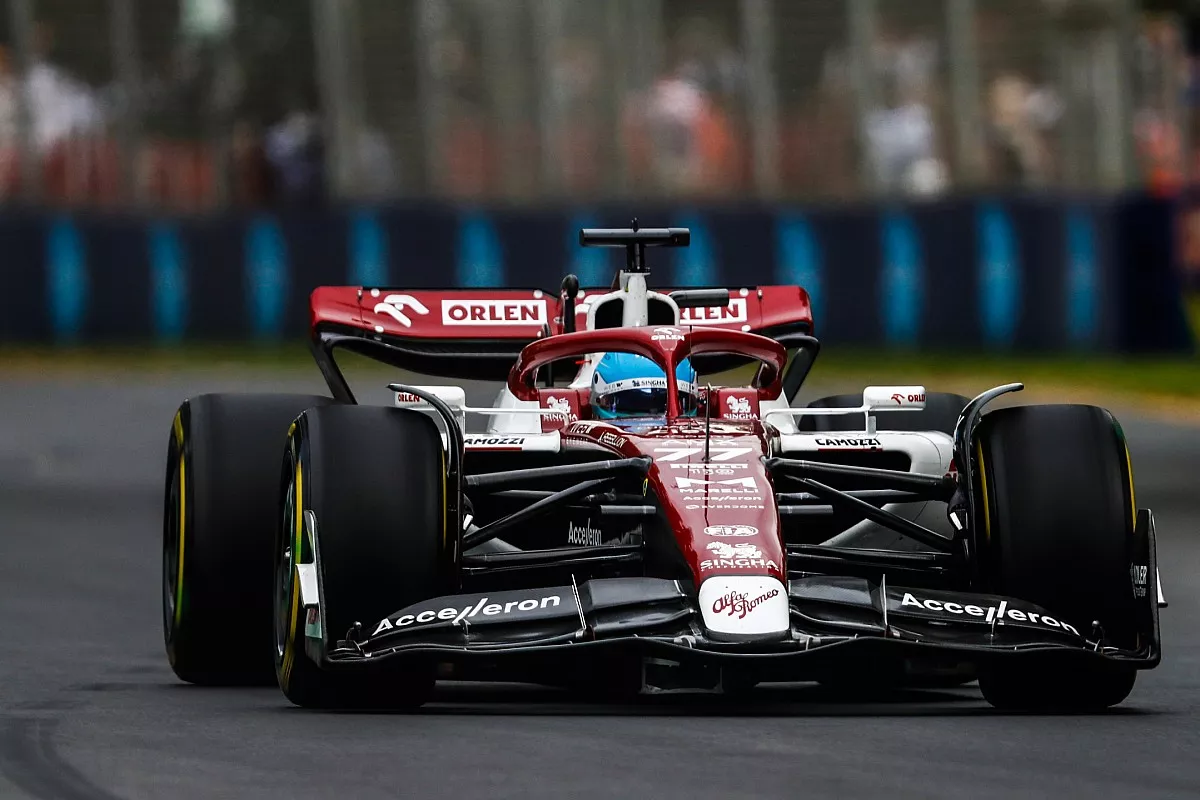 Fuente/Source.
El piloto Finlandés es muy rápido en este trazado y para esta temporada ha dado un buen rendimiento con su Alfa Romeo que está impulsado por un Motor Ferrari. Bottas se encuentra en la posición número 08 de la tabla de pilotos y solo ha sufrido un abandono. Para esta temporada debemos tomarlo en cuenta debido al buen desempeño que ha tenido en su coche. Su equipo está trabajando para darle lo mejor al piloto Finlandés.
The Finnish driver is very fast on this track and for this season has given a good performance with his Alfa Romeo that is powered by a Ferrari engine. Bottas is in position number 08 in the drivers' standings and has only suffered one retirement. For this season we should take him into account due to the good performance he has had in his car. His team is working to give the best to the Finnish driver.
Zona DRS
DRS Zone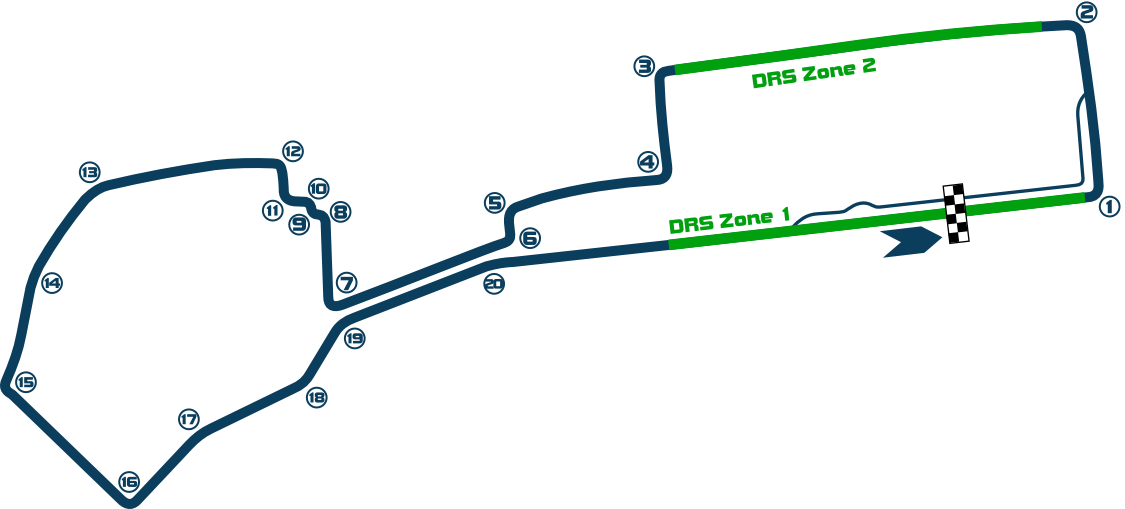 Fuente/Source.
La primera zona de activación está situada después de la curva número 2 y la segunda zona se encuentra en la curva 20, poco después de pasar esta curva se activa el DRS. Esperemos ver un buen espectáculo en este trazado.
En este circuito seguramente para esta temporada nos ofrecerá una buena carrera, ya que hay curvas lentas y zonas rápidas. Algunos sectores favorecerán a Ferrari y otros a Red Bull, porque el Ferrari es rápido a la hora de salir de las curvas lentas y medias en velocidad; sin embargo, los de Red Bull no están tan lejos de su rendimiento y tiene más velocidad punta en recta, por lo que será una carrera emocionante.
The first activation zone is located after turn 2 and the second zone is located at turn 20, shortly after passing this turn the DRS is activated. Let's hope to see a good show on this track.

This circuit will surely offer us a good race this season, as there are slow corners and fast areas. Some sectors will favor Ferrari and others Red Bull, because Ferrari is fast when exiting the slow and medium speed corners; however, Red Bull is not so far from its performance and has more top speed on the straight, so it will be an exciting race.
Mejoras para los equipos
Equipment enhancements
Alpine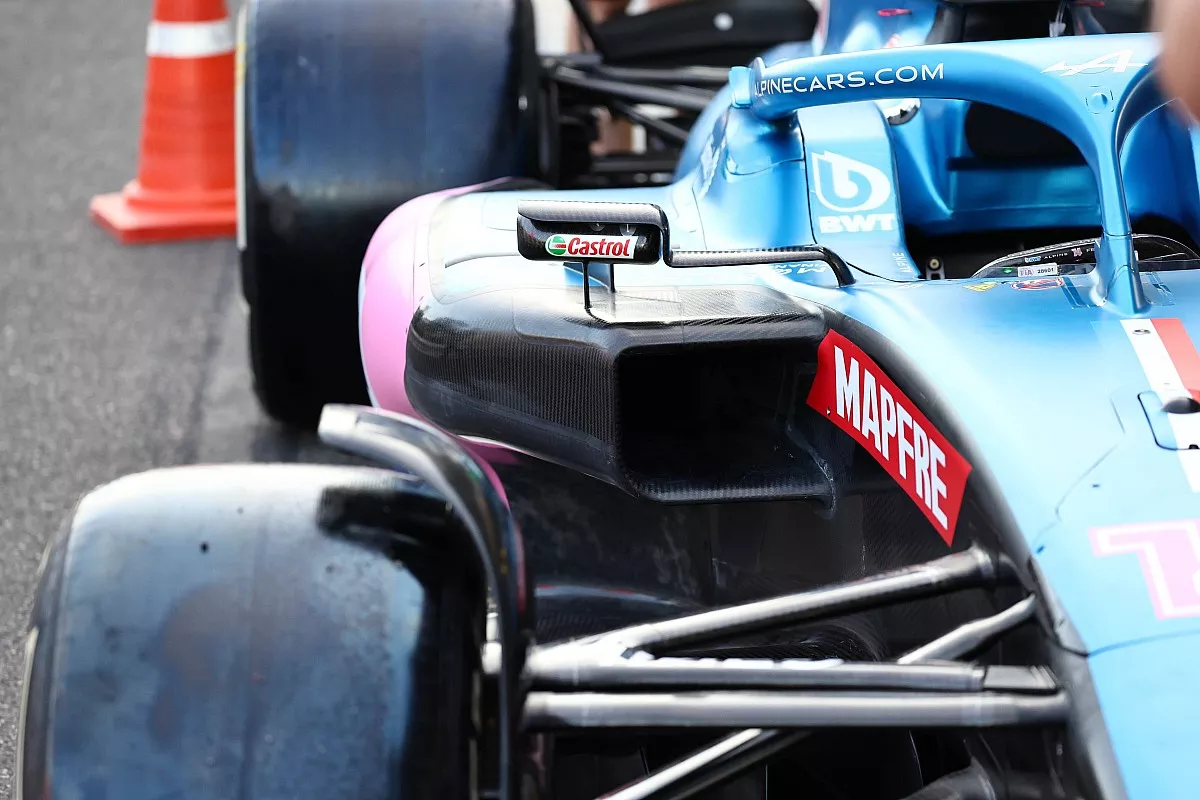 Fuente/Source.
ha traído una nueva actualización de aerodinámica para su coche, adaptada al estilo urbano del circuito de Bakú. Presentó unos pontones laterales muy parecidos a los del equipo Red Bull, pero con un diseño más atrevido y agresivo, con unas oberturas de aire más anchas y rectangulares. Esperemos que puedan ser un poco más rápidos los de Alpine.
has brought a new aerodynamic update for its car, adapted to the urban style of the Baku circuit. It featured side pontoons very similar to those of the Red Bull team, but with a bolder and more aggressive design, with wider and more rectangular air openings. Let's hope they can be a bit faster for Alpine.
Red Bull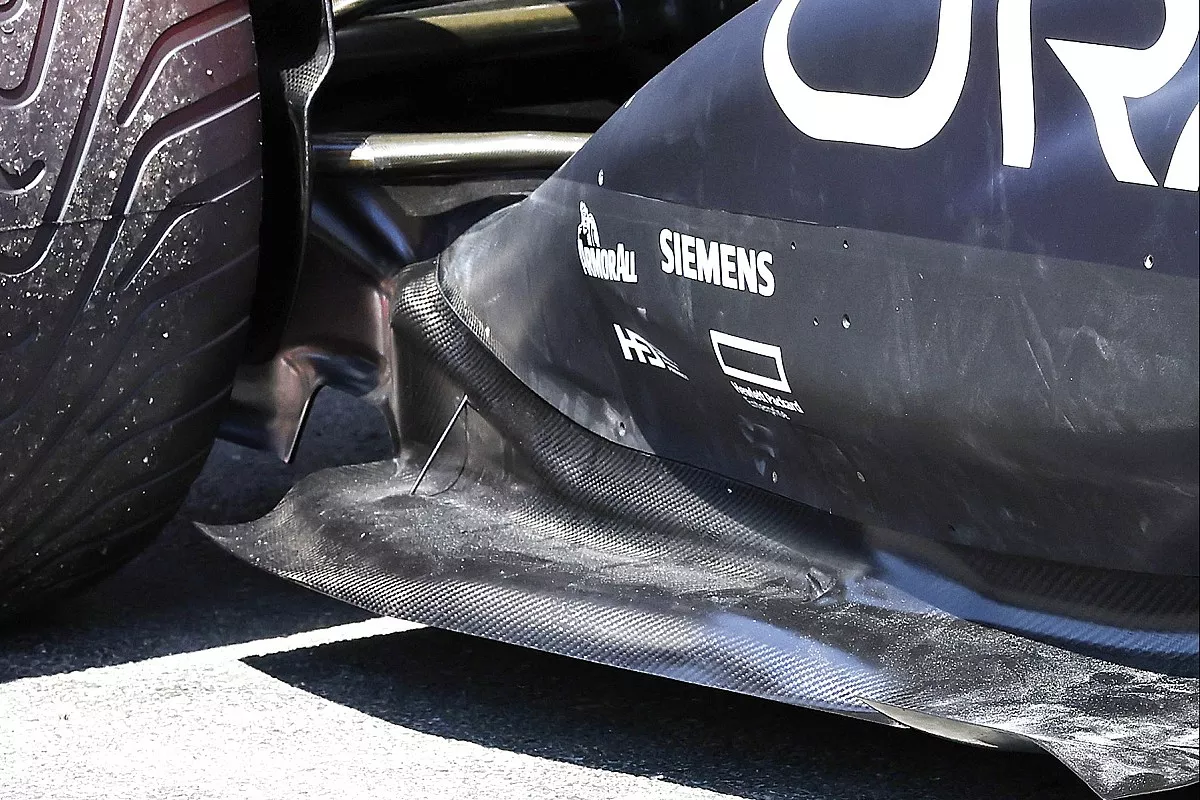 Fuente/Source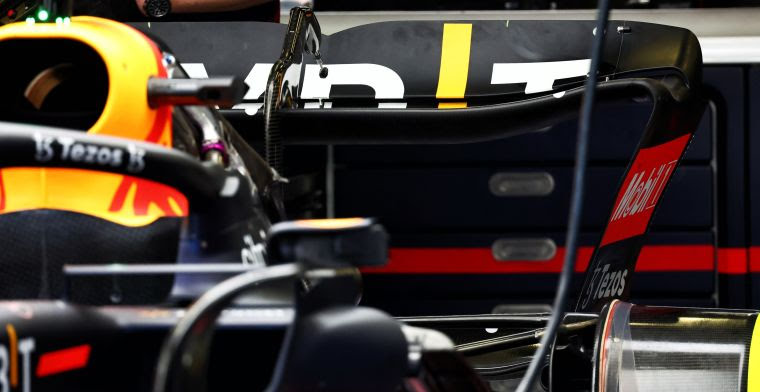 Fuente/Source.
Afirma traer nuevo suelo para su coche para tener una mejor carga aerodinámica y una nueva mejora el su downforce.
He claims to bring new ground for his car to have better downforce and a further improvement in downforce.
Mercedes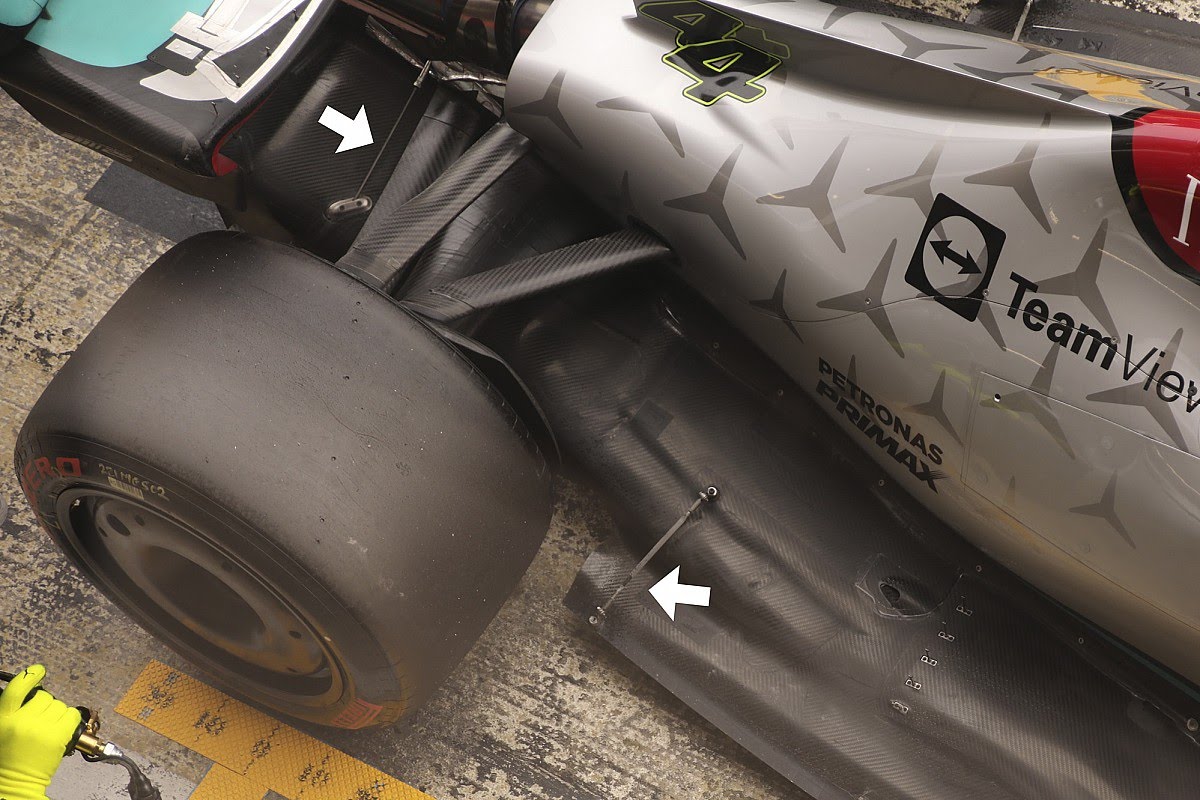 Fuente/Source.
Asegura estar trabajando en la aerodinámica de su coche discretamente, para ir mejorando todos los detalles que les impiden estar peleando por el pódium.
En conclusión, Ferrari debe de ser más consistente a la hora de mantenerse en pista, han tenido malas estrategias en las últimas carreras, su coche es muy veloz en las pruebas de clasificación, pero en carrera disminuye el rendimiento y es cuando el equipo de Red Bull aprovecha la situación para adjudicarse la victoria. El equipo de mercedes está cada vez más cerca de los punteros y no debemos dejarlos a un lado.
He claims to be working on the aerodynamics of his car discreetly, to improve all the details that prevent them from fighting for the podium.

In conclusion, Ferrari must be more consistent when it comes to stay on track, they have had bad strategies in the last races, their car is very fast in the qualifying tests, but in the race performance decreases and that is when the Red Bull team takes advantage of the situation to claim the victory. The Mercedes team is getting closer and closer to the leaders and we should not leave them aside.
Campeonato de Pilotos
Drivers' Championship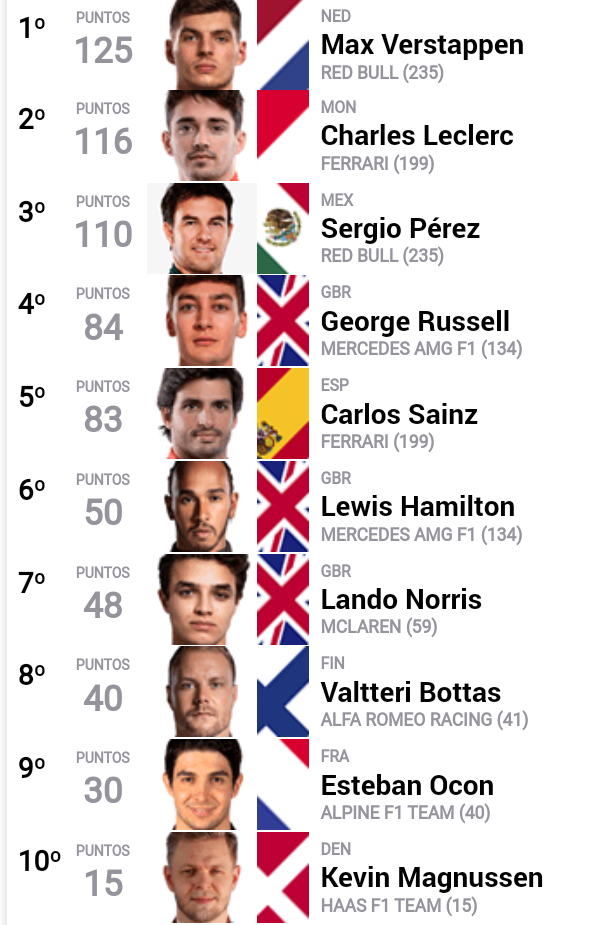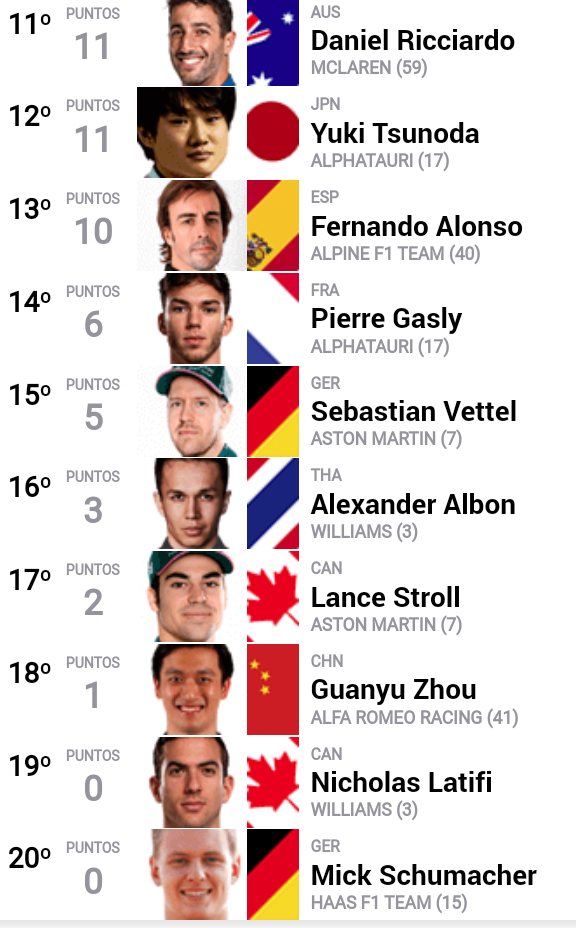 Fuente/Source.
Campeonato de Constructores
Constructors' Championship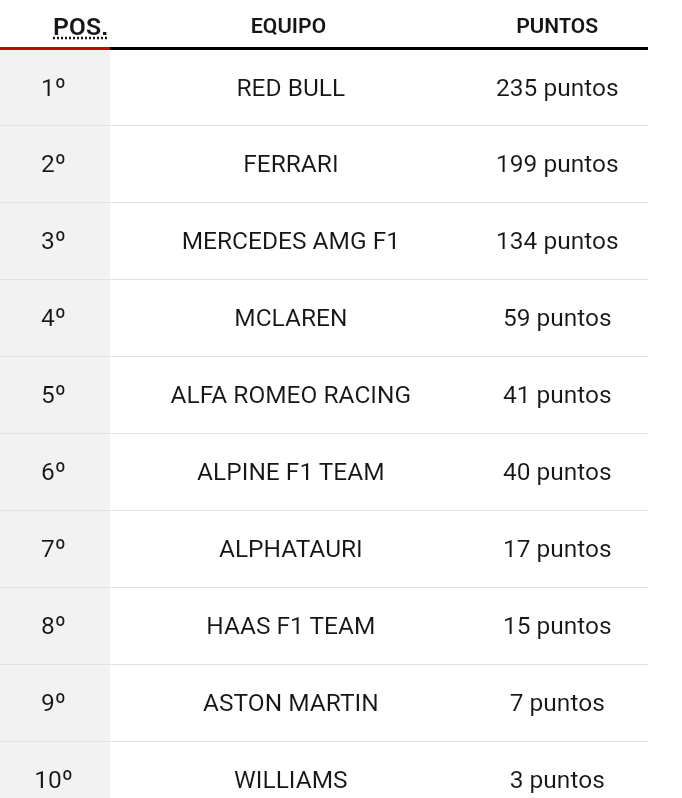 Fuente/Source.
Me despido amigos, espero verlos en una próxima oportunidad. Saludos.
I bid you farewell friends, I hope to see you in the next opportunity. Best regards.
🙏Gracias por tu visita/ Thank you for your visit!👍
Banners realizados en Canva.
Banners and dividers made in Canva.
---
---