[ESP-ENG] Lionel Messi y sus logros con la selección // Lionel Messi and his achievements with the national team
Saludos mis queridos lectores de esta comunidad, un gusto enorme poder compartir nuevamente con ustedes un nuevo artículo y es que ya en estos días poco se hablará de Fútbol después de haber culminados las dos copas tanto del continente americano como del continente europeo, a excepción de algunos movimientos en el mercado internacional por algunos fichajes importantes los ojos del mundo deportivo estará centrado en los juegos olímpicos de Tokio.
Greetings my dear readers of this community, a great pleasure to share with you again a new article and is that these days there will be little talk of soccer after having culminated the two cups both the American continent and the European continent, except for some movements in the international market for some important signings the eyes of the sporting world will be focused on the Olympic Games in Tokyo.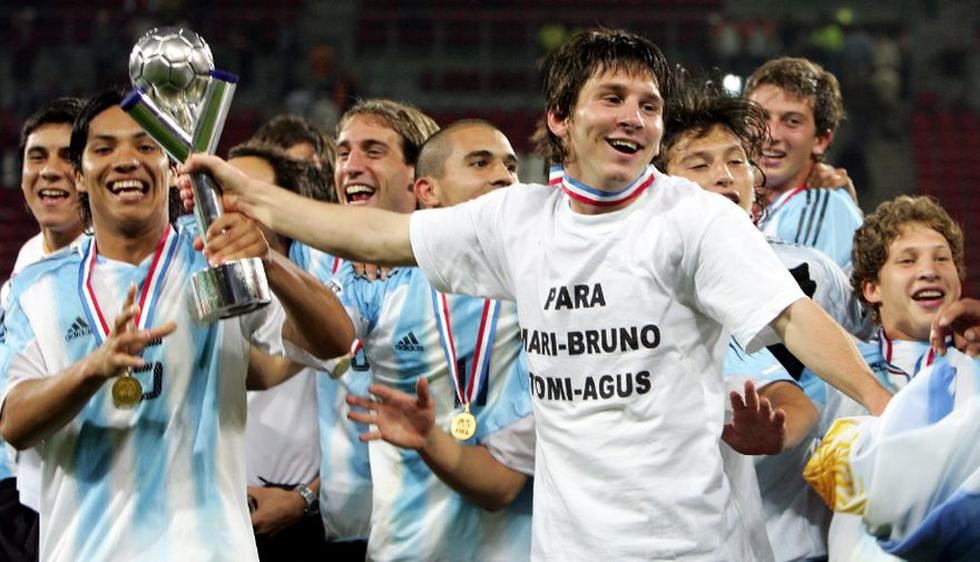 Fuente
---
Recientemente fuimos testigos como Argentina lograba ganar la copa américa por primera vez desde 1993, y teniendo a su mayor referente en el mundo, Lionel Messi que a lo largo de su carrera ha sido criticado por no haber llevado a la albiceleste a conquistar un título importante, pero con su club el Barcelona de España, lo ha logrado todo.
Con Argentina Lionel ha conseguido 3 subcampeonatos de copa América, en el 2007 en Venezuela, 2015 en Chile, y 2016 en los Estados Unidos, también fue subcampeón del mundo con la albiceleste en el mundial Brasil 2014, luego de que Argentina cayera ante Alemania 1-0.
El jugador del Barcelona de España logró conseguir en este 2021 su tercer título con la albicelestes después de haber ganado la copa América, y digo su tercer logro importante con la selección porque en los juegos olímpicos de Pekín 2008, Argentina ganó la medalla de oro con Leo en plan estelar, jugó la final frente a Nigeria, en el 2005 el astro argentino disputó un torneo con su selección y se coronó campeón en La Copa Mundial Sub-20 de la FIFA Países Bajos 2005, ante Nigeria y marcó un gol de penal al minuto 40, además en ese torneo ganó el balón y el botín de oro luego de marcar 6 tantos.
Recently we witnessed how Argentina managed to win the America Cup for the first time since 1993, and having its greatest reference in the world, Lionel Messi, who throughout his career has been criticized for not having led the Albiceleste to win an important title, but with his club Barcelona of Spain, he has achieved everything.
With Argentina Lionel has achieved 3 Copa America runner-ups, in 2007 in Venezuela, 2015 in Chile, and 2016 in the United States, he was also runner-up in the World Cup with the Albiceleste in the Brazil 2014 World Cup, after Argentina lost to Germany 1-0.
The player of Barcelona of Spain managed to achieve in this 2021 his third title with the albicelestes after winning the America Cup, and I say his third major achievement with the national team because in the 2008 Beijing Olympics, Argentina won the gold medal with Leo in stellar plan, In 2005, the Argentinean star played a tournament with his national team and was crowned champion in the FIFA U-20 World Cup Netherlands 2005, against Nigeria and scored a penalty goal at the 40th minute, also in that tournament he won the ball and the golden boot after scoring 6 goals.
---
Luego de la renuncia de Lionel Messi a la selección después de perder la final de la copa américa centenaria Usa 2016, surgieron las críticas de quienes a mi parecer no se identifican con el jugador ni sienten admiración por él, hay que destacar que Leo nunca jugó en su país en la liga local como otros jugadores argentinos, sino que a los 12 años ya estaba camino a Barcelona, muchos lo conocieron después por televisión.
Messi ha jugado 7 finales con su selección, de las cuales ha ganado 3 y ha perdido 4 solo le falta un título para igualar su registros entre victorias y derrotas en finales y ese trofeo pudiera ganarlo dentro de un año cuando se dispute el mundial Qatar 2022 y si Argentina logra clasificarse a dicha cita.
Pero muchos se siguen preguntando, ¿Qué ha hecho Messi con la selección?
Yo pudiera repetir ganó el mundial sub 20 en el 2005, la medalla olímpica en el 2008 y quedó campeón de la copa américa 2021, pero quiero ir más allá y no es que sea fiel seguidor de la pulga, pero históricamente es el líder goleador de Argentina.
Vamos a los números solo en finales. Para el mundial sub20 en el 2005, la albiceleste llega a la final contra Nigeria, después de haber disputado 8 compromisos, de los cuales perdió uno solo ante estados unidos en su debut, Lionel anotó en la fase de grupos (1)en los octavos de final (1) en los cuartos de final(1) semifinal(1) y (2) en la final para quedar líder del torneo con 6 tantos, la mitad de lo que marcó su equipo en el torneo nada mal para el joven jugador que aún algunos dicen que no ha hecho nada para la selección.
After Lionel Messi's resignation from the national team after losing the final of the 2016 Copa América Centenario USA, criticism arose from those who in my opinion do not identify with the player or feel admiration for him, it should be noted that Leo never played in his country in the local league like other Argentine players, but at the age of 12 he was already on his way to Barcelona, many knew him later on television.
Messi has played 7 finals with his national team, of which he has won 3 and lost 4, he only lacks one title to equal his record between victories and defeats in finals and that trophy could be won in a year when the Qatar 2022 World Cup is played and if Argentina manages to qualify for that event.
But many are still asking, What has Messi done with the national team?
I could repeat he won the U20 World Cup in 2005, the Olympic medal in 2008 and was champion of the Copa America 2021, but I want to go further and it is not that I am a faithful follower of the flea, but historically he is the leading scorer of Argentina.
Let's go to the numbers only in finals. For the U20 World Cup in 2005, the Albiceleste reached the final against Nigeria, after having played 8 matches, of which he lost only one against the United States in his debut, Lionel scored in the group stage (1) in the round of 16 (1) in the quarterfinals (1) semifinal (1) and (2) in the final to lead the tournament with 6 goals, half of what his team scored in the tournament, not bad for the young player who some still say has not done anything for the national team.
---
Copa américa Venezuela 2007 la albiceleste llegaba a una final frente a otro grande del continente, Brasil, Fernando Gago y Lionel Messi eran los jugadores más jóvenes de aquella convocatoria del técnico Alfio Basile, Argentina llegó a esa instancia de campeonato después de ganar 6 juegos y marcar 16 goles de los cuales Messi marcó (2) no pudo ganar el torneo y cedieron ante Brasil 3-0. Pero Lionel fue elegido como mejor jugador joven del campeonato.
Copa América Venezuela 2007 the Albiceleste reached the final against another great team of the continent, Brazil, Fernando Gago and Lionel Messi were the youngest players of that call of coach Alfio Basile, Argentina reached that stage of the championship after winning 6 games and scoring 16 goals of which Messi scored (2) could not win the tournament and lost to Brazil 3-0. But Lionel was chosen as the best young player of the championship.

Fuente
---
En los juegos olímpicos Pekín 2008, Argentina estuvo en el grupo A junto a Costa de Marfil, Australia y Serbia, durante su participación en el certamen, ganó 6 juegos, marcaron 11 goles en conjunto, (2) fueron de Messi, seguía aportando al equipo.

In the 2008 Beijing Olympic Games, Argentina was in group A together with Ivory Coast, Australia and Serbia, during their participation in the competition, won 6 games, scored 11 goals together, (2) were by Messi, he was still contributing to the team.
---
Copa mundial Brasil 2014 los ojos del mundo sobre el catalogado mejor jugador del planeta, Argentina inicia su recorrido en el grupo (F) junto a Nigeria, Bosnia y Herzegovina, e Irán, hasta la final disputaron 7 juegos, anotaron 12 goles en conjunto de los cuales Messi marcó 4 más uno de penal, de allí seguían las críticas por no haber ganado la copa del mundo ante los alemanes, y creo que eso opacó el premio que recibió al mejor jugador y balón de oro del torneo.

World Cup Brazil 2014 the eyes of the world on the cataloged best player on the planet, Argentina begins its journey in the group (F) with Nigeria, Bosnia and Herzegovina, and Iran, until the final played 7 games, scored 12 goals together of which Messi scored 4 plus one penalty, from there followed the criticism for not having won the World Cup against the Germans, and I think that overshadowed the award he received the best player and golden ball of the tournament.
---
Año 2015 y la argentina de Maradona llega a otra final de copa américa, esta vez ante Chile después de haber ganado 4 partidos dos en fase de grupo 1 en cuartos de final y otro en semifinales, los chilenos se impusieron 4-1 , pero el jugador del barca logra marcar un gol en la fase de grupos de penal en un empate a 2 ante Paraguay, otro de penal en los cuartos de final ante Colombia luego de la prórroga, y de penal marcó el único tanto en la tanda definitoria para su equipo de aquella final es decir marcó tres en el torneo todos de penal, pero tampoco logró hacerse de la copa, sin embargo lo eligen mejor jugador del torneo pero este por vergüenza deportiva se niega a recibir el premio.

Year 2015 and Maradona's Argentina reached another Copa America final, this time against Chile after winning 4 matches, two in the group stage, one in the quarterfinals and another in the semifinals, the Chileans won 4-1, but the Barca player scored a goal in the group stage in a penalty in a 2-2 draw against Paraguay, another one in the quarterfinals against Colombia after extra time, and he scored the only goal in the final shootout for his team in that final, that is to say, he scored three goals in the tournament, all of them penalties, but he also failed to win the cup, however, he was elected best player of the tournament, but he refused to receive the award due to sporting shame.
---
Año 2016 y parecía que llegaba la revancha y el ansiado título del continente americano pues de nuevo se veían las caras Argentina – chile en una final. Los albiceleste ganaron 5 partidos previos para llegar a esta instancia decisiva, anotaron 18 goles, de los cuales tres fueron de Messi, pero chile los volvía a vencer en los penales, el último disparo Messi termina lo errando y de allí se derivaron más críticas y ataques, y es cuando decide renunciar y alejarse de la selección, para volver a jugar en el mundial del 2018 y la copa américa de Brasil 2019, esta última muy criticada por el astro.

Year 2016 and it seemed that the revenge and the long-awaited title of the American continent was coming, because once again Argentina and Chile were facing each other in a final. The Albiceleste won 5 previous matches to reach this decisive instance, scored 18 goals, of which three were by Messi, but Chile beat them again in penalties, the last shot Messi ends up missing it and from there more criticism and attacks were derived, and that is when he decides to resign and move away from the selection, to return to play in the 2018 World Cup and the American Cup in Brazil 2019, the latter very criticized by the star.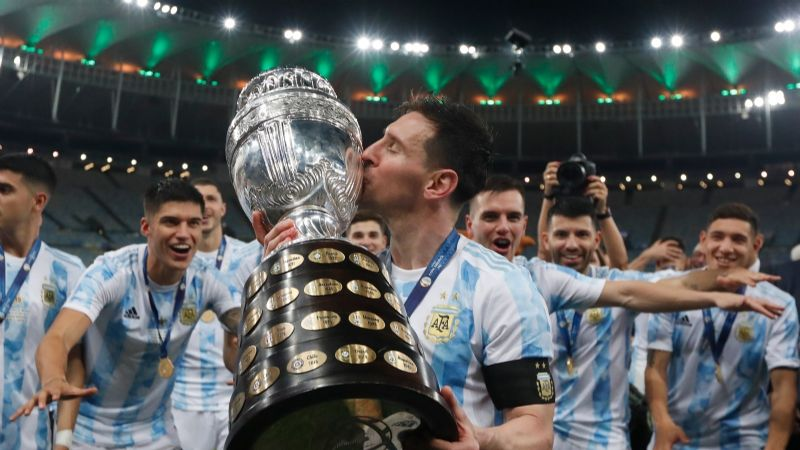 Fuente

---
La última edición de copa américa que se ha jugado fue la más reciente 2021 y por fin Messi logró levantar el trofeo, y es que para llegar a la final debieron ganar 5 juegos más el de la final, empatando uno en la fase de grupos, pero el 10 aportó dos goles en tiempo reglamentario y uno de penal ante Colombia luego del tiempo reglamentario y prórroga en semifinal. Saquen cuenta y no se pregunten que ha logrado Lionel Messi con la selección pregúntese ¿qué ha hecho el crack para estar en 7 finales con la selección?, por cierto, en este recuento no quise mencionar las asistencias en finales, en eso pueden ayudarme ustedes.

Saludos, éxitos y bendiciones.

The last edition of the Copa America that has been played was the most recent 2021 and finally Messi managed to lift the trophy, and to reach the final they had to win 5 games plus the final, tying one in the group stage, but the 10 contributed two goals in regulation time and one penalty against Colombia after regulation time and extra time in the semifinal. Do not ask yourselves what Lionel Messi has achieved with the national team, but ask yourselves what has he done to be in 7 finals with the national team?, by the way, in this count I did not want to mention the assists in finals, you can help me with that.

Greetings, success and blessings.
---
---