[ESP-ENG] Los tigres de Aragua con cara de campeones// Aragua tigers with the face of champions.
Hola amigas y amigos gusto en saludarles, hoy continuó con el análisis de las oportunidades que pudieran tener los equipos que conforman la liga venezolana de béisbol profesional de avanzar al round robin, en este caso toca hablar de los Tigres de Aragua equipo que se convirtió en una dinastía durante la década de los 2000, pero que en los últimos 10 años solo han ganado la final en par de ocasiones, espero contar con ustedes para reforzar esta información, con sus comentarios, sugerencias y puedan apoyarme con sus votos.
Hello friends, nice to greet you, today I continue with the analysis of the opportunities that the teams that make up the Venezuelan professional baseball league could have to advance to the round robin, in this case it is time to talk about the Tigres de Aragua team that became a dynasty during the 2000s, but in the last 10 years have only won the final a couple of times, I hope to have you to reinforce this information, with your comments, suggestions and you can support me with your votes.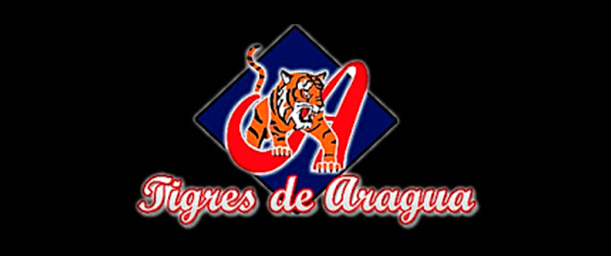 Fuente
---
Después de ganar su última final en el 2015, Tigres no había clasificado más a una semifinal, hasta el año pasado cuando estuvo a un juego de ir a la instancia decisiva luego de caer en la serie ante Cardenales 4-3, de la mano de un joven manager, que ya conoce lo que es ser campeón como dirigente, Aragua apostó nuevamente a Luis Ugueto para que sea su mandamás en la cueva tigrera para esta 2021-2022, Ugueto guío a Cardenales de Lara al título en la 2019-2020, pero el equipo no ejerció el contrato para el año pasado, y este terminó dirigiendo a los Tigres de Aragua con los que tuvo a solo unos out de meterse en la final, por eso los felinos apuestan en esta campaña por Luis Ugueto que en sus números tiene récord de 41 victorias por 38 derrotas en la ronda regular, el resto del cuerpo técnico lo conforman nombres emblemáticos de nuestra pelota y otras ligas del mundo, como Clemente Álvarez ( Coach de Bullpen), Gustavo Molina ( coach de banca), Órber Moreno (coach de pitcheo), Jorge González ( coach de primera base), Aaron Baldiris (bateo) y Silverio Navas ( coach de tercera base); igualmente Wilmer Bello como coach de bullpen. Con este grupo de buenos dirigentes los bengalíes, y manteniendo un ambiente de compañerismo en la cueva tigrera, el equipo peleará no solo el título en Venezuela sino también en la serie del caribe, cabe destacar que Tigres el año pasado terminó como el sexto equipo en promedio ofensivo, y tercero en efectividad del pitcheo durante la ronda regular.
After winning its last final in 2015, Tigres had not qualified for a semifinal until last year when it was one game away from going to the decisive instance after falling in the series against Cardenales 4-3, under the guidance of a young manager, Aragua bet again on Luis Ugueto to be their boss in the Tigrean cave for this 2021-2022, Ugueto guided Cardenales de Lara to the title in 2019-2020, but the team did not exercise the contract for last year, He ended up managing the Tigres de Aragua, with whom he was only a few outings away from reaching the finals, that is why the felines are betting on Luis Ugueto for this season, who has a record of 41 wins and 38 losses in the regular round, The rest of the coaching staff is made up of emblematic names of our baseball and other leagues in the world, such as Clemente Álvarez (bullpen coach), Gustavo Molina (bench coach), Órber Moreno (pitching coach), Jorge González (first base coach), Aaron Baldiris (batting) and Silverio Navas (third base coach); Wilmer Bello as bullpen coach. With this group of good leaders, the Bengalíes, and maintaining an atmosphere of camaraderie in the Tigrera cave, the team will fight not only for the title in Venezuela but also in the Caribbean series. It is worth mentioning that last year Tigres finished as the sixth team in offensive average and third in pitching effectiveness during the regular round.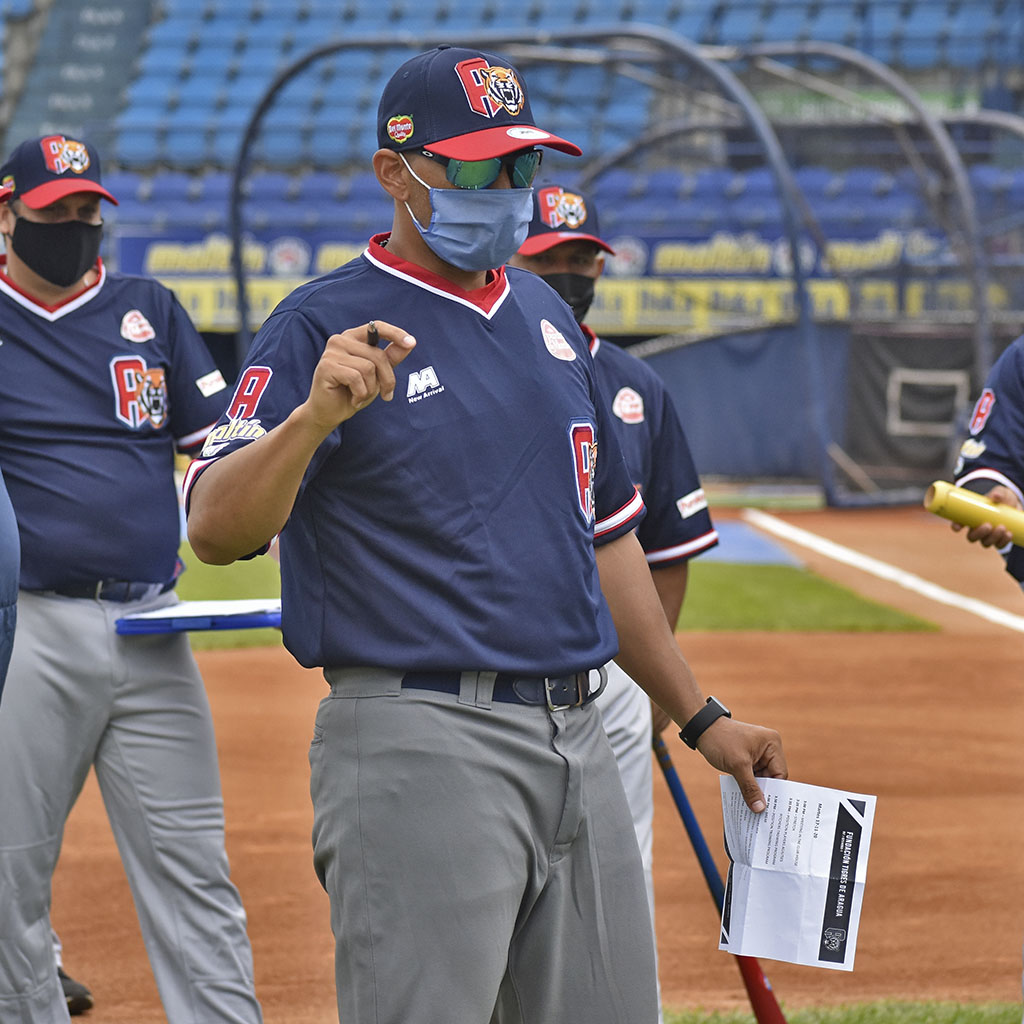 Fuente
---
El pitcheo hasta los momentos pareciera ser una de las fortalezas del conjunto, ya que cuentan en sus filas con Guillermo Moscoso, veterano lanzador que ha jugado en grandes ligas, Japón y México ha sido campeón en Venezuela, y es un ponchador nato sería la referencia entre los lanzadores, que también cuentan en sus filas con Ramón García lanzador de 30 años con buenos números el año pasado (1-1), Logan Duran (Dominicano) que abanico a 24 el año pasado, Osmer Morales que abrió cinco juegos el dejando récords de 2-2 efectividad de 3.24 ponchó a 25 , y otros buenos brazos con buenos números como Angelo Palumbo, Maiker Pinto, Álvaro Seijas, Alexis Tapia y Adonis Villacencio; todos estos derechos, mientras que los zurdos serían Ismael Guillón, Dédgar Jiménez, Ángel Padrón y Elio Silva. Y así otro grupo de relevistas con efectividad muy baja, creo que, con los que ya nombre, Tigres tiene el material para estar este año en la final, esto sin tomar en cuenta los refuerzos importados que pudieran traer como el caso del cubano Frank Madán quien fue anunciado como el primer importado hace un mes y que dejó números impresionantes en su país como abridor en los que recetó 109 ponches y 40 bases por bolas en 141.2 entradas, Aragua cuenta con profundidad en el cuerpo de lanzadores, además por las estadísticas parecieran mostrarse sólidos, de ser así fácilmente pudieran ganar más de 30 juegos esta campaña; claro combinado a una buena ofensiva.
The pitching so far seems to be one of the strengths of the team, since they have in their ranks Guillermo Moscoso, a veteran pitcher who has played in the big leagues, Japan and Mexico, has been champion in Venezuela, and is a born puncher would be the reference among the pitchers, They also count in their ranks with Ramon Garcia, a 30 year old pitcher with good numbers last year (1-1), Logan Duran (Dominican) who struck out 24 last year, Osmer Morales who opened five games last year with a record of 2-2 with an effectiveness of 3. He struck out 25, and other good arms with good numbers such as Angelo Palumbo, Maiker Pinto, Álvaro Seijas, Alexis Tapia and Adonis Villacencio; all these right-handers, while the left-handers would be Ismael Guillón, Dédgar Jiménez, Ángel Padrón and Elio Silva. And so another group of relievers with very low effectiveness, I believe that, with those already named, Tigres has the material to be in the final this year, this without taking into account the imported reinforcements that could be brought in, as in the case of Cuban Frank Madán who was announced as the first import a month ago and who left impressive numbers in his country as a starter in which he gave up 109 strikeouts and 40 bases on balls in 141. Aragua has depth in the pitching staff, also by the statistics they seem to be solid, if so they could easily win more than 30 games this season; combined with a good offense.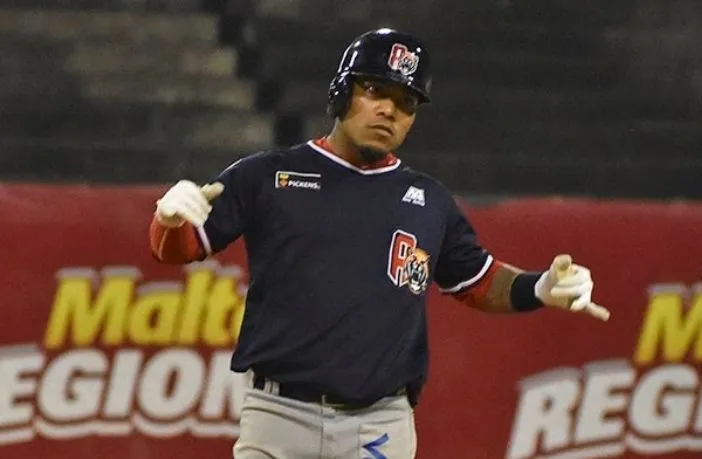 Fuente
---
La ofensiva de los Tigres para esta campaña pareciera estar comandada por dos referentes en nuestra liga que no necesitan presentación; Alexis Amarista y Henry "El Pollito" Rodríguez dos veteranos oportunos que juegan con el alma, a estos se le suma la contratación del dominicano Denis Phipps uno de los bateadores más peligrosos de las últimas cinco zafras de la LVBP, en dicho tramo ha defendido los uniformes de Caribes de Anzoátegui y Cardenales de Lara, acumula 163 imparables, con 32 dobles, 27 cuadrangulares, 97 carreras impulsadas y un promedio ofensivo de 279, ha sido Productor del Año (2016) y Regreso del Año en el año (2019).
Raico Santos es un outfielder cubano, vio acción este año en Liga de su país, donde bateó para .350, conectando 86 imparables, 14 dobles, conectó cuatro cuadrangulares, impulsó 50 rayitas y anotó 69 carreras, es otro llamado aser un caballo en la ofensiva bengalí, a esto hay que sumarle a otros peloteros con buenos números ofensivos, Ramón Cabrera y Wilfredo Giménez quienes deberían de ser los receptores regulares, otro jardinero con buenos números la campaña pasada es Carlos Arroyo que ligó para average de 400 producto de 12 imparables en 30 turnos, recientemente también adquirieron a Eduar Pinto, jardinero de buen promedio, y así sucesivamente, si suman otras piezas con promedios regulares y logran engranar una buena camaradería dentro del dugout, este equipo será difícil de vencer aun sin la incorporación de su mejor bateador el año pasado; Hernán Pérez.
The Tigres' offense for this season seems to be commanded by two references in our league that need no introduction; Alexis Amarista and Henry "El Pollito" Rodríguez, two veterans who play with their souls, in addition to the Dominican Denis Phipps, one of the most dangerous hitters in the last five seasons of the LVBP, in that stretch he has defended the uniforms of Caribes de Anzoátegui and Cardenales de Lara, accumulated 163 hits, with 32 doubles, 27 homers, 97 runs batted in and an offensive average of 279, has been Producer of the Year (2016) and Comeback of the Year (2019).
Raico Santos is a Cuban outfielder, he saw action this year in League of his country, where he batted for . 350, connecting 86 hits, 14 doubles, connected four homers, drove in 50 runs and scored 69 runs, is another called to be a horse in the Bengals offense, to this we must add other players with good offensive numbers, Ramon Cabrera and Wilfredo Giménez who should be the regular catchers, Another outfielder with good numbers last season is Carlos Arroyo who hit for an average of 400 with 12 hits in 30 innings, recently they also acquired Eduar Pinto, an outfielder with a good average, and so on, if they add other players with regular averages and manage to create a good camaraderie inside the dugout, this team will be difficult to beat even without the incorporation of their best hitter last year; Hernán Pérez.
---
---