Monagas SC logra su primer objetivo ⚽ Monagas SC achieves its first goal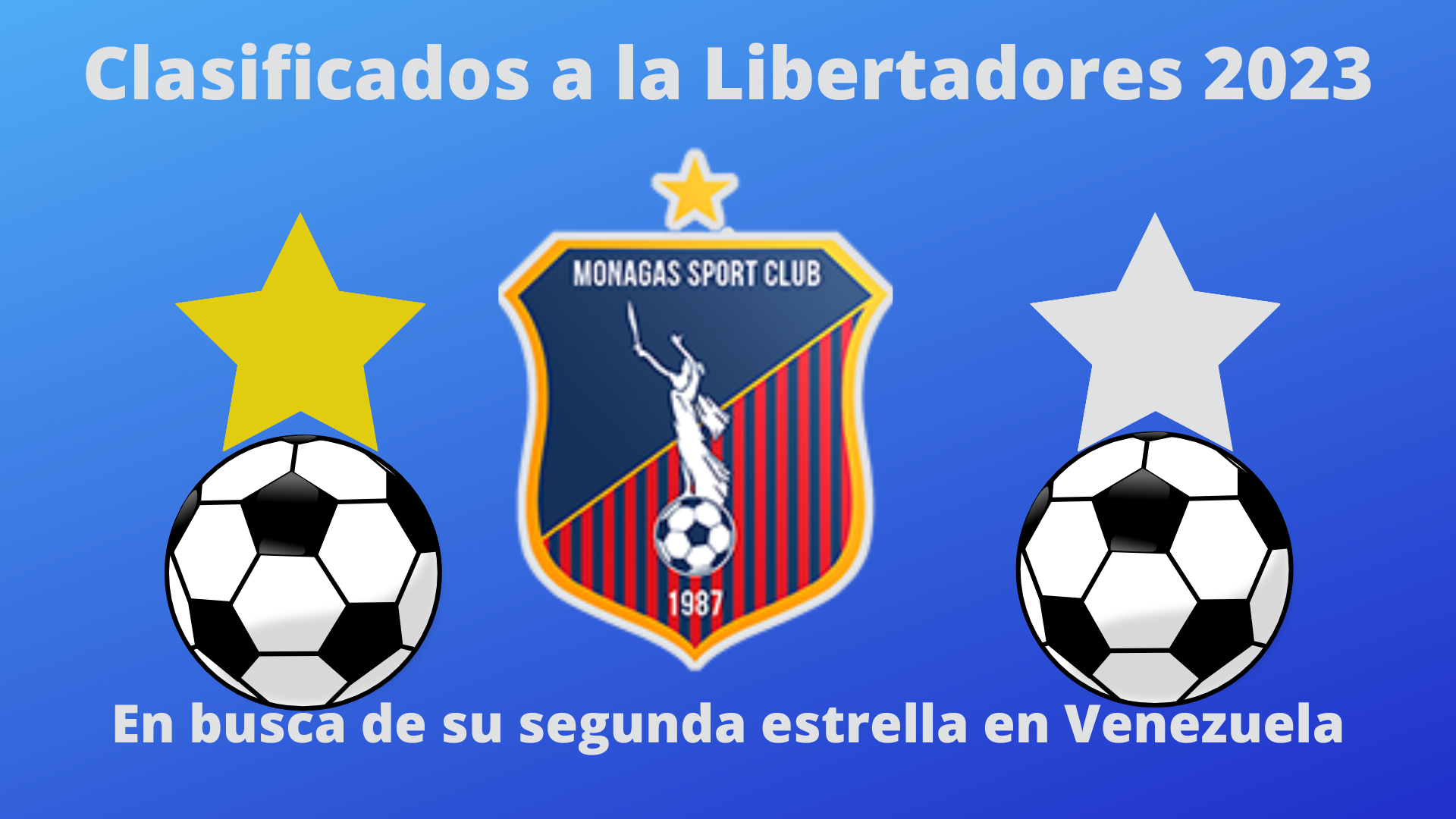 Imagen elaborada y editada en canva

---
Que tal amigas y amigos de esta maravillosa plataforma, es un placer infinito volver a postear un contenido escrito en HIVE para la comunidad de @fulldeportes. En esta oportunidad hablare de un tema interesante referente al equipo de primera division del futbol profesional venezolano y la liga Futve; el Monagas SC que logro su pase a disputar "Copa Libertadores 2023" despues de 29 jornadas disputadas dentro la liga.
Desde la jornada 19 el equipo oriental se venia afianzando en el tercer puesto de la tabla de clasificaciones por debajo de Zamora FC y Metropolitanos FC respectivamente, con una diferencia corta en lo referente a la puntuacion, diferencia que llego a ser de 6 puntos entre el primer y tercer lugar que ocupan actualmente los Azulgrana. Este miercoles se disputaba la jornada 29 del futbol profesional venezolano y Monagas SC recibia al Carabobo FC en el estadio Monumental de Maturin, a las cinco de la tarde se dio el pitazo inicial por parte del principal en la "Joya de Oriente". El juego se desarrollo en ida y vuelta para ambos conjuntos, sin muchas acciones de peligro durante el primer tiempo y asi se fueron al descanso igualados a 0.
Se inicia el complemento y los azulgranas mantuvieron la posesión de la pelota, generando algunas acciones de peligro sin obtener exito, los de Carabobo hicieron hasta 5 cambios y los orientales solo 1 hasta que el principal luego de agregar 4 minutos, pito el final con igualdad 0-0; con este resultado Monagas asegura el tercer lugar en la tabla y su presencia en el cuadrangular finalde la liga en busca de su segunta estrella, es decir el campeonato pero ademas se clasifica a su segunda "Copa Libertadores" de manera consecutiva y la tercera en los ultimos 6 años.
A falta de una jornada "Los Guerreros del Guarapiche" van a conservar el tercer lugar de la tabla porque acumulan 48 puntos, 5 por encima de tres equipos que se ubican en la cuarta casilla igualados con 43. Entre Carabobo, Tachira y La Guaira pudiera estar el cuarto clasificado para jugar el cuafrangular que arrojaria dos equipos en disputa de la gran final del campeonato. Monagas jugaria su ultimo compromiso contra Mineros de Guayana en lo que seria un partido de tramites, pero Carabobo buscara su pase ante UCV en lo que pudiera ser una final adelantada, La Guaira enfrentaria al ya clasificado Metropolitanos; partido en el que muchos especulan que pudiera ganar La Guaira por la camaraderia que hay entre los equipos de la capital, entre tanto Tachira va contra Estudiantes lo que se denomina el "Clasico Andino" arreglado ... pudiera ser. Lo cierto del caso y volviendo al tema del Monagas, es que ya esta entre los cuatro que pudieran estar disputando la gran final; tiene un chance enorme porque en el tu a tu al unico equipo que no pudo ganarle en la ronda regular fue al Zamora FC. Los dirigidos por el tecnico Jonny Ferreira conquistaron su primer objetivo con un cupo a la Libertadores ahora buscaran llenar de satisfasion y alegria a su fanaticada en Maturin buscando la anelada estrella de campeones...
Hello friends of this wonderful platform, it is an infinite pleasure to post again a content written in HIVE for the community of @fulldeportes. In this opportunity I will talk about an interesting topic regarding the first division team of Venezuelan professional soccer and the Futve league; Monagas SC that achieved its pass to dispute "Copa Libertadores 2023" after 29 rounds played in the league.
Since the 19th round, the eastern team had been consolidating its position in third place in the standings below Zamora FC and Metropolitanos FC respectively, with a short difference in terms of score, a difference that reached 6 points between the first and third place currently occupied by the Azulgrana. On Wednesday, the 29th day of Venezuelan professional soccer was played and Monagas SC received Carabobo FC at the Monumental stadium in Maturin, at five o'clock in the afternoon, the kick-off whistle was blown by the principal in the "Jewel of the East". The game went back and forth for both teams, without many dangerous actions during the first half and so they went to the break tied at 0-0.
The second half began and the azulgranas kept possession of the ball, generating some dangerous actions without success, the Carabobo team made up to 5 substitutions and the eastern team made only 1 until the main goalkeeper, after adding 4 minutes, blew the final whistle with a 0-0 tie; With this result Monagas assures the third place in the table and its presence in the final quadrangular of the league in search of its second star, that is to say the championship, but also qualifies to its second consecutive "Copa Libertadores" and the third in the last 6 years.
With one game left, "Los Guerreros del Guarapiche" will keep the third place in the table because they accumulate 48 points, 5 more than three teams that are in the fourth place with 43 points. Between Carabobo, Tachira and La Guaira could be the fourth qualified team to play the cuafrangular that would give two teams in dispute for the final of the championship. Monagas would play its last game against Mineros de Guayana in what would be a game of formalities, but Carabobo would look for its pass against UCV in what could be an early final, La Guaira would face the already qualified Metropolitanos; game in which many speculate that La Guaira could win due to the camaraderie that exists between the teams of the capital, meanwhile Tachira goes against Estudiantes what is called the "Clasico Andino" arranged ... it could be. The truth of the case and returning to the subject of Monagas, is that it is already among the four that could be disputing the final; it has a huge chance because the only team it could not beat in the regular round was Zamora FC. The team coached by Jonny Ferreira conquered its first objective with a place in the Libertadores, now they will try to fill with satisfaction and joy their fans in Maturin looking for the longed-for star of champions...
---
---