A DEBACLE FOR THE REDS [ENG/ESP]
---
"Tonight, was the least compact performance I saw for a long, long time from us… and other teams as well. Napoli was really good but we made it easy for them because we lost the ball in areas and then the next situation was a counter-attack. No, that's not how it should be. We have to reinvent ourselves; the basic things were not there." – Jürgen Klopp on the resounding defeat against Napoli.
"Esta noche ha sido la actuación menos compacta que he visto en mucho, mucho tiempo por nuestra parte... y también por la de otros equipos. El Nápoles fue muy bueno, pero se lo pusimos fácil porque perdimos el balón en las áreas y luego la siguiente situación fue un contraataque. No, no debe ser así. Tenemos que reinventarnos, las cosas básicas no estaban ahí". - Jürgen Klopp sobre la estrepitosa derrota ante el Napoli.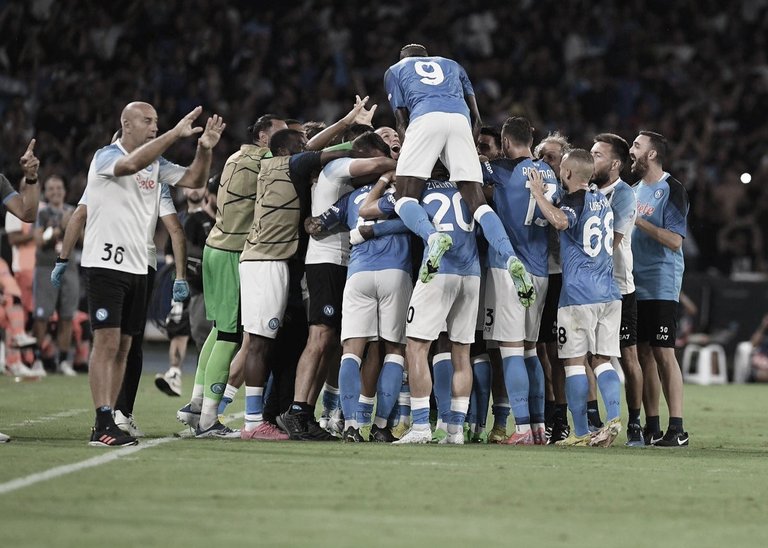 ---
The European silver medallists were making their debut in the UEFA Champions League this season and, in doing so, were looking to take a step back from their inconsistent start to the Premier League season, where they sit seventh in the standings with just nine points from 18 played; a far poor return for Jürgen Klopp's Reds.
In the UEFA Champions League, Napoli are strong at the Estadio Diego Armando Maradona - formerly the 'San Paolo' - and prior to their Group A matchday 1 clash with Liverpool, Napoli had won five of their six games against Premier League opposition, with their last two such games having been victories over Liverpool in 2018 and 2019.
Liverpool had won their last three meetings with Italian sides away from home, but Napoli -who have only just returned to the UEFA Champions League after a couple of years away- had only lost in one of their last 12 group-stage matches in Europe's top competition, that sole defeat coming in December 2018 when they lost 1-0 to Liverpool at Anfield.
El subcampeón de Europa hacia su presentación en esta nueva temporada de la UEFA Champions League y, con ello, buscaba desconectarse un poco del irregular arranque que han tenido en la Premier League donde viajan séptimos de la clasificación con tan solo 9 puntos de 18 disputados; una cosecha muy por debajo de la esperada para los Reds de Jürgen Klopp.
En UEFA Champions League, el conjunto Napolitano se hace fuerte en el Estadio Diego Armando Maradona -antes "San Paolo"-, pues previo al choque frente al Liverpool por la jornada 1 del Grupo A, el Napoli había ganado su 5 de sus 6 encuentros ante rivales de la Premier League; habiendo sido sus dos últimos partidos de este tipo victorias sobre el Liverpool en 2018 y 2019.
El Liverpool había vencido en sus últimos tres choques contra equipos italianos fuera de casa, pero el Napoli -que recién vuelve a la UEFA Champions League tras un par de años ausente- solo había perdido en uno de sus últimos 12 encuentros de fase de grupos en la máxima competición europea; siendo esa única derrota en diciembre de 2018 ante el Liverpool en Anfield por marcador de 1-0.
---
FULL TIME! 🤩

90+4 | #NapoliLiverpool | 4-1
💙 #ForzaNapoliSempre pic.twitter.com/H3CsWY71gw

— Official SSC Napoli (@en_sscnapoli) September 7, 2022
---
---
A lot of statistical spice for a clash that would quickly break down into vibrant goal-scoring options. If Klopp's side's start to the Premier League campaign has been a mixed bag, what happened on the pitch at the Estadio Diego Armando Maradona has only raised many more questions for the Reds.
The start of the game was marked by overwhelming dominance from the Neapolitan side, there was no sign of "Heavy Metal Football" anywhere on the pitch. With 40 seconds on the clock it was Victor Oshimen who gave the first warning with a ball against the post. On 3 minutes Milner committed a handball in the box and the referee did not hesitate to award a penalty which Piotr Zielinski neatly slotted home to make it 1-0 to Spalletti's side.
Muchos condimentos estadisticos para un choque que con suma rapidez rompería en opciones vibrantes de cara al arco. Si el inicio del torneo en la Premier ha estado lleno de claroscuros para los de Klopp, lo ocurrido en el terreno de juego del Estadio Diego Armando Maradona no ha hecho más que sembrar muchas más interrogantes en el seno de los Reds.
El arranque del encuentro estuvo marcado por un arrollador dominio por parte del conjunto napolitano, no había visos del "Heavy Metal Football" por ningún sitio en el terreno de juego. Con 40 segundos en el reloj fue Víctor Oshimen quien dio el primer aviso con un balón al poste. Sobre el minuto 3' Milner cometió mano dentro del área y el arbitro no dudó en marcar penalti que Piotr Zielinski ejecutó con pulcritud para marcar el 1-0 para los de Spalletti.
---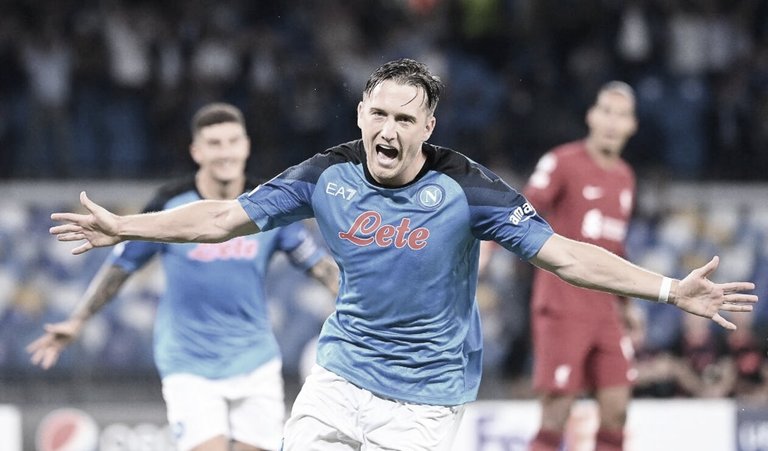 ---
In the 16th minute Van Dijk stamped on Victor Oshimen in the box, the referee awarded another penalty to the home side, which Oshimen missed with a weak attempt to a well-timed save from Alisson Becker. But the Brazilian goalkeeper could do nothing to safeguard his goal after half an hour, Joe Gomez -of disastrous performance- lost it to Kvaratsjelia who played in Zambo Anguissa to set up Zielinki for an efficient one-two to make it 2-0 for Napoli with a colective piece of a golazo.
Napoli came back for more just before the end of the first half, at the 41st minute Giovanni Simeone had to come on to replace the injured Oshimen and with only three minutes on the pitch, "El Cholito" signed a service from Kvaratsjelia who escaped at will from Alexander Arnold and was able to win the tight duel with Gomez to serve Napoli's third goal on a silver platter.
Al minuto 16' Van Dijk le plantó un pisotón dentro del área a Víctor Oshimen, el arbitro pitó un nuevo penalti a favor del conjunto local, cobro que Oshimen se encargó de fallar en un tibio y anunciado cobro que atajó Alisson Becker. Pero el meta brasileño nada pudo hacer por salvaguardar su arco pasada la media hora de juego, Joe Gómez -de desastrosa actuación la perdió ante Kvaratsjelia que le pintó la cara para después jugar con Zambo Anguissa que armaría una eficiente pared con Zielinki y firmaría un golazo para el 2-0 del Napoli.
Un Napoli que volvería a la carga justo antes del final del primer tiempo, al 41' tuvo que entrar Giovanni Simeone en sustitución del lesionado Oshimen y con tan solo tres minutos en el campo de juego, "el Cholito" firmaría un servicio de Kvaratsjelia que se escapó a placer de Alexander Arnold y supo ganar el duelo trabado ante Gómez para servir el tercer gol del Napoli en bandeja de plata.
---
🔥 𝚆𝙷𝙰𝚃 𝙰 𝙽𝙸𝙶𝙷𝚃! 🔥

💙 #ForzaNapoliSempre pic.twitter.com/J7aMwYzsrH

— Official SSC Napoli (@en_sscnapoli) September 7, 2022
---
Just at the start of the second half, the same "Cholito" Simeone set up Zielinski who was unable to score at his first attempt as Alisson prevented the goal, but in the second instance he invented a delicatessen to seal the favour that Goddess Fortune had done him and thus round off a catastrophic result for Klopp's Liverpool who were only able to find the discount two minutes later with a great shot from Luis Diaz who was the only moderately salvageable piece of the Reds' machinery.
A painful defeat for Liverpool, who won all six of their group games in the UEFA Champions League last season, but their start to the current campaign has only gone from bad to worse.
Recién arrancada la segunda mitad, el mismo "Cholito" Simeone asistió a Zielinski que no pudo en su primer intento pues Alisson evitó el gol, pero en segunda instancia se inventó una delicatessen para rubricar el favor que le hizo la Diosa Fortuna y así redondear un resultado catastrófico para el Liverpool de Klopp que solo supo encontrar el descuento dos minutos más tarde con un grandísimo disparo del Luis Diaz que fue la única pieza medianamente rescatable en la maquinaria Red.
Dolorosa derrota para el Liverpool que en la fase de grupos de la pasada UEFA Champions League supieron ganar sus seis encuentros, su arranque en la presente campaña solamente pinta de mal en peor.
---
A recap of Napoli's sweeping win over Liverpool on Neapolitan turf:
El resumen del arrollador paso del Napoli sobre el Liverpool en territrio napolitano:
✍🏼: Paco Andújar ⚽
---
---