A MASSACRE IN MÖNCHENGLADBACH [ENG/ESP]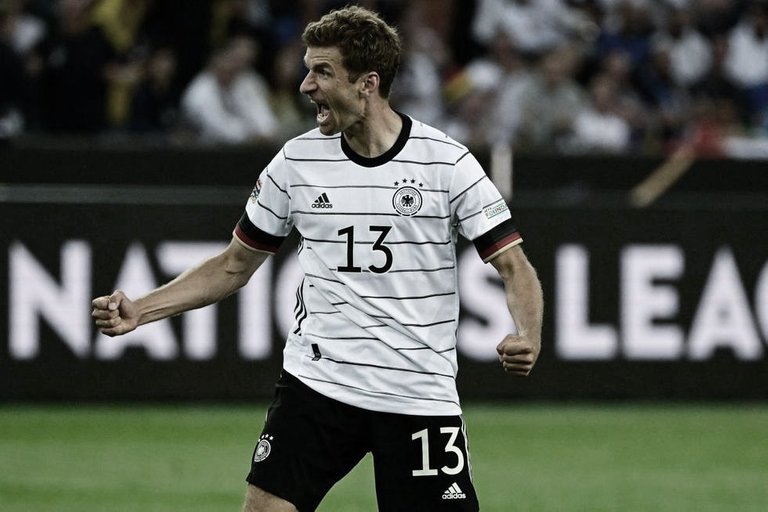 ---
"It's a pity to close like this, but Germany are good and we knew that. We allowed them too much space in the first half. There were errors, because we didn't defend well as a unit. Some things didn't work, we were trying to recover, opened ourselves up to the counter-attack against these players, it's always going to be a risk. There were some good things, despite the result, but of course it's a pity. The group remains wide open." – Roberto Mancini on the resounding 5-2 defeat against Germany.
"Es una pena cerrar así, pero Alemania es buena y lo sabíamos. Les dejamos demasiado espacio en la primera parte. Hubo errores, porque no defendimos bien como unidad. Algunas cosas no funcionaron, intentamos recuperar, nos abrimos al contraataque contra estos jugadores, siempre va a ser un riesgo. Hubo cosas buenas, a pesar del resultado, pero por supuesto es una pena. El grupo sigue muy abierto". - Roberto Mancini sobre la estrepitosa derrota por 5-2 contra Alemania.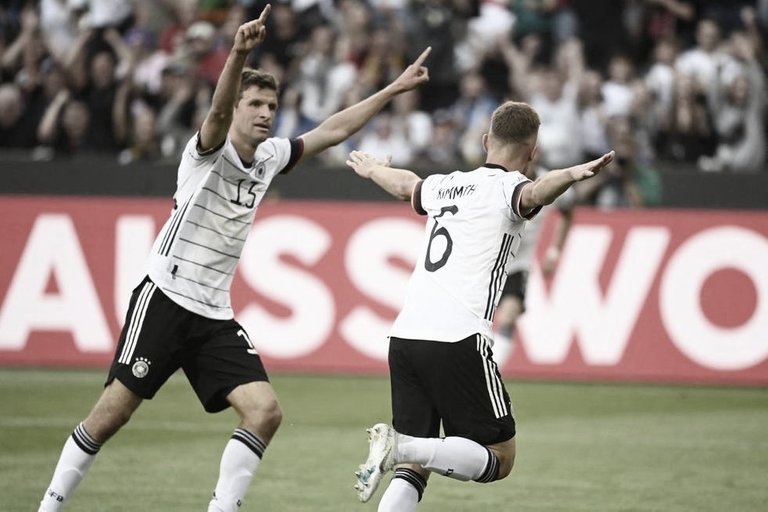 ---
Two nations that were allies in the most important war in history faced each other on much less belligerent and much more inconsequential issues in the midst of a tournament whose significance also ends up being rather limited. Matchday 4 of the UEFA Nations League brought Italy to Germany. The Germans and Italians arrived in Mönchengladbach with their respective urgencies at stake.
The Azzurri, after two World Cup cycles without being able to get a ticket to the tournament, had to look to shine in the Nations League as they did last summer at the European Nations Cup, but this has not been the case. The Germans, meanwhile, under pressure from that competitive mentality that only allows victory as a possible outcome, came into the match with the task of winning their first match in this edition of the European Nations League within League A Group 3.
Dos naciones que fueron aliadas en el conflicto bélico más importante de la historia, se enfrentaban en cuestiones mucho menos beligerantes y mucho más intrascendentes en medio de un torneo cuya trascendencia también termina por ser bastante limitada. La jornada 4 de la UEFA Nations League citaba a Italia en territorio alemán. Germanos e italianos llegaban con sus respectivas urgencias a la cita en Mönchengladbach.
Los Azurri, tras dos ciclos mundialistas sin poderse hacer con un boleto a la Copa del Mundo, tenía que buscar brillar en la Nations League como lo hizo el verano pasado en la Eurocopa, pero no ha sido tal el caso. Los alemanes, por su parte, presionados por esa mentalidad competitiva que solamente permite el triunfo como resultado posible, llegaban al encuentro con la encomienda de ganar su primer encuentro en la presente edición de la Nations League europea dentro del grupo 3 de la Liga A.
---
A German feast... 🔥⚽️
Un festín aleman 🔥⚽️
That's more like it! 🇩🇪💪#DieMannschaft #GERITA pic.twitter.com/IeK0HUJhqV

— Germany (@DFB_Team_EN) June 14, 2022
---
---
This group has a present that nobody would have imagined at the start of the competition, as it is made up by Germany, Italy, England and Hungary; nobody would have bet that it would be the Hungarians who would have topped the group. Hungary inflicted a historic defeat on England at the Molineux Stadium in Wolverhampton, the Hungarians won 4-0; they had not conquered a victory on English soil since 1953, 69 years later they have done it again and in what a way.
Within the unimaginable present of the group, Germany, who had drawn their first three games, were looking for their first win against a weak Italian side who have been dragging their prestige and cannot seem to find a way to change the negative dynamic.
Dicho grupo tiene un presente que nadie se habría imaginado al inicio de la contienda, pues al estar integrado por Alemania, Italia, Inglaterra y Hungría; nadie habríamos apostado a que serían los húngaros quienes lideraran la tabla. Hungría le propinó una histórica derrota al conjunto inglés en el Molineux Stadium de Wolverhampton, los húngaros vencieron por 0-4; no conquistaban una victoria en patio inglés desde 1953, 69 años después lo han vuelto a hacer y de vaya forma.
Dentro del inimaginado presente del grupo, Alemania, que había empatado sus tres primeros juegos, buscaba hacerse con su primera victoria ante una endeble selección italiana que ha venido arrastrando el prestigio y no parece poder encontrar el camino para cambiar la dinámica negativa.
---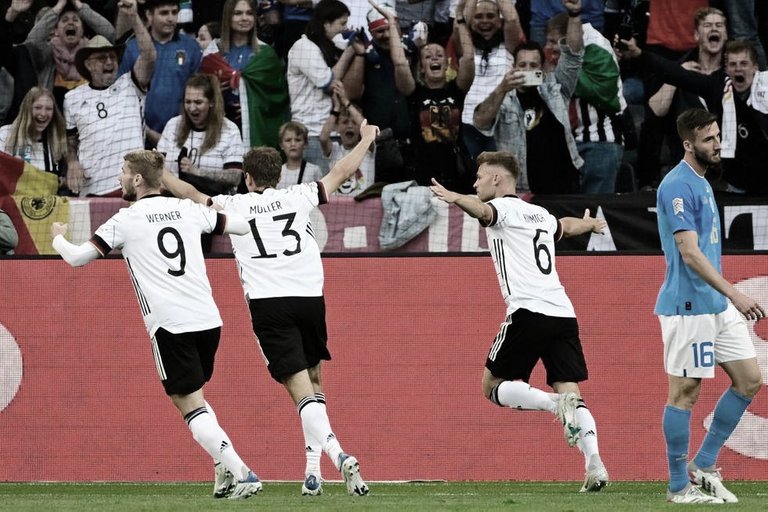 ---
Just ten minutes into the game in Mönchengladbach, the Germans were to open the scoring, Raum's cross from the left flank being met by Joshua Kimmich in the box to make it 1-0 to Hansi Flick's side.
Late in the first half, Gündogan made it 2-0 for Germany with a fine shot from the spot. Ilkay waited for Donnarumma's movement and fired his shot into the centre of the goal to extend Germany's lead.
And six minutes after the restart of hostilities, in the 51st minute Thomas Müller was to make his presence felt. The German player took a defensive rebound and didn't hesitate for a second to pull the trigger; a cracking volley from the Bayern midfielder made it 3-0 to the Teutons.
Tan solo al minuto 10 del encuentro en Mönchengladbach, los alemanes habrían de inaugurar el marcador, un centro de Raum por el costado izquierdo fue recibido por Joshua Kimmich en el área para poner el 1-0 en favor de los dirigidos por Hansi Flick.
Sobre el final del primer tiempo, Gündogan se encargó de poner el 2-0 para Alemania con un buen cobro desde el manchón. Ilkay esperó al movimiento de Donnarumma y cobró su envío por el centro del arco para ampliar la ventaja germana.
Y con 6 minutos de haberse reanudado las hostilidades, al 51' Thomas Müller habría de hacer acto de presencia. El 13 germano cazó un rechace defensivo y no dudo un segundo en tirar del gatillo; una volea de primera intención por parte del mediocampista del Bayern significaría al 3-0 en favor de los teutones.
---
𝘖𝘯𝘭𝘺 32. Plenty of years in him yet! https://t.co/chs1OeJoFO

— Germany (@DFB_Team_EN) June 14, 2022
---
Germany were to score on a couple more occasions, courtesy of Timo Werner and his one-minute brace; both times the Chelsea striker was assisted by newcomer Serge Gnabry. On the 64th minute Gnabry replaced Hofmann and just four minutes later laid the ball on a plate for Werner just 60 seconds later to repeat the act. 5-0 to Germany.
The Italians were able to make up for their defeat with a couple of goals from Wilfried Gnonto in the 78th minute and Alessandro Bastoni in the 94th minute. Mancini's Squadra Azurra have no head or tail, they are out of the World Cup and can't find a way to cover up their disgrace.
Alemania habría de marcar en un par de ocasiones más, obra y cortesía de Timo Werner y su doblete en un minuto; en ambas ocasiones el delantero del Chelsea contó con la asistencia de Serge Gnabry que recién había ingresado al campo. Al minuto 64' Gnabry sustituía a Hofmann y tan solo 4 minutos después servía el balón en bandeja a Werner para repetir el acto solo 60 segundos más tarde. 5-0 en favor de Alemania.
Los italianos pudieron maquillar un poco la debacle, con un par de goles conseguidos por Wilfried Gnonto sobre el minuto 78' y por Alessandro Bastoni al 94'. La Squadra Azurra de Mancini no tiene ni pies ni cabeza, están fuera de la Copa del Mundo y no encuentran forma de tapar las vergüenzas.
---
The action from the German festival at Borussia Park:
Las acciones de la fiesta alemana en el Borussia Park:
✍🏼: Paco Andújar ⚽
---
---