AGUAS TRANQUILAS PARA EL CITY [ESP/ENG]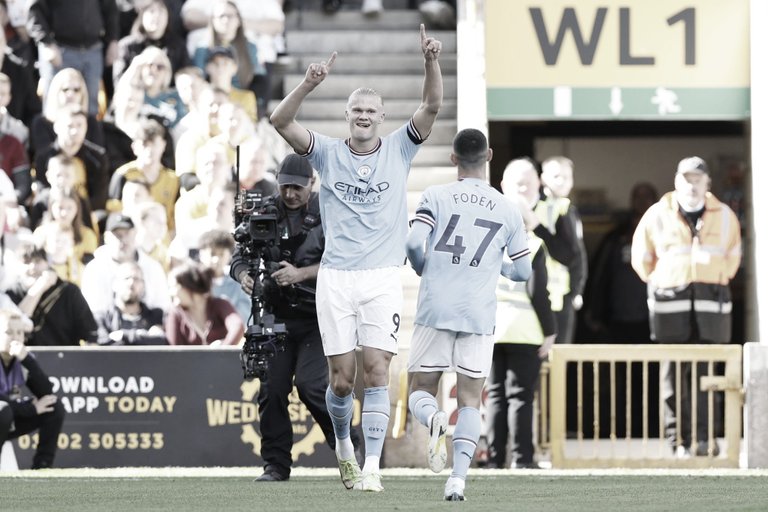 ---
"El partido empezó muy bien para nosotros, y luego marcamos el segundo y la tarjeta roja. Venir aquí contra este equipo, con la calidad que tiene -Neto, Moutinho, Neves-, tiene la calidad para hacer transiciones tan rápidas. Fue una victoria increíble. Nos costó mucho. Era muy importante antes del parón internacional." - Pep Guardiola sobre la victoria del City en el Wolverhampton.
"The game started really well for us, and then we scored a second and a red card. To come here against this team, with the quality they have -Neto, Moutinho, Neves- they have the quality to transition so fast. It was an incredible victory. We struggled a lot. It was so important before the international break." – Pep Guardiola on City's victory at Wolverhampton.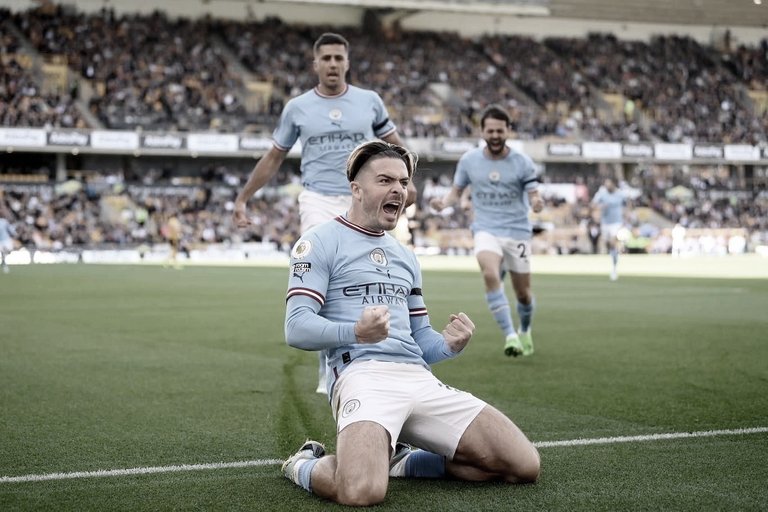 ---
Tras la cancelación de la séptima jornada como parte del protocolo luctuoso de la corona británica tras el fallecimiento de la Reina Isabel II, se han reanudado las actividades en la Premier League inglesa, la jornada 8 tiene varios encuentros aplazados -específicamente todos aquellos que habían de disputarse en suelo londinense, por falta de efectivos de seguridad que pudiesen garantizar el orden en los Estadios de la capital-. Muy temprano, este sábado era el turno para los Cityzens de Pep Guardiola que visitaban Molineux.
Los "Sky Blue", se plantaban en el patio del Wolverhampton Wanderers con la balanza muy inclinada a su favor pues, tras haber perdido los dos encuentros de Premier League contra los "Wolves" en la temporada 2019-20, los dirigidos por Guardiola habían vencido en sus últimos 4 encuentros con 13 goles a favor y tan solo tres en contra en dichos partidos.
After the cancellation of Matchday 7 as part of the British Crown's mourning protocol following the death of Queen Elizabeth II, English Premier League activities have resumed, with Matchday 8 having several games postponed -specifically most of those that were to be played on London soil, due to a lack of security personnel to ensure order in the capital's stadiums-. Early on Saturday it was the turn of Pep Guardiola's Cityzens to visit Molineux.
The Sky Blue arrived at Wolverhampton Wanderers' home ground with the scales tipped in their favour as, having lost both Premier League games against Wolves in the 2019-20 season, Guardiola's side had won their last four games, scoring 13 goals and conceding just three in those matches.
---
Just 5⃣5⃣ 𝐒𝐄𝐂𝐎𝐍𝐃𝐒 in - and Grealish opened the scoring! 👏

🐺 0-3 🔵 #ManCity pic.twitter.com/sUOBAXlC4O

— Manchester City (@ManCity) September 17, 2022
---
---
Y hoy, en Wolverhampton, los discípulos de Pep se encargarían de firmar, casi sin despeinarse, su quinta victoria consecutiva ante la manada. De la mano de dos nombres determinantes para los "Cityzen", el barco de Guardiola navegó por aguas más que tranquilas hacia la victoria. Con Haaland (1 gol) y De Bruyne (2 asistencias), todo parece ser más sencillo en el terreno de juego.
Muy temprano habría de encaminar su tranquila victoria el cuadro ciudadano; una sutil delicatessen de Phil Foden con la espuela para brillante internada de Kevin De Bruyne por el andarivel derecho culminaría con un letal servicio -marca registrada del belga- para que Jack Grealish llegara a tiempo a su cita con el gol; un tanto que ha venido como agua de mayo para el británico que ha sido muy criticado por su rendimiento en el Manchester City. 1-0 lo ganaban los visitantes con tan solo 55 segundos de iniciadas las hostilidades.
And today, at Wolverhampton, Pep's disciples would go on to record their fifth consecutive victory over the pack, almost without a single flutter. With the help of two key players for the Cityzens, Guardiola's ship sailed smoothly to victory. With Haaland (1 goal) and De Bruyne (2 assists), everything seems to be easier on the pitch.
Very early on, the Citizens were on their way to a quiet victory; a subtle delicacy from Phil Foden with his backheel for Kevin De Bruyne's brilliant run down the right flank culminated in a lethal service -a trademark of the Belgian- for Jack Grealish to arrive on time for the goal; a goal that has come like magic for the Briton who has been much criticised for his performance at Manchester City. It was 1-0 to the visitors with just 55 seconds on the clock.
---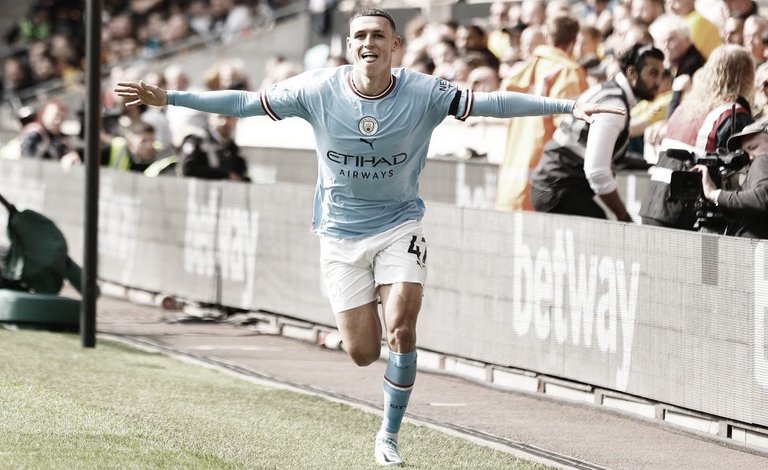 ---
Los Wolves no han sido ese equipo combativo de campañas anteriores, y sin Raúl Jimenez ni Diego Costa en el frente de ataque poco y nada pudo inquietar a Ederson durante el encuentro; para competir contra este letal Manchester City hace falta mucho más que un solo remate a puerta en todo el encuentro.
¿Otra vez Haaland? Sí, por enésima vez el noruego que siempre aparece como si tuviera firmado un idilio con la pelota, una especie de pacto profundo con el gol. Recibió la pelota de los pies de Bernardo Silva y encarreró hacia la frontal del área para con un sobrio disparo rasante volver a estampar su nombre en el marcador en favor de los Cityzens. Haaland parece ser la llave para abrir la puerta de cualquier defensa y si no abre, él mismo se encarga de derribarla con su potencia goleadora. 14 goles son los que ha marcado el noruego en sus 10 partidos jugando para el City y ya son 100 tantos en sus últimos 99 encuentros oficiales. ¡Brutal!
Wolves have not been the combative side of previous seasons, and without Raúl Jimenez and Diego Costa up front there was little or nothing to trouble Ederson during the game; to compete against this lethal Manchester City side you need much more than a single shot on target in the entire game.
Haaland again? Yes, for the umpteenth time the Norwegian who always appears as if he had signed an idyll with the ball, a kind of deep pact with the goal. He received the ball from the feet of Bernardo Silva and headed towards the edge of the box to put his name on the scoreboard again for the Cityzens with an unassuming low shot. Haaland seems to be the key to unlocking the door of any defence and if it doesn't open, he's the one to break it down with his goalscoring prowess. 14 goals have been scored by the Norwegian in his 10 games for City and that makes 100 goals in his last 99 official matches. Brutal!
---
FULL-TIME | 3 goals and 3 points on the road ⭐️

🐺 0-3 🔵 #ManCity pic.twitter.com/on7oaUqVvf

— Manchester City (@ManCity) September 17, 2022
---
Controló el resto del partido el City sin pisar el acelerador a fondo, no existía necesidad alguna para hacerlo en Molineux. Rebasada la media hora de encuentro, una clara imprudencia de Nathan Collins terminó por ser sancionada con tarjeta roja por parte del colegiado que no dudo un segundo en castigar la clara infracción del joven irlandés y dejar a la manada con un lobo menos dentro del terreno de juego.
Sobre el minuto 69', otra internada del portentoso "KDB" por banda derecha, otro gran servicio rasante con su nombre y apellido para encontrar a Phil Foden y su tan sutil como inteligente remate que rubricaba el 3-0 final en favor de la oncena de Guardiola. Un gol que sirvió como el prambulo perfecto para que, al minuto 70' se detuviera el partido en un minuto de aplausos para homenajear a la finada Reina Isabel II.
Los de Guardiola viajan invictos en sus últimos 22 partidos como vistantes. Fuera del Eitihad Stadium, el City ha conquistado 15 victorias y 6 empates. Tras dos igualadas en sus dos últimas presentaciones en patio ajeno, los muchachos de Pep han vuelto a la senda de la victoria con 3-0 tan contundente como placentero.
City controlled the rest of the game without putting the pedal to the metal, there was no need to do so at Molineux. After the half hour mark, a clear imprudence by Nathan Collins ended up being punished with a red card by the referee, who did not hesitate for a second to punish the young Irishman's clear offence and leave the pack with one less wolf on the pitch.
In the 69th minute, another run down the right flank by the portentous "KDB", and another great low service with his name and surname to find Phil Foden and his subtle and intelligent finish that sealed the final 3-0 in favour of Guardiola's side. A goal that served as the perfect prelude to a minute's applause in the 70th minute as the match was brought to a halt in tribute to the late Queen Elizabeth II.
Guardiola's side are unbeaten in their last 22 away games. Away from the Eitihad Stadium, City have won 15 and drawn six. After two draws in their last two away games, Pep's side have returned to winning ways with a 3-0 victory that was as emphatic as it was pleasant.
---
El resumen de la cómoda conquista Cityzen en Molineux:
A recap of the comfortable Cityzen conquest at Molineux:
✍🏼: Paco Andújar ⚽
---
---