FESTÍN CITYZEN ANTE UN MADRID INEXISTENTE [ESP/ENG]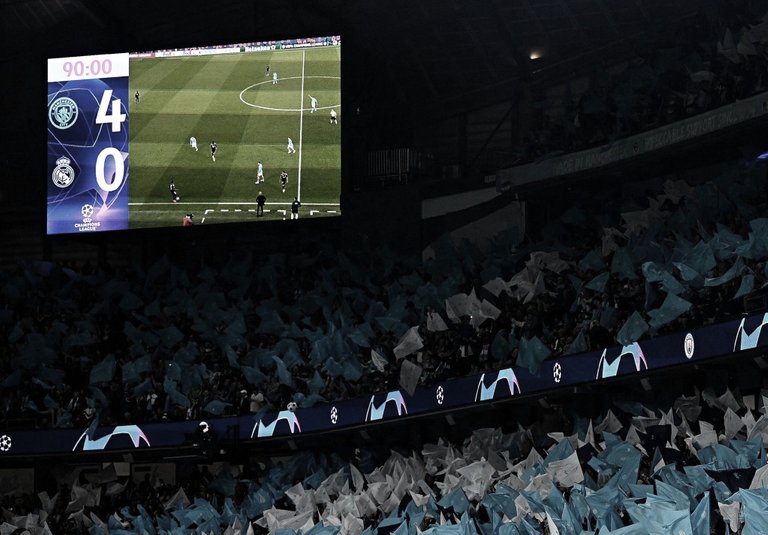 ---
"En el partido de ida decidí poner un jugador interior más atrás y hoy lo puse más adelante. Conseguimos atacar con más fluidez. Este año, en casa, nos sentimos muy, muy fuertes. No sé por qué, pero nos sentimos muy cómodos. Hoy hemos jugado con el dolor en el estómago de haber quedado eliminados por el Madrid el año pasado. Lo teníamos muy presente. Lo dimos todo en energía y deseo. El deporte siempre te da una segunda oportunidad. Todos los equipos del mundo saben que para ganar esta competición hay que ganarle al Real Madrid." - Pep Guardiola sobre la apabullante victoria del Manchester City sobre el Real Madrid en las semifinales de la UEFA Champions League.
"In the first leg I decided to put an inside player further back and today I put him further forward. We were able to attack with more fluidity. This year, at home, we feel very, very strong. I don't know why, but we feel very comfortable. Today we played with the pain in our stomachs from being knocked out by Madrid last year. We had it very much in our minds. We gave everything in energy and desire. Sport always gives you a second chance. Every team in the world knows that to win this competition you have to beat Real Madrid." - Pep Guardiola on Manchester City's thumping win over Real Madrid in the UEFA Champions League semi-finals.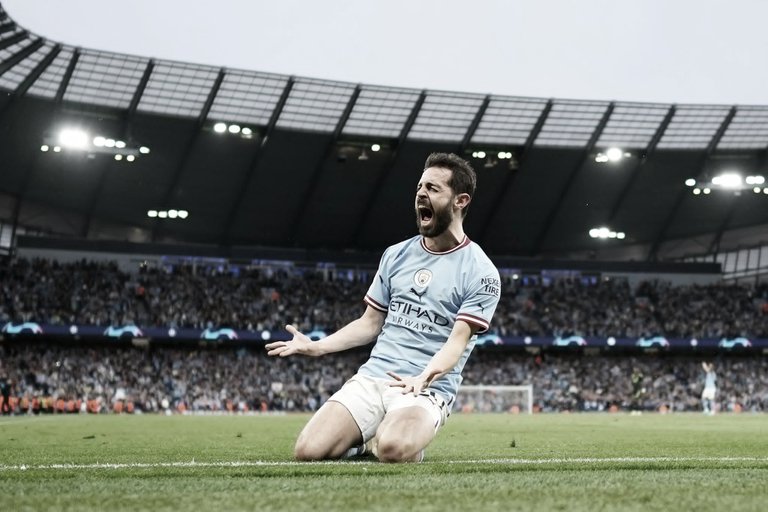 ---
La primera ocasión en la que el Manchester City llegó a una final de UEFA Champions League, lo hizo ante un graderío invadido por el vacío sepulcral que demandaba la recién finiquitada pandemia por COVID-19; la gente no pudo disfrutar de aquel histórico momento para su club que, a la postre, se terminó tornando amargo bajo el cielo de Oporto. Los de Pep Guardiola han conseguido a lo grande el pase a su segunda final Europea con el deseo de edificar su propio "Milagro de Estambul", 18 años después de que el Liverpool lo consiguiese ante otro equipo italiano; el fútbol puede llegar a tener coincidencias cíclicas dignas de análisis.
El City asaltó la grama de su propio patio para dar cuenta de un Real Madrid que ni se presentó por el Etihad, los Blancos no se parecieron en nada aquel equipo que cumple con lo que su estirpe y linaje demandan y han sido incapaces de morir de pie y luchando hasta el final. A los de Ancelotti les faltó fútbol, les faltó alma y vergüenza deportiva; a los de Guardiola les ha sobrado hasta Haaland.
El Madrid ha abdicado a la corona de su amada Champions con los brazos caídos y sin reconocerse a sí mismo; en una noche mancuniana en la que todo pareció fallarle a Carletto, empezando por su plan de juego y pasando por los nombres que suelen ser brillantes protagonistas de las grandes gestas recientes -hoy en sombrecidos-, Vinicius padeció a Walker, Benzema no encontró la inspiración para firmar una de sus noches artísticas, Rodrygo impreciso y nervioso, Valverde inédito, ni Luka ni Kroos se han salvado del desastre; en el acta final de la lectura de juego, sobrevive Courtois cuya figura ha evitado que el 4-0 del Etihad fuese un 7 u 8-0.
On the first occasion Manchester City reached a UEFA Champions League final, they did so in front of a stadium filled with the sepulchral emptiness demanded by the recently ended COVID-19 pandemic; people were unable to enjoy that historic moment for their club which, ultimately, turned bitter under the Porto skies. Pep Guardiola's side have booked a place in their second European final in style with the desire to build their own "Miracle of Istanbul", 18 years after Liverpool achieved it against another Italian side; football can have cyclical coincidences worthy of analysis.
City stormed the pitch in their own backyard to see off a Real Madrid side that didn't even show up at the Etihad, Los Blancos looking nothing like the team that lives up to its pedigree and pedigree and has been unable to die on its feet and fight to the end. Ancelotti's side lacked football, lacked soul and sporting shame; Guardiola's side have had too much of it, even in Haaland.
Madrid have abdicated the crown of their beloved Champions League with their arms down and without recognising themselves; on a Mancunian night in which everything seemed to fail Carletto, starting with his game plan and going through the names that are usually brilliant protagonists of the great recent exploits - today in shadows -, Vinicius suffered Walker, Benzema did not find the inspiration to sign one of his artistic nights, Rodrygo imprecise and nervous, Valverde unpublished, neither Luka nor Kroos have been saved from disaster; in the final reading of the game, Courtois survives, whose figure has prevented the 4-0 at the Etihad from being 7 or 8-0.
---
FULL-TIME | WE'RE ON OUR WAY TO ISTANBUL!!!

🔵 4-0 (5-1) ⚫️ #ManCity | #UCL pic.twitter.com/tVxT2nhQzs

— Manchester City (@ManCity) May 17, 2023
---
Que el City puede llegar a practicar un fútbol abrumador no es novedad para nadie, lo que sí es extraño es encontrarse con una versión tan pobre del Real Madrid en una semifinal de UEFA Champions League, el instinto de supervivencia a ultranza que no suele fallar a los Blancos no apareció y eso sí que es "rara avis", como extraño ha sido que en una eliminatoria en la que el City haya clavado 5 goles, ninguno de ellos haya llevado la rúbrica de Erling Braut Haaland.
Del el entramado de brillantez colectiva del Manchester City saltaría un nombre propio no tan habitual en el arte de marcar, pero cuya calidad indudable, suele ser factor diferencial en la creación de ocasiones para los suyos… en la mágica noche del Etihad, el luso, Bernardo Silva se calzó el traje de matón de área y propinó los primeros dos golpes para el conjunto de Ancelotti. Los de Guardiola se hicieron con la posesión desde el inicio y fueron, poco a poco, cocinando la ventaja con tanta paciencia como sapiencia y buen fútbol hay en sus botines. Antes del cuarto de hora, Courtois ya era factor decisivo para la resistencia tapando un remate a bocajarro de Haaland y a los 20 minutos el belga volvió a hacer una atajada de alarido para bajar la cortina al noruego.
That City can play overwhelming football is nothing new to anyone, what is strange is to find such a poor version of Real Madrid in a UEFA Champions League semi-final, the survival instinct that does not usually fail Los Blancos did not appear and that is "rara avis", just as it is strange that in a tie in which City have scored 5 goals, none of them have been scored by Erling Braut Haaland.
From Manchester City's web of collective brilliance would leap a name not so common in the art of scoring, but whose undoubted quality is often a differential factor in creating chances for his side... on a magical night at the Etihad, the Portuguese, Bernardo Silva, donned the suit of the penalty area bully and struck the first two blows for Ancelotti's side. Guardiola's side gained possession from the outset and gradually built up the lead with as much patience as there is good football in their boots. Before the quarter of an hour, Courtois was already a decisive factor in the resistance, blocking a close-range shot from Haaland, and on 20 minutes the Belgian again made a stunning save to bring the curtain down on the Norwegian.
---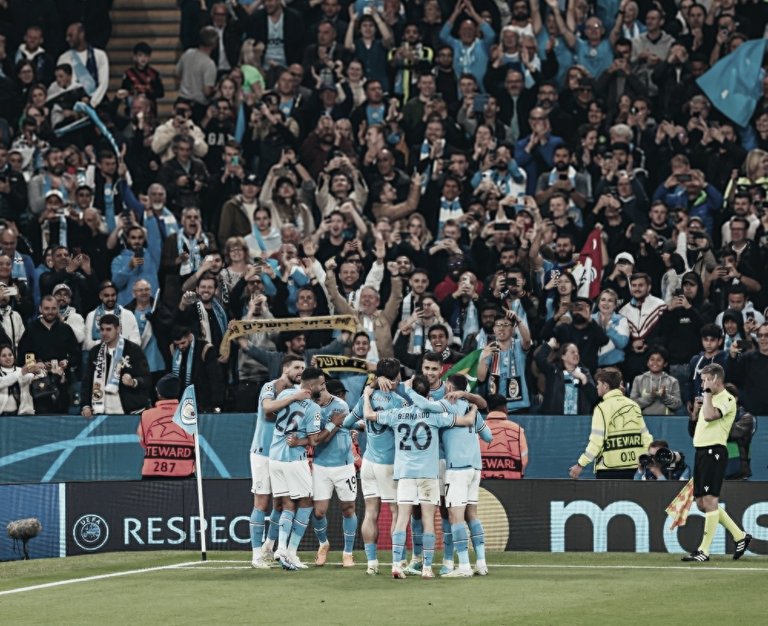 ---
Pero Courtois no puede solo, el hombre contuvo lo que pudo contener hasta el minuto 23' cuando Toni Kroos y Luka Modric descuidaron posicionalmente a Bernardo Silva y Kevin De Bruyne supo encontrarle entre la "vieja guardia" Merengue, el lusitano se encontró solo dentro del área y con tiempo espacio supo fusilar a Courtois para, al fin, castigar el medroso planteamiento de un Real Madrid que ya se había salvado de más en la siempre inconmensurable figura de su guardameta.
Y cuando la primera parte se iba haciendo adulta, Bernardo apareció de nuevo, justo un par de minutos después de que Kroos sacudiera el larguero con un bombazo que fue lo primero y casi único que generó el Madrid en ofensiva; al minuto 37', Camavinga se desconcentró y dejó espacio para que Grealish gestara una ocasión para Gundo, cuyo remate fue tapado, pero el rebote terminó siendo un flan para el dulce doblete de Bernardo Silva. 2-0 de cara al descanso y todo parecía cocinado.
But Courtois can't do it alone, the man held what he could hold until the 23rd minute when Toni Kroos and Luka Modric positionally neglected Bernardo Silva and Kevin De Bruyne was able to find him among the Merengue "old guard", the Portuguese found himself alone inside the box and with time to spare he was able to shoot past Courtois to, at last, punish the miserly approach of a Real Madrid side that had already saved more than enough in the always immeasurable figure of their goalkeeper.
And just as the first half was coming to an end, Bernardo popped up again, just a couple of minutes after Kroos had rattled the crossbar with a bomb that was the first and almost the only thing Madrid generated offensively; in the 37th minute, Camavinga lost concentration and left space for Grealish to set up a chance for Gundo, whose shot was blocked, but the rebound ended up being a flan for Bernardo Silva's sweet double. It was 2-0 at half-time and all seemed to be well and truly poised.
---
#UCL FINALISTS! 💙 pic.twitter.com/UzAjYB63xN

— Manchester City (@ManCity) May 17, 2023
---
Pero con el Madrid nunca se sabe, puede parecer muerto y volver de ultratumba para aniquilarte, lo sabe el City que cayó así en esta misma instancia ante ellos la temporada pasada; por lo que Guardiola y los suyos saltaron a la segunda parte a buscar aniquilar a aquel rival moribundo y que poco peligro representaba. Courtois volvió a negarle el grito de gol a Haaland de forma milagrosa, pero no pudo hacer lo propio con un testarazo de Akanji que Militao terminó desviando para decretar el 3-0 al minuto 76'.
El asunto ahora sí estaba definido, el City tenía más de pie y medio en Estambul y al minuto 89' Guardiola decidió regalar a Julián Alvarez los minutos de agregado en sustitución de Haaland. ¿Cómo respondió "la Araña"? Pues haciendo lo que mejor sabe, moverse entre líneas con precisión quirúrgica para optar a recibir una delicatessen de pase de Phil Foden y definir de primera intención ante el intento de achique de Courtois. Ni dos minutos en el terreno de juego llevaba Julián cuando su nombre se abonó a la feliz lista de verdugos de la amarga noche merengue y una de las más dulces noches en el Eitihad. Guardiola ha llegado al centenar de victorias en Champions League y de vaya forma, plantando a su City en una nueva final ¿Será que los Cityzens, por fin, conquisten, esa joya que tanto se les ha resistido?
But with Madrid you never know, they can look dead and come back from beyond the grave to annihilate you, as City, who lost to them at this stage last season, know; so Guardiola and his men came out for the second half looking to annihilate a moribund opponent who posed little danger. Courtois again miraculously denied Haaland, but he was unable to do the same with an Akanji header that Militao deflected wide to make it 3-0 in the 76th minute.
City had more than a foot and a half in Istanbul and in the 89th minute Guardiola decided to give Julian Alvarez the added minutes in place of Haaland. How did "the Spider" respond? Well, he did what he does best, moving between the lines with surgical precision to receive a delicacy of a pass from Phil Foden and finish first-time in front of Courtois' attempted save. Julian had not even been on the pitch for two minutes when his name was added to the happy list of executioners on a bitter Merengue night and one of the sweetest nights at the Eitihad. Guardiola has reached the hundredth Champions League victory and in what a way, putting his City in another final. Will the Cityzens finally conquer that jewel that has eluded them so much?
---
✍🏼: Paco Andújar ⚽
---
---