FRANKFURT CONQUISTA LA GLORIA EN SEVILLA // FRANKFURT CONQUERS GLORY IN SEVILLE [ESP/ENG]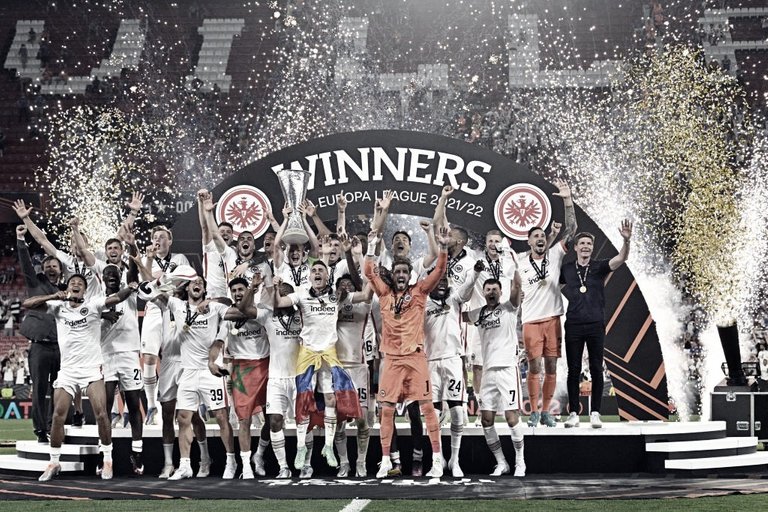 ---
"No hemos perdido ni un partido en la Europa League. Es muy especial porque desde octavos hemos jugados contra varios equipos grandes". – Oliver Glasner tras coronarse campeón de la UEFA Champions League con su Eintracht Frankfurt ante el Rangers de Glasgow.
"We haven't lost a game in the Europa League. It's very special because we've played a lot of big teams since the last 16. - Oliver Glasner after his Eintracht Frankfurt side were crowned UEFA Champions League winners against Rangers.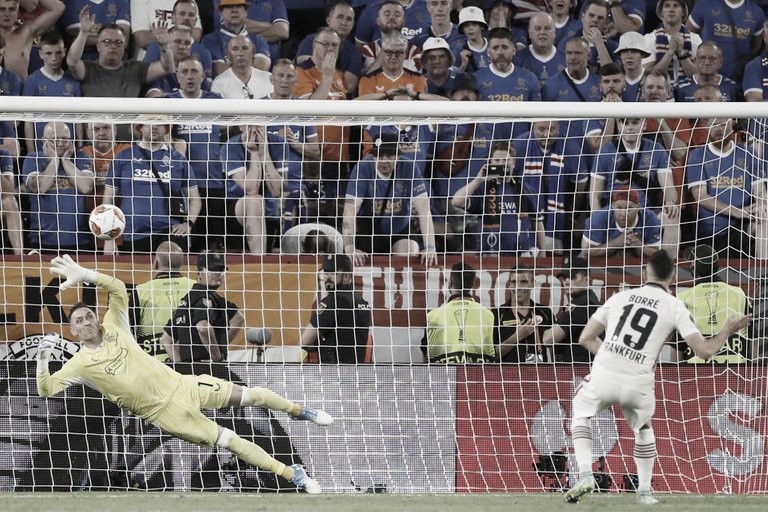 ---
Tercera final europea que se juega en territorio sevillano, en el Ramón Sánchez-Pizjuán el Steaua de Bucarest derrotó al FC Barcelona en penaltis en lo que era la final de Copa de Europa (hoy UEFA Champions League) de 1986. Para la Copa de la UEFA (hoy UEFA Champions League) de 2003, en La Cartuja, el Celtic de Glasgow caería derrotado a manos del Porto. Para esta tercera cita otro escocés, el Rangers de Glasgow, habría de medirse al Eintracht de Frankfurt que dejó en el camino al Betis Sevillano y al FC Barcelona en el camino para volver a España una tercera ocasión en busca del título europeo.
Third European final to be played on Sevillian soil; at the Ramón Sánchez-Pizjuán, Steaua Bucharest defeated FC Barcelona on penalties in what was the 1986 European Cup (now UEFA Champions League) final. For the 2003 UEFA Cup (now UEFA Champions League) at La Cartuja, Celtic were defeated by Porto. For this third round, another Scottish side, Rangers, would face Eintracht Frankfurt, who defeated Sevillian Betis and FC Barcelona on the way to return to Spain a third time in search of the European title.
El conjunto escocés vuelve a una final europea tras 14 años de ausencia y penumbras -incluso habiendo descendido a tercera división por problemas financieros- para enfrentarse a un Eintracht Frankfurt que no conquista un título europeo desde que se coronó en la Copa de la UEFA ante el Borussia Mönchengladbach en 1980. En la temporada 2007-2008, los de Glasgow cayeron en la final de la Copa de la UEFA en Manchester por marcador de 2-0 ante el Zenit de San Petersburgo.
The Scottish side return to a European final after 14 years of absence and obscurity - including relegation to the third division because of financial problems - to face an Eintracht Frankfurt side who have not won a European title since they were crowned UEFA Cup winners against Borussia Mönchengladbach in 1980. In the 2007-08 season, the Glaswegians lost the UEFA Cup final in Manchester by a 2-0 scoreline to Zenit St Petersburg.
---
Las Águilas alemanas son campeonas de la UEFA Europa League.⚽️🦅
The German Eagles are UEFA Europa League champions. ⚽️🦅
❤️🏆 ¡SUEÑO CUMPLIDO! ¡SOMOS CAMPEONES DE EUROPA! ❤️🏆 pic.twitter.com/VrIUZEJjO5

— Eintracht Frankfurt (@eintracht_esp) May 18, 2022
---
---
El Glasgow Rangers llegaba al Sánchez-Pizjuán con sed de revancha, una sed muy añeja, tanto que data de hace 62 años, cuando el conjunto alemán les pasó por encima en las semifinales de la Copa de Campeones de Europa de 1959-60. Los alemanes fueron una maquinaria de hacer goles tanto en la ida en casa (6-1) como en la vuelta en el Iborox Park (3-6) para un escandaloso global de 12-4.
Rangers arrived at the Sánchez-Pizjuán with a thirst for revenge, a very old thirst, dating back 62 years, when the German side overcame them in the semi-finals of the 1959-60 European Champions Cup. The Germans were a goal-scoring machine both in the first leg at home (6-1) and in the second leg at Iborox Park (3-6) for a scandalous 12-4 aggregate scoreline.
---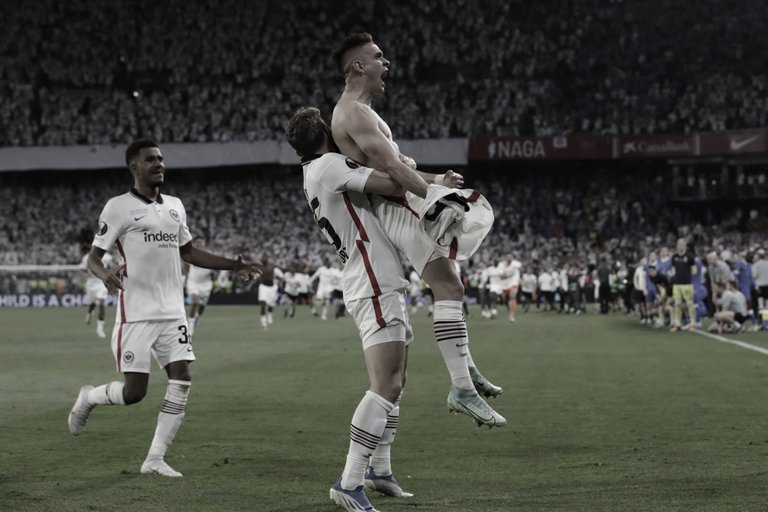 ---
Pero ese añejo deseo de revancha seguirá añejándose con el paso del tiempo, dado que las águilas alemanas terminaron levantando el vuelo sobre la calurosa noche sevillana y tras 42 años de espera se hicieron con un nuevo titulo internacional. El Eintracht se coronó campeón de la Europa League en la casa del rey absoluto de la competencia, el Sevilla.
But that long-standing desire for revenge will continue to grow old as time goes by, as the German eagles ended up taking flight on a hot Sevillian night and after 42 years of waiting won yet another international title. Eintracht were crowned Europa League champions at the home of the competition's absolute kings, Sevilla.
Rafael Santos Borré terminó por ser el héroe del conjunto alemán; cuando el partido se complicó su figura se hizo presente para devolver al Eintracht a la pelea y volvió a aparecer en lo que fue el penalti decisivo para la conquista del título. El jugador de barranquilla marcó en la vuelta de los cuartos de final ante el Barcelona asistió en la ida de semifinales ante el West Ham y le marcó en el juego de vuelta a los ingleses. Santos Borré ha sido capital para que el Frankfurt consiguiera el campeonato y es el séptimo jugador colombiano en ganar la UEFA Europa League.
Rafael Santos Borré ended up being the hero of the German side; when the match got complicated his figure was present to bring Eintracht back into the fight and appeared again in what was the decisive penalty to win the title. The player from Barranquilla scored in the second leg of the quarter-final against Barcelona, assisted in the first leg of the semi-final against West Ham and scored in the second leg against the English side. Santos Borré has played a key role in Frankfurt's championship win and is the seventh Colombian player to win the UEFA Europa League.
---
Gran temporada del Frankfurt para volver a conquistar un título europeo. 🏆
Great season for Frankfurt to win a European title again.
Congratulations Frankfurt, 2021/22 Europa League champions! 👏🏆#UELfinal pic.twitter.com/ZiZUfkRUs3

— #UELfinal (@EuropaLeague) May 18, 2022
---
Tras una primera parte peleada en la que el Frankfurt se vio mucho más cómodo con la pelota en los pies, sería el Glasgow Rangers el que tomaría la ventaja gracias a un concierto de desavenencias alemanas, Sow cabeceó hacia atrás una pelota proveniente de Goldson y Tuta resbaló en la carrera con Aribo por el esférico, el delantero de Rangers tuvo libertad total ante Trapp y adelantaban los escoceses justo cuando los alemanes se veían mejores en el terreno de juego.
After a scrappy first half in which Frankfurt looked much more comfortable with the ball at their feet, it was Rangers who took the lead thanks to a concert of German misadventures, Sow headed back a ball from Goldson and Tuta slipped in the race with Aribo for the ball, the Rangers striker had total freedom in front of Trapp and the Scots went ahead just when the Germans looked the better side on the pitch.
Emparejó Borré el marcador 12 minutos más tarde; al 69', se durmió la defensa de Rangers ante un centro de Kostic, Goldson fue tibio y no cortó el esférico y Rafa aprovechó para anticipar a Bassey sin dilación y empujar la pelota al fondo de las redes de McGregor. 1-1 y habría alargue que transcurrió con tensión absoluta y nulos daños. ¡Penlatis y drama en el Sánchez-Pizjuán!
Borré levelled the score 12 minutes later; at 69', the Rangers defence fell asleep to a cross from Kostic, Goldson was half-hearted and failed to cut the ball back and Rafa took the opportunity to anticipate Bassey without delay and push the ball into the back of McGregor's net. 1-1 and there would be extra time, which passed with absolute tension and no damage. Penlatis and drama at the Sánchez-Pizjuán!
Acertaron ambos equipos sus primeros tres cobros desde el punto fatídico, en la cuarta ronda, falló Aaron Ramsey ante Kevin Trapp y Kostic, siempre seguro, acertó su cobro; Roofe metió el quinto cobro del cuadro escoces, pero Rafa Santos borré se vestiría de gloria marcando el 5-4 en la serie penal (6-5 global). ¡El Eintracht de Frankfurt es campeón de la UEFA Europa League!
Both teams got their first three spot-kicks right, in the fourth round Aaron Ramsey missed Kevin Trapp and Kostic, always reliable, got his spot-kick right; Roofe put in the Scots' fifth spot-kick, but Rafa Santos Borré would go on to win the penalty shoot-out 5-4 (6-5 on aggregate). Eintracht Frankfurt are UEFA Europa League champions!
---
Las acciones de la final en el Ramón Sánchez-Pizjuán:
The action from the final at the Ramón Sánchez-Pizjuán:
✍🏼: Paco Andújar ⚽
---
---