¡Milagro Azulcrema! A Sangre, Sudor y Goles [ESP/ENG]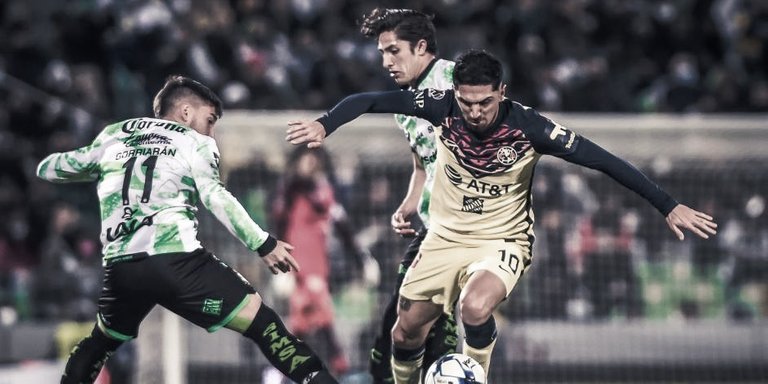 ---
Una racha negativa que pesaba como una losa, azotaba al equipo de Santiago Solari, la presión hacía mella al interior de Coapa y en la semana, como es costumbre en los programas de actualidad deportiva en México, no se dejó de hablar del Club América, aunque en esta ocasión para destacar el complicado paso de las huestes de Solari, llegando incluso a poner en entredicho su continuidad como el timonel del barco azulcrema.
A negative streak that weighed like a slab weighed down Santiago Solari's team, the pressure was taking its toll inside Coapa and during the week, as it is customary in Mexican sports news programmes, Club América was not left untalked about, although on this occasion to highlight the complicated situation of Solari's team, even questioning his continuity as the helmsman of the Azulcrema ship.
La tensión era limite para los Cremas previo al inicio del encuentro, tras no conocer la victoria desde octubre del año pasado, de haber sucumbido en su visita a la Comarca Lagunera, los de Solari podrían haber hilado 8 encuentros de Liga MX sin conocer la victoria, a los que habríamos de sumar un hipotético noveno juego, con la dolorosa derrota en la final de CONCACAF Champions League a manos del Monterrey.
The Cremas were under extreme tension prior to the start of the match, after not knowing victory since October last year. If they had succumbed in their visit to the Comarca Lagunera, Solari's side would have gone eight Liga MX matches without a win, to which we would have to add a hypothetical ninth game, with the painful defeat in the CONCACAF Champions League final at the hands of Monterrey.
Era un partido a cara de perro, de los que se deben ganar por orgullo, tanto América como Santos caerían al sótano absoluto del Grita México C22 en caso de perder, y tocar el fondo de la tabla general es un tema prohibido al interior del equipo más mediático del país.
It was a must-win game for pride, as both América and Santos would drop to the absolute basement of the Grita México C22 if they lost, and touching the bottom of the overall standings is a forbidden topic within the country's most talked-about team.
Al "Indiecito" le salió bien la apuesta, el cambio en la disposición táctica de su equipo para jugar con línea de 5 funcionó sumado al carácter que mostraron sus jugadores, más allá de no poder entregar un futbol atractivo. América supo sufrir y venir de atrás en dos ocasiones en el TSM para conseguir su primera victoria del torneo 2-3 para así evitar el bochornoso fondo de la tabla.
The "Indiecito" succeeded in his gamble, the change in his team's tactical arrangement to play with a five-a-side line worked as well as the character shown by his players, despite the fact that they were unable to deliver attractive football. América was able to come from behind twice at the TSM to get their first win of the tournament 2-3 and avoid the embarrassing bottom of the table.
El choque fue un concierto de desaciertos defensivos por ambos bandos que terminaría a favor de las Águilas y con eso se acabó la larguísima sequía antes mencionada de ocho juegos sin ganar para los de Coapa, que en esta semana podrían retomar el vuelo, si son capaces de hacerse con los nueve puntos que habrán de disputar; ya tienen tres en la bolsa y quedan por delante los duelos contra Mazatlán y Pachuca.
The match was a concert of defensive blunders by both sides that ended in favour of the Águilas and with that came the end of the aforementioned eight-game winless drought for the Coapa side, who could get back on track this week if they are able to take the nine points they have to play for; they already have three in the bag, with games against Mazatlán and Pachuca still to come.
---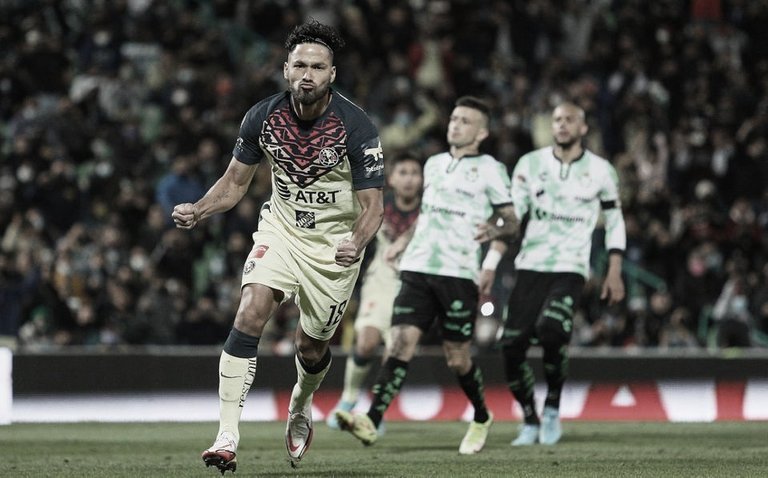 ---
Volvía Bruno Valdés a la oncena azulcrema, el paraguayo entró en la partida con el ansia y la tensión palpable de aquel que ha estado ausente y vuelve a casa, pero la fortuna no le acompañó de principio, pues cumplidos los 10 minutos de juego terminó marcando un desafortunado gol en propia puerta para dar la ventaja a los de Caixinha.
Bruno Valdés returned to the Azulcrema team, the Paraguayan entered the game with the anxiety and palpable tension of someone who has been absent and returns home, but fortune was not with him at first, as after 10 minutes of play he ended up scoring an unfortunate own goal to give Caixinha's team the lead.
El América emparejaría los cartones por vez primera en el encuentro con Diego Valdés haciéndose presente ante su ex equipo para marcar su primer tanto como Americanista tan solo tres minutos más tarde de que Santos se pusiera en ventaja. Los Laguneros volverían a adelantarse en el marcador por medio de su capitán Mateus Doria, quien se elevó cómodamente en el área para perforar el marco de Memo Ochoa con un solido cabezazo, pero un descuido Santista provocó que Chava Reyes emparejara los cartones nuevamente al filo del descanso.
America would level the scores for the first time in the match with Diego Valdes making his presence felt against his former team to score his first goal as an American just three minutes after Santos had taken the lead. Los Laguneros would take the lead again through captain Mateus Doria, who rose comfortably in the box to drill a solid header past Memo Ochoa, but a Santista slip-up saw Chava Reyes level the scores again on the brink of half-time.
El fútbol es misteriosamente mágico y regala la oportunidad constante de encontrarse con revanchas, la de Bruno Valdés, capitán y bastión defensivo del conjunto azulcrema, fue dulcísima, pues tuvo desde los 11 pasos la oportunidad de resarcirse de aquel tempranero autogol que complicaba la noche a su equipo; Bruno cumplió con creces, pateo el balón con furia, una cualidad que da origen al apodo del hombre al que dio alcance con ese gol bajo el cielo de Torreón. Bruno Valdés consiguió su vigésimo sexto gol vistiendo los colores del Club América, alcanzando así al "Capitán Furia", Alfredo Tena, como máximos defensas goleadores en la historia del club; la furia de Bruno al patear esa pelota fue el homenaje perfecto a ese hombre con quien hoy comparte esa cúspide histórica en Coapa.
Football is mysteriously magical and gives the constant opportunity to find revenge, the one of Bruno Valdés, captain and defensive bastion of the Azulcrema team, was very sweet, as he had the opportunity to make up for that early own goal that complicated the night for his team; Bruno fulfilled with flying colours, kicking the ball with fury, a quality that gives rise to the nickname of the man he reached with that goal under the sky of Torreón. Bruno Valdés scored his 26th goal in the colours of Club América, thus catching up with "Captain Fury" Alfredo Tena as the highest scoring defenders in the club's history; Bruno's fury as he kicked that ball was the perfect tribute to the man with whom he now shares that historic summit in Coapa.
Una furia que fue suficiente para imponerse al mal momento, y a los errores cometidos en el desarrollo del juego; al América de Solari le queda una infinidad por mejorar, pero siempre es más cómodo trabajar con resultados positivos a cuestas. América selló un milagro a sangre -la de Fidalgo tras el codazo recibido-, sudor -el de toda la oncena- y goles -como el insigne penalti de Bruno, el de Chava al borde del descanso, y el de Diego Valdés para su estreno azulcrema-.
A fury that was enough to overcome the bad moment, and the mistakes made in the course of the game; Solari's América still has an infinite amount of room for improvement, but it is always more comfortable to work with positive results behind them. América sealed a miracle with blood - that of Fidalgo after the elbow he received -, sweat - that of the whole team - and goals - such as Bruno's penalty, Chava's on the verge of half-time, and Diego Valdés's for his Azulcrema debut-.
---
Bruno Valdez @bruvaldez
¡26 GOLES, defensor histórico!
Igualó la marca de Alfredo Tena 🔥
Valdez y Tena los defensas con más goles anotados para las Águilas del América#TodoEnLaCancha #SiempreÁguilas 🦅 pic.twitter.com/fYLG4qtuGt

— Club América (@ClubAmerica) February 13, 2022
---
El resumen del partido que devolvió al Amériica a la senda del triunfo y terminó por hundir al Santos de Caixinha al fondo de la tabla:
A recap of the match that returned Amériica to winning ways and ended up pushing Caixinha's Santos to the bottom of the standings:
---
---
---