NO COINCIDENCE, CANADA TO QATAR // NO ES CASUALIDAD, CANADÁ A QATAR [ENG/ESP]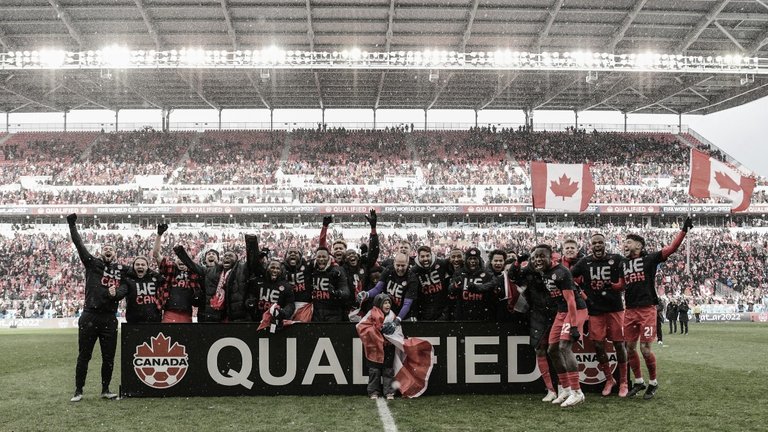 ---
"No one really expects Canada to go and win it. I don't think many people would expect us to get out of the first-round. If you'd asked people four years ago, they didn't even think we were going to be there. I'll never say this is about going and participating. This is absolutely going and competing". – John Herdman after having secured Canada's spot at the Qatar World Cup.
"Nadie espera realmente que Canadá vaya a ganarla. No creo que mucha gente espere que pasemos de la primera ronda. Si hubieras preguntado a la gente hace cuatro años, ni siquiera pensaban que íbamos a estar ahí. Nunca diré que esto es ir y participar. Esto es absolutamente ir y competir". - John Herdman después de haber conseguido la plaza de Canadá en la Copa Mundial de Qatar.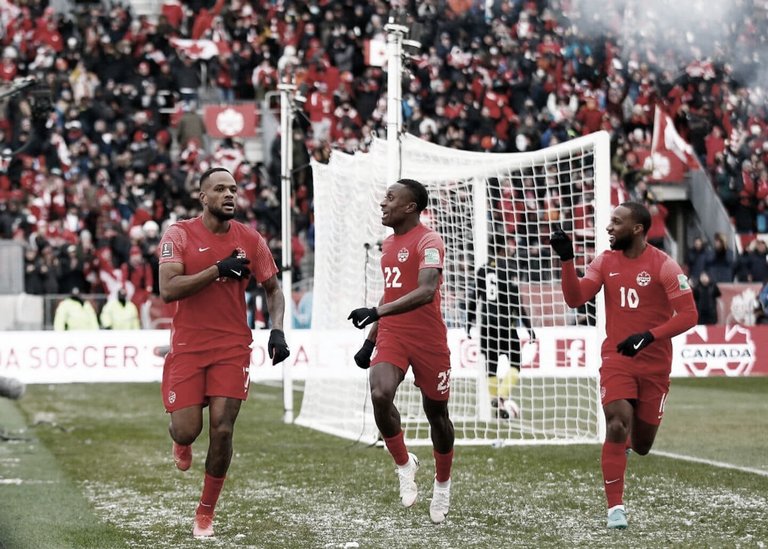 ---
They have only participated in one World Cup in their history and have had to wait 36 years to play in one again. Canada's qualification for the 1986 World Cup in Mexico was absolutely sui generis, since, after the cancellation of the NASL - for the subsequent creation of the MLS - the Canadian national team's player base played in Major Indoor Soccer - the American indoor football league - or, failing that, in amateur leagues on weekends, with the intention of maintaining a competitive momentum.
Solamente han participado en una Copa del Mundo en su historia y han tenido que esperar 36 años para volver a plantarse en una nuevamente. La clasificación canadiense al Mundial de México 1986 fue absolutamente sui generis, puesto que, tras la cancelación de la NASL -para la posterior creación de la MLS- la base de jugadores de la selección canadiense jugaba en la en la Major Indoor Soccer -la liga estadounidense de futbol sala- o en su defecto en ligas amateur los fines de semana, con la intención de mantener ritmo competitivo.
Needless to say, in that Mexico '86 World Cup, Canada fell far short of transcendence, as all three of their games - against the Soviet Union, Hungary and France - ended in defeat without the Canadians being able to score a single goal.
Sobra decir que, en aquella Copa del Mundo de México '86, Canadá se quedó más que lejos de poder trascender, puesto que sus tres partidos -ante la Unión Soviética, Hungría y Francia- terminaron en derrota sin que los canadienses pudieran anotar un solo gol.
---
Canada reigned supreme in CONCACAF by qualifying in first place. 👑⚽️
Canadá reinó en CONCACAF clasificándose en primer puesto. 👑⚽️
---
But the present of the Canadian national team is a far cry from that precarious footballing past. 36 years have served and have done so to a great extent so that the Maple Leafs have been able to form a sporting project capable of competing, or even better, of having qualified above two teams (Mexico and the United States) that make up the Top 15 of the FIFA Ranking.
Pero el presente de la selección canadiense, dista mucho de aquel precario pasado futbolístico, 36 años han servido y lo han hecho sobremanera para que el conjunto de la hoja de maple sea capaz de formar un proyecto deportivo capaz de competir, o aún mejor, de haberse clasificado por encima de dos selecciones (México y Estados Unidos) que conforman el Top 15 del Ranking de la FIFA.
With a coach who has made an unusual leap from women's to men's football, John Herdman, who will become the first coach to manage in both a women's and a men's World Cup. He coached the Canadian national team for seven years and, with them, played in the 2015 World Cup where they were hosts, and has led the men's national team back to a World Cup for the second time in their history.
Con un entrenador que supo dar un inusual salto del futbol femenino al masculino, John Herdman, quien se convertirá en el primer estratega en dirigir una Copa del Mundo femenil y una varonil. Dirigió durante 7 años a las seleccionadas canadienses y, con ellas, disputó el mundial de 2015 en el que fueron anfitriones, y ha llevado a la selección masculina de vuelta a una Copa del Mundo por segunda vez en su historia.
---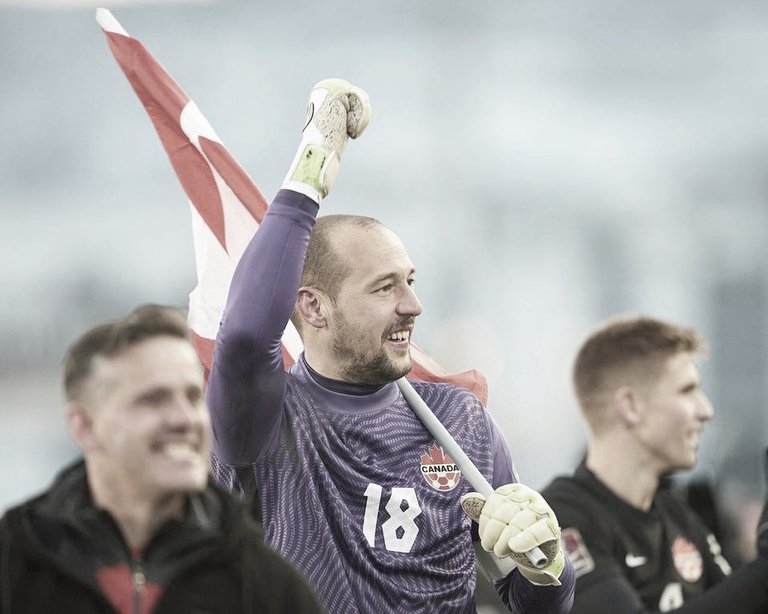 ---
Nothing has been the work of chance for Canada, the creation of sports policies that strengthen the development of a sports project based on short and measurable objectives, the trust in a coach who has proven his worth and is constantly preparing himself, the use of migratory processes - hunting talents - as is the case of Milan Borjan, born in Knin - today Croatia - in 1987, when it was still Yugoslavia, and therefore holding Serbian nationality, Milan lived in more than 7 countries, but it was in Ottwa where he felt at home.
Nada ha sido obra de la casualidad para Canadá, la creación de políticas deportivas que fortalezcan el desarrollo de un proyecto deportivo basado en objetivos cortos y medibles, la confianza en un entrenador que ha probado su valía y se prepara constantemente, el aprovechamiento de los procesos migratorios -cazando talentos- como es el caso de Milan Borjan, nacido en Knin -hoy Croacia- en 1987, cuando aquello aún era Yugoslavia, y por lo tanto poseedor de nacionalidad Serbia, Milan vivió en más de 7 países, pero fue en Ottwa donde se sintió en casa.
---
They make up Group F, a very competitive group with Belgium, Morocco and Croatia.
Forman el Grupo F, un grupo muy competitivo con Bélgica, Marruecos y Croacia.
Group F 🇧🇪🇨🇦🇲🇦🇭🇷#CANMNT #WeCAN #FinalDraw pic.twitter.com/cypz9cTTx0

— Canada Soccer (@CanadaSoccerEN) April 1, 2022
---
With a base of players who have arrived on Canadian soil as a result of immigration in search of a better quality of life, a coach who is virtually anonymous on the world football scene but who has already made history, and football that swept through the qualifiers, Canada declare themselves ready to compete in Qatar.
Con esa base de jugadores que han llegado a territorio canadiense producto de la inmigración, en busca de una mejor calidad de vida, con un entrenador prácticamente anónimo en el panorama del futbol mundial, pero que ya ha pasado a la historia, y con un futbol que arrasó en la eliminatoria, Canadá se declara lista para competir en Qatar.
The Maple Leafs were by far the best team in the CONCACAF qualifiers, finishing in first place - with the same points as the Mexican national team, but with a much more attractive style of football than Martino's team -, the best offence with 23 goals scored, and the best defence with only seven goals conceded.
Los de la hoja de Maple fueron el mejor equipo de la eliminatoria en CONCACAF con diferencia, terminaron en el primer puesto -con los mismos puntos que la Selección Mexicana, pero con un futbol mucho más atractivo que los de Martino-, fueron la mejor ofensiva con 23 goles a favor, y la mejor defensiva con tan solo 7 goles encajados.
Will Canada go all the way in this, their second World Cup? It remains to be seen, but they certainly have a team to compete in their group. Watch out for the Maple Leafs!
¿Trascenderá Canadá en esta, su segunda Copa del Mundo? Está por verse, pero sin lugar a duda tienen un equipo para competir en su grupo. ¡Ojito con la Hoja de Maple!
---
The action from Canada's 4-0 win over Jamaica to secure their ticket to the World Cup in Qatar:
Las acciones del tiunfo merengue ante el Getafe para avanzar con paso firme hacia la conquista de LaLiga:
✍🏼: Paco Andújar ⚽
---
---