PIRATAS DEL BALÓN, ACTIVISTAS DEL FÚTBOL [ESP/ENG]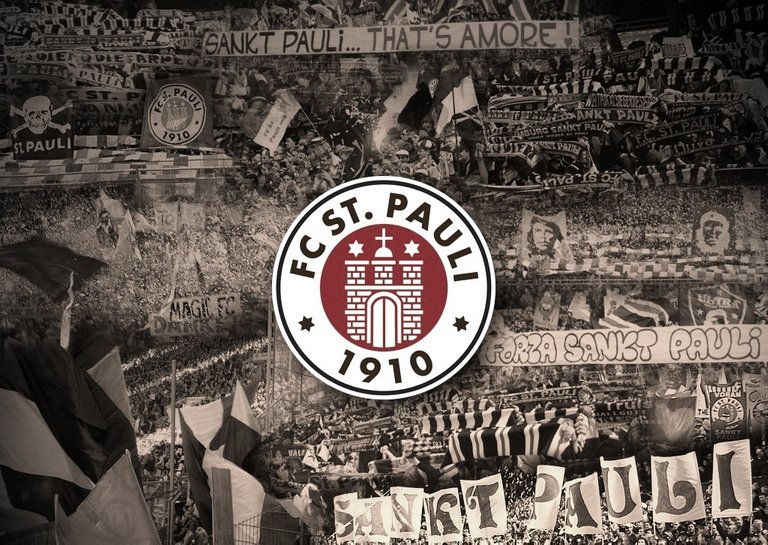 ---
"Nosotros no tenemos objetos de plata que mostrar, pero tenemos una historia que contar. La increíble historia de un club que se convirtió en uno de los más famosos de Europa; sin grandes trofeos, sin tener mucho dinero." - Inscripción dentro del museo del Sankt Pauli.
"We don't have silverware to show, but we have a story to tell. The incredible story of a club that became one of the most famous clubs in Europe; without big trophies, without a lot of money". - Inscription inside the Sankt Pauli museum.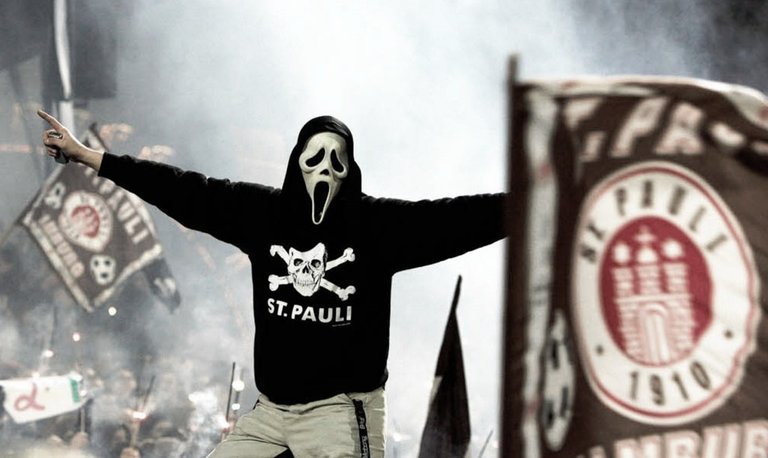 ---
Se dice que "ser rebelde en el mundo del fútbol es algo sencillo", y técnicamente lo es, pues tirar una gambeta, ya sea en medio de la tierra y la arena del campo del barrio en un picadito con los amigos o en cualquier partido lleno de reflectores y miradas en un Estadio abarrotado, es ya per se un acto de rebeldía en un deporte que se ha tecnificado muchísimo y que se ha ido volviendo presa de la táctica y la estadística. El juego, en su primigenia esencia, se trata de eso, de engañar al rival de inventarse algo fuera de lo establecido para poder conseguir el objetivo de hacerse con la victoria.
Hemos de hablar de rebeldía real, no la la de una gambeta, sino la rebeldía social, esa que está encausada a ir en contra de la corriente establecida de pensamientos, ideologías y/o sistemas que claramente presentan rasgos de disfuncionalidad que gran parte de la masa no logra detectar, comprender y, mucho menos, atacar del modo pertinente como para buscar cambiar. La rebeldía es una especie de "bichito" que puede contagiarse con mayor o menor medida en relación al nivel de conciencia social del individuo o grupo de individuos.
It is said that "being rebellious in the world of football is something simple", and technically it is, because throwing a dribble, whether in the middle of the dirt and sand of the neighbourhood pitch in a picadito with friends or in any match full of spotlights and stares in a crowded stadium, is already per se an act of rebellion in a sport that has become highly technical and has become prey to tactics and statistics. That is what the game, in its primordial essence, is all about, deceiving the opponent, inventing something out of the ordinary in order to achieve the objective of winning.
We have to talk about real rebellion, not that of a dribble, but social rebellion, that which is aimed at going against the established current of thought, ideologies and/or systems that clearly present dysfunctional features that a large part of the masses are unable to detect, understand and, much less, attack in a relevant way in order to seek to change. Rebelliousness is a kind of "bug" that can be contagious to a greater or lesser extent depending on the level of social awareness of the individual or group of individuals.
---
PHOTO | "Love who you want"

(Ultras Sankt Pauli, Germany) pic.twitter.com/YeMPeZbUqz

— Antifa_Ultras (@ultras_antifaa) January 15, 2023
---
En Hamburgo, importante ciudad portuaria de Alemania, existe un Club de Fútbol que lleva por bandera la rebeldía social girando en torno al balón. La conciencia social en todo lo que conforma la filosofía y manera de entender el fútbol del FC Sankt Pauli es un cúmulo de diversos actos de rebeldía que se han ido gestando a lo largo de su historia con la pelota en los pies. El barrio de St. Pauli es un barrio por demás pintoresco, casi complicado, hay que decirlo, un barrio lleno de casas tomadas con ocupas, atestado de pintas, y mantas antifascistas, sin ánimos de ser despectivo -no se malentienda- un barrio casi de tercer mundo enclavado en una ciudad que ostenta un puerto del primer mundo.
El Sankt Pauli, como bien lo menciona aquella inscripción citada como preludio a esta pieza, en un equipo que se juega poca gloria dentro del terreno de juego. En 2010 ascendieron al máximo circuito de la Bundesliga alemana para volver a descender en esa misma temporada sin que importase mucho a su afición que sigue siendo tan fiel al equipo como rebelde en el sentido social de ese barrio casi hipster en que encuentran su casa. Aquel 8-1 en contra ante el Bayern Múnich que marcaba el final de su aventura en el máximo circuito alemán poco cambió al interior del club más allá de la amargura del descenso.
In Hamburg, an important port city in Germany, there is a football club that carries the banner of social rebellion revolving around the ball. The social conscience in everything that makes up the philosophy and way of understanding football of FC Sankt Pauli is an accumulation of various acts of rebellion that have been brewing throughout its history with the ball at its feet. The neighbourhood of St. Pauli is a picturesque, almost complicated neighbourhood, it has to be said, a neighbourhood full of squatted houses, full of graffiti and anti-fascist banners, without being derogatory - don't misunderstand - an almost third world neighbourhood in a city that boasts a first world port.
Sankt Pauli, as the inscription quoted as a prelude to this piece rightly mentions, is a team that plays for little glory on the pitch. In 2010 they were promoted to the top flight of the German Bundesliga, only to be relegated again that same season, without it mattering much to their fans, who are still as loyal to the team as they are rebellious in the social sense in the almost hipster neighbourhood where they find their home. That 8-1 loss to Bayern Munich that marked the end of their adventure in the German top flight changed little within the club beyond the bitterness of relegation.
---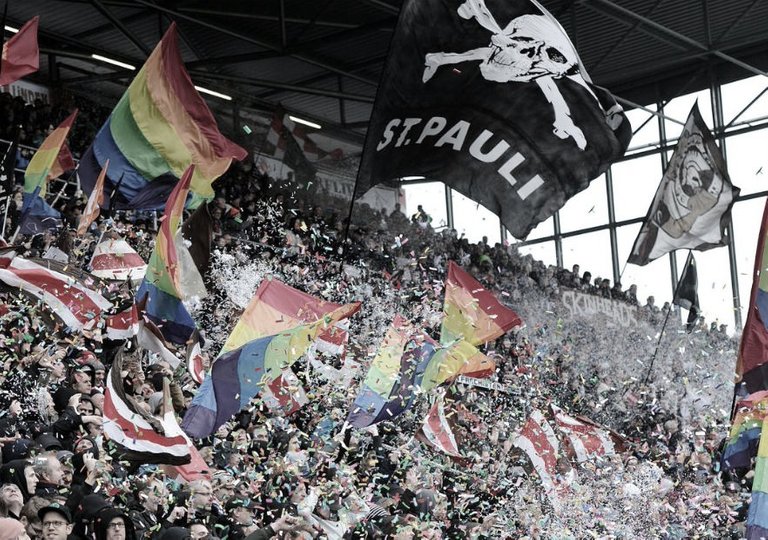 ---
El Sankt Pauli, pasó de ser un Club de fútbol normal y corriente a ser un equipo casi de culto en la década de los 80 previo a la caída del muro de Berlín cuando la economía en Alemania se encontraba en una compleja decadencia, los trabajos escaseaban y no había manera de hacer frente a alquileres y al coste de vida, muchos jóvenes comenzaron a ocupar las múltiples casas vacías alrededor del Estadio del barrio de Sankt Pauli y, con ello, empezaron a dotar a ese equipo que ahora era su vecino con un aura distinta, un sabor diferente, una ideología especial.
Un equipo con ideología antifascista, alineación politica de izquiedas, ideas revolucionarias nunca vistas en el mundo del fútbol y con cero tolerancia a cualquier tipo de discriminaciñon. Han tenido un presidente homosexual que cumplía a la perfección su labor al frente del club al tiempo que se dedicaba a lo que ha sido su trabajo principal que era el actuar en obras de teatro primordialmente vestido como mujer. Un equipo que suele encabezar campañas en pro de los refugiados del mundo, especialmente los que se encuentran en territorio alemán.
Sankt Pauli went from being an ordinary football club to an almost cult team in the 80's before the fall of the Berlin Wall when the economy in Germany was in a complex decline, jobs were scarce and there was no way to cope with rents and the cost of living, many young people began to occupy the many empty houses around the stadium in the district of Sankt Pauli and thus began to give the team that was now their neighbour a different aura, a different flavour, a special ideology.
A team with an anti-fascist ideology, a left-wing political line-up, revolutionary ideas never seen before in the world of football and with zero tolerance for any kind of discrimination. They have had a homosexual president who has done his job to perfection at the head of the club, while at the same time dedicating himself to what has been his main job, which was to act in plays primarily dressed as a woman. A team that often spearheads campaigns for the world's refugees, especially those on German soil.
---
PHOTO | Ultra' Sankt Pauli, Germany pic.twitter.com/M81BcacMdi

— Antifa_Ultras (@ultras_antifaa) January 16, 2023
---
El Sankt Pauli ha encabezado una colecta para instalar bebederos de agua potable en algunas escuelas de Cuba, ha bancado el impulso a la campaña en pro de los refugiados en alemania, e incluso generó la iniciativa de producir miel natural de abeja dentro de su Estadio buscando proteger y hacer crecer la población de abejas en el planeta. Son un club de fútbol con mucho más actos propios de una asociación política que de una entidad deportiva.
El Sankt Pauli es no menos que una sana mezcla entre política y deporte, aunque muchos puedan atreverse a soltar ese adagio tan anacrónico como falaz que reza que: "El Deporte y la política jamás deben mezclarse", históricamente, el deporte -sobre todo el fútbol- se ha utilizado como mecanismo político y social, así que, separarlo de ambos constructos sería simplemente una utopía. ¿Por que no, enconteces, emplearlo para promover ideas que busquen un impacto social positivo en varias áreas? Eso es lo que buscan siempre los "Piratas" de Sankt Pauli con una pelota en los pies.
Sankt Pauli has spearheaded a collection to install drinking water troughs in some schools in Cuba, has supported the campaign for refugees in Germany, and even generated the initiative to produce natural bee honey inside its stadium in order to protect and increase the bee population on the planet. They are a football club with much more the actions of a political association than of a sporting entity.
Sankt Pauli is no less than a healthy mix between politics and sport, although many may dare to spout the anachronistic and fallacious adage that "Sport and politics should never mix", historically, sport -especially football- has been used as a political and social mechanism, so separating it from both constructs would simply be utopian. Why not, then, use it to promote ideas that seek a positive social impact in various areas? That is what the "Pirates" of Sankt Pauli are always looking for with a ball at their feet.
---
✍🏼: Paco Andújar ⚽
---
---