RED IS THE COMMUNITY SHIELD [ENG/ESP]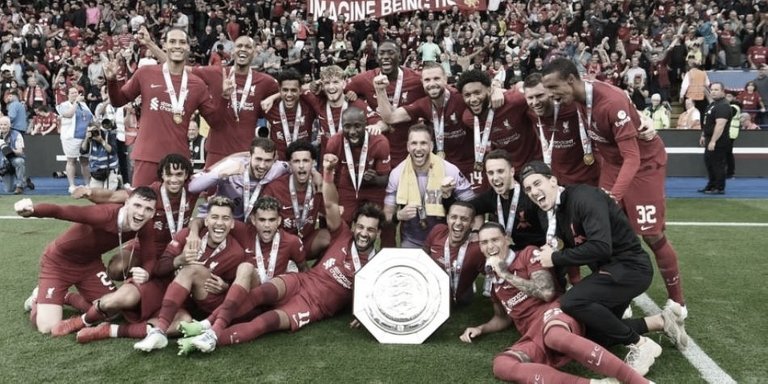 ---
"This team is always open arms for everybody who comes in and that's very helpful and that's why it goes a little bit quicker, maybe. I liked, how I said, the first line-up I liked a lot; how we started, I liked a lot. It was really good football, we used decisive spaces and kept City away from our goal. In the moment when they started controlling the game then it is even harder work and that's why you should try to avoid that. So, there were ups and downs in the game, but in the end both teams fought really hard and we could make the decision in the last minute or so. Really cool." – Jürgen Klopp on the game and winning the Community Shield.
"Este equipo siempre tiene los brazos abiertos para todos los que llegan y eso ayuda mucho y por eso va un poco más rápido, quizás. Me ha gustado, como he dicho, la primera alineación me ha gustado mucho; cómo hemos empezado, me ha gustado mucho. Fue un fútbol muy bueno, utilizamos espacios decisivos y mantuvimos al City lejos de nuestra portería. En el momento en que ellos empezaron a controlar el juego, el trabajo fue aún más duro, y por eso hay que intentar evitarlo. Así que hubo altibajos en el partido, pero al final los dos equipos lucharon mucho y pudimos decidir en el último minuto más o menos. Realmente genial." – Jürgen Klopp sobre el juego y la conquista de la Community Shield.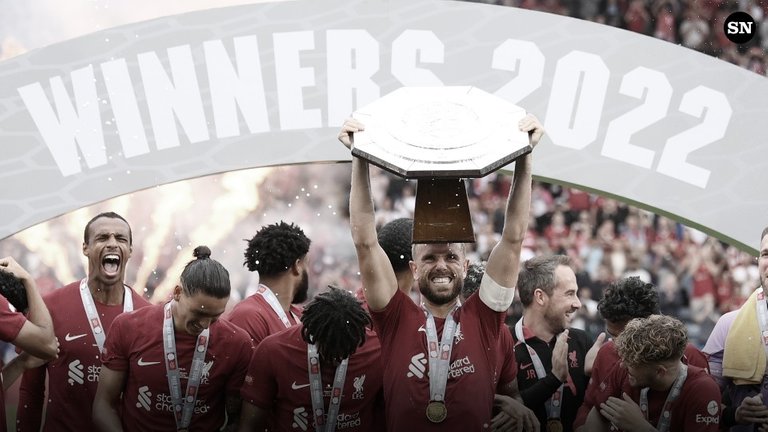 ---
It was not Wembley on this occasion that was the chosen venue for the FA Community Shield, but the King Power Stadium in Leicester and perhaps that was the only strange and different thing about an English evening that pitted the two best English teams of today against each other to officially kick off the new season in English football. On the pitch, nothing strange, nothing different, two great teams led by two great coaches to fight for 90 minutes and look for the first title of the football year.
Klopp and Guardiola, Liverpool and Manchester City are the names that have brought the most flavour to the English Premier League and its adjacent competitions in recent years. Two geniuses at the helm of two squads full of equally genius players. Today in Leicester it was Jürgen's turn to smile.
No fue Wembley en esta ocasión el escenario elegido para la disputa del FA Community Shield, sino el King Power Stadium de Leicester y quizá eso haya sido lo único extraño y diferente de una tarde noche inglesa que enfrentaba a los dos mejores equipos ingleses de la actualidad para dar el banderazo de salida oficial a nueva temporada en el futbol inglés. En el terreno de juego, nada extraño, nada distinto, dos grandes equipos dirigidos por dos grandes entrenadores para pelear durante 90 minutos y buscar el primer titulo del año futbolístico.
Klopp y Guardiola, el Liverpool y el Manchester City son los nombres propios que más sabor han brindado a la Premier League Inglesa y sus competiciones adyacentes en los últimos años. Dos genios dirigiendo dos escuadras plagadas de jugadores igualmente geniales. Hoy en Leicester tocó a Jürgen sonreír.
---
Starting the season with silverware, thanks to goals from @TrentAA, @MoSalah and @Darwinn99 🏆#CommunityShield pic.twitter.com/0fldUoYwzo

— Liverpool FC (@LFC) July 30, 2022
---
---
FA Cup winners Liverpool and Premier League champions Manchester City stormed the pitch at the King Power Stadium with virtually all of their star players looking to swing the game in their favour. Klopp's formula was the same as usual, his trademark heavy metal, and it was Mohamed Salah who was the brightest performer in the early stages of the game.
Asaltaron el terreno de juego del King Power Stadium, el Liverpool campeón de la FA Cup y el Manchester City campeón de la Premier League prácticamente con todos sus estelares para buscar desequilibrar el encuentro a su favor. La formula de Klopp fue la de siempre, su marcado Heavy Metal, y fue Mohamed Salah su más brillante interpreete durante los primeros compases del juego.
---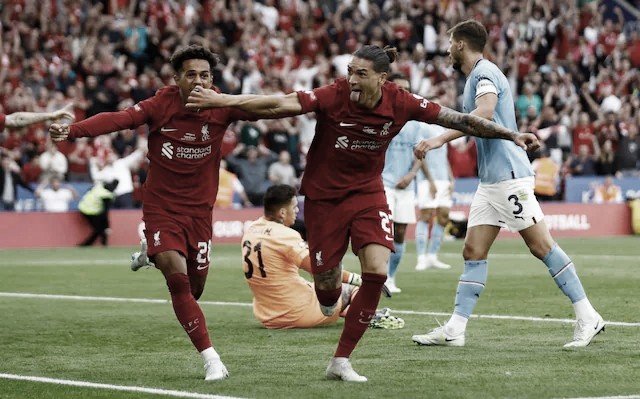 ---
In the initial exchange of blows it was Liverpool who were trying to find the opposition goal more, beyond a warning from Kevin de Bruyne, it was the Reds who dominated the attacking sensations until the 21st minute when they found a reward for their insistence. Klopp's side played beautifully outside City's box, Lucho brought it down with his chest and passed to Thiago Alcantara, absolute vision and refined touch of the Spaniard to play with Mo Salah and the Egyptian activated the arrival of Trent-Alexander Arnold who with his first touch signed an absolute jewel that left Ederson with no chance. 1-0 ahead for Klopp's men.
But immediately after the Reds' goal, the Sky Blue began to impose their rhythm of possession and in doing so they found a way to generate dangerous chances at the goal defended by Adrian. Guardiola's side did not find the net until the 70th minute, when Julian Alvarez, who, very alertly, picked up a rebound in the six-yard box and pushed in a goal that was disallowed in the first instance, but was completely legal and ended up on the scoreboard. It was 1-1 as Guardiola equalised.
En el intercambio de golpes inicial fue el Liverpool quien buscaba más el arco rival, más allá de un aviso de Kevin de Bruyne, fueron los Reds quienes dominaban las sensaciones ofensivas hasta que al minuto 21' encontraron premio a la insistencia. Jugó bonito el conjunto de Klopp en la forntal, Lucho la bajó con el pecho y cedió para Thiago Alcantara, visión absoluta y toque refinado del español para jugar con Mo Salah y el egipcio activó la llegada de Trent-Alexander Arnold que de primera intención firmó una joya absoluta que dejaba sin oportunidad a Ederson. 1-0 adelantaban los de Klopp.
Pero, inmediatamente tras el gol de los Reds, los Sky Blue comenzaron a imponer su ritmo de posesión y con ello fueron encontrando la forma de generar ocasiones de peligro en el arco defendido por Adrián. Los de Guardiola no encontraron arco sino hasta el minuto 70' en un gol de Julian Alvarez que, muy atento, cazó un rebote en el área pequeña y empujó un gol que fue anulado en primera instancia, pero era completamente legal y terminó subiendo al marcador. 1-1 emparejaba Guardiola.
---
WELL IN, REDS 🙌🔴

2022 #CommunityShield winners 😁 pic.twitter.com/NKQkfSRZva

— Liverpool FC (@LFC) July 30, 2022
---
On the 80th minute Salah sent in a cross in search of his new partner in attack, the new kid on the block, Darwin Nuñez, who headed and his shot hit the hand of captain Rubén Días. A shot from the penalty spot that Mo Salah did not miss and, with a solid shot, beat Ederson to give the lead back to those who never walk alone.
In the added time, Klopp's men signed City's sentence and with it the FA Community Shield title; again Mo Salah put in a cross, this time it was Andy Robertson on the receiving end and it was Darwin Nuñez who, beating Ruben Dias, headed the ball in for his first goal in an official match wearing the Red shirt.
Sobre el minuto 80' Salah envió un centro en busca de su nuevo socio en el ataque, del más nuevo en el barrio, Darwin Nuñez que cabeceó y su remate golpeó en la mano del capitán Rubén Días. Un cobro desde el manchón que Mo Salah no desaprovechó y, con un cobro sólido, venció a Ederson para devolver la ventaja a los que nunca caminan solos.
Ya en el añadido, los de Klopp firmaban la sentencia del City y con ello se hacían del titulo de la FA Community Shield; volvió a colgar un centro Mo Salah, en esta ocasión fue Andy Robertson el destinatario que recentró la pelota y fue Darwin Nuñez que, ganó el frente a Ruben Días y, se estrenó con un remate de cabeza para marcar su primer gol en partido oficial vistiendo la camiseta Red.
---
Action from the clash at the King Power Stadium:
La acción del choque en el King Power Stadium:
✍🏼: Paco Andújar ⚽
---
---