REYES DE EUROPA [ESP/ENG]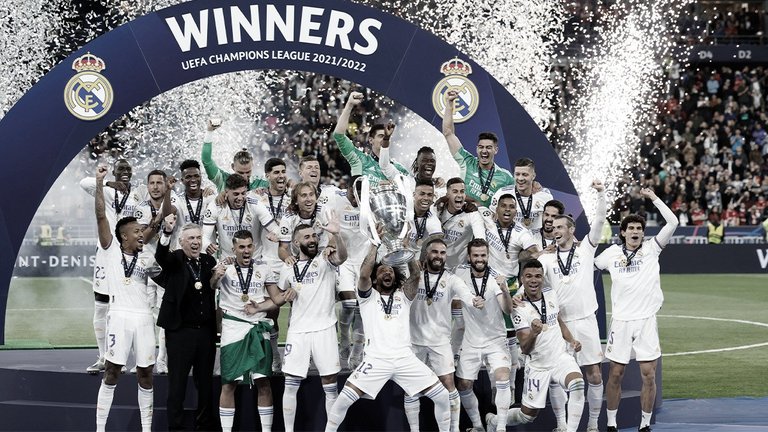 ---
"El Madrid es una manera de entender la vida, con sus valores y sus sinsabores a veces. Tenemos muy buenos jugadores, el mérito es de todos. Estoy contento y feliz, como todos los aficionados. Hemos luchado y trabajado mucho esta temporada para estar aquí. Una buena temporada en general, la Liga ya la celebramos y fue muy merecida. Es fruto de los jugadores, del entrenador y de los aficionados." – Florentino Pérez tras la conquista de la decimocuarta UEFA Champions League para el Real Madrid.
"Madrid is a way of understanding life, with its values and its sometimes unpleasantness. We have very good players; the merit belongs to everyone. I'm happy and content, like all the fans. We have fought and worked hard this season to be here. It has been a good season in general, we have already celebrated the league title and it was well deserved. It is the fruit of the players, the coach and the fans". - Florentino Pérez after Real Madrid conquered the UEFA Champions League for the 14th time.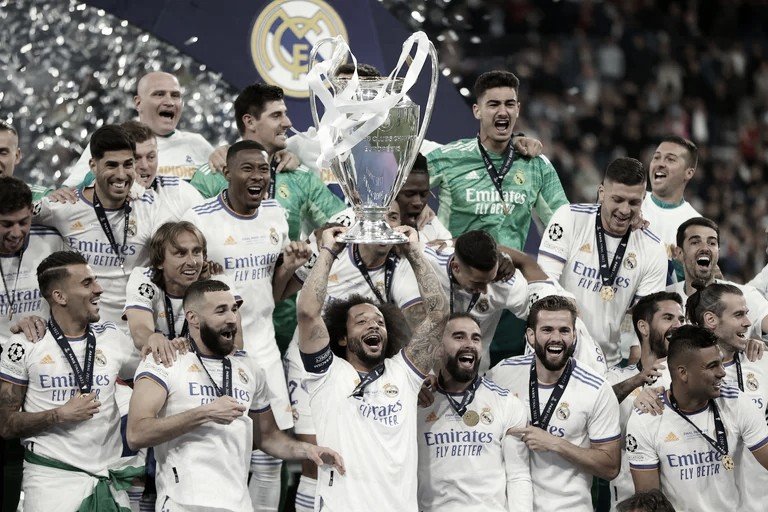 ---
El gen competitivo del Real Madrid es superior al de cualquier otro equipo en el planeta futbol, el peso de su camiseta y de su escudo al momento de competir en el feudo europeo no tiene parangón y tampoco posee explicación alguna. Los Blancos han levantado al cielo de Paris su decimocuarta UEFA Champions League, quizá la más épica de su historia por como se gestó el camino.
Real Madrid's competitive gene is superior to that of any other team on planet football, the weight of their shirt and crest when competing in the European arena is unparalleled and unexplainable. Los Blancos have lifted their fourteenth UEFA Champions League title to the skies above Paris, perhaps the most epic in their history because of the way it was conceived along the way.
El Real Madrid y la UEFA Champions League son uno mismo, una historia de amor tan inseparable como insuperable. El conjunto de Chamartín ha vuelto a tocar el cielo de la mano de la competición que más alegrías le ha brindado en sus 120 años de historia. Gloria eterna al Real Madrid, que ha ganado la UEFA Champions League más lustrosa de su ostentosa historia.
Real Madrid and the UEFA Champions League are one and the same, a love story as inseparable as it is unsurpassable. The Chamartín side have once again reached for the skies in the competition that has brought them the most joy in their 120-year history. Eternal glory to Real Madrid, who have won the most lustrous UEFA Champions League in their illustrious history.
---
REYES DE EUROPA 👑🏆
KINGS OF EUROPE 👑🏆
---
Esta Copa de Europa, la decimacuarta en las vitrinas del Santiago Bernabéu, pasará a la historia como la Champions de las remontadas, vida y obra absoluta del "Rey de las Remontadas". El Bernabéu vivió las noches más mágicas de su historia moderna –en medio de su galáctica reforma-. Los Blancos remontaron ante el PSG, ante el Chelsea en una noche que se complicaba y ante el Manchester City cuando todo parecía perdido.
This European Cup, the fourteenth in the Santiago Bernabéu's trophy cabinet, will go down in history as the Champions League of comebacks, the absolute life and work of the "King of the Comebacks". The Bernabéu experienced the most magical nights in its modern history - in the midst of its galactic refurbishment-. Los Blancos came from behind against PSG, against Chelsea on a difficult night and against Manchester City when all seemed lost.
---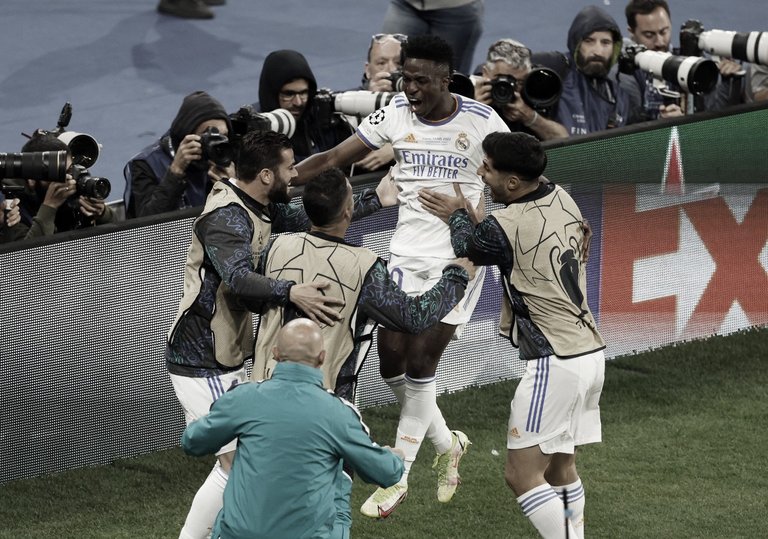 ---
El Real Madrid ha tocado el cielo en una temporada apoteósica, un año que se suponía sería de transición para la Casa Blanca ha terminado por transformarse en una temporada lustrosa, una Liga conquistada con antelación por la gran diferencia de puntos sobre sus rivales y una UEFA Champions League que duplica las conquistas (7) de su más cercano perseguidor, el AC Milán; Madrid es su ciudad y Europa es su reino.
Real Madrid have reached the sky in an unforgettable season, a year that was supposed to be one of transition for the Casa Blanca has ended up turning into a lustrous season, a League conquered in advance due to the great difference in points over their rivals and a UEFA Champions League that doubles the conquests (7) of their closest pursuers, AC Milan; Madrid is their city and Europe is their kingdom.
Carlo Ancelotti ha sido fundamental para esta conquista blanca; su sello personal, la paciencia del legendario entrenador de Reggiolo, permeó en su equipo siempre. Los merengues no perdieron la calma y mucho menos la fe, ni en el más obscuro de los panoramas. Ancelotti en esta, su segunda etapa al frente del Real Madrid, vuelve a conquistar la UEFA Champions League, trajo la ansiada Décima al Bernabéu, y ahora la épica decimocuarta para erigirse como el entrenador con más Copas de Europa conquistadas (4).
Carlo Ancelotti has been fundamental to this conquest; his personal hallmark, the patience of the legendary coach from Reggiolo, permeated his team at all times. The Merengues never lost their cool, let alone their faith, even in the darkest of times. Ancelotti, in this, his second spell in charge of Real Madrid, once again won the UEFA Champions League, bringing the coveted Tenth Cup to the Bernabéu, and now the epic fourteenth to become the coach with the most European Cups won (4).
---
Una Champions con nombre y apellido. 🙌🏆
A Champions League with a name and a last name 🙌🏆
🇫🇷 Con acento francés...@Benzema | #CHAMP14NS pic.twitter.com/4lcRxs6xBZ

— Real Madrid C.F. (@realmadrid) May 28, 2022
---
Thibaut Courtois, hoy en día, el mejor guardameta del planeta, ha sido un factor fundamental para que los Merengues presentaran resistencia al "Heavy Metal" del Liverpool. Los Reds de Klopp fueron fieles a su estilo y supieron abrumar al Real Madrid en varias etapas del partido, pero los blancos hicieron gala de su enésimo ejercicio de resiliencia y salieron avante, en gran medida gracias a las vitales intervenciones del meta belga que "hoy está del lado bueno".
Thibaut Courtois, currently the best goalkeeper on the planet, was a key factor in Los Merengues' resistance to Liverpool's heavy metal. Klopp's Reds were true to their style and were able to overwhelm Real Madrid at various stages of the match, but Los Blancos showed their umpteenth exercise in resilience and came out on top, largely thanks to the vital interventions of the Belgian goalkeeper who "is on the good side today".
En la primera parte, al Madrid terminaron por anularle un tanto de Benzema de manera incomprensible, la pelota provenía de la intervención de Fabinho por lo que el fuera de juego que el cuerpo arbitral decretó era inexistente. Poco daño hizo dicha polémica a los blancos, pues en la segunda mitad, una de las características cabalgatas de Fede Valverde -líder espiritual de este equipo, a pesar de su juventud- culminó con un preciso buscapiés que encontró a Vinicius. Un gol que vale una UEFA Champions League, un gol para conquistar la decimocuarta Copa de Europa que para la Casa Blanca.
In the first half, Madrid ended up having a Benzema goal disallowed in an incomprehensible manner, the ball had come from Fabinho's intervention, so the offside that the refereeing body decreed was non-existent. The controversy did little harm to Los Blancos, as in the second half, one of Fede Valverde's trademark rides - a spiritual leader of this team, despite his youth - culminated in a pinpoint through ball that found Vinicius. A goal worth a UEFA Champions League, a goal to win the fourteenth European Cup for the Casa Blanca.
El Real Madrid ha vuelto a dar catedra de su peso específico, ha vuelto a meterse al ruedo europeo y ha dejado a los grandes favoritos en el camino; un equipo por el que nadie apostaba un céntimo al inicio de la campaña ha vuelto a dar cuenta del gran Liverpool de Jürgen Klopp, tal y como lo hiciera en la "Batalla de Kiev" en 2018.
Real Madrid have once again shown their weight in the European arena and have left the big favourites in their wake; a team that nobody had bet a penny on at the start of the campaign has once again taken Jürgen Klopp's great Liverpool to task, just as they did in the "Battle of Kiev" in 2018.
Una dinastía blanca ha conquistado Paris, la ciudad en la que Mbappé decidió permanecer con un discurso plagado de patriotismo para justificar su dictamen. 9 jugadores del Real Madrid integran ya el "Club de las 5": Marcelo, Carvajal, Nacho, Casemiro, Modric, Kroos, Bale, Isco y Benzema tienen en su historial las mismas 5 Copas de Europa que el FC Barcelona -por citar un ejemplo- ha conquistado en toda su historia. ¡Tremenda dinastía!
A white dynasty has conquered Paris, the city where Mbappé decided to stay with a speech full of patriotism to justify his decision. 9 Real Madrid players are now members of the "Club de las 5": Marcelo, Carvajal, Nacho, Casemiro, Modric, Kroos, Bale, Isco and Benzema have the same 5 European Cups on their record as FC Barcelona - to give just one example - have won in their entire history. What a dynasty!
Los Merengues son, nada más y nada menos que, los Reyes de Europa.
Los Merengues are nothing less than the kings of Europe.
---
Las acciones de la final en el Stade de France:
The action from the final at the Stade de France:
✍🏼: Paco Andújar ⚽
---
---