ALERTA ROJA EN EL ETIHAD STADIUM. [es/en]
---
La Premier League regresa después de la última fecha internacional y la temporada entra en sus últimos dos meses y medio con el City en la pelea por un triplete. En la carrera por el título, los de Pep Guardiola se enfrentan a un nuevo rival que ha estado fuera últimamente de disputas de títulos ligueros, el Arsenal. El rival habitual en la Premier League en los últimos años, el Liverpool, abrirá las actividades del mes de abril, encuentro que el propio Pep calificó de "decisivo" en las aspiraciones del club.
The Premier League returns after the last international break and the season enters its final two and a half months with City in contention for a treble. In the title race, Pep Guardiola's side face a new rival that has been out of league title contention of late, Arsenal. Regular Premier League opponents in recent years, Liverpool, will open the month of April's activities, a match that Pep himself described as "decisive" in the club's aspirations.
https://twitter.com/ManCityES/status/1641198798675513344?s=20


Fuente/Sourse
---
Los "Reds" de Jurgen Klopp llegan a Manchester lejos de la batalla por la Premier League pero en plena pelea por el cuarto puesto que les da opciones de clasificarse para la UEFA Champions League, que ya está en manos del Tottenham Hotspur con siete puntos de ventaja pero con dos partidos más. Ya la temporada encara sus últimas ocho jornadas de Premier y los "Gunners" tienen ocho puntos de ventaja pero con un partido más disputado quedándole pendiente la visita al Etihad Stadium.
Jurgen Klopp's Reds arrive in Manchester far from the Premier League battle but in the midst of a battle for fourth place that gives them a chance of qualifying for the UEFA Champions League, which is already in the hands of Tottenham Hotspur seven points ahead but with two games in hand. The season now faces its last eight Premier League matches, and the "Gunners" are eight points ahead, but with a game in hand, with a visit to the Etihad Stadium still to come.
https://twitter.com/ManCityES/status/1640765191490244608?s=20


Fuente/Sourse
---
City abrirá el día con la oportunidad de presionar al equipo de Mikel Arteta que va a enfrentar en casa al Leeds United el sábado en el partido de vuelta. El Manchester City afronta la visita de los "Reds" sin perder en sus últimos seis partidos de Premier League desde que visitaron al Tottenham en febrero y enfrentará un Liverpool que solo ha conseguido sumar apenas 12 puntos en sus últimos 13 compromisos de premier.
City will open the day with the opportunity to put pressure on Mikel Arteta's side as they take on Leeds United at home in the second leg on Saturday. Manchester City head into the visit of the Reds unbeaten in their last six Premier League games since visiting Tottenham in February and will face a Liverpool side that has managed just 12 points from their last 13 Premiership matches.
https://twitter.com/ManCityES/status/1640684882098634752?s=20


Fuente/Sourse
---
Por otro lado, el poderoso City en el Etihad solo ha dejado de ganar tres puntos en sus últimos 19 partidos de la Premier League (dos empates y una derrota). Esta semana veremos el cuarto partido contra el Liverpool esta temporada. Los "Reds" ganaron la Community Shield 2-1 y el partido de la Premier League 1-0 en Anfield, pero perdieron 3-2 cuando visitaron a la parte celeste de Manchester en la Copa de la Liga en diciembre pasado. El City perdió una de las últimas 13 visitas del Liverpool al Etihad Stadium, 1-4 en noviembre de 2015, con Manuel Pellegrini en el banquillo.
On the other hand, the mighty City at the Etihad have only dropped three points in their last 19 Premier League games (two draws and one defeat). This week will see the fourth match against Liverpool this season. The "Reds" won the Community Shield 2-1 and the Premier League match 1-0 at Anfield, but lost 3-2 when they visited in the League Cup last December. City lost one of Liverpool's last 13 visits to the Etihad Stadium, 1-4 in November 2015, with Manuel Pellegrini in the dugout.
https://twitter.com/ManCityES/status/1641863176521396229?s=20


Fuente/Sourse
---
Para la previa, el duelo entre Pep Guardiola y Jürgen Klopp en los banquillos de Inglaterra, aunque ambos han comenzado su duelo personal en la Bundesliga. El sábado será el encuentro número 28 entre ambos, con nueve para Guardiola, once para Klopp y siete igualadas. Sin embargo, el técnico catalán logró un buen registro en sus 5 últimos encuentros ante el Liverpool en Manchester: tres victorias y dos empates. Guardiola nunca se ha enfrentado a un técnico con más frecuencia que Klopp en toda su carrera como técnico. José Mourinho en 25 ocasiones, y Mauricio Pochettino en 22 oportunidades, forman los tres primeros de esta lista. El cuarto, Sean Dyche, está ahora a siete juegos del argentino.
For the preview, the duel between Pep Guardiola and Jürgen Klopp in the English dugouts, although both have started their personal duel in the Bundesliga. Saturday will be the 28th meeting between the two, with nine for Guardiola, eleven for Klopp and seven draws. However, the Catalan manager has a good record in his last five meetings with Liverpool in Manchester: three wins and two draws. Guardiola has never faced a manager more often than Klopp in his entire managerial career. Jose Mourinho on 25 occasions, and Mauricio Pochettino 22 times, form the top three on this list. Fourth, Sean Dyche, is now seven games behind the Argentine.
https://twitter.com/ManCityES/status/1641795351274291202?s=20


Fuente/Sourse
---
Está previsto que sea un final intenso para la campaña. Con nueve juegos ya programados en abril, más por venir en mayo y posiblemente en junio. Sin embargo, el técnico catalán solo se concentra en los próximos 90 minutos que tiene por delante. En la conferencia de presa de hace unas horas Pep Guardiola afirmó que con el siempre difícil Liverpool no se pueden dejar brechas abiertas, el Liverpool es un equipo ganador y siempre el Manchester City ha tenido que sacar lo mejor de sí cuando se le ha enfrentado. Siempre es temer un equipo que ha ganado Champions League, Premier League, FA Cup en una temporada y Pep siempre ha tenido esto presente, por lo cual siempre pone un enfoque especial en los "Reds".
It is set to be an intense finish to the campaign. With nine games already scheduled in April and more to come in May and possibly June. However, the Catalan coach is only focused on the next 90 minutes ahead of him. At the press conference a few hours ago Pep Guardiola stated that with the always difficult Liverpool you can't leave any gaps open, Liverpool are a winning team and always Manchester City have had to bring their best out when they have faced them. A team that has won Champions League, Premier League, FA Cup in one season is always to be feared and Pep has always had this in mind, which is why he always puts a special focus on the "Reds".
https://twitter.com/ManCityES/status/1641802778648666115?s=20


Fuente/Sourse
---
Es un partido vital y aunque los jugadores potenciales para este encuentro participaron en el primer mundial de invierno, el cansancio físico y mental no es una justificación para ceder en este importante partido. Ha sido una temporada larga e intensa y este encuentro es decisivo para el torneo local que puede dejar fuera de la carrera a los "skyblues" de la Premier League.
It is a vital game and although the potential players for this match participated in the first Winter World Cup, physical and mental fatigue is not a justification for conceding in this important match. It has been a long and intense season and this match is decisive for the local tournament, it can knock the "skyblues" out of the Premier League race.
https://twitter.com/ManCityES/status/1641810328215511041?s=20


Fuente/Sourse
---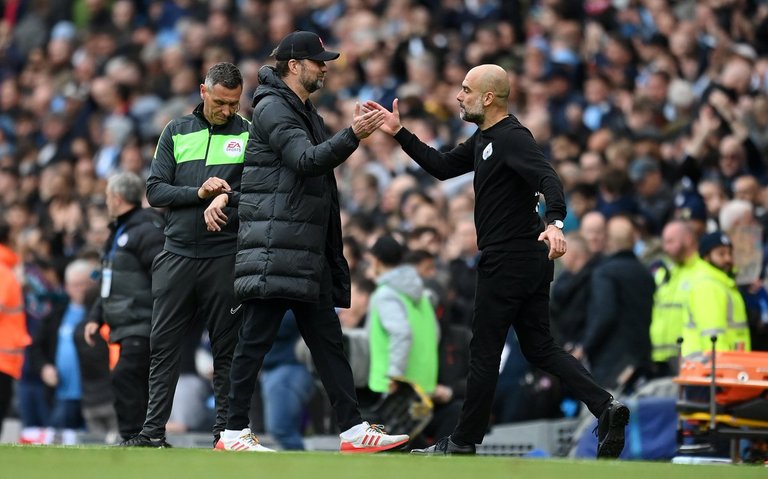 ---
Estadísticas Previas al Partido

Traducción del Texto Cortesía Deepl
Banner Elaborado en Canva
---
---
---