EL CITY AVISA. [es/en]
---
Regresa la UEFA Champions League y nosotros los amantes del más universal sentimos sensaciones exorbitantes por el gran espectáculo que siempre nos prepara este evento. La emoción de la competición en forma de eliminatoria más importante de Europa es inigualable. El City lo sabe, y desde que Guardiola asumió el mando, ha estado peleando cada temporada por ganar el trofeo que marcará la época dorada en la historia del club. A medida que se acerca el final de la temporada, el equipo parece haber encontrado una urgente necesidad de prepararse con todo para afrontar con buen rigor los meses finales de todas las competiciones, incluyendo como es lógico la máxima cita de clubes de Europa.
The UEFA Champions League is back and we, the lovers of the most universal football, feel exorbitant sensations for the great spectacle that this event always prepares for us. The excitement of Europe's most important knockout competition is unmatched. City know this, and since Guardiola took over, they have been fighting every season to win the trophy that will mark the golden era in the club's history. As the end of the season approaches, the team seems to have found an urgent need to prepare with everything in order to face the final months of all competitions, including, of course, Europe's top club competition.
https://twitter.com/ManCityES/status/1635687232567934976?s=20


Fuente/Sourse
---
El primer partido (ida) en Alemania fue muy ajustado, digno de Champions League. Los pupilos de Guardiola en la primera parte estuvieron muy fuertes y aprovecharon este gol de Mahrez. La sensación de superioridad fue total, y el marcador 1-0 pareció corto, como se vio en el campo. Sin embargo, el RB Leipzig estuvo a la altura de las circunstancias en la segunda mitad. Tuvo 30 minutos en su mejor momento y Gvardiol aprovechó para crecerse como bien lo hizo en el mundial pasado, esta vez, marcando la igualdad.
The first match in Germany was very tight, worthy of Champions League. Guardiola's men were very strong in the first half and took advantage of this goal by Mahrez. The feeling of superiority was total, and the 1-0 scoreline seemed short, as was evident on the pitch. However, RB Leipzig rose to the occasion in the second half. They had 30 minutes at their best and Gvardiol took advantage to grow as he did so well in the last World Cup, scoring the equalizer.
https://twitter.com/ManCityES/status/1635714035273400321?s=20


Fuente/Sourse
---
Con apenas cinco partidos en la Liga de Campeones, el Leipzig en una ocasión llegó incluso a semifinales, donde cayó en un partido crucial en Lisboa ante el Paris Saint-Germain, eliminando al Atlético de Madrid. Además, también estuvieron en la final de Europa la temporada pasada, perdiendo ante el Rangers en las semifinales de la Europa League. Siempre es de temer de un equipo así, además buenas actuaciones de la Bundesliga donde siempre están en la pelea por puestos en la parte superior de la clasificación.
With just five matches in the Champions League, Leipzig once even reached the semifinals, where they lost in a crucial match in Lisbon to Paris Saint-Germain, eliminating Atletico Madrid. In addition, they were also in the European final last season, losing to Rangers in the Europa League semifinals. It is always to be feared from such a team, in addition to good performances in the Bundesliga where they are always in the fight for places at the top of the standings.
https://twitter.com/ManCityES/status/1635717091654238229?s=20


Fuente/Sourse
---
Erling Haaland, invencible, poderoso y desprotegido, mostró una forma nunca antes vista en un partido de la Liga de Campeones en el Etihad, cuando el City goleó al RB Leipzig por 7-0 para avanzar a los cuartos de final en este evento. El noruego anotó cinco de los siete goles del equipo en una actuación memorable que contó con Ilkay Gundogan y Kevin De Bruyne.
Erling Haaland, invincible, powerful and unprotected, showed form never before seen in a Champions League match at the Etihad as City thrashed RB Leipzig 7-0 to advance to the quarter-finals of the quarter-final. The Norwegian scored five of the team's seven goals in a memorable performance that featured Ilkay Gundogan and Kevin De Bruyne.
---
Evidentemente, hubo un solo nombre sobre la cancha, pero no pudo opacar el talento grupal que de la mano de Erling Haaland llevaron al club a un récord, igualando su mejor resultado en la Champions League, y el Club ya está entre los ocho primeros de Europa por octava vez en su historia. El City se ha clasificado para la Champions League por sexta vez consecutiva.
Clearly, there was only one name on the pitch, but it could not overshadow the group talent that under Erling Haaland led the club to a record-equaling best-ever Champions League finish, and the Club is now in the top eight in Europe for the eighth time in its history. City has qualified for the Champions League for the sixth time in a row.
---
En esta ocasión la circunstancia era nueva, sin ventaja en la eliminatoria por primera vez, tras el empate 1-1 en Leipzig, aunque el Etihad es una fortaleza casi inexpugnable de la que solo Everton, empate, y Brentford, victoria, han sacado un resultado favorable en sus visitas esta temporada.
This time the circumstance was new, with no advantage in the tie for the first time, after the 1-1 draw in Leipzig, although the Etihad is an almost impregnable fortress from which only Everton, draw, and Brentford, win, have obtained a favorable result in their visits this season.
---
Pero el City, con un solo cambio respecto al once que el sábado superó al Crystal Palace, Kevin De Bruyne por Phil Foden, dominó de principio a fin, con tempraneras ocasiones de Gündogan y Haaland. Sin embargo, el partido cambió por completo cuando el VAR concedió al City un penalti por mano de Henrichs tras un saque de esquina. Asumió la responsabilidad Erling y anotó su primer gol de la noche.
But City, with only one change from the eleven that beat Crystal Palace on Saturday, Kevin De Bruyne for Phil Foden, dominated from start to finish, with early chances for Gündogan and Haaland. However, the game changed completely when VAR awarded City a penalty for handball by Henrichs following a corner. Erling took the responsibility and scored his first goal of the night.
---
Sin tiempo para el respiro, apenas un minuto después, la voracidad del equipo en la presión le permitió recuperar un balón que llegó a De Bruyne y el rechazó tras el disparo al larguero del belga lo cazó Haaland para doblar la ventaja. Cuando parecía que el partido iba a ponerse 2-0 en el descanso, Rubén Díaz se adelantó, y cuando el balón cruzó la línea de gol, Haaland venció a la defensa y ganó un hat-trick.
With no time for respite, barely a minute later, the team's voracious pressing allowed them to win back a ball that found its way to De Bruyne and the rebound after the Belgian's shot hit the crossbar was pounced upon by Haaland to double the lead. When it looked like the game would be 2-0 at the break, Ruben Diaz stepped up, and when the ball crossed the goal line, Haaland beat the defense to win a hat-trick.
https://twitter.com/ManCityES/status/1635738604533153814?s=20


Fuente/Sourse
---
La segunda parte empezó como finalizó la primera. Pero esta vez Gündogan, no Haaland, encontró una red rival. Una gran jugada en equipo acabó con el balón en los pies de Grealish, servido por Gündogan en la frontal de área. Recorte con la derecha, disparo raso y cruzado con la izquierda para el cuarto del City.
The second half began as the first ended. But this time Gündogan, not Haaland, found an opposing net. A great team move ended with the ball at the feet of Grealish, served by Gündogan on the edge of the box. A right-footed cutback, low left-footed cross for City's fourth.
https://twitter.com/ManCityES/status/1635745491630673941?s=20


Fuente/Sourse
---
Haaland volvió a mostrar su mejor forma, anotando su cuarto y quinto gol. Empezó a buscar el balón después de que su cabezazo lo detuvo Blaswich tras un córner, y se encontró con otro balón dejado muerto en el área por el jugador alemán.
Haaland again showed his best form, scoring his fourth and fifth goal. He started looking for the ball after his header was saved by Blaswich following a corner, and found himself with another ball left dead in the box by the German player.
https://twitter.com/ManCityES/status/1635748438238285827?s=20


Fuente/Sourse
---
Los cinco goles de Haaland en el minuto 62. Julián Álvarez ocupó su lugar en el campo en la última hora. Y para rematar la celebración, De Bruyne haciendo algo similar a Kevin De Bruyne, con un derechazo imparable a la escuadra para colocar el séptimo en el último minuto.
Haaland's five goals in the 62nd minute, with Julian Alvarez taking his place on the field in the final hour. And to cap the celebration, De Bruyne did something similar to Kevin De Bruyne, with an unstoppable right-footed shot into the top corner for a seventh in the final minute.
https://twitter.com/ManCityES/status/1635754959026176001?s=20


Fuente/Sourse
---
Haaland es el tercer jugador que marca cinco goles en un partido de Champions, tras Leo Messi con el Barcelona en 2012 contra el Bayer Leverkusen y Luiz Adriano, con el Shakhtar, ante el BATE Borisov en 2014. Erling es el jugador más joven en alcanzar la treinta de goles en la competición, por delante de Kylian Mbappé. Solo necesitó 25 partidos para alcanzar los 30 goles. Con un total de 33, igualó a Fernando Morientes y superó en un solo partido a David Trezeguet, Roy Makaay y Patrick Kluivert (29), Samuel Eto'o, Antoine Griezmann, Wayne Rooney y Kaká (30) y Arjen Robben (31) en la lista de máximos goleadores de la Liga de Campeones. 39 goles en 36 partidos con el City desde su llegada el pasado verano.
Haaland is the third player to score five goals in a Champions League match, after Leo Messi for Barcelona in 2012 against Bayer Leverkusen and Luiz Adriano for Shakhtar against BATE Borisov in 2014. Erling is the youngest player to reach 30 goals in the competition, ahead of Kylian Mbappé. He needed just 25 games to reach 30 goals. With a total of 33, he equaled Fernando Morientes and surpassed David Trezeguet, Roy Makaay and Patrick Kluivert (29), Samuel Eto'o, Antoine Griezmann, Wayne Rooney and Kaka (30) and Arjen Robben (31) in the list of top scorers in the Champions League by a single match. 39 goals in 36 appearances for City since his arrival last summer.
https://twitter.com/ManCityES/status/1635769142912450561?s=20


Fuente/Sourse
---
La visita a Manchester del Burnley dirigido por Vincent Kompany el sábado en la FA Cup dará paso a la última ventana internacional de la temporada 2022/23. El City regresará a la competición con un partidazo, la visita del Liverpool al Etihad en la Premier League, para cerrar el mes de marzo.
The visit to Manchester of Vincent Kompany-led Burnley on Saturday in the FA Cup will usher in the final international window of the 2022/23 season. City will return to competition with a big game, the visit of Liverpool to the Etihad in the Premier League, to close out the month of March.
https://twitter.com/ManCityES/status/1635787894693478400?s=20


Fuente/Sourse
---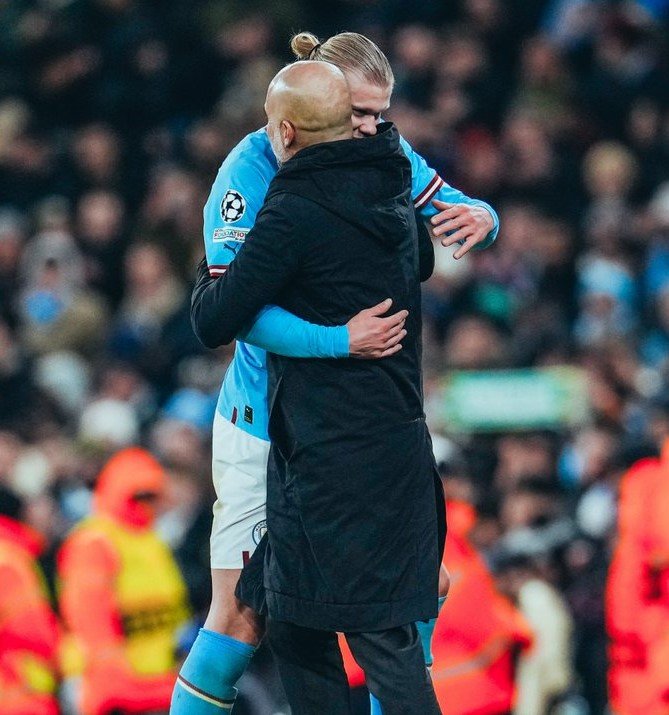 Traducción del Texto Cortesía Deepl
Banner Elaborado en Canva
---
---