El Barcelona que encanta: Barcelona 4-0 Real Valladolid [ ESP | ENG ]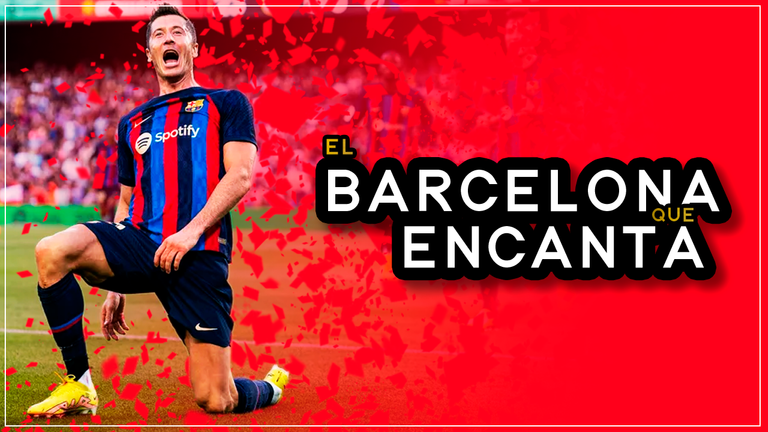 Robert Lewandowski celebra su gol
Tres partidos no definen La Liga ni mucho menos son suficientes para determinar con claridad el rumbo de un equipo en una competición tan larga y desgastante. Sin embargo lo demostrado por el Barcleona este domingo 28 de agosto podría verse con esperanza; una posible luz al final del túnel para equipo, afición y demás allegados, tras temporadas oscuras. Más que por el resultado, un contundente 4-0, dicha esperanza llega gracias la muestra de calidad, la soltura en el campo y la capacidad de resolver bien en situaciones complicadas. Mientras escribo esto creo que he tenido la dicha de ver los mejores 90 minutos del Barcelona reciente, un destello de ese equipo que logró conquistar título sobre título en antaño, ese que encanta.
Hoy encantó desde el minuto 1'. El rival, un Real Valladolid que venía con paso firme tras rasgar un punto frente al Sevilla (1-1) en el Sánchez Pizjuán, pasó los primeros 10' minutos sin tocar el balón. Un minuto después un cabezazo de Robert Lewandowski ya avisaba lo que sería la pauta en el compromiso: una lluvia de goles, con dominio total azulgrana. Antes de abrir el marcador los de Xavi Hernández tuvieron ocasiones claras como la de Gavi al 15', quien recibió un balón filtrado al costado derecho del área y perdió la oportunidad por aparentemente dudar entre centrar o pegarle. Avanzados seis minutos Ousmane Dembélé dio su primer anuncio estrellando la esférica en el poste lateral.
No obstante, el mejor de los catalanes no estuvo entre ninguno de los antes mencionados; aunque el primero y el último bien podrían formar parte del top de desempeños. Este fue el día de Raphinha; amo y señor de la banda derecha por los 61' que disputó (a pesar de que por momentos alternó con Dembelé), quien abrió el juego culé en todos los tramos del cotejo. Era cuestión de tiempo para que él controlara por el costado del engramado, recortara ante la presión de Iván Sánchez y, como si la pelota fuera una extensión de su pie, enviara un centro magistral que parara en el botín de Robert Lewandowski. No era para menos que el brasileño saliera ovacionado en su sustitución.
Los locales, con una comodidad apabullante en casa, se atrevieron a más de lo que habían hecho en enfrentamientos anteriores. Lewandowski, además del 1-0, conseguiría marcar un tanto más, con una exquisitez de taco (3-0), mientras que Dembélé, con par de asistencias, seguramente reafirmó que la titularidad es suya y comienza a ganarse, ahora sí, el cariño de la afición blaugrana. Marc-André ter Stegen se vio firme frente a las ocasiones peligrosas en las que tuvo que reaccionar; y tal parece que el mediocampo encontró en Pedri (autor del segundo gol), sin ánimos de sobrevalorar, a alguien con gestos técnicos de un joven Andrés Iniesta. Mención especial a Alejandro Balde, quien a sus 18 años asumió de forma decente su segunda titularidad de la temporada.
Sergi Roberto cerró el telón (4-0) de un partido que, según la opinión de un servidor, será histórico (al menos en mi memoria). El día que el Fútbol Club Barcelona "despertó". No por la fiereza del rival, sin intención de desmeritar a un muy bien armado Real Valladolid, ni mucho menos el resultado –es lo de menos–, sino porque es el día, tal como mencioné al inicio de estas líneas, en el que se manifestó ese Barcelona que encanta ver jugar, que se desenvuelve como ningún otro equipo, un Barcelona que seguramente brindará un espectáculo que disfrutaré ver el resto de la temporada.
Juan Pavón Antúnez

Three matches do not define La Liga, nor are they enough to clearly determine the direction of a team in such a long and exhausting competition. However, what Barcleona showed this Sunday, August 28, could be seen with hope; a possible light at the end of the tunnel for the team, fans and other supporters, after dark seasons. More than the result, a resounding 4-0, such hope comes thanks to the display of quality, the fluency on the field and the ability to solve well in complicated situations. As I write this I think I have had the joy of seeing the best 90 minutes of recent Barcelona, a flash of that team that managed to conquer title after title in the past, the one that enchants.
Today it enchanted from minute 1. The opponent, a Real Valladolid that was coming with a firm step after a point against Sevilla (1-1) at the Sánchez Pizjuán, spent the first 10 minutes without touching the ball. A minute later, a header by Robert Lewandowski already gave a warning of what would be the pattern of the match: a rain of goals, with total domination by the blue and reds. Before opening the scoring, Xavi Hernandez's men had clear chances, such as Gavi's 15', who received a filtered ball on the right side of the area and missed the opportunity by apparently hesitating between crossing or hitting the ball. After six minutes, Ousmane Dembélé gave his first warning, crashing the ball against the side post.
However, the best of the Catalans was not among the aforementioned; although the first and last well be part of the top performances. This was Raphinha's day; master and lord of the right flank for the 61' he played (even though he alternated with Dembelé at times) and opened up the game in all parts of the match. It was only a matter of time before he controlled down the side of the pitch, cut back under pressure from Iván Sánchez, and as if the ball were an extension of his foot, sent in a masterful cross that found the boot of Robert Lewandowski. It was no wonder that the Brazilian came on for his substitution to a standing ovation.
The home side, in overwhelming comfort at home, dared more than they had done in previous matches. Lewandowski, in addition to the 1-0, would manage to score one more goal, with an exquisite backheel (3-0), while Dembélé, with a pair of assists, surely reaffirmed that the starting lineup is his and begins to win, now yes, the affection of the blaugrana fans. Marc-André ter Stegen was firm in front of the dangerous occasions in which he had to react; and it seems that the midfield found in Pedri (author of the second goal), without wanting to overestimate, someone with technical gestures of a young Andrés Iniesta. Special mention should be made of Alejandro Balde, who at 18 years of age made a decent start for his second of the season.
Sergi Roberto closed the curtain (4-0) on a match that, in my opinion, will be historic in my memory. The day when FC Barcelona "woke up". Not because of the fierceness of the opponent, without intending to belittle a very well-armed Real Valladolid, much less the result -that is the least of it-, but because it is the day, as I mentioned at the beginning of these lines, in which the Barcelona that I love to see play, that performs like no other team, a Barcelona that will surely provide a show that I will enjoy watching for the rest of the season, was manifested.
Juan Pavón Antúnez
Translated with the help of DeepL || Traducido con la ayuda de DeepL


---
---