Más de una década de alto rendimiento: Tomás Rincón y su debut con la Sampdoria [ESP|ENG]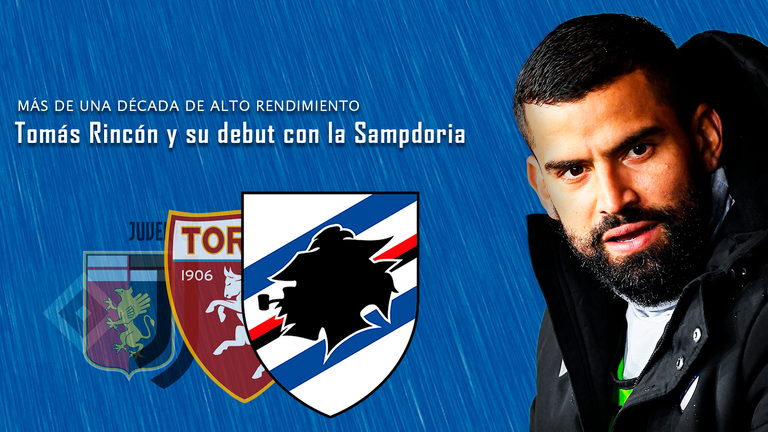 Poco tardó Tomás Rincón en debutar y figurar con la Sampdoria. Ante el Napoli, en el estadio Diego Armando Maradona, el exjugador del Torino, y de otros tantos, ingresó al partido. Su nuevo equipo perdió, aunque el Vinotinto dejó buenas sensaciones en el campo y, más importante, buenos números.
En el entretiempo 'La Samp' se marchó con un resultado adverso (1-0); a esto Roberto D'Aversa buscó una solución en el venezolano, que saltó al campo al inicio del segundo tiempo como relevo del sueco Albin Ekdal. A pesar de que los visitantes tuvieron oportunidades de igualar el resultado el gol no llegó. Mientras que, por su parte, Rincón desempeñó unos minutos más que decentes. El portal SofaScore lo posicionó como el mejor de su equipo en este cotejo.
Una efectividad de pases del 81% (26 de 32), 40 toques de balón, un pase clave y seis duelos individuales ganados, son algunas de las estadísticas –tomadas también de SofaScore– que dejó el capitán de la Vinotinto. Su ingreso, de cierta forma, cambió el rumbo del compromiso, sin embargo tampoco fueron sus minutos más lúcidos y, aunque al final no bastó, quedó claro que cumplió con el rol defensivo por el cual entró al cotejo, tal como se puede ver en la gráfica anexa abajo.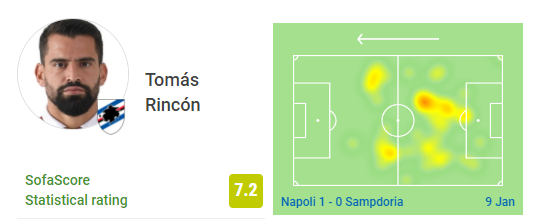 Captura de pantalla del sitio web de SofaScore
Probablemente, ese rol defensivo, acostumbrado para el venezolano, será lo que veremos el resto de la temporada. La Sampdoria sufre para convertir goles y también para no recibirlos; y es esto último lo que posiblemente derivó en la contratación de Rincón. Ahora, resulta alarmante que la escuadra sume cuatro jornadas sin ganar; solo dos puntos de 12 posibles y, con 20 unidades en 21 fechas, tantean peligrosamente la zona del descenso (Cagliari con 13 puntos).
Cuesta arriba, así comenzó un nuevo capítulo para el 'General' que, a sus 33 años, está acostumbrado a jugar en equipos sometidos a esa presión de no descender en cada temporada. Se mantiene por catorceavo año consecutivo en las ligas de más alto nivel competitivo de Europa. Se dice fácil: «13 años en Europa», que pasan volando. Más de una década entre la Serie A y la Bundesliga se traduce en un rendimiento del que muy pocos deportistas podrían presumir, más aun si le sumamos haber participado en la Europa League y Champions League, vestir los colores de un gigante como la Juventus de Turín, y ser campeón en las máximas competiciones del fútbol italiano.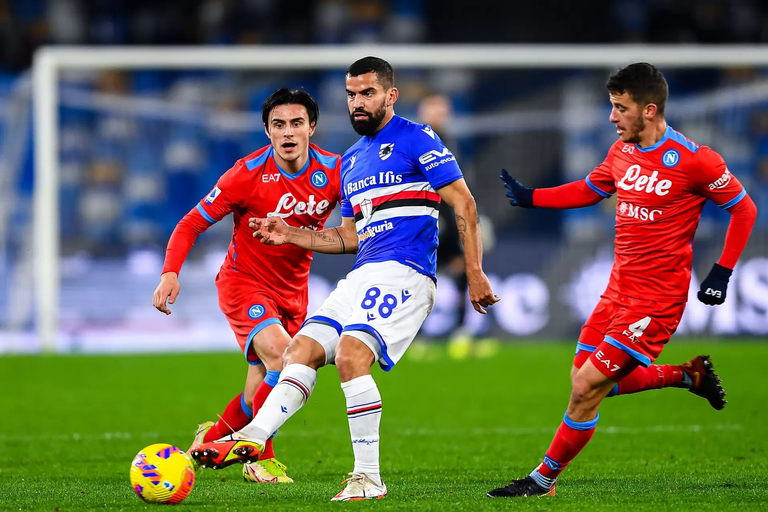 XXX
Juan Pavón Antúnez

It didn't take long for Tomás Rincón to make his debut and feature for Sampdoria. Against Napoli at the Diego Armando Maradona stadium, the former Torino player, and many others, entered the match. His new team lost, but the Vinotinto left a good feeling on the pitch and, more importantly, good numbers.
At half-time 'La Samp' left with an adverse result (1-0); to this Roberto D'Aversa looked for a solution in the Venezuelan, who came on at the start of the second half as a substitute for the Swedish Albin Ekdal. Although the visitors had chances to equalise, the goal was not forthcoming. Meanwhile, Rincón played a more than decent few minutes. The SofaScore portal ranked him as the best of his team in this match.
A passing efficiency of 81% (26 out of 32), 40 touches, one key pass and six individual duels won, are some of the statistics (also taken from SofaScore) that the Vinotinto captain left. His introduction, in a way, changed the course of the match, but it was not his most lucid minutes and, although in the end it was not enough, it was clear that he fulfilled the defensive role for which he entered the match, as can be seen in the attached graphic below.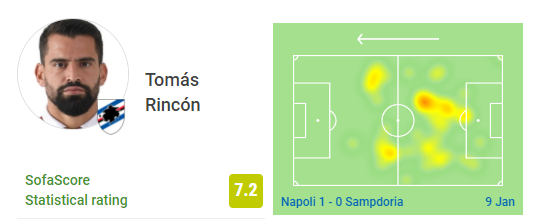 Screenshot taked from SofaScore website
This defensive role, which the Venezuelan is used to, will probably be what we will see for the rest of the season. Sampdoria are struggling to score goals and also to keep them out, and it is the latter that probably led to the signing of Rincón. Now, alarmingly, the team has gone four games without a win; only two points from a possible 12 and, with 20 points from 21 games, they are dangerously close to the relegation zone (Cagliari with 13 points).
A new chapter has begun for the 'General' who, at 33 years of age, is used to playing for teams under pressure to avoid relegation every season. He remains for the 14th consecutive year in Europe's most competitive leagues. It's easy to say: "13 years in Europe", which flies by. More than a decade between the Serie A and the Bundesliga translates into a performance that very few athletes could boast, even more if we add to it having participated in the Europa League and Champions League, wearing the colours of a giant like Juventus, and being champion in the top competitions of Italian football.
Post translated with (much) help from DeepL
Las fotografías usadas para este post las tomé de la web de la U.C. Sampdoria


---
---