3 of 5 .:. #MyHiveGoals December 5th, 2021
As I didn't create content the week before, I didn't have a flow of sweet author rewards during this week... This means that most of my rewards are from curating content... Also, I wasn't that active this week either as I'm still having some health issues, but it's getting better...
The good news is that I have reached another YEARLY goal which makes it 3/5 and I have only 2 more goals to accomplish! I have collected more than 2800 cards in the Rising Star game which was my revised goal for this year... Firstly, my goal was to get 200 cards, but I have bumped up that goal to 2500, and later to 2800... I will not raise the bar more, but I do expect to get to 3000 cards in December!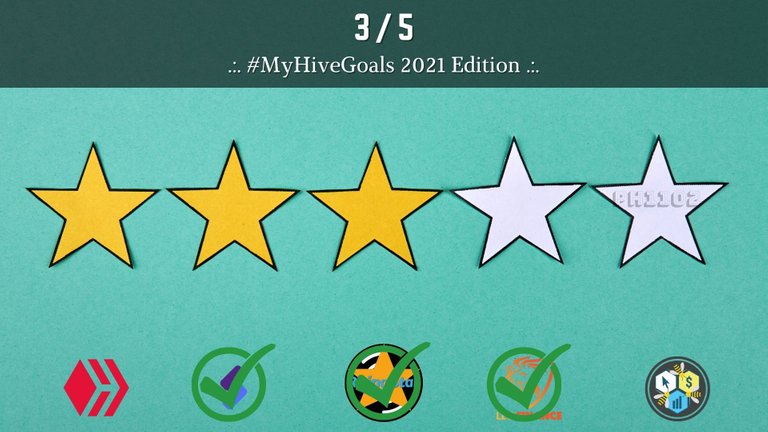 Created in Canva.com
So, let's see what happened during this week and how other numbers are going...

As you already know, one of the most important goals for me is the HIVE Power goal... Same as the Rising Star goal, I have also revised my HP goal twice during the year... My first goal was to reach 25K, then I raised it to 26K, and in the end, I have fixed my yearly goal to 28K...
It's not easy to get there, especially with a higher value of HIVE tokens... As we are in December, I have participated in this month's #HivePUD and powered up another 1K HIVE tokens in ONE day! That's my second month in a row and it would be awesome if I could continue with that tradition during the next year too...
That big power-up helped me to get very close to reaching those 28K and I'm at only 94 HP to get there! Of course, as the end of the year is near, I'm already preparing for the next one...

As you already see on this big thumbnail, I have reached my LEO Power goal for this year, but I have power-up another 47 LEO tokens during the week which were mostly earned from curation... The problem with following this goal is that I have LEO tokens all over the place... This 14.5 K is in the LEO POWER, but I have a lot more in the liquidity pool on CUBDefi, and I'm accumulating (buying) more for the Polycubs launch... So, maybe I will skip this goal next year, just because of this... I'm a huge fan of LEO tokens that's for sure, but the LEO Power doesn't represent my real portfolio...
And I have to repeat myself... The LEO token is one of the most undervalued tokens on the Hive-Engine! My personal opinion and not financial advice :)

It's finally begun... The CTP Power Up challenge organized by @achim03 (@ctpsb) has started on December 1 and I had some tokens that I was accumulating a few weeks ago... So, I have entered the challenge and powered them up which helped me to narrow the difference to my CTP Power goal... To be more exact, I have powered up over 3600 CTP tokens this week and I need a bit more than 10K tokens more to reach my goal! It looks that there will be some buying... :)
Luckily, I have reached my SPORTS POWER goal 3 weeks ago, being sick for almost 2 weeks didn't allow me to go for my daily walks and do my Actifit reports... That was my main income of SPORTS tokens for months and I had to rely only on curation rewards for the past 10-15 days... But, as I said, the goal was reached so no worries... I'm continuing with adding SPORTS POWER and building it up! A bit over 200K was added this week!

GAMING GOALS
Being locked to bed didn't stop me from playing the RISING STAR game! I didn't buy and open packs as I would do usually, but I was collecting STARBITS from missions... As I felt better this week, I got back to my regular packs opening and that pushed me over my YEARLY goal in the number of NFTs in the game... I have reached the goal and pushing toward 3K cards until the end of December! I will probably continue with following this goal in 2022, too! Maybe 10K cards in 2022, or more?

In the end, I would like to make an update of my current numbers (December 5th, 2021) on #MyHiveGoals: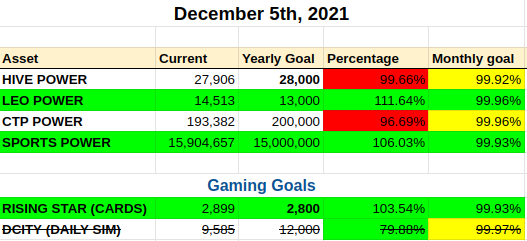 Join us in this awesome #MyHiveGoals and let's grow together! You can find the original post about the challenge by @robwillmann here.
Thank you for your time,
~ph~

The link to my initial 2021 Goals Edition is here...
These are my initial goals for 2021 on January 15th, 2021, and this #MyHiveGoals Challenge:
HIVE POWER - 20,000 / 25,000    80.00%  needed monthly grow 1.66%
LEO POWER     - 8,000 / 12,000  66.00%  needed monthly grow 2.83%
CTP POWER - 150,000 / 200,000   75.00%  needed monthly grow 2.08%
SPORTS POWER   - 5M / 15M       33.33%  needed monthly grow 5.55%

Gaming Goals:
RISING STAR (CARDS) - 189 / 2,000    9.45%  needed monthly grow 7.54%
DCITY (DAILY SIM) - 5,488/ 12,000   45.73%  needed monthly grow 4.52%   (base Income - before taxes) - goal dropped 06.06.2021.

The revised goals - May 16th, July 4th, November 7th 2021:
HIVE POWER - 26,000 --> 28,000 (2nd revision)
LEO POWER - 13,000
RISING STAR (CARDS) - 2,500 --> 2,800 (2nd revision)


If you want to support my witness, you can do it by voting for @ph1102.ctp here https://tribaldex.com/witnesses, or just scan the QR code down below...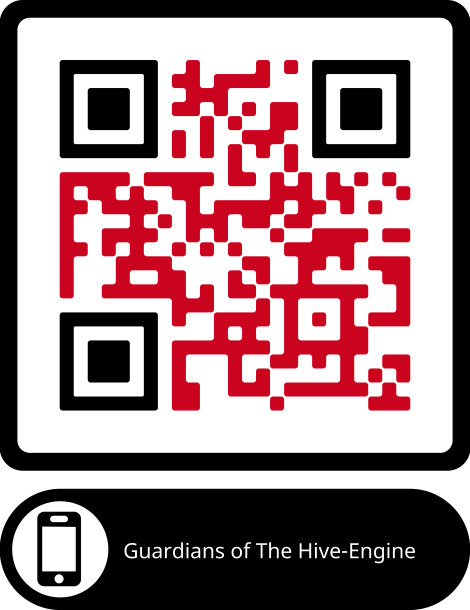 Don't forget to follow, reblog, and browse my Hivepage to stay connected with all the great stuff!
You can also find me on LEO Finance .:. Twitter .:. LBRY
---
---