Adjusting My Hive Goals! .:. #MyHiveGoals November 7th, 2021
I have done it again... Or better said, for the 3rd time... I have revised #MyHiveGoals and bumped up 2 goals from my yearly list of goals... I have done that back in May and July, bumping up LEO and HIVE Power, and adding the new goal for the Rising Star game.
During the past month, I was thinking about doing it again, but I wasn't clear what I want to accomplish... When I started with visualizing the goal of reaching the ORCA rank at the end of the next year, it was a clear sign that I have to start working on it ASAP!
To get the ORCA rank, you have to have over 50K HivePower and that's like a double that I have at this moment... One year isn't enough to get there, but if I have a "jump-start" maybe I have a chance...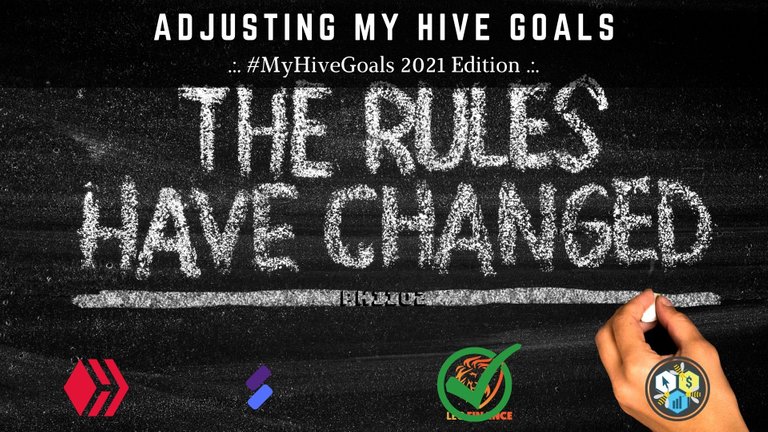 Created in Canva.com
Let's break down all goals and see how they look this week...

As always, the most important of all is my HIVE Power goal... I'm laser-focused on it and already looking into the next year... But, before that, I had to kick myself in the butt by raising this goal for THIS year and keep myself, even more, focused on the "prize"... So, I have raised the bar for this goal from 26K to 28K HivePower until the end of this year!
I have already done one huge step this month, on the #HivePUD, I have powered up 1000 Hive tokens! Also, during the rest of the week, I have added another 100 HIVE tokens to my staking balance! So, 1100 HP in total for 1 week! It would be nice to do that every week... :)

I'm not sure if I should write about my LEO Power goal as I have reached it last month, but maybe I can share some of my future moves with you guys... Well, I have added over 150 LEOPower to my balance during the week, but I will slow down with that probably... In the next month or two, I will invest my LEO earnings into Defi projects like CUBDefi on the BSC chain, but also, in the new PolyCUBs project that is coming next week... I don't plan to sell my LEO tokens, but thinking about investing them in separate sub-projects from the LEO team!

Last week I have mentioned the CTPSB Power Up Challenge, but we didn't have any specific date when it will be held... Just today, @achim03 has officially announced that it will be from 1.12.2021 to 22.12.2021... What does that mean for my CTP Power goal? Well, I'm a big fan of the CTPSB token and I will participate in that event... That means that I will accumulate tokens until that date without powering them up... So, this goal will be boring for the next 3 weeks, but after that... BOOOOM! :) :)
The SPORTS POWER goal is going exactly as planned... It is on 99.08% and I need a bit over 100K SPORTS tokens to reach it... In the last report, I said that it will maybe happen in mid-November and that is still a good call... Maybe it will be the second part of the month, but it will happen soon!

GAMING GOALS
I have decided to re-activate my RISING STAR goal again! I know that I have colored it in green last week, but I want to keep myself motivated to grow my card base further... So, I have bumped my total number of cards goal from 2500 to 2800! It is 300 cards more for less than 2 months! I have already collected 2580, so "only" 220 more to go... Will that happen? This week, it is colored in red, we will see the next week...

In the end, I would like to make an update of my current numbers (November 7th, 2021) on #MyHiveGoals: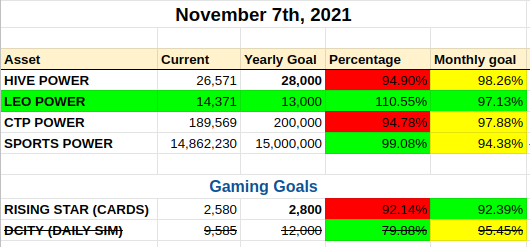 Join us in this awesome #MyHiveGoals and let's grow together! You can find the original post about the challenge by @robwillmann here.
Thank you for your time,
~ph~

The link to my initial 2021 Goals Edition is here...
These are my initial goals for 2021 on January 15th, 2021, and this #MyHiveGoals Challenge:
HIVE POWER - 20,000 / 25,000    80.00%  needed monthly grow 1.66%
LEO POWER     - 8,000 / 12,000  66.00%  needed monthly grow 2.83%
CTP POWER - 150,000 / 200,000   75.00%  needed monthly grow 2.08%
SPORTS POWER   - 5M / 15M       33.33%  needed monthly grow 5.55%

Gaming Goals:
RISING STAR (CARDS) - 189 / 2,000    9.45%  needed monthly grow 7.54%
DCITY (DAILY SIM) - 5,488/ 12,000   45.73%  needed monthly grow 4.52%   (base Income - before taxes) - goal dropped 06.06.2021.

The revised goals - May 16th, July 4th, November 7th 2021:
HIVE POWER - 26,000 --> 28,000 (2nd revision)
LEO POWER - 13,000
RISING STAR (CARDS) - 2,500 --> 2,800 (2nd revision)


If you want to support my witness, you can do it by voting for @ph1102.ctp here https://tribaldex.com/witnesses, or just scan the QR code down below...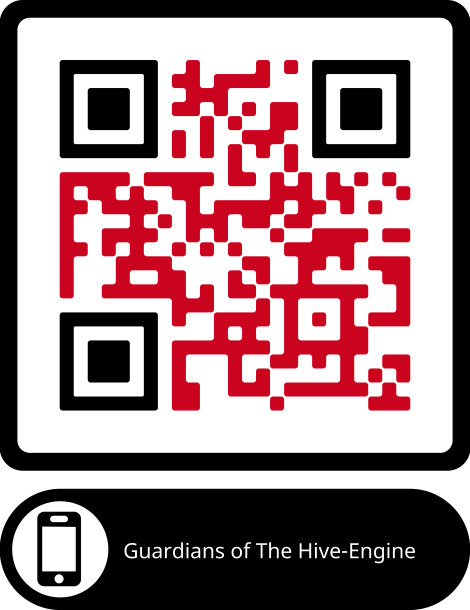 Don't forget to follow, reblog, and browse my Hivepage to stay connected with all the great stuff!
You can also find me on LEO Finance .:. Twitter .:. LBRY
---
---