Buckle Your Seatbelt Dorothy... .:. #MyHiveGoals October 10th, 2021
In the last month or two, everyone was talking (and still talking) about #play2earn, and one of the main games in the whole crypto world is definitely our Splinterlands! And we aren't yet come to the best part...
So, in 7 days we will have the launch of the new Chaos Legion edition card packs and it will connect a lot of dots that are currently "disconnected"... You will have the ability to use SPS tokens for having a 10% discount on packs, you will need VOUCHER tokens for every pack that you buy, and to collect these two tokens you have to hold certain SL assets...
If you ask me, Splinterlands is preparing a perfect storm here... If you check markets you will see that the SPS token was going over $1 and we still need freakin' 7 days to the launch... What will happen then? It will go over $2? Or maybe $3? Or even more?
Another look to the Hive-Engine markets and you will notice that VOUCHER tokens already have BUY orders at 3 HIVE and they aren't even minted yet! There are already 3K HIVE buy orders for the price over 1 HIVE! Just a notice that VOUCHER tokens will be even more limited than SPS tokens, so you can easier compare the possible value of it when they arrive at the markets... $20, $30 per token?
However, I don't want to pump the whole story even more (it's impossible to pump it more... lol...) as this looks for me, not as a perfect storm, but the perfect FOMO never seen before! As I don't like FOMO and FUD, I will probably skip all this craziness and try to add some crypto to the table from the end of this post...
I can't wait the next week and to see how much gains is possible to pull out from this Splinterlands party!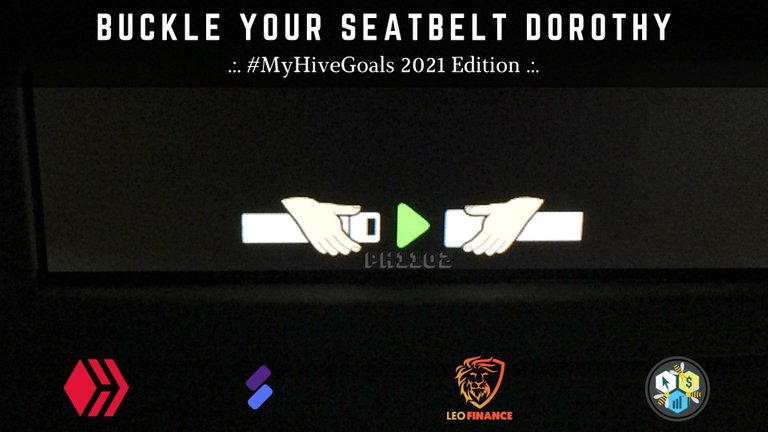 Created in Canva.com
I'm still looking into the next year and my ORCA rank goal and this October can be a nice harvest that could help a lot in having a better start of the year! Let the games begin! :)

I will not go deep into separate goals in this report, but the most obvious difference is that my Hive Power goal is colored in green! Also, a week ago I have mentioned that I would try to reach my yearly goal ASAP... Maybe the end of October is a good opportunity to do that?

My LEO Power goal is even in a better position than the HP goal... It's already at 97.49% of the yearly goal with the monthly goal already reached... Definitely helps a lot to have these numbers done as I can focus more on other goals...

The CTP Power goal is moving slowly, but it is moving... that is the most important... Again, I know why is that happening so that helps... On the other side, I need more action from my side to cope with the problem... Need more content out there, but for getting there, I need more time... And with that, I have had problems lately... For every problem, there is a solution and I'm working on it...
The SPORTS POWER goal is going well... I need a bit more than a million tokens until the end of the year and I'm sure I will get there... At least, I'm still very active with my daily Actifit reports so I have a steady income of SPORTS tokens from that... Also, it helps to have almost 14M tokens staked in accumulating curation rewards...

GAMING GOALS
The RISING STAR goal is a pleasure to "work" on as it's not a work at all... :) I like the game very much, and it's really a pleasure to open packs and collect cards... I still don't think about selling them as I'm sure that the value of cards will go up through time... Also, in the past week, I had for the first time situation that I could buy 3 times 12 packs from my earnings from the game... I didn't use that opportunity yet, but I probably in the near future... More packs, more giveaways! :)

In the end, I would like to make an update of my current numbers (October 10th, 2021) on #MyHiveGoals: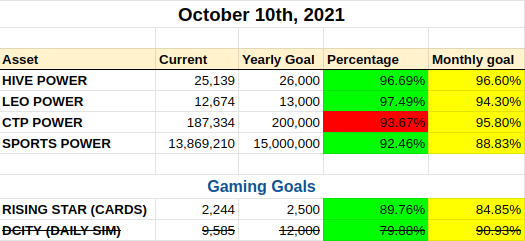 Join us in this awesome #MyHiveGoals and let's grow together! You can find the original post about the challenge by @robwillmann here.
Thank you for your time,
~ph~

The link to my initial 2021 Goals Edition is here...
These are my initial goals for 2021 on January 15th, 2021, and this #MyHiveGoals Challenge:
HIVE POWER - 20,000 / 25,000    80.00%  needed monthly grow 1.66%
LEO POWER     - 8,000 / 12,000  66.00%  needed monthly grow 2.83%
CTP POWER - 150,000 / 200,000   75.00%  needed monthly grow 2.08%
SPORTS POWER   - 5M / 15M       33.33%  needed monthly grow 5.55%

Gaming Goals:
RISING STAR (CARDS) - 189 / 2,000    9.45%  needed monthly grow 7.54%
DCITY (DAILY SIM) - 5,488/ 12,000   45.73%  needed monthly grow 4.52%   (base Income - before taxes) - goal dropped 06.06.2021.

The revised goals - May 16th, July 4th, 2021:
HIVE POWER - 26,000
LEO POWER - 13,000
RISING STAR (CARDS) - 2,500


If you want to support my witness, you can do it by voting for @ph1102.ctp here https://tribaldex.com/witnesses, or just scan the QR code down below...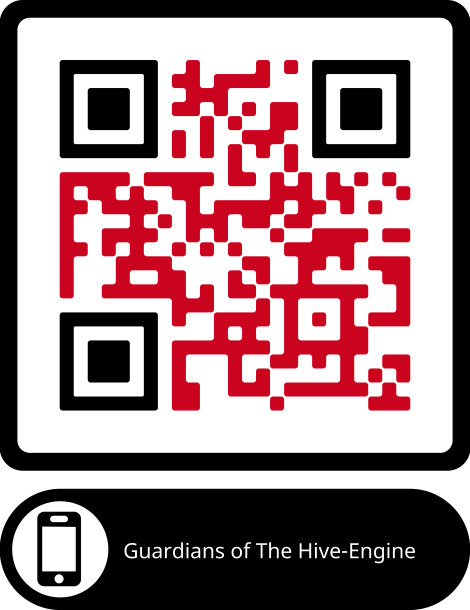 Don't forget to follow, reblog, and browse my Hivepage to stay connected with all the great stuff!
You can also find me on LEO Finance .:. Twitter .:. LBRY
---
---