LEO Power Goal - CHECKED! .:. #MyHiveGoals October 17th, 2021
When I have created these goals at the beginning of this year, I was calculating how many tokens can I earn every month, divided that into weeks, and finally into days... That gave me the picture of my POSSIBILITIES to reach those goals...
But, on that long road, I couldn't know what will bring the future and if you were done similar, it's the same for you... We can calculate and calculate, but life happens and sometimes ruin your plans... but sometimes it sweetens them... :)
The truth is, that in the end, most of the things ARE in YOUR hands... If you fall down, you still have time to get up and catch things up! Maybe you will not get there, but if you have done the most that you could, you are the winner!
Luckily, I have reached one of the #MyHiveGoals that I have created! I have reached my LEO tokens goal, even the second one that I have raised during the year!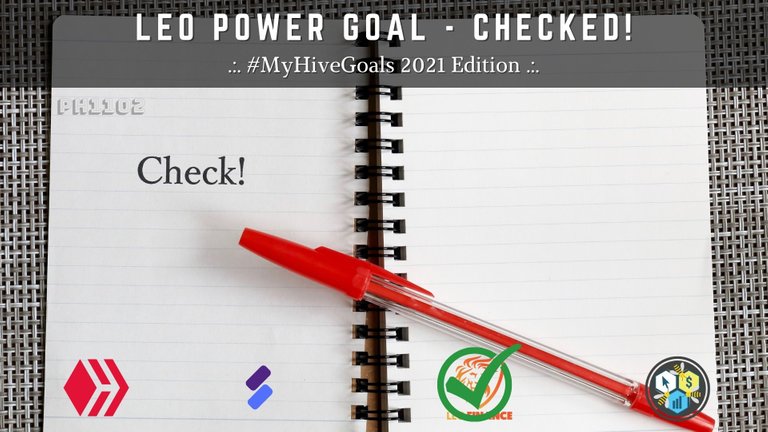 Created in Canva.com
Which one is the next that will have this checkmark over the logo? We will find it out soon!

My Hive Power goal was already in green and it got more "greener" in this week's report! :) Tomorrow is the first day of the Chaos Legion packs pre-sale and that can change a lot... What does that have in common with HIVE? Well, a lot as I plan to forward some of my earnings from Splinterlands into HivePower as I'm preparing myself for the big ORCA rank journey next year!

So, LEO Power goal is REACHED! I have already bumped up this goal for 1000 staked tokens and I was thinking of doing that again, but let us keep something for the next year... :) Just to clarify things... Reaching this goal doesn't mean that I will stop with LEO tokens accumulation! Hell no! LEO is one of my favorite tokens and I will build up my stake further... You will see another LEO power goal next year too!

I have added another thousand tokens to my CTP Power goal! I'm still short 12K CTP tokens and I have 2 and a half months to collect them... It will be a tough game, but with closing other goals, I can focus more on this goal...
The SPORTS POWER goal is still moving up nicely... This week, I have passed the magical 14 million mark and it looks unbelievable to just imagine that number! I have started this year with 5M tokens, which means that I have added 9M tokens during these 10 months! That is the biggest regarding tokens in #MyHiveGoals!

GAMING GOALS
There is a new special mission in the RISING STAR game that forced me to buy more packs lately... I was trying to get the Scary Mary NFT so I bought more packs as usual and still had no luck with that... In the end, I have exchanged it with @jfang003 so that I can finally do the special mission... If I got lucky, I will receive a couple of additional cards for doing that...

In the end, I would like to make an update of my current numbers (October 17th, 2021) on #MyHiveGoals: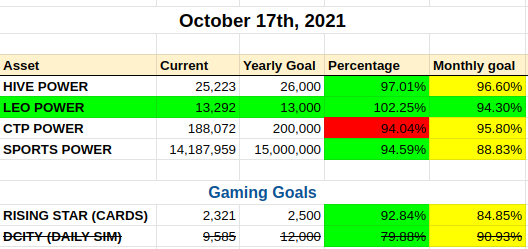 Join us in this awesome #MyHiveGoals and let's grow together! You can find the original post about the challenge by @robwillmann here.
Thank you for your time,
~ph~

The link to my initial 2021 Goals Edition is here...
These are my initial goals for 2021 on January 15th, 2021, and this #MyHiveGoals Challenge:
HIVE POWER - 20,000 / 25,000    80.00%  needed monthly grow 1.66%
LEO POWER     - 8,000 / 12,000  66.00%  needed monthly grow 2.83%
CTP POWER - 150,000 / 200,000   75.00%  needed monthly grow 2.08%
SPORTS POWER   - 5M / 15M       33.33%  needed monthly grow 5.55%

Gaming Goals:
RISING STAR (CARDS) - 189 / 2,000    9.45%  needed monthly grow 7.54%
DCITY (DAILY SIM) - 5,488/ 12,000   45.73%  needed monthly grow 4.52%   (base Income - before taxes) - goal dropped 06.06.2021.

The revised goals - May 16th, July 4th, 2021:
HIVE POWER - 26,000
LEO POWER - 13,000
RISING STAR (CARDS) - 2,500


If you want to support my witness, you can do it by voting for @ph1102.ctp here https://tribaldex.com/witnesses, or just scan the QR code down below...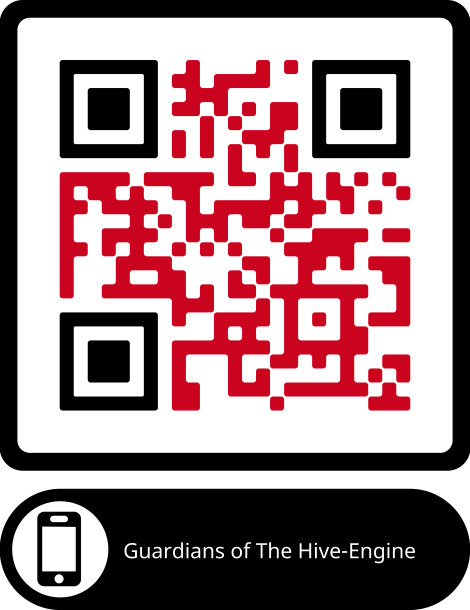 Don't forget to follow, reblog, and browse my Hivepage to stay connected with all the great stuff!
You can also find me on LEO Finance .:. Twitter .:. LBRY
---
---