One More To Go .:. #MyHiveGoals December 19th, 2021
Only 11 days more until the end of the year and I have reached most of my goals for this year... I have raised the bar twice for my HIVE POWER goal and I'm happy to reach the second one during the past week! It was a crazy ride and it will be even crazier next year! :)
It was different this year than the year before as most of my HIVE tokens I have earned here on the chain... Mostly from creating and curating, but also by investing in Dieselpools, Splinterlands, Rising Star, etc...
This year, the journey began on January 14, when I reached my CTP goal for the previous year, and that allowed me to start 2021 with a clean sheet... In my initial post, I have started with 20K HivePower and 11 months later, I have added 8K more to it! In total, 40% tokens more!
The next year, I'm planning to get to Orca rank which is around 54K HivePower... That means that I will have to add 50% more tokens than I have at the moment... Sounds scary and not achievable, but miracles can happen... :)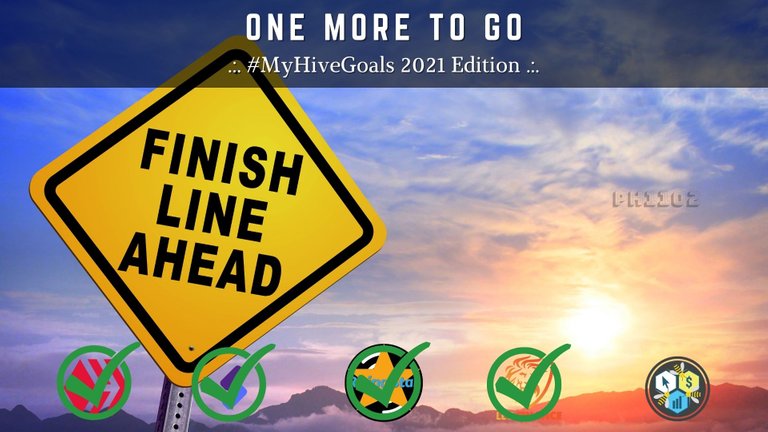 Created in Canva.com
It's time to check out the numbers for #MyHiveGoals...

As I said before, I have reached my HIVE Power goal by adding 89HP during this week... I needed only 35 to get there, but I have to push early for the next goal... No stopping! 😃

In the previous report, I have added 46 LP to my LEO Power goal, and this week, I have added another 45... It looks that it's my average amount of LEO earnings per week... LEO Finance team will add very soon their Polycub DeFi sub-project and I expect that many people will go there to add LEO liquidity... That means that it could happen that LEO curation rewards go up and I'm ready for that!

Again, as I said at the beginning the CTP Power goal was the last one to be accomplished in the 2020 goals, and it is the last one to be reached this year, too... Or I'm giving too high goals for it, or I suck at accumulating CTP tokens... lol... Anyways, I have added another 1458 CTP tokens to my CTP Power and slowly but surely, closing up the gap to my yearly goal... Only 4K tokens more to get there... and only 11 days to achieve it...
The thing with my SPORTS POWER is getting funnier week after week... I don't push this goal that much at all, but it looks that because of that, it accumulates better than ever... lol... In the last report I have powered up almost 250K tokens, and this week I have staked over 280K tokens! I can't believe in these numbers how crazy are they...

GAMING GOALS
Numbers in the RISING STAR goals are going up and going down?! How is that possible? Well, there is a "blending" option in the game where you can combine eg. 10 cards into 1 "super" card... By doing that, you get an exclusive NFT in your collection, but you lose 9 cards in total (10-1 new card)... Anyways, with regular packs openings, that's not that big deal and my numbers are still going up... The goal is reached, so this is just pure fun... :)

In the end, I would like to make an update of my current numbers (December 19th, 2021) on #MyHiveGoals: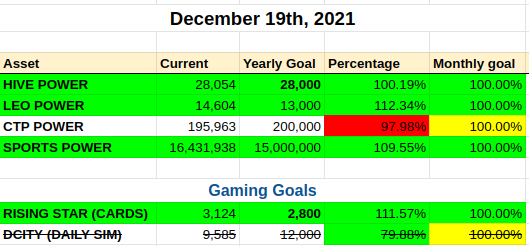 Join us in this awesome #MyHiveGoals and let's grow together! You can find the original post about the challenge by @robwillmann here.
Thanks, everyone for reading these reports and encouraging me in the comment section! Without you, I wouldn't be able to hit my yearly goals! I hope that it is (and will) motivate you guys to do something similar and achieve your goals!
Sincerely,
~ph~

The link to my initial 2021 Goals Edition is here...
These are my initial goals for 2021 on January 15th, 2021, and this #MyHiveGoals Challenge:
HIVE POWER - 20,000 / 25,000    80.00%  needed monthly grow 1.66%
LEO POWER     - 8,000 / 12,000  66.00%  needed monthly grow 2.83%
CTP POWER - 150,000 / 200,000   75.00%  needed monthly grow 2.08%
SPORTS POWER   - 5M / 15M       33.33%  needed monthly grow 5.55%

Gaming Goals:
RISING STAR (CARDS) - 189 / 2,000    9.45%  needed monthly grow 7.54%
DCITY (DAILY SIM) - 5,488/ 12,000   45.73%  needed monthly grow 4.52%   (base Income - before taxes) - goal dropped 06.06.2021.

The revised goals - May 16th, July 4th, November 7th 2021:
HIVE POWER - 26,000 --> 28,000 (2nd revision)
LEO POWER - 13,000
RISING STAR (CARDS) - 2,500 --> 2,800 (2nd revision)


If you want to support my witness, you can do it by voting for @ph1102.ctp here https://tribaldex.com/witnesses, or just scan the QR code down below...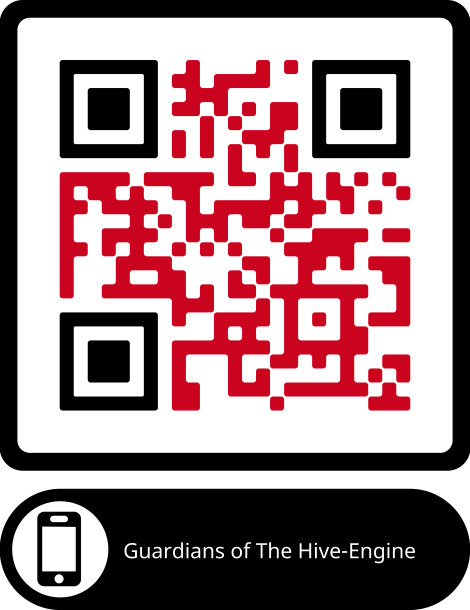 Don't forget to follow, reblog, and browse my Hivepage to stay connected with all the great stuff!
You can also find me on LEO Finance .:. Twitter .:. LBRY
---
---