Passive Income Saves the Day! .:. #MyHiveGoals October 31th, 2021
This week was a bad one... I don't like to complain too much or give some excuses, but it was a bad one on many levels... And I don't refer to crypto markets, ups, and downs, volatility, or losing money by buying wrong tokens, but more on personal issues that I had and people in my surroundings... Without going deep into it, for now, we are all alive and pushing through and I hope it will stay like that...
Let's try to focus on this post and #MyHiveGoals that are doing well, even without me being active... That's the point of all this and it should be the focus of all of us... The point is to accumulate enough crypto, invest it smartly in blockchains like HIVE and other staking chains, provide liquidity in the Defi project, and make your money to work for you!
Of course, you have to create that "base" that will work for you later... As I have literally started from ZERO, it will take me more time, but still, I can see already fruits of my hard work until now... These reports are serving exactly for that... To show me (and YOU) that this WORKS!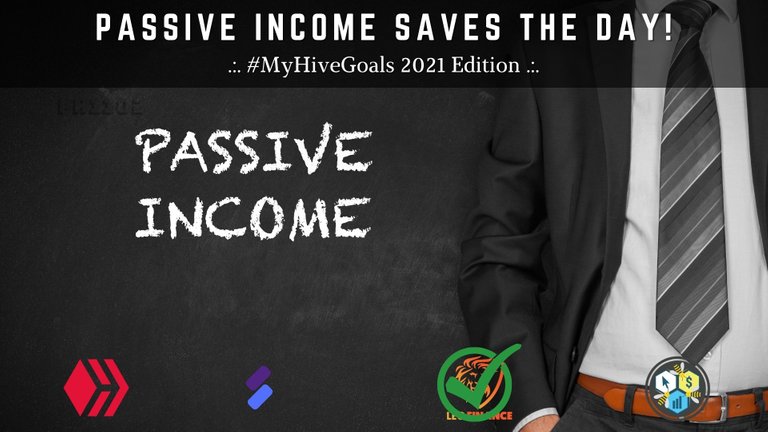 Created in Canva.com
Let's break down all goals and see how they look this week...

The first on the list of goals is my HIVE Power... I was already in green last week, but I have added more to it during this one... To be more exact 126 HP has been added! As today is the last day of October, I didn't want to mess around raising my goals, but I will probably do that with this goal, so stay tuned...

The LEO Power goal is a perfect example for increased accumulation AFTER reaching the goal... I have seen that so many in my life, and it's happening again... When I accomplish what I had in my mind, I got more relaxed and things start to work out even better than before... During the last couple of days, I have added over 700 LEO to my LEO Power, which is probably the record from the beginning of my LEO accumulation... Also, we had a nice bump in the price (it went down again) which is a good sign for the future...

We got official news about the CTPSB Power Up Challenge which should be held before the end of this year! That will work perfectly for me as it will help me more in my CTP Power goal and focus on it! The numbers are still growing, but I need a small push... This week I have added 642 CTP tokens to my staking power and I need a bit more than 10K until the end of the year...
The SPORTS POWER goal is developing nicely... I have powered up around 200K SPORTS tokens, and if I continue like that I should reach my yearly goal in mid-November... That would be nice to see!

GAMING GOALS
My dedication to getting those Scary Mary cards led to reaching my yearly RISING STAR goal! I have opened 24 packs during this week, found a couple of seasonal instruments and that helped me to collect 2511 cards in total! RISING STAR YEARLY GOAL REACHED!

In the end, I would like to make an update of my current numbers (October 31th, 2021) on #MyHiveGoals: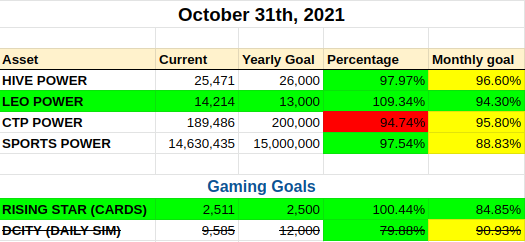 Join us in this awesome #MyHiveGoals and let's grow together! You can find the original post about the challenge by @robwillmann here.
Thank you for your time,
~ph~

The link to my initial 2021 Goals Edition is here...
These are my initial goals for 2021 on January 15th, 2021, and this #MyHiveGoals Challenge:
HIVE POWER - 20,000 / 25,000    80.00%  needed monthly grow 1.66%
LEO POWER     - 8,000 / 12,000  66.00%  needed monthly grow 2.83%
CTP POWER - 150,000 / 200,000   75.00%  needed monthly grow 2.08%
SPORTS POWER   - 5M / 15M       33.33%  needed monthly grow 5.55%

Gaming Goals:
RISING STAR (CARDS) - 189 / 2,000    9.45%  needed monthly grow 7.54%
DCITY (DAILY SIM) - 5,488/ 12,000   45.73%  needed monthly grow 4.52%   (base Income - before taxes) - goal dropped 06.06.2021.

The revised goals - May 16th, July 4th, 2021:
HIVE POWER - 26,000
LEO POWER - 13,000
RISING STAR (CARDS) - 2,500


If you want to support my witness, you can do it by voting for @ph1102.ctp here https://tribaldex.com/witnesses, or just scan the QR code down below...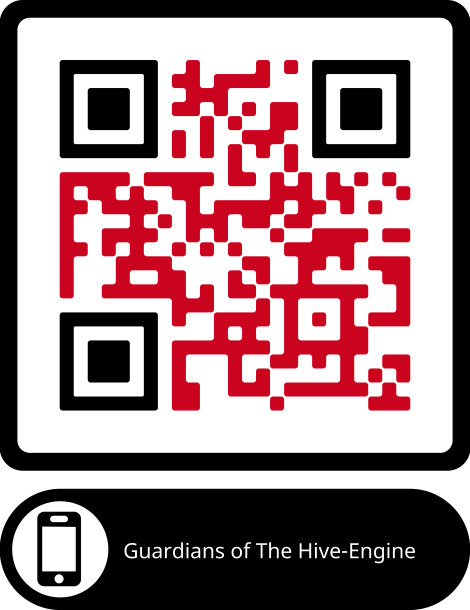 Don't forget to follow, reblog, and browse my Hivepage to stay connected with all the great stuff!
You can also find me on LEO Finance .:. Twitter .:. LBRY
---
---