Vacation Mode .:. #MyHiveGoals July 11th, 2021
As you may notice, I have taken a (long) vacation this year and visited my family after 2 years... My Internet access is very limited at the moment, so I have to improvise, use Wi-Fi in some public spaces, adjust my time for checking crypto stuff...
So, the next month will be a perfect test for checking the power of passive income earnings... Are they sustainable, what works the best, where to invest more, etc... I am aware that a significant amount of income is coming from content creation, and I will try to publish some posts during my vacation... But, probably the minimum...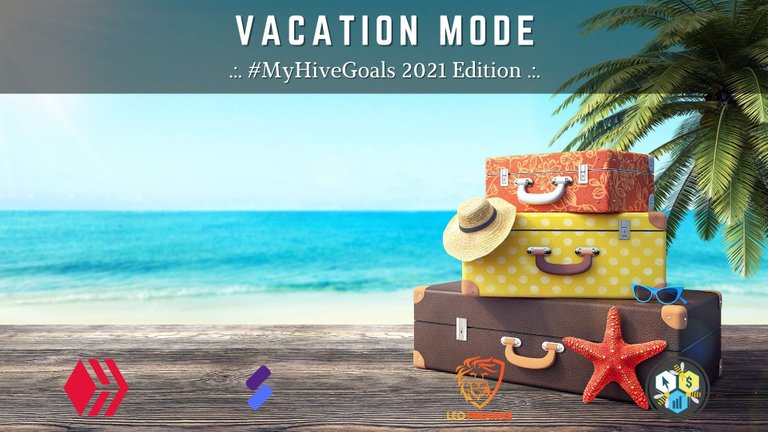 Created in Canva.com

As for the problem with curation rewards after the latest HardFork, I was hesitating to "recover" the part of my curation rewards and that costs me some income... After 2-3 days, I have decided to upvote some of the "oldest" (pre-fork) posts and that helped a bit with curation rewards... I have added 142 HP in the last 7 days which made that red color "less red"... :)

My LEO Power raised for 72 from the last report, which isn't a huge number, but still, most of that coming from passive income sources which show that it works great with LEO!

The one that will not follow the good trajectory, is my CTP Power goal... Most of my earnings were coming from author rewards, and my curation rewards will not be enough to catch with my goals... That means that I will have to push more after my vacation to catch up...
During my 3-day road trip, I was doing my Actifit reports occasionally, showing the places where I was driving and they got a nice amount of rewards in SPORTS tokens, which will come to payouts in a couple of days... That will help a lot in my SPORTS POWER goal... During the last 7 days, I have added almost a quarter a million Sports Power...

GAMING GOALS
My vacation didn't slow down my RISING STAR goal progress... I had some STARBITS savings, so I have bought and opened 12 packs like usual... So, 70 cards have been added to my goal, but passive earning doesn't work very well with the game... Maybe, if I would invest more in record staking, which is a kind of passive income... Anyways, I have found some time to play here and there... :)

In the end, I would like to make an update of my current numbers (July 11th, 2021) on #MyHiveGoals: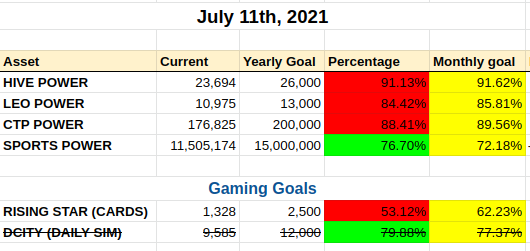 Join us in this awesome #MyHiveGoals and let's grow together! You can find the original post about the challenge by @robwillmann here.
Thank you for your time,
~ph~

The link to my initial 2021 Goals Edition is here...
These are my initial goals for 2021 on January 15th, 2021, and this #MyHiveGoals Challenge:
HIVE POWER - 20,000 / 25,000    80.00%  needed monthly grow 1.66%
LEO POWER     - 8,000 / 12,000  66.00%  needed monthly grow 2.83%
CTP POWER - 150,000 / 200,000   75.00%  needed monthly grow 2.08%
SPORTS POWER   - 5M / 15M       33.33%  needed monthly grow 5.55%

Gaming Goals:
RISING STAR (CARDS) - 189 / 2,000    9.45%  needed monthly grow 7.54%
DCITY (DAILY SIM) - 5,488/ 12,000   45.73%  needed monthly grow 4.52%   (base Income - before taxes) - goal dropped 06.06.2021.

The revised goals - May 16th, July 4th, 2021:
HIVE POWER - 26,000
LEO POWER - 13,000
RISING STAR (CARDS) - 2,500


If you want to support my witness, you can do it by voting for @ph1102.ctp here https://tribaldex.com/witnesses, or just scan the QR code down below...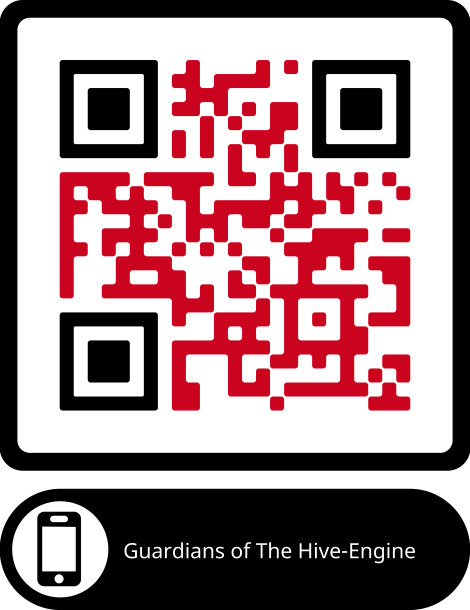 Don't forget to follow, reblog, and browse my Hivepage to stay connected with all the great stuff!
You can also find me on LEO Finance .:. Twitter .:. LBRY
---
---