Yellow Brick Road .:. #MyHiveGoals May 9th, 2021
Another Sunday, another day for doing a short re-cap of #MyHiveGoals that I have created at the beginning of this year, to help me with my motivation and focus... When I have created them, I was pumped and fired up for every single one of them, but I knew that there will be days when that will not be like that...
Sooner or later, it happens to everyone, and exactly because of that, we have to have something that will kick us back to that yellow brick road...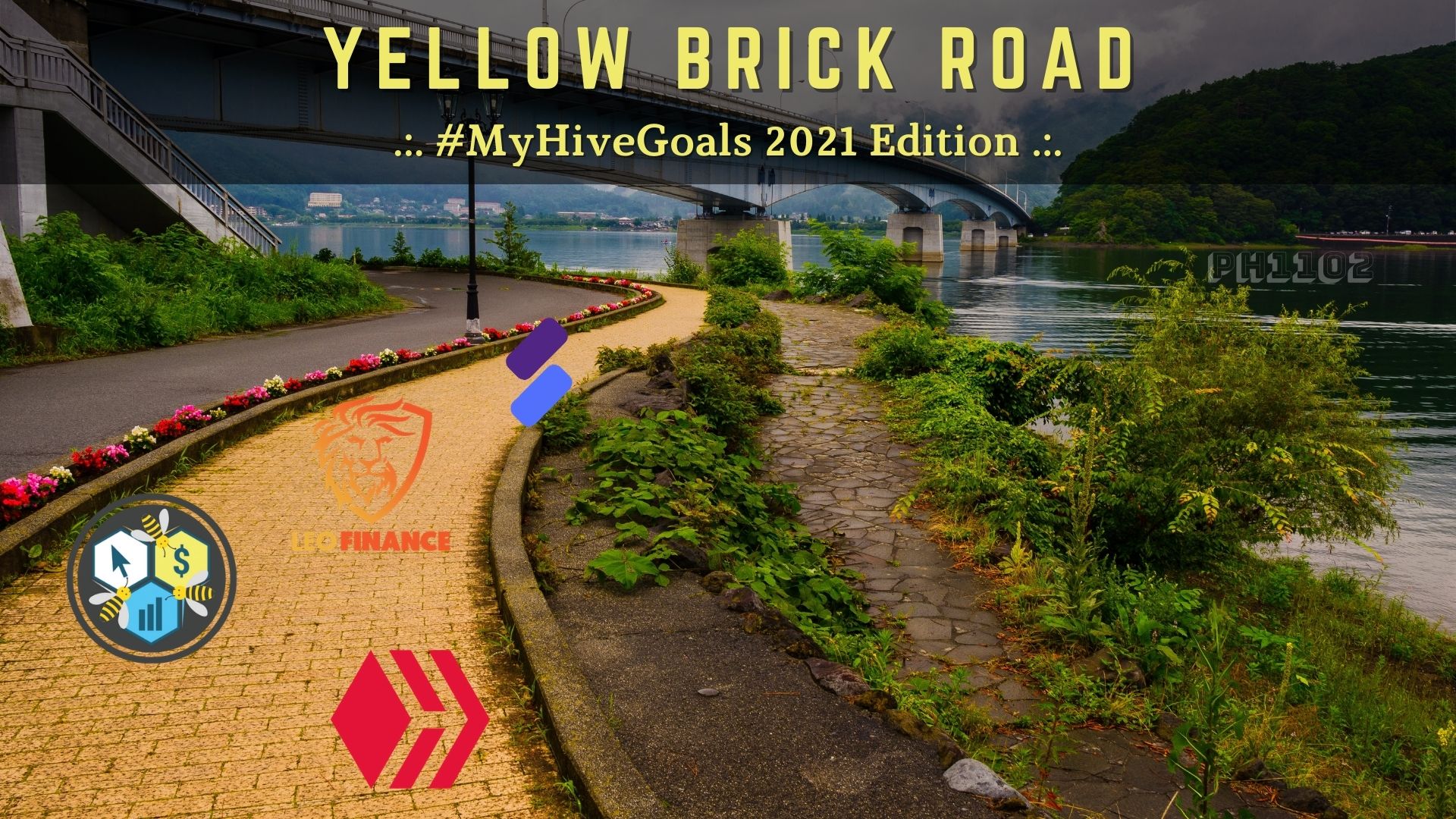 Created in Canva.com
During the week I have powered up around 80 Hive and that made that green color a bit stronger... :) So, I have at the moment 22254 Hive Power which is over my goal for May... I will keep it as it is until the end of May, and then probably raise it a bit up!

The same goes for my LEO Power goal as I have hit it before, I have relaxed a bit... Also, I have made some changes regarding my LEO accumulation... I have decided to pull out my delegation to leo.voter as I didn't receive the last 3 days' LEO dividends for that...
I know that it's not the end of the world, but I have some plans of investing my HivePower into something more valuable and more personal... All you guys that are following my channel will be informed about it, and I think that a lot of you will actually profit from that move... ;)

I have mentioned many times that my biggest concern about these goals was the CTP Power goal... I have put the bar very high, but I'm slowly getting where I have imagined being... The @ctpsb CTP Power Up challenge finished, and I have pushed there hard and powered up some of my liquid CTP stashes and that helped a lot... I have added over 2600 CTP tokens to my CTP Power during the past week and I'm very close to that 170K mark!
The SPORTS POWER goal is still doing very well... Even the price of the token is going nicely up... It looks that people have finally realized the value of this hidden gem on the Hive Engine... So much potential in that tokens... On the other side, I'm glad that they didn't see that earlier, as I had time to accumulate them... hehehe... :)

There are some great GAMING GOALS news, but they aren't still visible in the numbers, but they will soon...
I have mentioned a couple of times my plan for the RISING STAR game and cards accumulation... I was doing regularly week my 12 packs purchase and did openings in my Giveaway videos, but this week, I have collected enough STARBITS that I could do it 1 time in one week! Unfortunately, I didn't have time to do it this time, but the tokens are still there and I will try to do it during the next week... Those tokens will be spent on packs, for sure! :) :)
If you have checked my post from yesterday, you already know that I'm having a bit "hard time" with the DCITY game... I didn't have time to explore more, but I have done a bit of research and learning yesterday and going slowly into newly added stuff... The goal is still on, and I have some cushion, so no worries... I have added over 50 SIM to my daily income during the week...

In the end, I would like to make an update of my current numbers (May 9th, 2021) on #MyHiveGoals: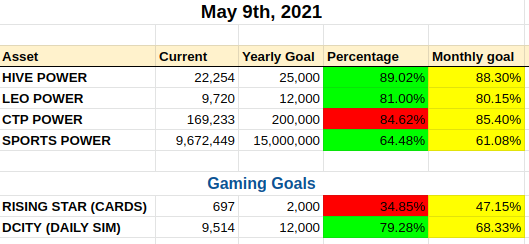 Join us in this awesome #MyHiveGoals and let's grow together! You can find the original post about the challenge by @robwillmann here: https://peakd.com/myhivegoals/@robwillmann/new-challenge-myhivegoals-set-and-achieve-your-goals
Thank you for your time,
~ph~

The link to my initial 2021 Goals Edition is here...
These are my initial goals for 2021 on January 15th, 2021, and this #MyHiveGoals Challenge:
HIVE POWER - 20,000 / 25,000    80.00%  needed monthly grow 1.66%
LEO POWER     - 8,000 / 12,000  66.00%  needed monthly grow 2.83%
CTP POWER - 150,000 / 200,000   75.00%  needed monthly grow 2.08%
SPORTS POWER   - 5M / 15M       33.33%  needed monthly grow 5.55%

Gaming Goals:
RISING STAR (CARDS) - 189 / 2,000    9.45%  needed monthly grow 7.54%
DCITY (DAILY SIM) - 5,488/ 12,000   45.73%  needed monthly grow 4.52%   (base Income - before taxes)


If you want to support my witness, you can do it by voting for @ph1102.ctp here https://tribaldex.com/witnesses, or just scan the QR code down below...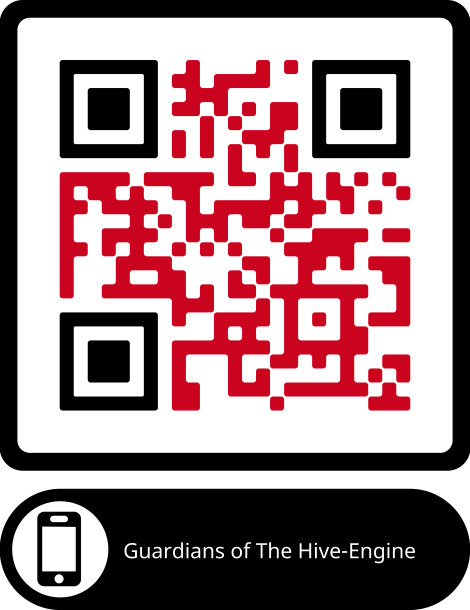 Don't forget to follow, reblog, and browse my Hivepage to stay connected with all the great stuff!
You can also find me on LEO Finance .:. Twitter .:. LBRY
Posted Using LeoFinance Beta
---
---