Your Gut Is Right! .:. #MyHiveGoals September 26th, 2021
It's interesting what we are served by our beloved mainstream media... We are all the same, everyone has the same rights, we all are moving this world forward, we all are doing the right thing... Do you believe in that? Are we ALL doing the "right thing"? Do we really help this society to go forward, or maybe we are breaking and slowing the progress down?
How many times did you hear "Don't do it!", or "Your idea is dumb", or "You will fail and regret that you have tried", or... I don't know about you, but I heard that a LOT... A lot more than: "You did it well", or "It was a great move"...
Unfortunately, it's very hard to accept that not everyone will be a winner... Not, everyone will learn, progress, and grow in their life... If we think in the crypto world, it's the same... and it's not the same because the "game" is rigged, it's because most of the people think that most of the people are right... And that's not the case...
The follow the herd mentality isn't the right one if you want to be a winner... You have to take a different side... You can pick between the shepherd or the wolf... Both are better than being sheep...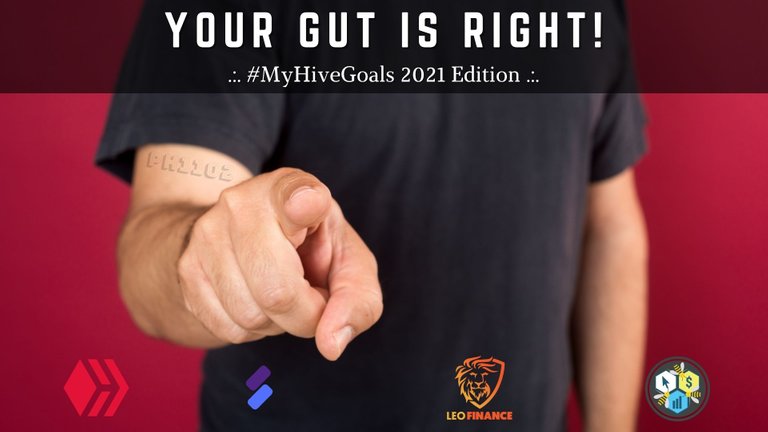 Created in Canva.com

Now, when you know that YOU can be right despite the fact that the majority is going in the opposite direction, you can focus on your goals!
Last week I was writing about consistency and I have failed in that immediately... Skipped a couple of days, didn't create posts, but at least, I was here replying to the comments and networking with people... Sometimes, life happens and we can't meet our short term goals, but the game is not over and we can push more in the next period and still reach out long-term goals...
Having fewer posts didn't ruin my Hive Power goal as I have hit it already... I have added 78 HP more and concreted, even more, my progress... I'm at 95.54% of my yearly goal and very positive about getting the job done!

Not every post is written for the LeoFinance tribe, so I don't get author rewards for all of them... But, I have built a nice stake in LEO Power and that creates a nice amount of LEO tokens through curation rewards... Because of that, I have powered up to 86 LEO tokens in the last 7 days, which is even more than I did with HIVE! This goal is even closer to the finish line than the Hive Power goal!

Okay, it was enough of bragging and now it's time for kicking my ass... lol.. The next goal on the list is CTP Power and that one is still colored in red and it will stay like that in September... It's not "that bad", but it could be better... For not reaching this monthly goal I blame myself and less content creation... Don't get me wrong, I'm not quitting or making excuses, I'm just facing myself with the main problem... When I know where it is, it's easier to focus and fix it!
The SPORTS POWER goal is going very well... I would say that you can notice in this tribe the story from the beginning... The price of the SPORTS token went a bit down, and a lot of people stopped with curation and content creation... That directly means that people who DO THAT are making a difference... Who is right and who is wrong, we will see in a couple of years... I need a bit more than 1.3M SPORTS tokens to reach my yearly goal... It sounds a lot, but I think that I can get there... So far, so good...

GAMING GOALS
The RISING STAR is having that "something" that keeps you going on... If you are just starting with playing the game, don't get discouraged at the beginning... It looks boring and automated, but in a long run, it's worth it... After a month or two, you will notice that it gets more interesting, it will keep you more "glued" and you will create some great combination of how to progress in the game...
Usually, games are interesting at the beginning, and you lose interested later, but Rising Star is different... It does the opposite... :) I'm very happy with my progress as I'm going forward at a steady pace... I have added 71 cards more in the last 7 days and I'm closer than ever to my yearly goal of 2500 cards!

In the end, I would like to make an update of my current numbers (September 26th, 2021) on #MyHiveGoals: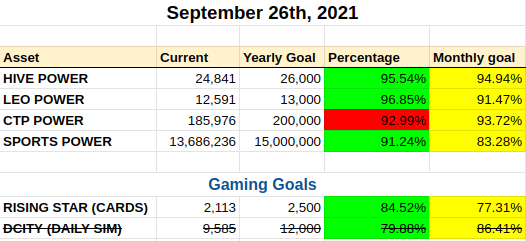 Join us in this awesome #MyHiveGoals and let's grow together! You can find the original post about the challenge by @robwillmann here.
Thank you for your time,
~ph~

The link to my initial 2021 Goals Edition is here...
These are my initial goals for 2021 on January 15th, 2021, and this #MyHiveGoals Challenge:
HIVE POWER - 20,000 / 25,000    80.00%  needed monthly grow 1.66%
LEO POWER     - 8,000 / 12,000  66.00%  needed monthly grow 2.83%
CTP POWER - 150,000 / 200,000   75.00%  needed monthly grow 2.08%
SPORTS POWER   - 5M / 15M       33.33%  needed monthly grow 5.55%

Gaming Goals:
RISING STAR (CARDS) - 189 / 2,000    9.45%  needed monthly grow 7.54%
DCITY (DAILY SIM) - 5,488/ 12,000   45.73%  needed monthly grow 4.52%   (base Income - before taxes) - goal dropped 06.06.2021.

The revised goals - May 16th, July 4th, 2021:
HIVE POWER - 26,000
LEO POWER - 13,000
RISING STAR (CARDS) - 2,500


If you want to support my witness, you can do it by voting for @ph1102.ctp here https://tribaldex.com/witnesses, or just scan the QR code down below...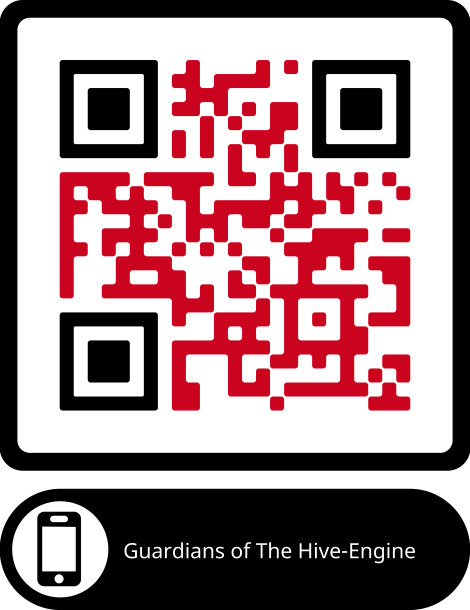 Don't forget to follow, reblog, and browse my Hivepage to stay connected with all the great stuff!
You can also find me on LEO Finance .:. Twitter .:. LBRY
---
---