Quest Rewards Of Splinterlands Game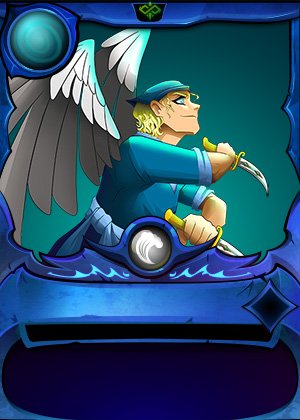 Hello dear fellows of Hive community! I am again here to share my todays splinterlands quest rewards with you. I received 3 rewards of chest today .
PELACOR BANDIT
Lore
Pelacor Descent 2 of 4 - One of the most peculiar things that happened in the Splinterlands was the rising of Solaki and Lunaki. These massive chunks of land uprooted themselves and detached completely from the Planet. They started on an upward trajectory, slowly drifting away until after a few weeks they were out of sight from the ground. The larger of the two was named Solaki, as it rose toward the sun. The smaller and darker was called Lunaki, which rose toward the moons. On Lunaki, there was a greater concentration of women, who became known as the daughters of the moons. On Solaki, there was a greater concentration of men, who became known as the sons of the sun. After years of drifting higher and higher into the stratosphere, Solaki was discovered by the Angels who are said to reside in the Angel Realm of the stars. Humans and khymians were still thriving on Solaki at that time, with plenty of resources to make a comfortable home. Some of the Angels took a liking to the floating continent and began making regular visits. One deceptive male angel named Gytero began working on the minds of the men who ruled the solakari people, planting seeds of fear and paranoia. Gytero whispered that Solaki and Lunaki were drifting further from both the ground and each other, so precautions must be taken to ensure the continuation of their people. The male rulers of Solaki, under the evil guidance of Angel Gytero, instituted a system of compelled procreation, essentially enslaving the women of Solaki. The women fought back, but they were overwhelmed in numbers. Finally two heroes from the Angel Realm came to the rescue of the last solakari women. They started a war that is still raging today known as the War of Sons and Daughters.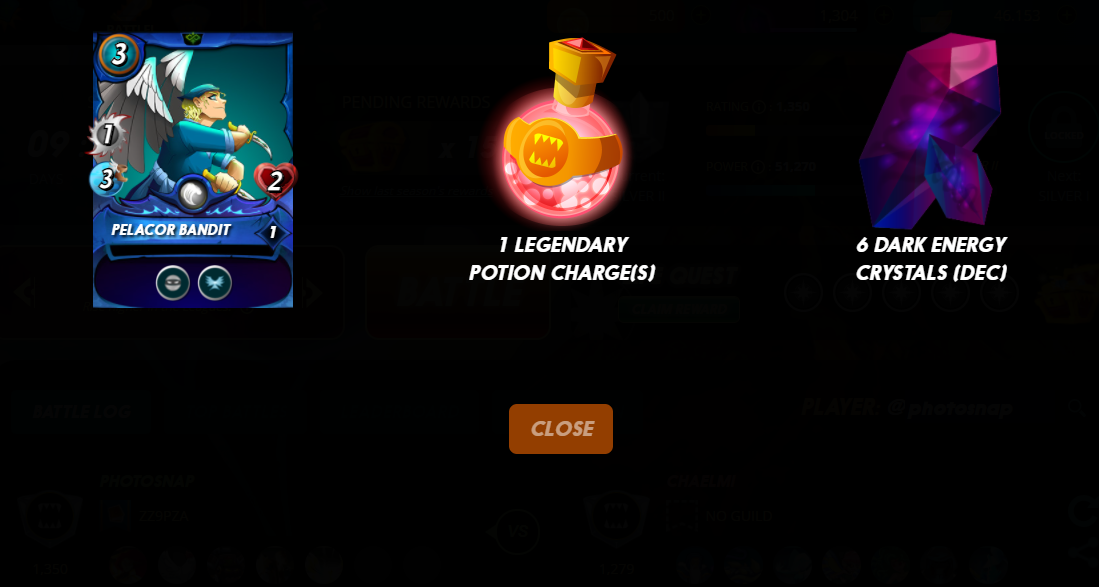 1 Common Card PELACOR BANDIT
1 Legendary Potion Charges
6 Dark Energy Crystals
In my todays quest rewards you can see, in the three loot chests I got one common card pelacor bandit from water splinter and in the other two chest one legendary potion charges and six dark energy crystals play to earn in game tokens.

Splinterlands Affiliate Program
If You want to play Splinterlands you can play it for free. To earn rewards you will be needed to buy Spellbook that costs 10$. Below is my referral link if you are interested.
https://splinterlands.com?ref=photosnap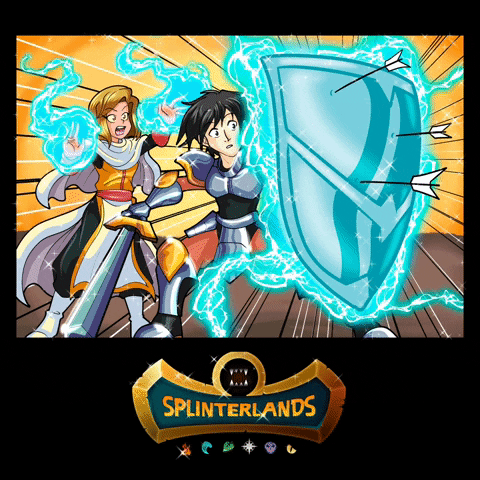 ---
---