IS THERE SOMETHING WRONG WITH THE STANDING?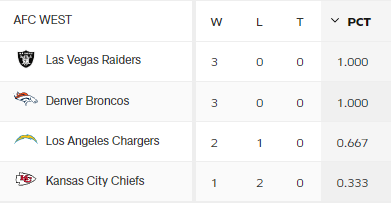 source
Before the commencement of the season, after three games if you tell me this is how the standing will be, I will flatly tell you no way. Even though it is too early to say the least this is the NFL. No need to go for last year matches, this year it could be the real thing for the Raiders.
Okay they beat Dolphins in OT. Last week they beat Steelers and first week of the season Ravens. Gruden is coming strong lately. Do you remember AB drama two years ago? Carr is making strides and scoring TDs. While Chiefs are slow to start they are leading the AFC WEST. By the way it is too early to say more. Anything can happen as always. So let's give Gruden his time worth.
Broncos are 3-0 too. They only won 5 games last year. This year they took care of Giants, Jaguars and Jets. Ha ha ha ha. That is the easiest 3-0 ever in the NFL. Well done Broncos. The next three weeks will be serious Football coming your way. #Ravens, #Steelers, Raiders. I know @broncnutz team can go 6-0. Let's wait to find out. I know for sure #Broncos will win more than 5 games. I am certain on this one. Great schedule for them this season.
Chargers with Herbert are moving quite well. Last week they give Dallas headache. This week they keep momentum and whipped Chiefs. This is a great win when you win against a team in the same division. Next week it will be Raiders. Hopefully they can keep the momentum. Ravens and Brown after, this will prove if Chargers can withstand and stay above 500.
I am not worried much for the Chiefs. They will flip the chart and be on top as long Mahomes is throwing the ball. For the next 3 weeks, only the Bills can give them problem. I know they will be back cause this offense is so fast at scoring TDs.
Hope the Best for Andy Reid. How;s your team doing after three games?


---
---