KEEP BELIEVING IN YOURSELF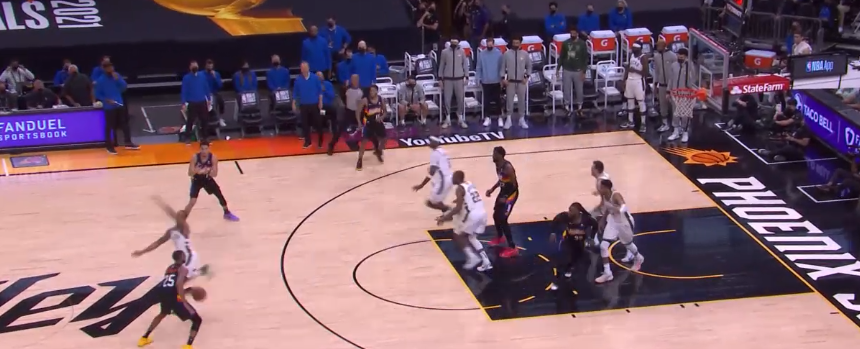 source
The series has reached the point of no return. Do you remember when Phoenix took care of business at home and lead the series 0-2?
Reversal of the medal at a situation where the Suns is holding the wrong card. Bucks won twice at home and came back to win a third one. This game was almost out of reach in the first quarter for the Suns to glide in cruise control.
Allow me to say there is a coaching issue right there. Playing finals, leading by 17 points and let it go in dust that quick.
Enough for the coach, where is CP3 when you need him the most with his leadership? I felt like Booker wants to win so bad. It looks he is the only guy with credentials of a Championship caliber. I can put Ayton on the pack cause he is by himself trying to clean up the paint. I just do not understand how Giannis found a way to brake the paint and score at will. I have to say it, Giannis is really good at spreading the ball. No need to score a bunch of points.
Bucks is a balance team. If they win and I think they can lose that Championship if they want to. They play mad defense. The Suns look like the smallest team in the NBA even when Jrue is on the floor. This is small ball folks. Only Giannis the big guy. He knows how to attract attention to allow other guys to score at will. Losing three games mean the other team understand how to play you and render you miserable. Bucks played Suns to the T. Even the last play was like what!
This is what confidence does to you. You are down 17 points. Jrue score 14 points in the second half to keep the game stable till the third quarter where Suns are playing behind. Maybe it is too early but the Suns are not scary as many predicted SUNS in 6
It is okay to say in 7. It sounds better to say the Bucks in 6. More likely to happen. For the Suns to win game, expect to see other guys to come out and play monster games.
I am taking about Crowder, Payne, Johnson, no need to add Booker and CP3 and Ayton. The whole team away from home needs to play crazy basket ball. I hope the 3s will fall for them and push the Bucks for a showdown in game 7.
I am not going to watch that game. I will try to get the highlight as it will be played.
May the best team wins.

---
---