MIAMI HEAT: A TEAM SURROUND WITH CONFIDENCE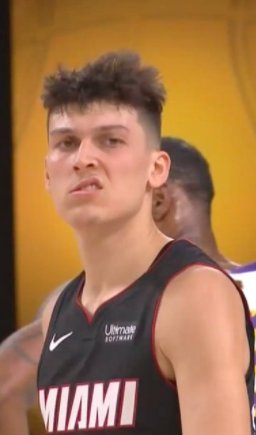 source
Do you guys remember the bubble? This is the face of Tyler Herro with the most heroic game in Orlando. The Heat was giving the Lakers a run for the Championship. After the game they asked Tyler if he can replicate that face. He was unable to do it since he was hot in action. As a rookie, Tyler style of play is free of gimmicks. His floater and rhythm in the court bring confidence to the whole team. As long he is scoring, Jimmy and acolytes can take a break and help push the ball half court.
Last year Tyler was persona non grata. He did not elevate his game to the point of helping the team. Somehow everyone with Heat Nation still remembered his game. I think the lack of NBA experience could be part of his slow growth. He is a father this September. Tyler feels he has to prove something this season.
He has to play great this year and next year in order to receive a nice contract in 2023. One thing is important in NBA games, try to take over game when elite players are struggling. It will be a test for Tyler as long he put time on the gym and stays fit to play the game. The Heat plays great defense and this is a team with Riley at the realm that understand winning is the only way forward.
The Heat is getting strong every year. I know Haslem does not have any weight on the balance, Lowry will help Jimmy in the front court. Bam is the guy with the toughness. Markieff Morris will help in the deep ball with three point. His defense will bring a plus to the Heat.
Hopefully Oladipo is healthy enough to make a dent this season, Duncan Robinson is always a threat for the Heat back court. P.J. Tucker is serious business for the Heat. Fresh from the Championship caliber team, Tucker bring seriousness to the Heat game. This is a well balanced team with a rough schedule. 82 games are no joke for the NBA players. Traveling and back to back games can wear you down.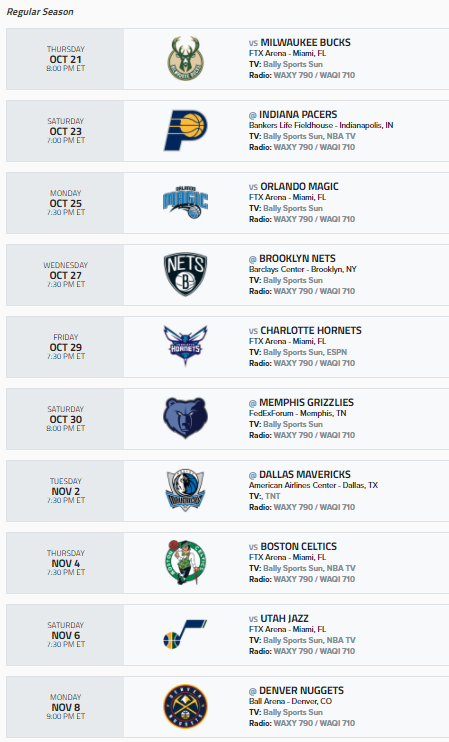 source
The Heat first 10 games of the season will be tough. If they win more than five games it will be a blessing for them. First game is a test or a game to grab since the Bucks will receive their ring. They could be relaxed and distracted by the event. It could be an opportunity for the Heat to stick it to them. By the way it is a home game for the Heat, anything can happen.
Heat should be able to win against Pacers, Magic, Hornets, Grizzlies, Celtics. Any more wins you see, let me know cause the rests are elite teams or playoffs teams. Heat could go 10-0 as well. Mavericks, I am not too sure but Doncic does play. He will be back to win more this year.
Playing away is not that easy. No fans are even worse. Due to rules since last season at the end of the season teams in 7-9 will battle for the remaining two spots. It is like a mini playoff before the big playoffs. No team want to fall on that spot except for the 9th team. Injuries are another hiccups team will face. Hope everyone play smart and stay healthy.
How's your team is doing? As a big fan of Lakers I will check their schedule for the next ten games through other posts.

---
---