TOUGH TO BE A LEGEND FOR BUCKS OR SUNS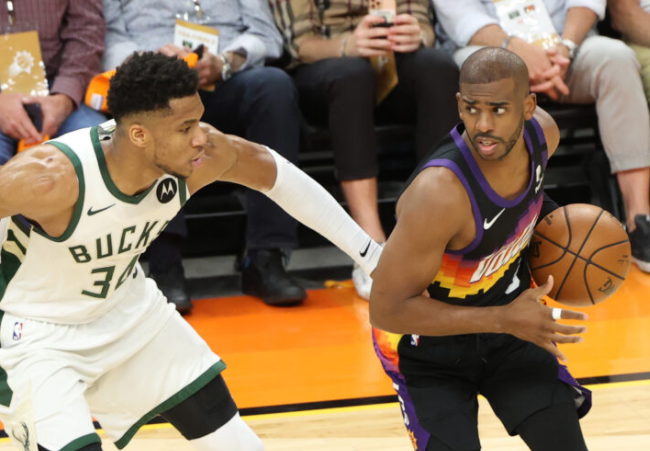 [source](https://www.nba.com/news/giannis-paul-trying-to-avoid-ring-less-list-of-bucks-and-suns-legends
Game three is behind us. Giannis pulled to high game where he leads the scorecard. Playing in Bucks demand a lot to prove cause the last time the city had a ring, many of the fans was not even born. You can say the same for the Suns. It is tough to see Giannis signing that deal to stay in a city without a ring for a while. Chris Paul has been traveling for 16 years. This is the closest he got in search of a ring. You can see key players do not go there. They prefer to go to the Heat, Celtics, Lakers for the opportunity.
It has been two years passed for Clippers. It is tough missing KL in the peak time. This NBA Finals will change the topography for one city. Up 2-1 Suns look ready to get the first NBA Champion for the City. Now will Giannis allow that to happen?
Before them we have a list of Super Star looking for a ring in those cities. Lucky for some they move before it was too late. Maybe CP3 saw the opportunity and went to the Suns. Giannis was grown here with the #Bucks. He is the Super Star, MVP caliber for the last three years.
Charles Barkley got very close in 1993 when MJ took a break from basket. Unlucky they are the Rockets were the team then. Barkley is an imposing player but fell short with no ring. Weird but true he joined the Rockets in search of a ring but it was the era of Shaq and Kobe came back and squashed that. Steve Nash is another brilliant player for the Suns. I remembered him passing the ball well and now he is a coach with no ring. Amar'e Stoudemire was lightning fire but no ring to compensate his flashy game. Basket ball is a tough game. Jason Kidd and Shawn Marion did do much for the Suns. Later they joined another team and they grabbed a Championship from the Heat. Kidd got another Championship as a coach with Lakers.
Bucks had their fair share of big names with no ring. Ray Allen was the guy in 2001 but cut short by another flashy guy with the 76ers. Ray did manage to play late in his career and grabbed couple rings with Detroit and Heat. Vin Baker was a force in the paint but alone you cannot get a ring. Michael Redd is another one alone to play well in the regular season. Glenn Robinson was another player. He did leave to get a ring elsewhere. So far in this era Giannis is the guy that could deliver a ring. Giannis probably read the Bucks history and see why not deliver them what they are missing for so long. There are more player I can talk about but I have not see them play like Kareem, Jack Sikma.
Game four will be more mental than physical. I know Chris Paul has reason to play better. He has seen everything in 16 years. Booker is learning on the job. Giannis is throwing everything on the court. Hope it sticks. Jrue is testing the Finals. Middleton, I think still cannot believe he is playing the Finals. Ayton needs encouragement. Both teams are playing in the dark of the Finals. Not sure what the true meaning is. I feel Giannis tastes something from the Hawks series. It is good to see new faces in the Finals.
Next season expect to see the usual faces back to compete, hope no serious injuries, it will be a battle. I want to see Klay back with the rain maker in Golden State. Every season has their own connotation. Next one will be epic.

---
---