WESTERN CONFERENCE PLAYOFFS, JUICY MATCHUP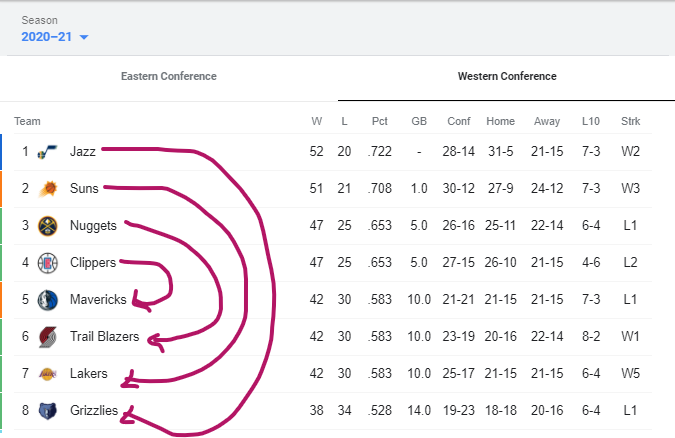 source
The true competition is fierce in the Western conference side of the board. Most of the teams played two matches and you can see the bottom teams want it more than the top ones. It is getting hot in here. I am telling you, surprises are coming fast before we can post about them. Nonetheless it is a series among all teams. It is way too early to predict a sweep so far. I am not going to start a drama and predict sweep to the left and sweep to the right. I know juicy basketball is all up in your face.
I do not have a dog in the fight except I want to see James pushing for a second Finale. We all know what teams they should meet to make it extravagant. Way too early! Clippers are playing mad basketball against the Mavericks. The problem is Mavericks ain't laughing at all. They are playing angry basketball shooting three like the sky is falling. If you watch the game Clippers play great and deserve to win. Unfortunately they need to score more than 127 in order to get a W. This is what you call great basketball game.
Hard to decipher the Maverick team right now. Looking at position they finish the season in fifth right beneath Clippers resting their stars. I think game 3 in Dallas will be phenomenon. Will Dallas be able to maintain that momentum in shooting over 50%? IF it is possible you can rest assured this team can burn its bridge in the first round and fall short in the second round. So sorry to see Clippers, PG and KL playing so good and they have no answer to Baby Luka. It is ridiculous watching how the three's are falling when you leave Hardaway wide open. Playoffs basketball is the best so far. I heard that Clippers fell off the standings to avoid the Lakers and think they will walk all over Mavericks. That underdog mentality kicks right with Luka and company.
The same night while Kahwi and company in trouble, James and AD taking care of business against Phoenix. Lakers lost game 1 and now game 2 even the situation. AD was playing championship basket ball. You can tell they were having fun. Unfortunately CP3 is in pain for hurting himself against his own teammate previously. Without CP3 setting up shot and help moving the ball, Lakers will circle back that series pretty soon. Hopefully Chris needs treatment and come back to make things interesting.
Grizzlies saw a wound Jazz and took advantage of the situation. It was a last minute win but Morant and Brooks were working hard on the second half. Jazz will have to play their A game to win this series. This young Grizzlies team comes to play. By the way Playoffs consider to be bonus play and this is where you manage to get the best contract if you are not an A player. It will come to the situation where health and training should play at your advantage.
Nuggets vs Trail blazers are playing basket against basket. Each team lost by scoring 109. You can tell there is no defense in the matches. It will be interesting down the line cause fatigue will set very soon and you will see guys shooting jump ball and three's. It will be hard to see point in the paint, this is how you get tired quick.
Now the matchup that highlights the Western conference so far is Mavericks vs Clippers. I do not know about you but I am watching to see how Tye Lue who want the job so bad is going to fall short with a team so ready to win it all. As a fan of the game, what matchup you like so far in the West?
Keep watching!

---
---