MELO STILL JOIN THE WRONG TEAM, HUM! JUST WANT TO PLAY BALL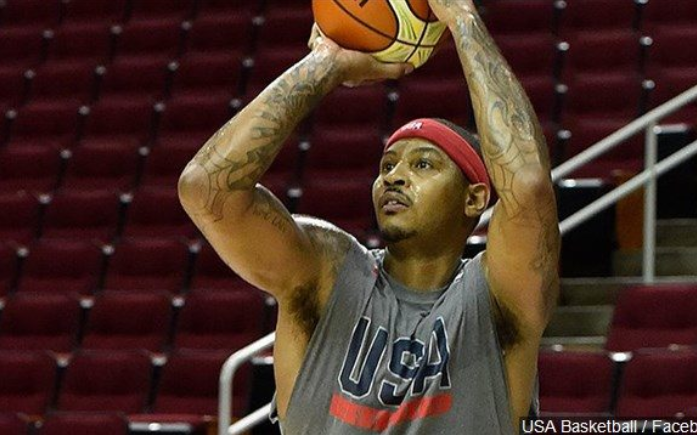 (source)
Got to say kudos to Melo for getting back to the NBA
and keep us entertain.
If you want a player that will score, you got Carmelo Anthony.
This brother has been playing ball for a while and he is well known in
the Eastern or Western Conference teams.
Sometimes timing is your worst enemy.
That was the year 2003.
Carmelo entered the NBA the same year of Lebron James, Dwayne Wade, Chris Bosh
and many more great players.
James was picked number one and Melo was picked number three.
Both players at this time in history was filling different shoe.
Cleveland and Denver was way different scenarios that prove Melo
had better opportunities to succeed quicker than Lebron.
Melo helped Denver to qualify for playoff the first year he joined the team.
The prior season Denver finished it 17-65 record.
He is a scoring machine and help the team to turn around.
This time it was Spurs run and Lakers run.
Lebron and Wade was closer to win but not Melo.
At this time winning a NBA championship was harder not easier.
Melo did transition to New York Knicks to further his career.
After Knicks, he moved to Thunder, Rockets and now Blazers
During that time his draft teamates get together to win ballgames.
I wonder why he did not take this route knowing he will sacrify play times
and money but Melo may have a ring.
When you look at this passing in the NBA
you can tell why he does not play together with Lebron.
Wade did it twice with James.
Melo does not play defense.
He is so good in offense, every team he plays, ignores
this weakness.
So far he is playing really good with Blazers lacking a third scorer.
He is playing this role really good providing a relief for Lillard and company.
The draft year 2003 proves to be special and a few players like Melo and Lebron
still playing high basket ball game.
Since he just started just 6 games we will see how he will improve for the rest of the year.
As we all know he wants to play like desperately.
I think I understand his moves taking away the problems he has personally.
Clearly a booster to push away drama and focus on playing the sport he likes.

---
---