2022 FIVB World Championship Groups Determined! (EN/TR) 2022 FIVB Dünya Şampiyonası Grupları Belirlendi
-EN
Hello to everyone. I haven't shared anything in this community for a long time and I wanted to produce new content. I can say that I am a little tired of constantly producing similar content. That's why I wanted to write different posts in different communities. That's exactly why I'm here today. I think it will be a nice change to write something about sports.
It's been a few months since I wrote here, and a lot of volleyball has changed in that time. First of all, Imoco's undefeated streak was broken. This was supposed to be a lesson for Imoco. But last week they also lost to their biggest rivals in the league, Igor Gorgonzola Novara. Things are not going well at Imoco. The team can't play the game and all the burden is on the team's Egonu's shoulders. The same is true in the Sultans League. Eczacıbaşı can't play a good team game and the whole load is on the shoulders of the team's opposite player, Tijana Boskovic.
During all this time, Vakıfbank became the world's favorite sports club. But on the Vakıfbank front, things are not so bright. Vakifbank is currently the world's favorite volleyball club, but they also have some problems. I think Michelle Bartsch-Hackley will leave the team at the end of the season. Because she can't contribute to the team as much as she used to. Maybe we'll see her in a different Turkish team.
The topic I want to talk about today is the 2022 FIVB World Championship. The tournament will be played from September 23 to October 15, 2022. The hosts of the tournament will be the Netherlands and Poland. The groups will consist of six teams and there will be a total of four groups. The group stage will be played between 23 September and 2 October. Teams that complete their group in the first four places will qualify for the second stage. In the second stage, there will be two groups of 8 teams. Teams that complete their group in the top four places will advance to the quarter-finals. The quarter-finals will be played on October 11, the semi-finals will be played on October 13, and the final stage matches will be played on October 15 and the champion will be determined. The last world championship was very competitive and two great teams met in the final. Italy and Serbia played their best match in recent years. Serbia was the winner. Let's see if the defending champion Serbia can defend its title.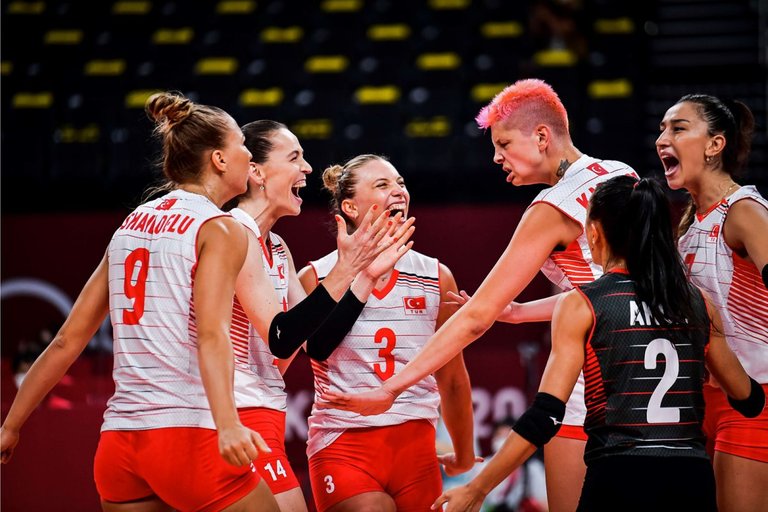 Finally, I will finish my post by talking about the groups. Here are the groups of the 2022 FIVB World Championship!
Group A :
Netherlands, Italy, Belgium, Puerto Rico, Cameroon, Kenya.
Group B:
Poland, Turkey, Dominican Republic, South Korea, Thailand, Croatia.
Group C:
America, Serbia, Germany, Bulgaria, Canada, Kazakhstan.
Group D :
Brazil, China, Japan, Colombia, Argentina, Czechia.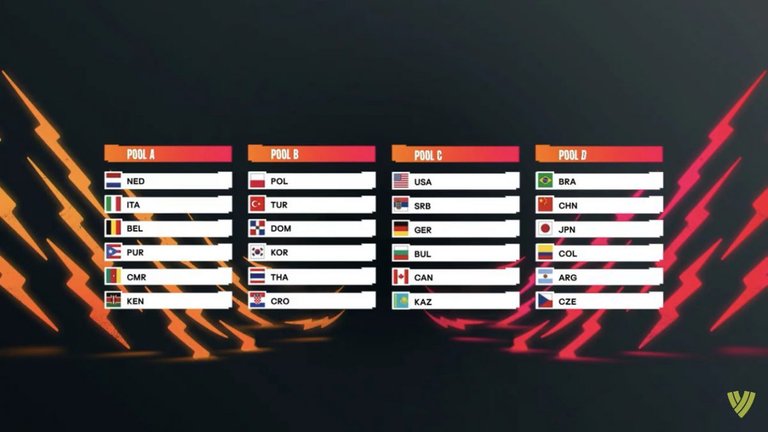 Normally, I always have an opinion about the winners of such tournaments. But I can't predict who will win this time. China, Turkey and Serbia are weaker than before. America is one of the favorites of the tournament. Thailand has renewed their entire team roster and no old players are left. They are a completely young team and inexperienced. Poland's situation depends on the team's opposite player. But Smarzek has lost form and is not as good as she used to be. I really wonder who will win.
Yes, sports lovers, this was my weekly update for this week. Stay fit until our next weekly update. Goodbye!
-TR
Herkese selam. Uzun süredir bu toplulukta bir şeyler paylaşmıyordum ve yeni içerikler üretmek istedim. Sürekli benzer içerikler üretmekten biraz sıkıldım diyebilirim. Bu yüzden farklı topluluklarda farklı yazılar yazmak istedim. Bugün de tam bu yüzden buradayım. Sporla alakalı bir şeyler yazmak bence güzel bir değişiklik olacak.
Burada yazmayalı birkaç ay oldu ve bu sürede voleybol adına çok fazla değişiklik oldu. Öncelikle Imoco'nun yenilmezlik serisi bozuldu. Bunun Imoco için ders çıkarılacak bir durum olması gerekiyordu. Ama geçen hafta ligdeki en büyük rakipleri olan Igor Gorgonzola Novara'ya da yenildiler. Imoco'da işler yolunda gitmiyor. Takım oyunu oynayamıyorlar ve tüm yük takımın pasör çaprazının omuzlarında. Sultanlar Liginde de aynı durum söz konusu. Eczacıbaşı iyi bir takım oyunu oynayamıyor ve tüm yük takımın pasör çaprazı olan Tijana Boskovic'in omuzlarında.
Tüm bu sürede dünyanın favori spor kulübü Vakıfbank oldu. Ama Vakıfbank cephesinde de işler pek parlak değil. Şu an dünyanın favori voleybol kulübü Vakıfbank ama onların da bazı problemleri var. Sezon sonunda Michelle Bartsch-Hackley'nin takımdan ayrılacağını düşünüyorum. Çünkü takıma eskisi kadar katkı veremiyor. Belki onu farklı bir Türk takımında izleriz.
Bugün asıl konuşmak istediğim konu 2022 FIVB Dünya Şampiyonası. Turnuva 23 Eylül-15 Ekim 2022 tarihleri arasında oynanacak. Turnuvanın ev sahipleri Hollanda ve Polonya olacak. Gruplar altı takımdan oluşacak ve toplam dört grup olacak. Grup etabı 23 Eylül-2 Ekim tarihleri arasında oynanacak. Grubunu ilk dört sırada tamamlayan takımlar ikinci etaba katılmaya hak kazancaklar. İkinci etapta ise 8 takımdan oluşan iki grup olacak. Grubunu ilk dört sırada tamamlayan takımlar çeyrek final etabına yükselecek. Çeyrek final karşılaşmaları 11 Ekimde, yarı final karşılaşmaları 13 Ekimde, final etabı maçları ise 15 Ekimde oynanacak ve şampiyon belli olacak. Son dünya şampiyonası çok çekişmeli geçmişti ve finalde iki harika takım karşılaşmıştı. İtalya ve Sırbistan son yılların en iyi maçını oynamıştı. Kazanan taraf ise Sırbistan olmuştu. Bakalım son şampiyon Sırbistan şampiyonluk ünvanını koruyabilecek mi?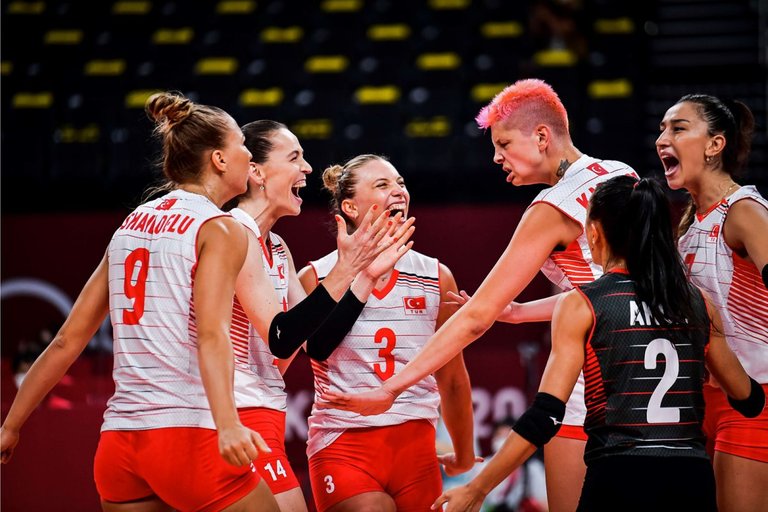 Son olarak da gruplardan bahsedip yazımı tamamlayacağım. İşte 2022 FIVB Dünya Şampiyonası'nın grupları!
A Grubu :
Hollanda,İtalya,Belçika,Porto Riko,Kamerun,Kenya.
B Grubu :
Polonya,Türkiye,Dominik Cumhuriyeti,Güney Kore,Tayland,Hırvatistan.
C Grubu :
Amerika,Sırbistan,Almanya,Bulgaristan,Kanada,Kazakistan.
D Grubu :
Brezilya,Çin,Japonya,Kolombiya,Arjantin,Çekya.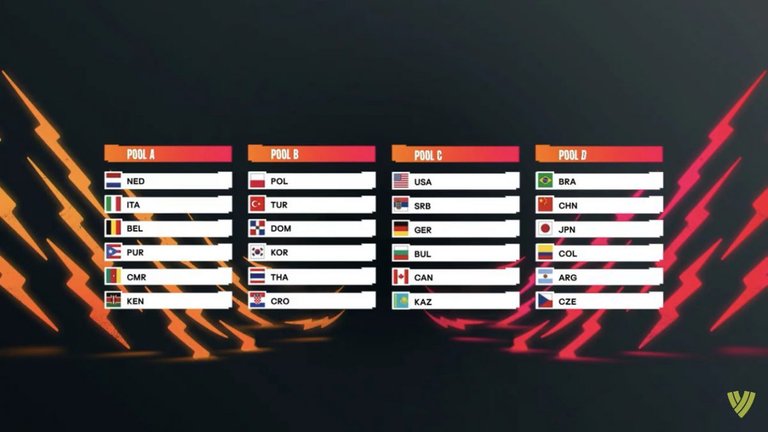 Normalde bu tarz turnuvaların kazananları hakkında her zaman bir fikrim vardır. Ama bu sefer kimin kazanacağını tahmin edemiyorum. Çin,Türkiye ve Sırbistan eskisinden daha güçsüzler. Amerika turnuvanın favorilerinden biri. Tayland tüm takım kadrosunu yeniledi ve eski oyunculardan kimse kalmadı. Tamamen genç bir takımlar ve tecrübesizler. Polonya'nın durumu takımın pasör çaprazına bağlı. Ama Smarzek formunu kaybetti ve eskisi kadar iyi değil. Gerçekten kimin kazanacağını merak ediyorum.
Evet spor severler bu haftalık durum değerlendirmem bu kadardı. Bir sonraki görüşmemize kadar sporla kalın. Hoşça Kalın!
---
---