FIVB Women's Club World Championship Review! (EN/TR) FIVB Kadınlar Dünya Kulüpler Voleybol Şampiyonası İncelemesi!
-EN
Hello sports fans! I hope you had a good time and took care of your health from last week until now. I'm fine and today I'm going to share a nice post with you.
Last week, the men's phase of the FIVB Club World Volleyball Championship ended and Sada Cruzeiro was the winner. The women's tournament started later. This week we will review the FIVB Women's World Club Championship tournament. Imoco Volley Conegliano and Vakıfbank played the final match in women. The winning team was Vakifbank with a score of 3-2. I can't say it was a great game. Because Imoco had a hard time. If Vakıfbank hadn't made too many mistakes, the match would not have ended in 5 sets. It would have been over much quicker.
Champion Vakıfbank did not have much difficulty in the group stage. He was in the easy group. Its rivals were Altay and Minas. He beat both teams with ease and finished the group stage as the leader. In group A, things were much more difficult. Imoco, Fenerbahçe and Dentil Praia teams played each other in turn. The competition in this group was much more compared to the other group. Because the strengths of the teams were equal to each other and it was difficult to predict the match results. The only match that surprised me was the match between Imoco and Fenerbahçe. Fenerbahce lost the match with a clean score of 3-0. I did not expect this match to be so easy. I thought it would take 5 sets and it would be a competitive match.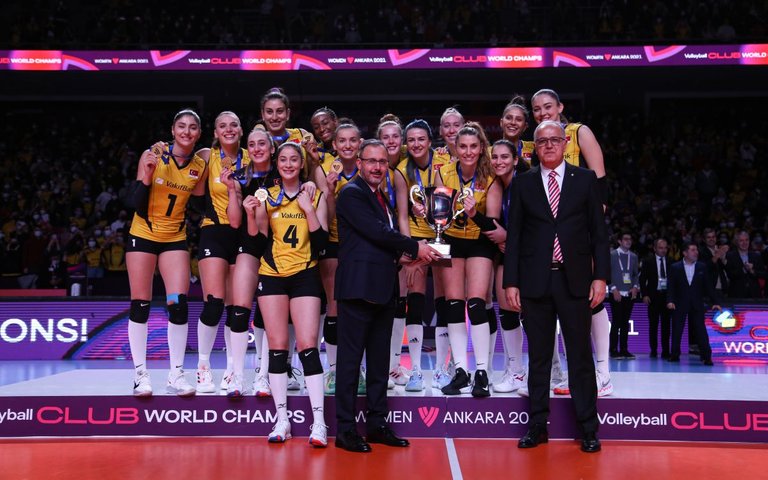 At the end of the group stage, Imoco Volley, who finished first in Group A in the semi-finals, and Minas Tennis Clube, who finished second in Group B, were matched diagonally. Imoco won the match very easily and became the first finalist team. Another semi-final match was between two Turkish teams. Vakıfbank and Fenerbahçe met in the semi-finals. Vakıfbank defeated Fenerbahçe with a score of 3-0 and became the second finalist. I didn't expect the game to end like this. Because Vakıfbank and Fenerbahçe played a match in the Turkish League and Fenerbahçe won the match. The match of the duo in this tournament was not as competitive as the match they played in the league. But it was still a good match. Especially the second set was great.
In the final match, Imoco and Vakıfbank played a match lasted 5 sets. The winner was Vakıfbank, who took the trophy home for the 4th time. Honestly, I felt really sorry for Paola Egonu. She constantly tried to motivate her teammates during the match. Because she was the only one on her team who struggled. Nobody seemed to want to play. Egonu carried her team. But it wasn't enough for them to win the match. I can say that Vakıfbank played a better team game and everyone helped each other.
I think the Brazilian teams also had a good performance. Praia Clube has yet to be eliminated in the group stage. But I think they are a good team. Especially the Martinez sisters and Suelen are good players. What I can say for Minas is that they have a serious setter shortage. Macris is not playing well this season. Her incompatibility with spikers is obvious. She also has serious compatibility problems with Neriman. Her sets go either too far forward or too far back. I think the factors that made Minas lose were the setter and the libero.
As at the end of every tournament, a dream team was chosen in this tournament as well. Frankly, I think there are two big problems with this team. I think that Egonu and Cansu Özbay have been treated unfairly. Cansu was the best setter of this tournament. She made her teammates play well, but she was not selected for the dream team. The same is true for the Egonu. The MVP is usually chosen from the winning team, but it doesn't always have to be like that. Even so, the best setter cross award should have been given to Egonu. Anyway, I won't talk more about it. Here is the dream team!
Most Valuable Player: Isabelle Haak
Best Setter: Joanna Wolosz
Best Opposite Hitter: Isabelle Haak
Best Spiker: Gabi
Best Spiker: Arina Fedorovtseva
Best Middle Blocker: Robin De Kruijf
Best Middle Blocker: Zehra Güneş
Best Libero: Monica De Gennaro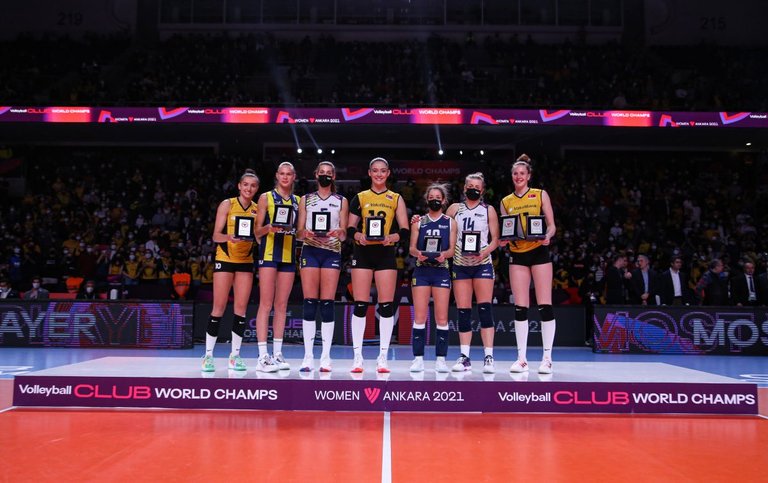 Yes, sports lovers, that's it for this week's review. Stay fit until the next sport review post. Goodbye!
-TR
Selam spor severler! Geçen haftadan bu zamana kadar umarım güzel vakit geçirmişsinizdir ve sağlığınıza dikkat etmişsinizdir. Ben iyiyim ve bugün sizlerle güzel bir yazı paylaşacağım.
Geçen hafta FIVB Dünya Kulüpler Voleybol Şampiyonası'nda erkekler aşaması sona ermişti ve kazanan taraf Sada Cruzeiro olmuştu. Kadınlar için turnuva daha geç başladı. Bu hafta da kadınların turnuvasını inceleyeceğiz. Kadınlarda final maçını Imoco Volley Conegliano ve Vakıfbank oynadı. Kazanan takım 3-2'lik skorla Vakıfbank oldu. Harika bir maç olduğunu söyleyemem. Çünkü Imoco çok zorlandı. Vakıfbank çok fazla hata yapmasaydı maç 5 sette bitmezdi. Çok daha çabuk biterdi.
Şampiyon Vakıfbank, grup aşamasında pek zorlanmadı. Kolay olan gruptaydı. Rakipleri Altay ve Minas'dı. İki takımı da kolaylıkla yendi ve grup aşamasını lider olarak tamamladı. A grubunda ise işler çok daha zordu. Imoco,Fenerbahçe ve Dentil Praia takımları sırayla birbirleriyle maç yaptılar. Bu gruptaki rekabet diğer gruba kıyasla çok daha fazlaydı. Çünkü takımların güçleri birbirine denkti ve maç sonuçlarını tahmin etmek bu yüzden zordu. Benim şaşırdığım tek maç Imoco ve Fenerbahçe'nin maçıydı. Fenerbahçe 3-0'lık temiz bir skorla maçı kaybetti. Bu maçın bu kadar kolay olmasını beklemiyordum. 5 set süreceğini ve çekişmeli bir maç olacağını düşünmüştüm.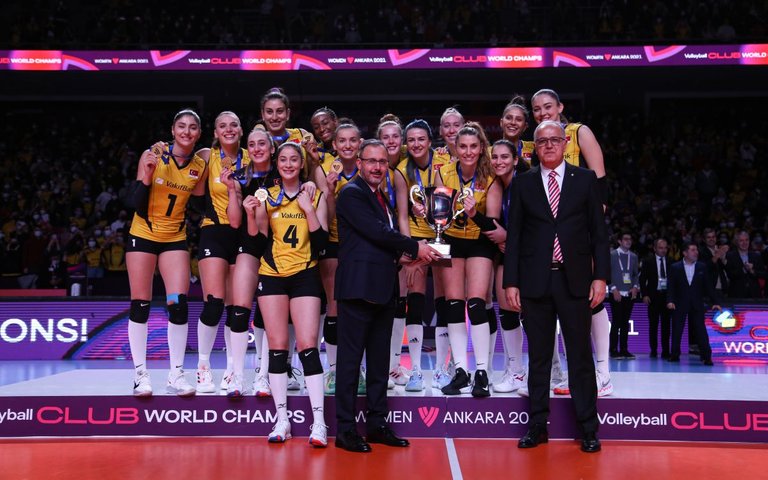 Grup etabının sonucunda yarı finalde A grubunu birinci bitiren Imoco Volley ve B grubunu ikinci olarak bitiren Minas Tenis Clube çapraz olarak eşleşti. Imoco çok kolay bir şekilde maçı kazandı ve ilk finalist takım oldu. Diğer bir yarı final eşleşmesi ise iki Türk takımının eşleşmesiydi. Vakıfbank ve Fenerbahçe yarı finalde karşı karşıya geldi. Vakıfbank, Fenerbahçe'yi 3-0'lık skorla yendi ve ikinci finalist oldu. Maçın bu şekilde bitmesini beklemiyordum. Çünkü Vakıfbank ve Fenerbahçe, Türkiye Ligi'nde bir maç yaptı ve maçı Fenerbahçe kazandı. İkilinin bu turnuvadaki maçı ligde oynadıkları maç kadar çekişmeli değildi. Ama yine de güzel bir maçtı. Özellikle ikinci set harikaydı.
Final karşılaşmasında Imoco ve Vakıfbank 5 setlik bir maç oynadı. Kazanan taraf kupayı 4.kez evine götüren Vakıfbank oldu. Açıkçası Paola Egonu için gerçekten çok üzüldüm. Maç içinde takım arkadaşlarını sürekli motive etmeye çalıştı. Çünkü takımında mücadele eden tek kişi oydu. Kimse oynamak istemiyor gibiydi. Egonu takımını taşıdı. Ama bu maçı kazanmalarına yetmedi. Vakıfbank ise daha iyi bir takım oyunu oynadı ve herkes birbirine yardım etti diyebilirim.
Brezilya takımlarının da güzel bir performansı olduğunu düşünüyorum. Praia Clube henüz grup aşamasında elendi. Ama bence iyi bir takımlar. Özellikle Martinez kardeşler ve Suelen iyi oyuncular. Minas içinse söyleyebileceğim şey bence ciddi bir pasör sıkıntısı yaşıyorlar. Macris, bu sezon hiç iyi oynamıyor. Özellikle smaçörlerle olan uyumsuzluğu apaçık ortada. Neriman'la da ciddi bir uyum sorunları var. Attığı paslar ya çok ileriye gidiyor ya da çok geriye. Bence Minas'a kaybettiren faktörler pasör ve liberoydu.
Her turnuvanın sonunda olduğu gibi bu turnuvada da bir rüya takım seçildi. Açıkçası bu takımda da bence iki büyük sıkıntı var. Egonu ve Cansu Özbay'a haksızlık edildiğini düşünüyorum. Cansu bu turnuvanın en iyi pasörüydü. Takımını çok iyi oynattı ama rüya takıma seçilmedi. Egonu için de aynı durum söz konusu. MVP genellikle kazanan takımdan seçilir ama her zaman böyle olmak zorunda değil. Böyle olsa bile en iyi pasör çaprazı ödülü Egonu'ya verilmeliydi. Her neyse bu konuda daha fazla konuşmayacağım. İşte rüya takım!
En Değerli Oyuncu : Isabelle Haak
En İyi Pasör : Joanna Wolosz
En İyi Pasör Çaprazı : Isabelle Haak
En İyi Smaçör : Gabi
En İyi Smaçör : Arina Fedorovtseva
En İyi Orta Oyuncu : Robin De Kruijf
En İyi Orta Oyuncu : Zehra Güneş
En İyi Libero : Monica De Gennaro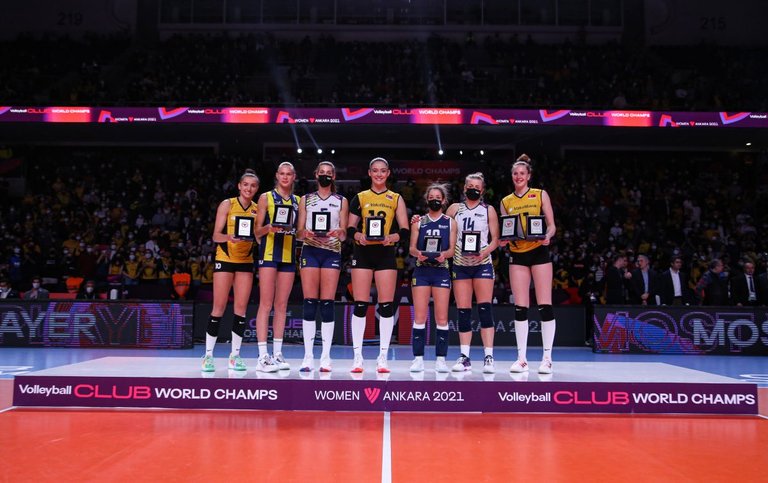 Evet spor severler bu haftalık inceleme yazım bu kadardı. Bir sonraki spor inceleme yazısına kadar sporla kalın. Hoşça Kalın!
---
---